Among everything written and said about skateboarding's inclusion in the Olympics, there has certainly been a sense that whatever the real or imagined drawbacks might be, they didn't apply to the nascent women's scene.
In an activity and industry dominated by boys of various ages, women's skateboarding is now doing its own thing and so all caveats and criticisms are out the window as far as the girls are concerned.
If one facet of skateboarding was really going to explode onto the public imagination it was Park skating, continuous and quantifiable. If one sex was going to bring the promise of skateboarding to life, it was the women's events where camaraderie and the sense of being part of something new happening right now is palpable. Intoxicating, even.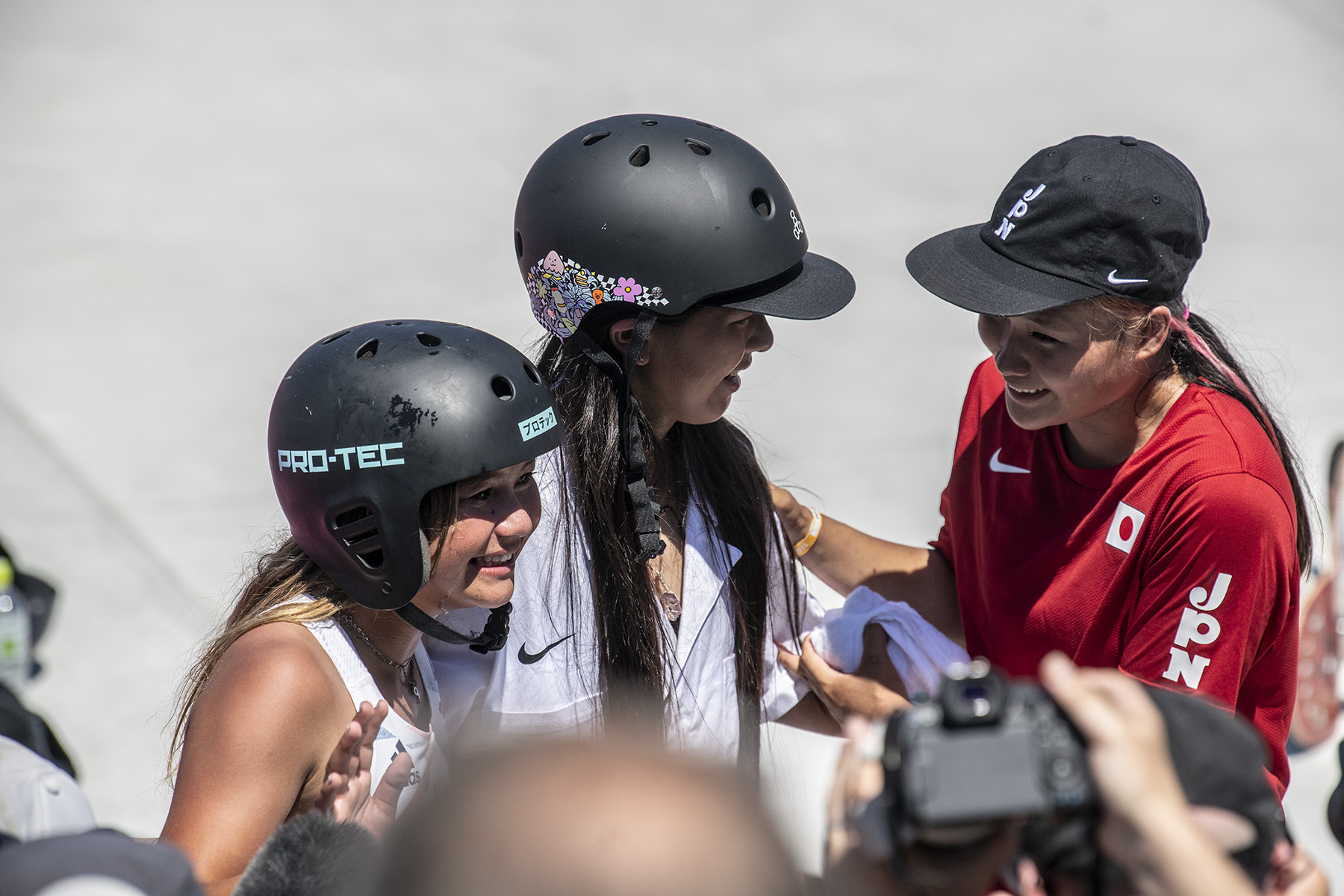 In the Women's Park finals in Tokyo yesterday both those things dovetailed together and crystallised to create a glorious moment. Skateboarding more generally could learn much from it.
Leaving aside the assignations of awards for a moment, two things were immediately clear.
Firstly, the bowl configuration on which the contest was held at the Ariake Urban Sports Park is absolutely gigantic. Television cameras can struggle to translate the size of curved surfaces but watching skaters use the cutaway hip sections as platforms to climb out of the structure you suddenly grasp that the lip is twice the head height of some competitors. This is riding giants, the concrete equivalent of big wave surfing, where liptricks can be more dangerous than airs.
The other unarguable fact is that this was the highest standard women's skateboard contest ever. There's nowhere to hide out there if you only have five tricks to your name.
The fact that Sakura Yosozumi won gold with her first run does nothing to either diminish the achievement or do justice to the excitement of the contest itself. The fact is that the 19-year-old Japanese transition maestro—which she clearly is—has hit the prime of her skateboarding life just on time. Having 900-specialist Sandro Dias fly over from Brazil to coach her on rotation techniques for hitherto elusive 540's clearly paid off, as she dialed in not one but two in a single run. In a field where the caliber-gap has shrunk dramatically since she began competing in 2018, carrying the crowd can make the difference and she carried the small but raucous one here.
Interestingly she forewent trying to repeat the feat on her final run and added a couple of different tricks which she knew wouldn't increase her score just for the hell of it.
Relaxed, composed, enjoying the experience, if she felt under pressure it didn't show. She loved the experience and was a deserved gold medal winner.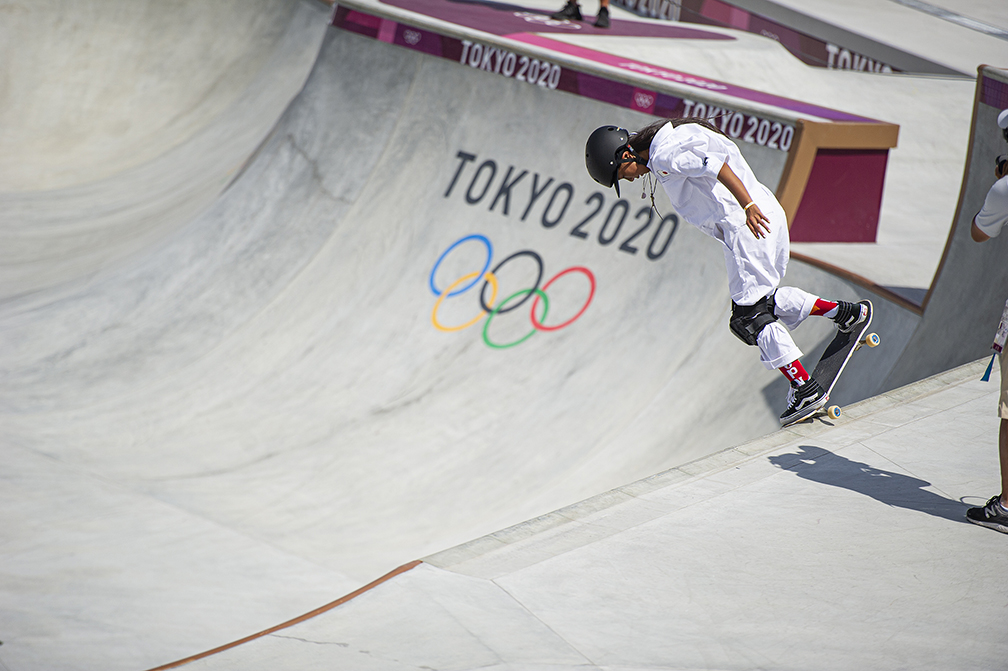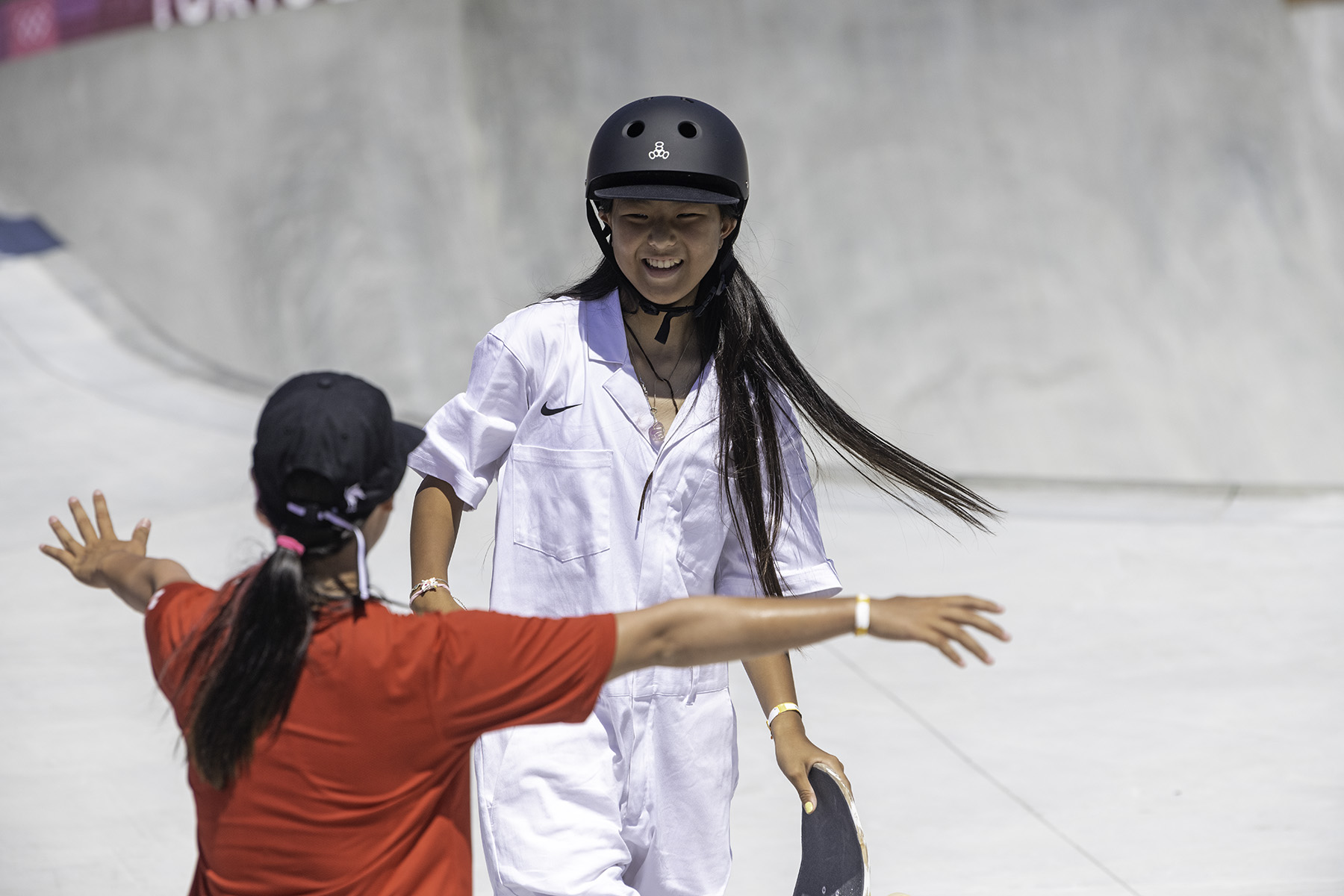 Hot on her heels was Kokona Hiraki in silver who again came out swinging on her opening run and proved unassailable. While she didn't have an audience-wowing 540 in her bag, she can kickflip a square-nosed board on command and has the best nosegrind in the game. Unafraid to attack the pool coping and the park's most treacherous elements like backside lipsliding over a hip and risking everything on smith stalls on the offset metal sub-box which everyone else avoided, much will be made of her youth but she is fantastic devoid of any context.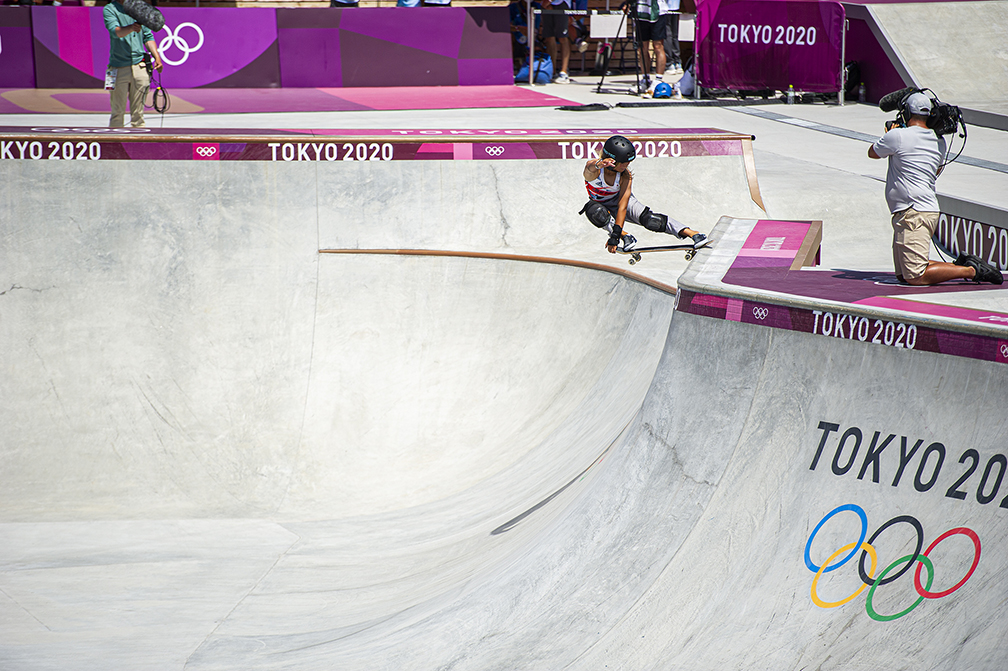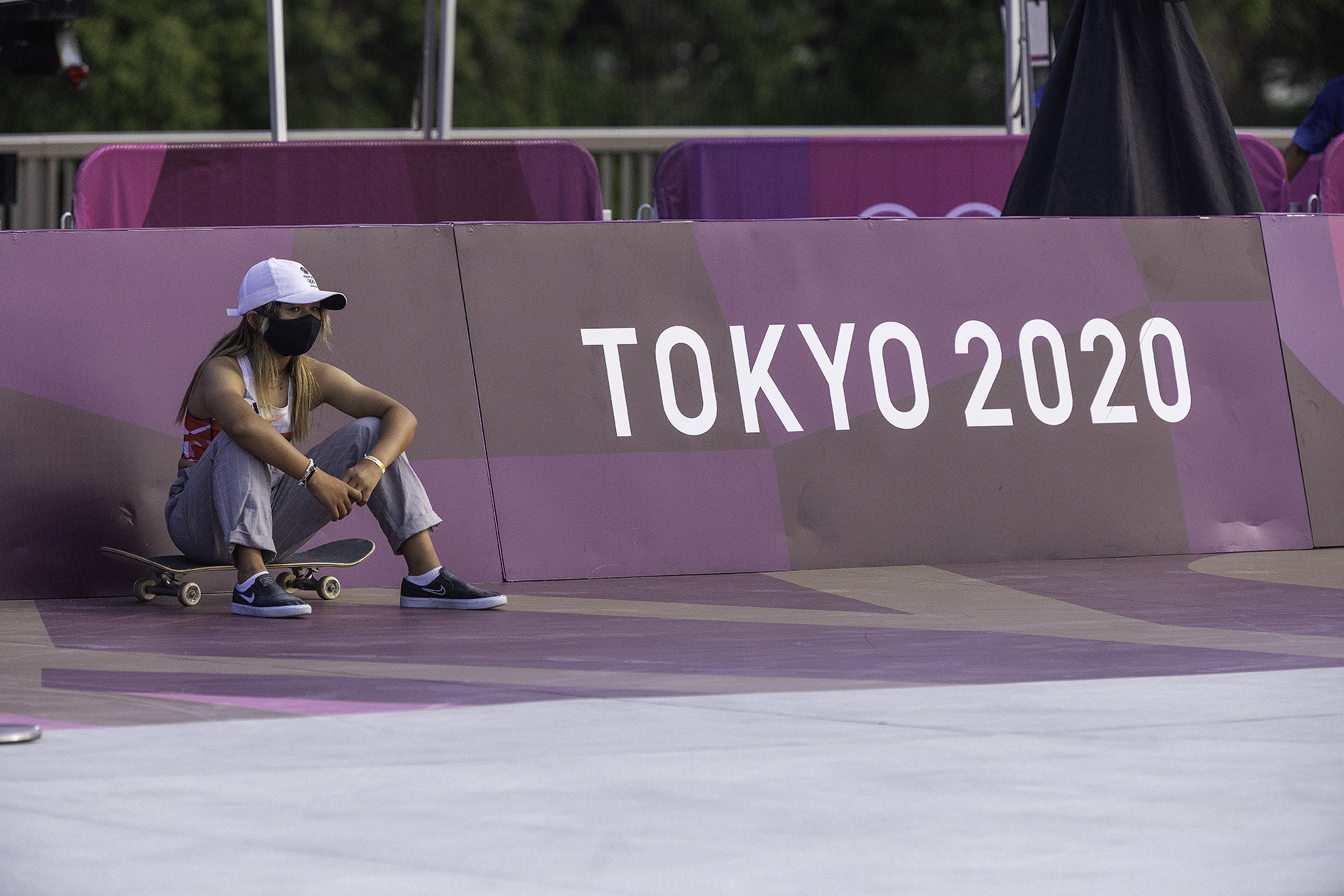 In some respects, Sky Brown has been the face of the Tokyo Olympics up to now, a cypher to represent the changing nexus of sport, representation and entertainment. In what will remain one of the biggest stories within what may yet be the biggest success of the entire Olympics, Sky Brown managed to gel a final run which garnered her enough points to break up a Japanese podium hegemony by sticking a kickflip indy upon which her previous two runs had floundered.
The roar of the Games went up and she understandably wept with elation and relief. They were sadly not the only tears to be shed onto the hot concrete underfoot.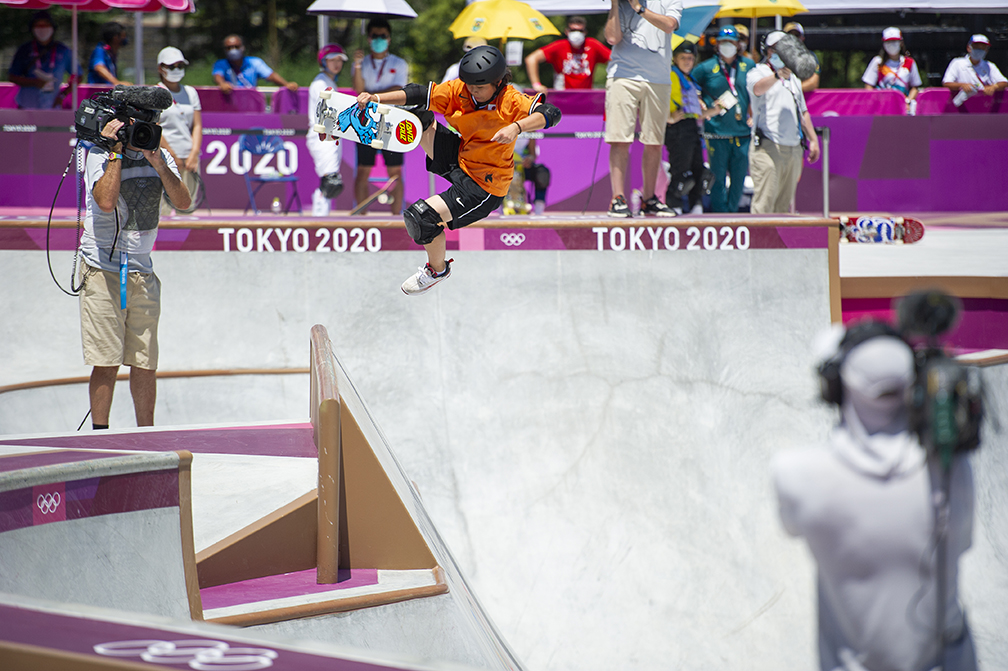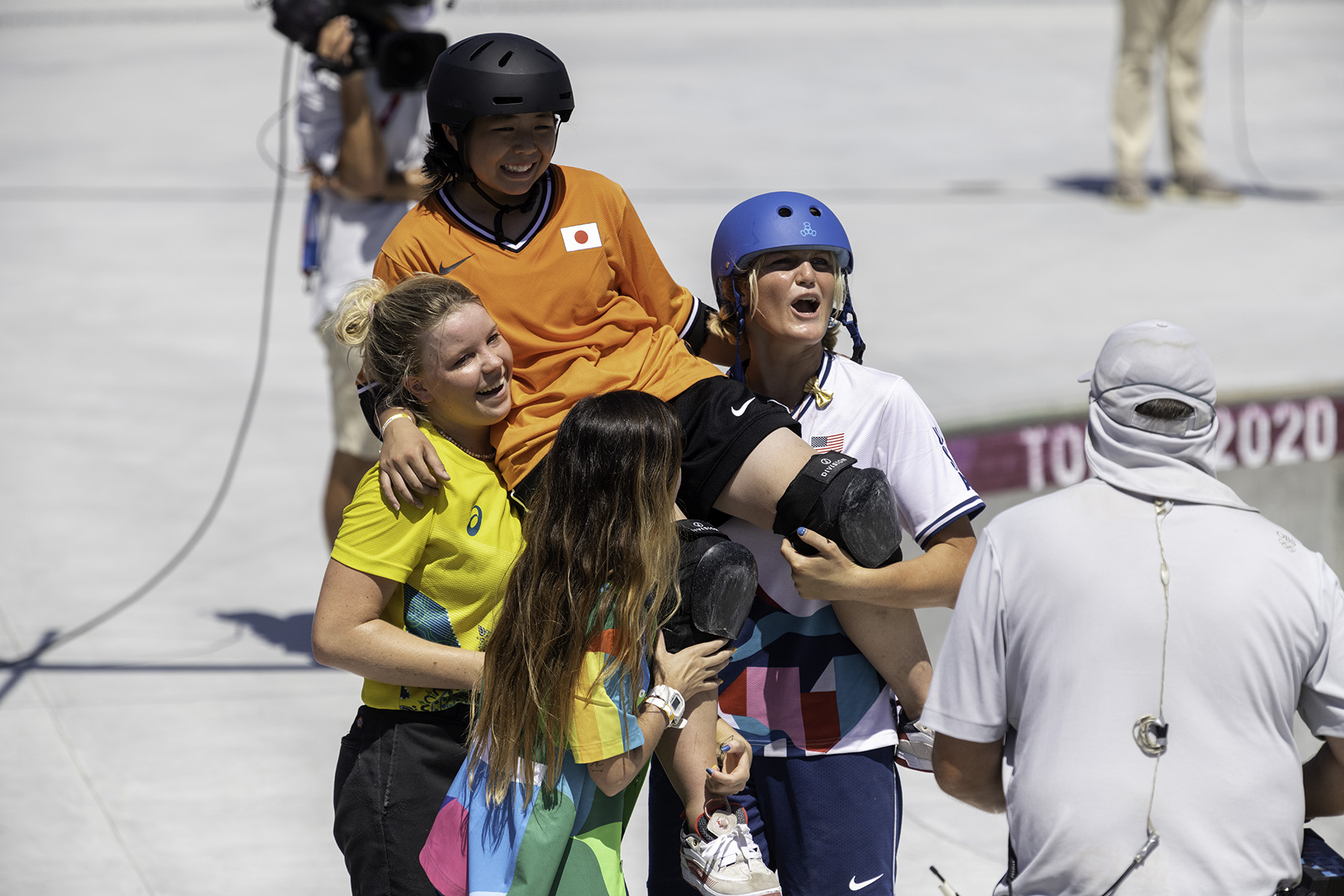 With an ending Hollywood scriptwriters would find implausible, the last turn of the cards went to the girl Sky had just displaced from the bronze medal position, first-placed qualifier Misugu Okamoto, who was having her own struggles with the same trick elsewhere. The most energized and intensely-focused skater in the finals, she had a gold-medal run in mind but was denied on the kickflip indy going into the flat bank on ballistic runs where she had already landed two 540 variations. Had she not gone for broke on that trick, she may well have won a medal just by completing her second run, and the desperation with which she clawed at the elusive board with both hands on her final attempt was heartbreaking to watch. She was bereft with disappointment, but hoisted aloft by her fellow competitors in a moving act of skateboarding sisterhood. If the gods of consistency smile on her, she is a future gold medal prospect.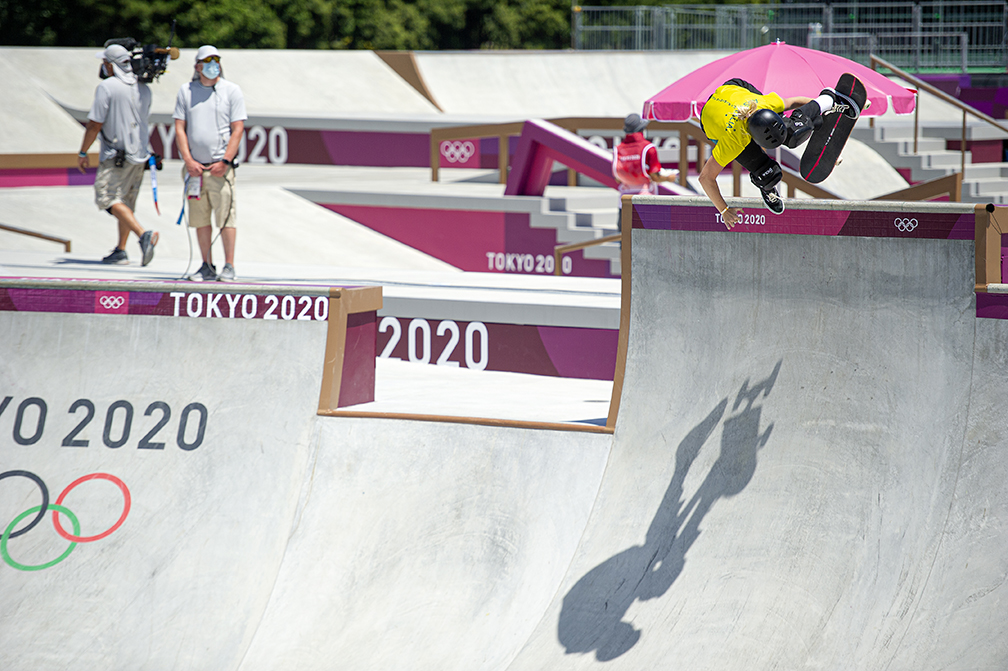 Australia's Poppy Olsen has clearly established herself as one of the energy centers of the women's contest circuit. She clearly loves what she does and kept the vibes light for herself and the other competitors throughout the scorching day. Having made it through her entire second run via a treacherous gap to slide n' roll which denied her first time around she can be satisfied that fifth place was as good as she could have hoped for given that the leaderboard split between the top and bottom brackets was fully seven points.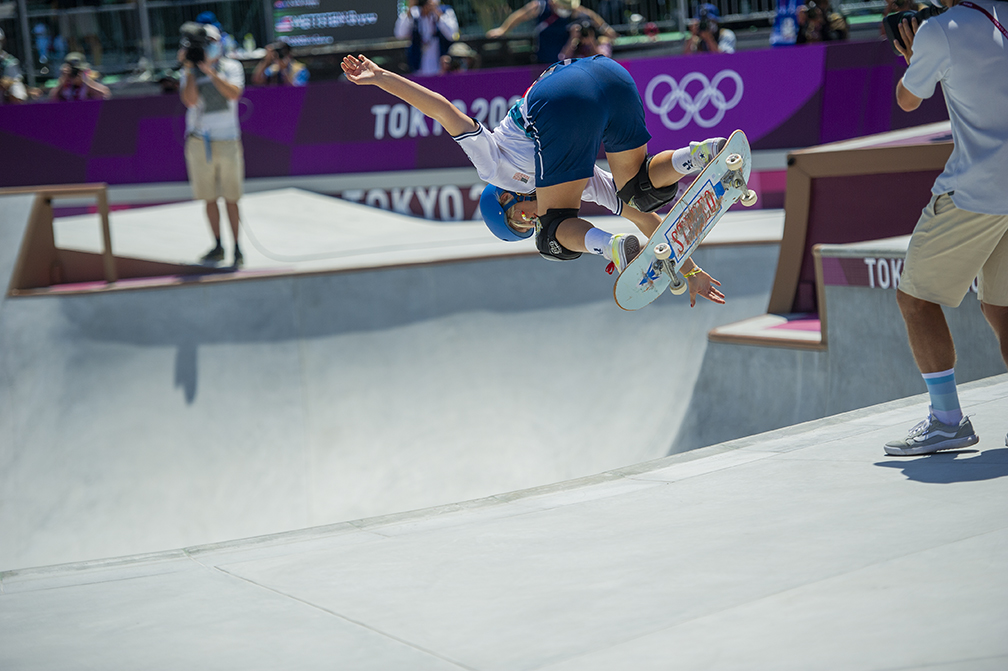 In sixth was crowd favorite Bryce Wettstein, the radiant American with the most creative trick choices and a timeless backside ollie. Frighteningly comfortable on big transitions, she set the atmospheric tempo and acted as big sister to people she was in competition with. That is what makes skateboarding different. Notably, she came unstuck-slamming heavily on her last run on the same flatbank which took out Olson and Okamoto, Wettstein's courtesy of a second attempt at the lesser-spotted boneless fingerflip. A talismanic and charismatic figure, Bryce Wettstein might be remembered as skateboarding's spirit of the Games.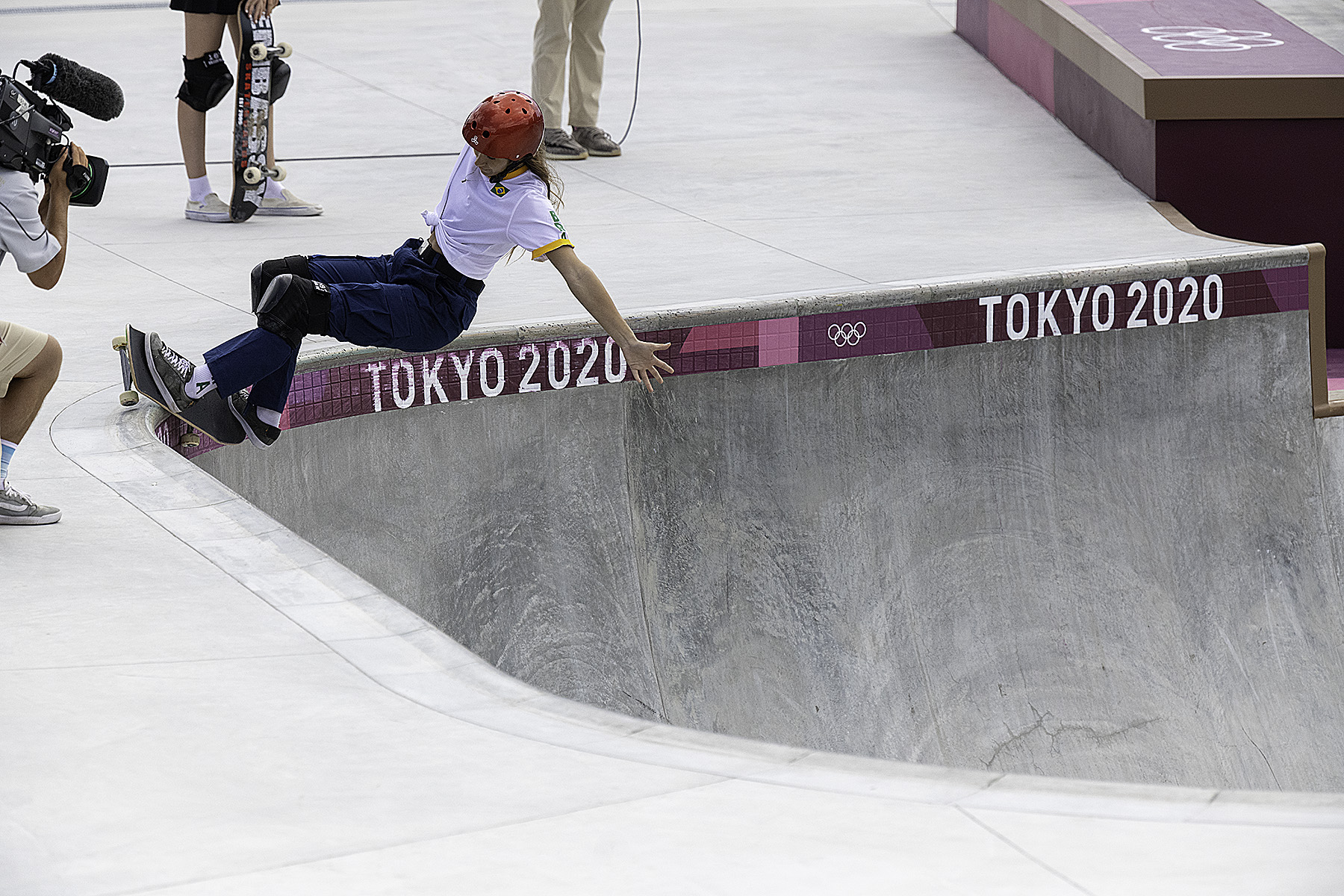 Seventh fell to Sao Paulo's Dora Varella, someone else who brought sunshine energy to match the 33-degree heat of the Tokyo afternoon. Frontside stand-up grinding into every run in that swashbuckling Brazilian tradition, she hurtled around pausing only to nosepick backside, grabless the very deepest deep-end she could find and almost stuck a heelflip indy on her last trick of the day. Landing that may have bumped her up a ranking place or two but her easygoing nature and support for the entire field will have done her career more good than that deck shuffle could.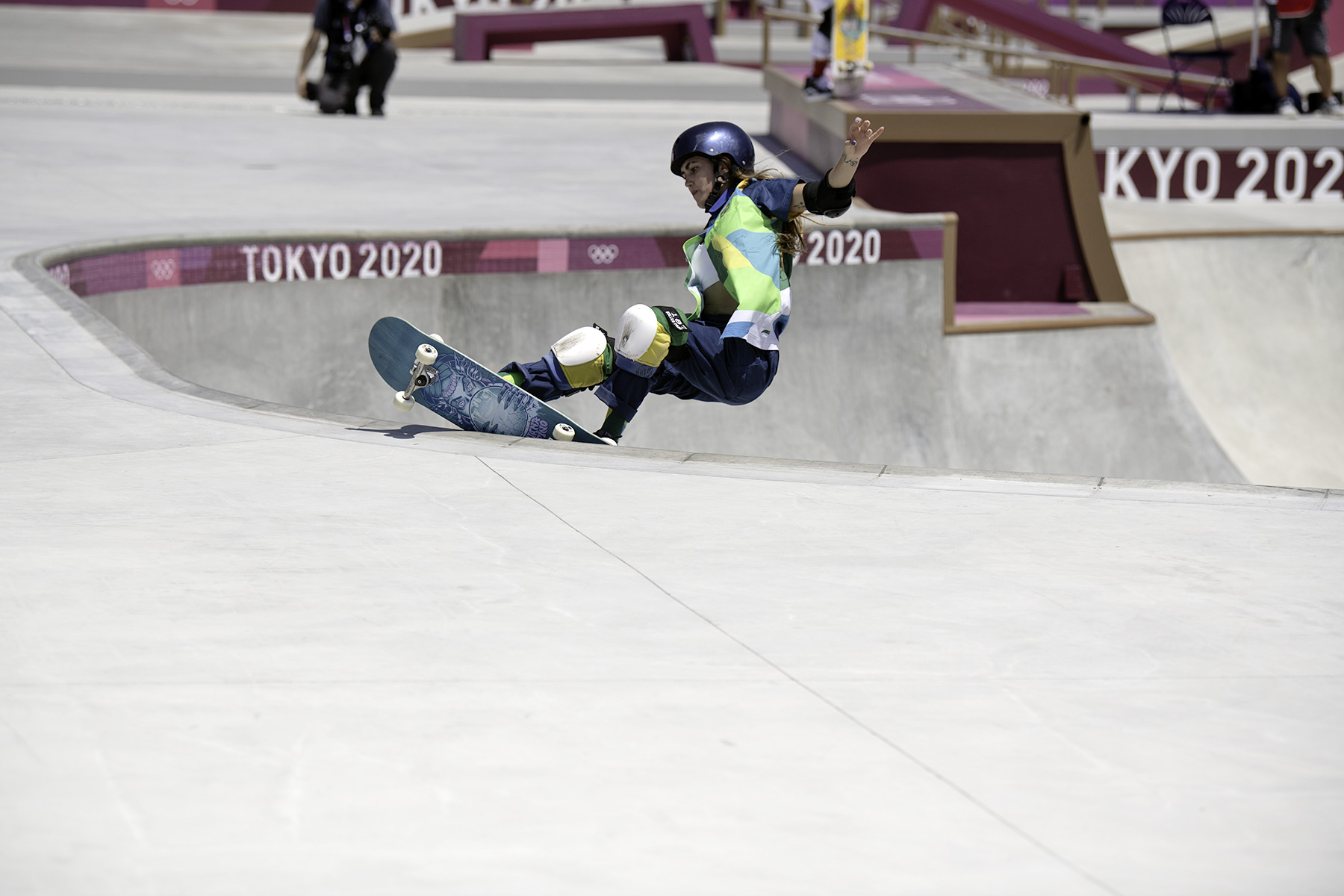 Eighth went to the Yndiara Asp, the superb Brazilian charger who has done so well in events held in historic skateparks. Having turned her back on a career as a PE teacher to skate full time, she had an excellent first run but got snagged on the tiles of the pool coping twice early on in her latter two runs in one of those rotten luck scenarios you can never discount in skateboarding. It isn't a science and nothing is ever guaranteed. Like her Brazilian compatriot Varella, Yndi brought her upfull disposition to bear on the situation and remains one of the stars of the final for that reason in any eventuality.
If the praise seems effusive it is only because the whole thing was fantastic. Regardless of who placed where, women's skateboarding as a standalone entity did itself real credit on the largest international stage today, and will doubtless flourish in manifold new ways from hereon in.
The skateboarding industry is now left to play catch-up. Exciting times ahead for the entire activity.
Words: Niall Neeson
Photos: Jaime Owens, Bryce Kanights, Jeff Landi