The thing most likely to linger in the memory from Men's Park skateboarding final in Tokyo is not an image but a sound.
The sheer speed of the skating in the final sessions was right on the edge of possibility, tribute not only to the skaters themselves but to innovations in park design which made the concrete sound as fast as riding on glass. The park construction was essentially perfect, and the skating sounded like a rocket ride thundering throughout it: fantastic and exhilarating.
It may be that the 18 month hiatus in international competition might have blunted our expectations of what was likely to unfold, or perhaps nobody knew what today would produce in terms of the level of skateboarding.
Notably it was the first skateboarding final with no Japanese presence and was by extension guaranteed to close out the possibility of a clean sweep of gold medals by the host nation.
Instead we had a line-up which more classically represented the competitive make-up of skateboarding's historic heartlands: three Brazilians, two Australians, an American, a Puerto Rican and a lone European. As a mix goes, it really couldn't have been more exciting: the Brazilians never fail to turn up and three in the final guaranteed they would try to form a juggernaut, and they did. Australia had until now had a relatively subdued first showing in the inaugural Olympic Games for skateboarding, with only Poppy Olsen's creditable fifth the day before troubling any of the 24 finalists positions. That was about to change.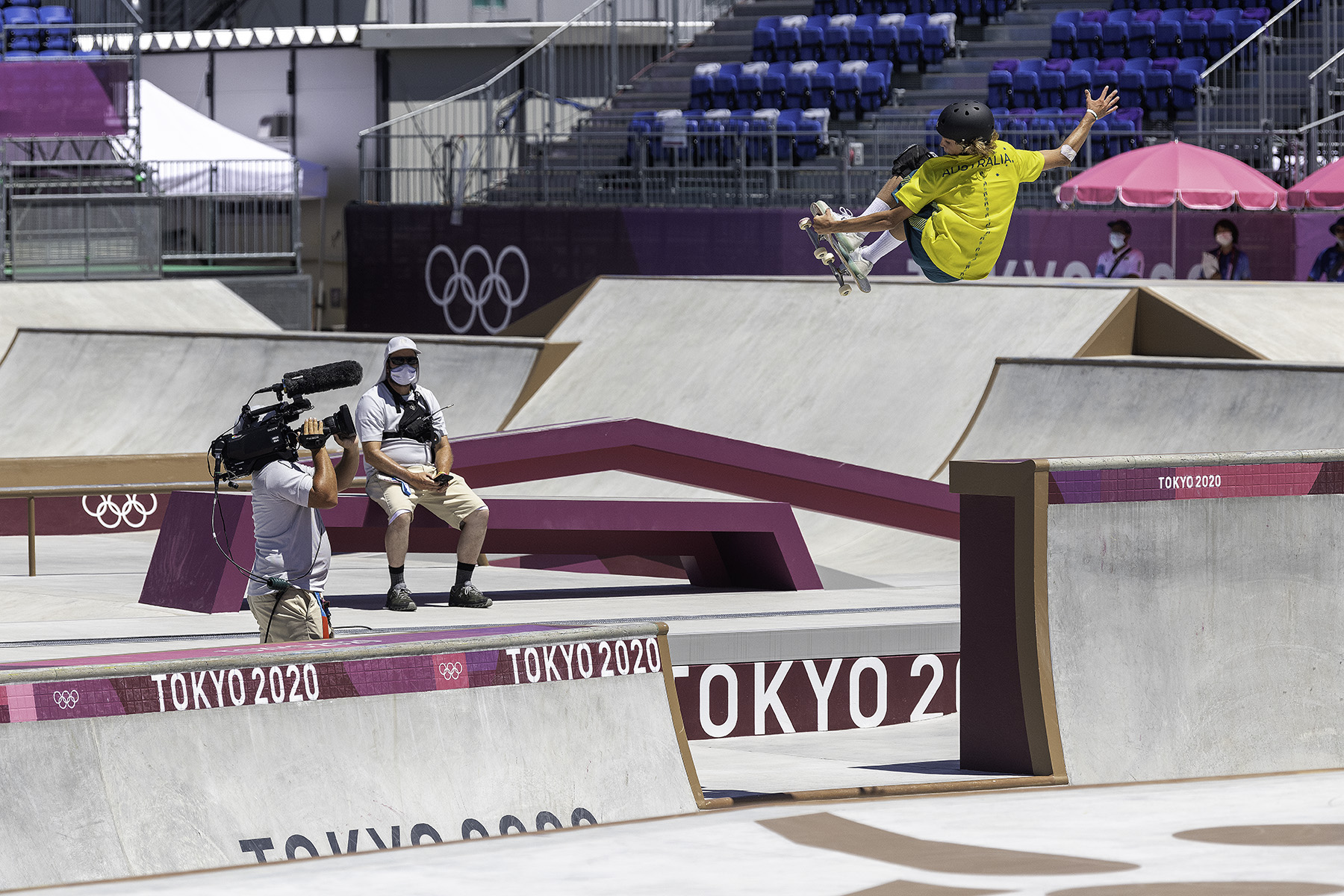 As we noted in his rider profile, Keegan Palmer arrived in Tokyo as the great unknowable.
Raised in Australia but relocated to California he had a solid, but perhaps not, trailblazing run into the Olympics and showing flashes of potential greatness that characterize future stars like Curren Caples. Having done enough but not more to make it to Tokyo, the question became would he have used the competitive downtime productively; he was, after all, by no means a favorite to win based on his road here.
The answer was emphatic, he has delivered on his potential and has arrived a fully-formed skateboard star. A deserved winner, his first run alone made him unbeatable, containing no less than three 540s and two flip tricks, at speed, in an unbroken run. On his third run, he landed a kickflip 540, the trick of the entire Games, and improved upon his own otherwise unchallenged first score. A double victory, you might say. Truly incredible, blisteringly fast with it, he left Pedro Barros with a mountain to climb.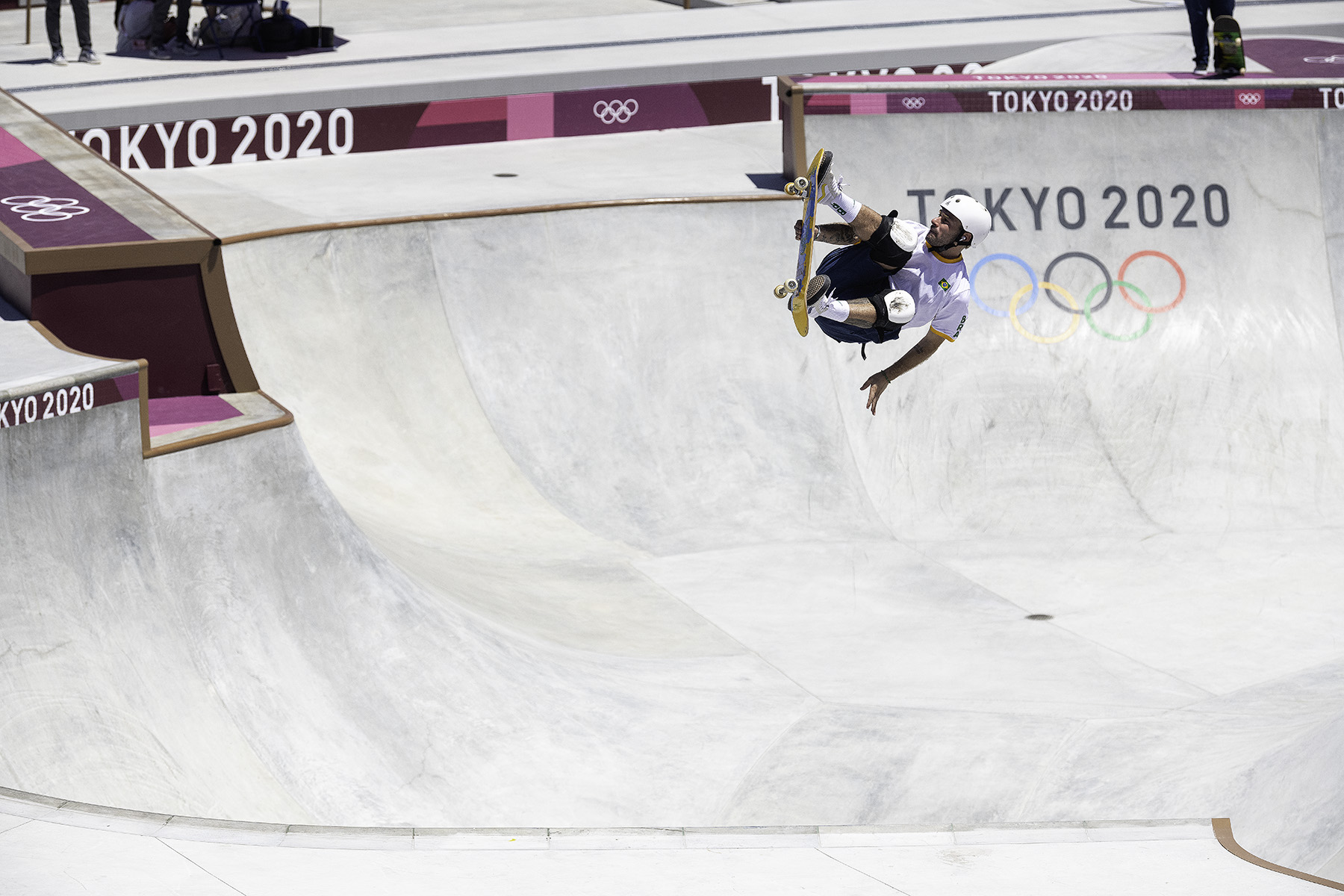 One of the greatest concrete skaters of all-time is always a good box office draw, and on the biggest of stages he did not disappoint. Although Pedro Barros only made it to the buzzer on his first run, it was something for the ages and will no doubt be watched for years to come. Nobody is doing stalefish 540's; a trick in which the grab is actively working against your ability to rotate. Pedro made three vast ones today, one to start each run: huge, tweaked bird wings circling in the air. Really something to behold.
His silver medal-winning first run began there and developed into a mastery of charging. The fastest, the most emphatically expressive skateboarder in that theatre today, he did enough to win on any other day and was a righteous, gracious, superb silver.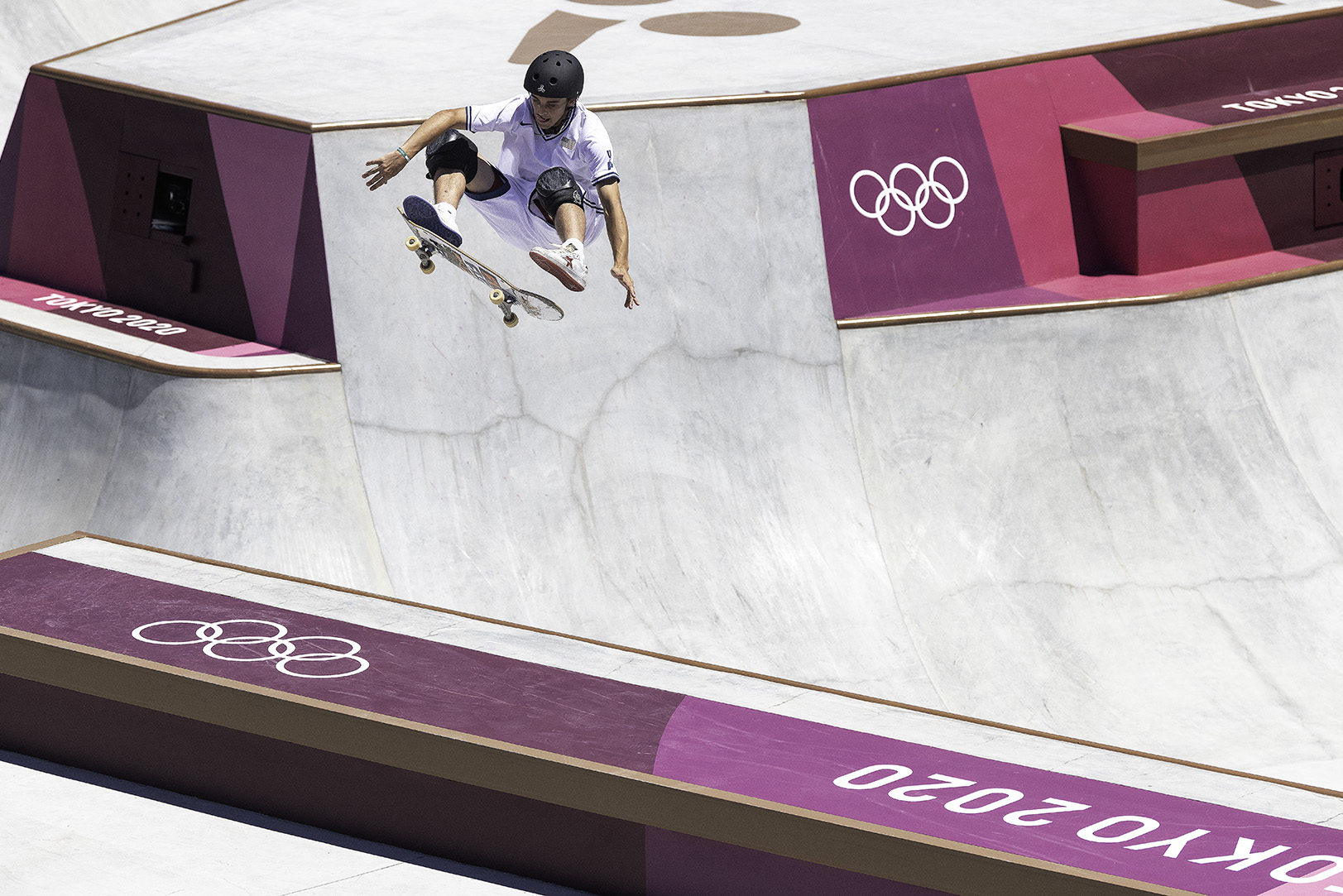 If there is one thing that skateboard contests always benefit from it is the presence of a mercurial, unpredictable talent which is guided as much by spirit as the mind and in Cory Juneau we were treated to just that. He probably would admit to being surprised at finding himself the sole standard-bearer for the homeland of skateboarding here, but he had two magical runs right out of the gate showcasing the dreamiest, floatiest frontside flips you will ever see and made skateboarding seem weightless and effortless. He stepped off one of his head-height 540's early in his final run, but by that stage had already done enough to earn bronze, but only just.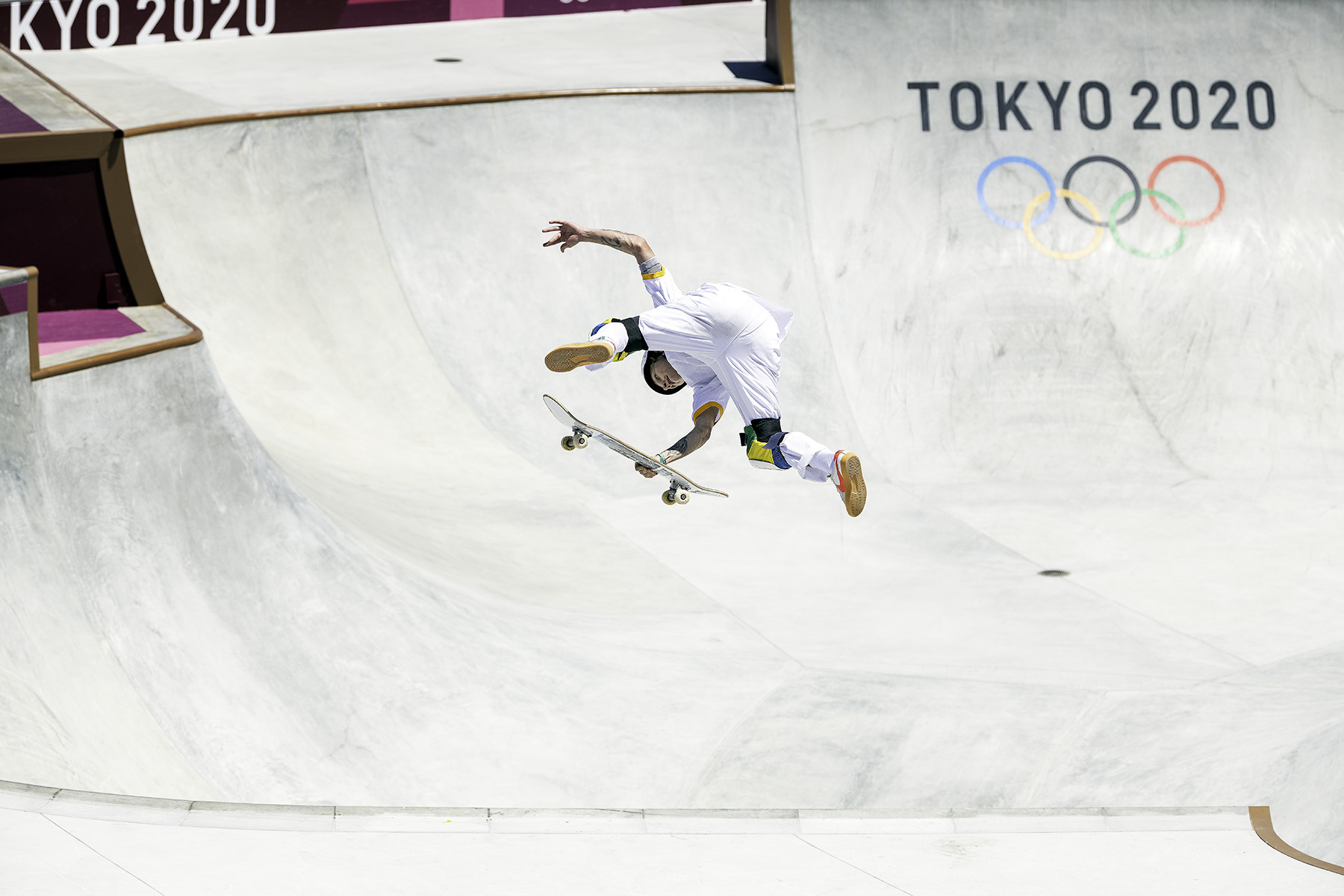 Luiz Francisco waited until the very last run of the day to put together the ride of his life so far. As first placed-qualifier, he was the final skater to roll in during each heat and sensed he might have enough left in the tank for a bronze medal. Ending a flawless run including a buzzer-beating 540, he kicked his helmet toward the Brazilian crew in the stands in elation, only to flinch with disappointment when he came up just a point short for fourth. Nonetheless, you get the feeling that, like the guy just below him in the final standings, a new star was born in Tokyo today. Pedro Barros might be the face of Brazilian park skateboarding today, but Luiz Francisco is one to watch in years to come.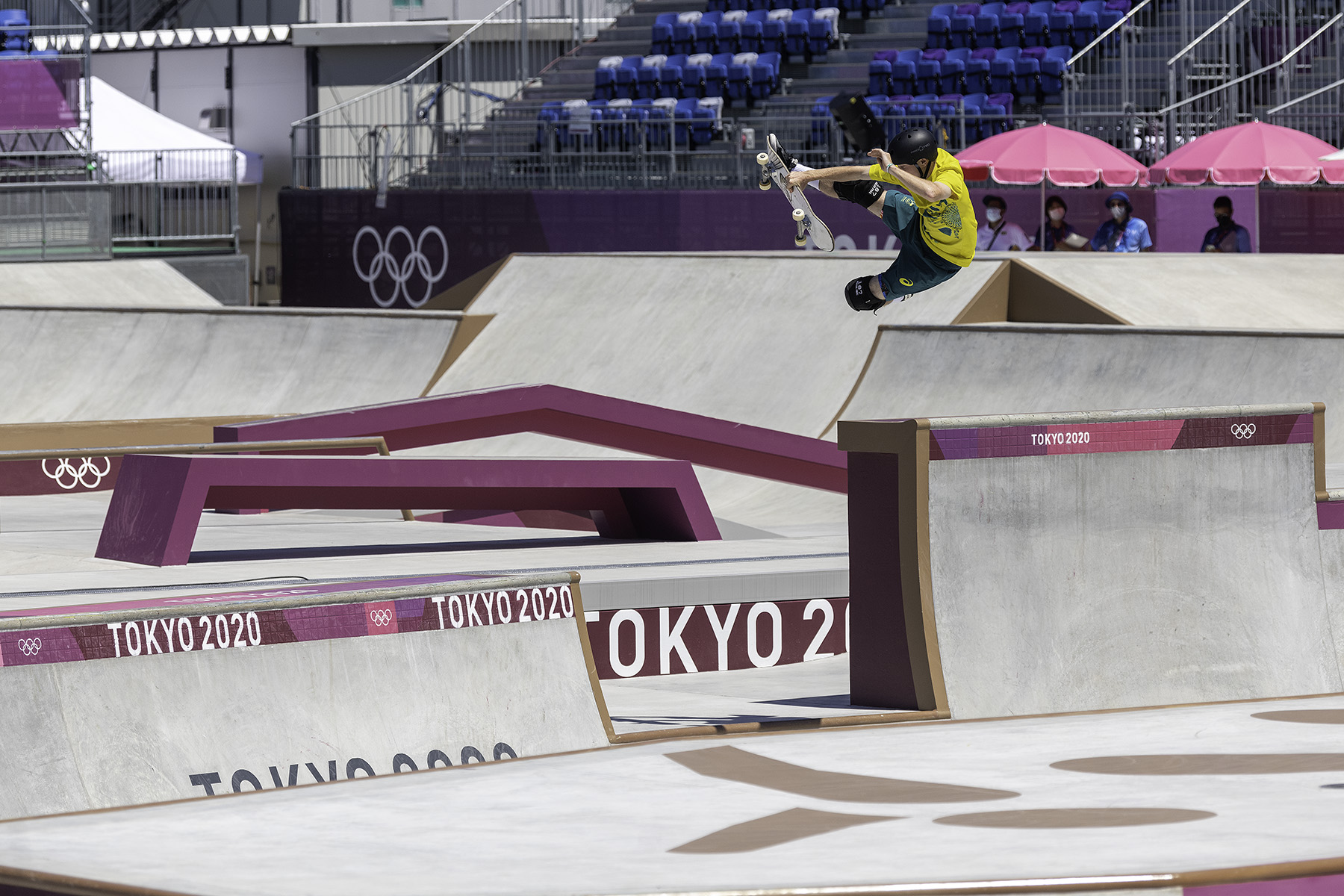 The guy he pipped into fifth with that run was Australian dangerman Kieran Woolley, who at 17 already has all the assurance and poise of a veteran. Keen to go bigger than anyone else, he interestingly forewent the convention of trying to end on a show-stopping blaster in favor of dialing in a hurtling barrage ending on a grind transfer which cost a careless cameraman dearly at one stage. Alongside Cory Juneau, Kieran Woolley brought an air of reckless abandon to skating the course which really stood out. Having fluffed the flip indy over the hip to flatbank in his final run and with his Olympic story by then a foregone conclusion, he went back and stuck it for the crowd in the great tradition of energy exchange. A very exciting skater to watch and one who, like Margie Didal in Women's Street, will return home with a lot of new fans based off the unique energy they brought into the scorching fulcrum of the Tokyo Olympics.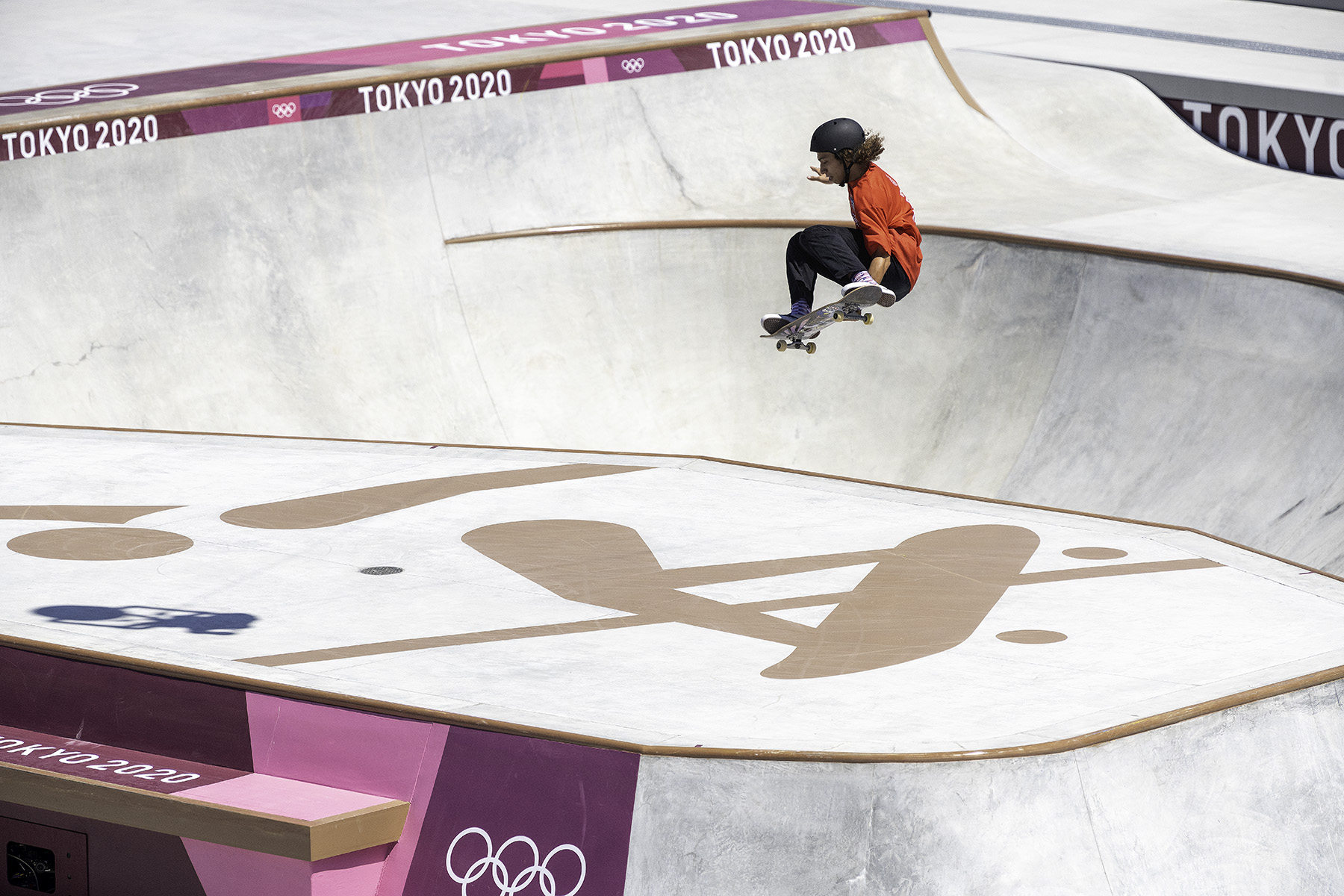 Steven Piñeiro did himself and Puerto Rico no small credit with his sixth place. Although he struggled with timing on his second and third runs, thereby losing out on the additional points the kickflip body jar he intended to sign off with might have brought him, it would have been unlikely to bridge the six-point gap to move up a ranking spot. Like Pedro Quintas, Yancy can take a lot of pride from making it to the world's greatest stage through a qualifying field that left Heimana Reynolds, Oski Rozenberg and Zion Wright spectating.
The sight of freewheeling bohemian Frenchman Vincent Matheron in the final was the other great story of the qualifying scramble. One of only a handful of Europeans from his generation capable of mixing at this level, he has been dogged by horrendous ankle and shoulder injuries but still possesses the kind of fearless cull-clip commitment that you suspect he struggles to tame. He got snagged three times on high-speed liptricks and didn't complete a run, but no matter: given that he may never have skated again after surgery, his presence here in the top 8 was fairytale enough. A real master-blaster and a joy to watch, even if that is sometimes through your fingers.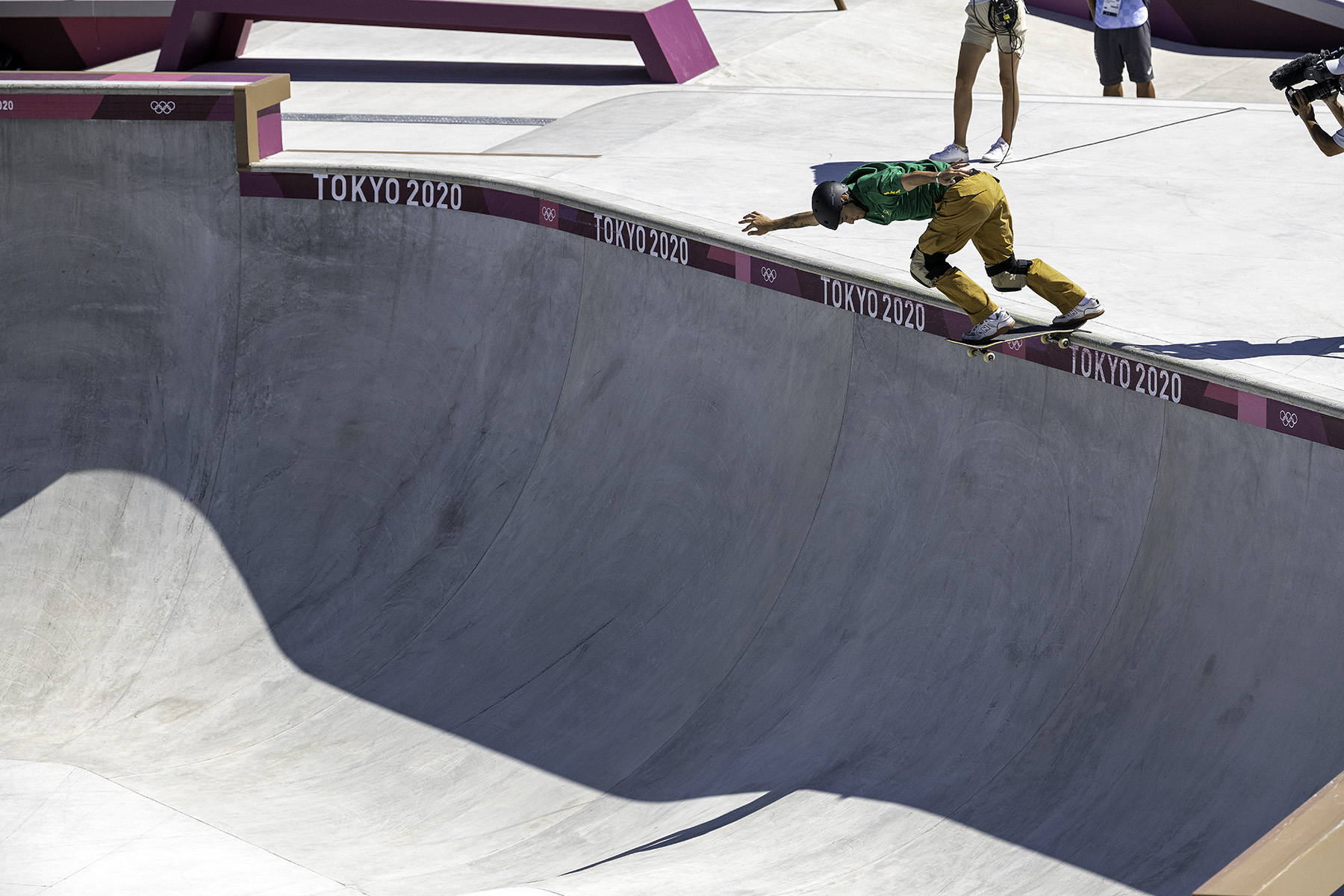 Completing the leaderboard was the third Brazilian, Pedro Quintas on whom the scale of the occasion may have began to tell. A product of imperfect skate terrain which is as often likely to be DIY construction as competition standard, the relatively unknown all-round skater from São Paulo came into the Olympic Games ranked 162nd in the world and qualified for the finals in third place.
Like Matheron he was unable to complete any of his runs on the hard slick curves of the Ariake Urban Sports Park, but he has raised his profile immeasurably and the sponsorship offers are likely to come flying his way before he even gets home.
So let's add some broad brush strokes here: skateboarding has completed its Olympic debut.
More eyes are on the skate game now than ever before.
Participation numbers will skyrocket, small businesses and large will benefit, but nobody will benefit than the lives both touched, and about to be touched, by the activity which has set these Olympic Games apart.
Remember: Paris is only three years away.
Words: Niall Neeson
Photos: Jeff Landi