And so we alight in west London for the second leg of Skateboard GB's National Championship double-header, split between the previous fortnight's Park contest in nearby Hemel Hempstead and this, the Street event held in the unique environs of Bay Sixty6 skatepark- occupying, as it does, a footprint within the infrastructural architecture of one of this world city's major arterial routes.
Let's begin with the park itself: opened in 1996/97 (depending on who you ask) Paul McDermott and his crew have transformed a lifeless space underneath the four-lane Westway flyover and hemmed in on one side by the Hammersmith & City Tube line, into the awesome space that we saw here on Sunday 24th April.
Now, it would only be fair to say that Ladbroke Grove was not always as salubrious as it is today, and earlier incarnations of this park probably reflected that- much loved though they doubtless were by all of us who skated there in those times. That's what makes the transformation all the more remarkable: Paul and his team have used previous sponsorship investment wisely and really overhauled the whole experience in recent years.
The space looked bright, spotless and well lit, complete with newly- built features for this event. In short, it looks like the kind of place fit to hold national and international events, and has done so without government funding.
When the evening sun comes slanting in under the flyover, it looks pretty sick in a kind of Bladerunner way.
So chunky knucks there, 100%; lovely to see how the park has mirrored the regeneration of the surrounding area.
Ok: that's the scene set- now to the action.
Twenty-six grand in prize money was up for grabs here (British readers- read that back to yourself), a relative King's ransom by UK contest standards.
Split evenly between the sexes, the size of the purse is absolutely noteworthy not because it was a central motivation for those competing but because it speaks to the tireless background work of SkateboardGB to elevate all aspects of contest culture in the UK. Although skateboarding is booming here, most marketing programmes are skeletal and digital; so, once again, this is another aspect of the event to be commended.
The girls were up first, shared a 23 year age gap between youngest and oldest finalists, and came from as far away as Aberdeen and Liverpool.
It is hard not be effusive about women's skateboarding these days- many skaters consider it to be the purest manifestation of the current culture in terms of camaraderie and energy, devoid of the cynicism or the prejudice-masquerading-as-taste which taints the geezers' side of skateboarding in the internet era. It is hard to argue with that rationale based on the girls' contest at Bay 66: with a limited ticket allocation which sold out, the crowd replicated the competitor split and the noise for the female contest was louder than that for the men's. Something is happening there.
Opening the account was Ayva-Mae Whittenbury, who ollied the new stair set as her opening trick and while you can be mindful of patronising youth, you can't front on a ten-year old girl with the courage of conviction and sass to spare that it takes to come out swinging like that. Mighty business. Her showing here was enough for a second place finish- and the real awareness that a future star might have been born in the process.
Bookending her on the podium was Roxanna Howlett in third, a former winner with a prodigious trick repertoire and a hunger that will take her far, who was unlucky to slam on a kick flip in her last run that otherwise might have propelled her into first; and in first Miriam Nelson who crammed her second 45- second run with enough tricks- backside ollie, nollie bigspins, kick flip up the Wembley gap and more- on enough obstacles to make her unassailable and she emerged a deserved winner. A real prospect for the UK going forward and probably the most complete skateboarder in the women's final.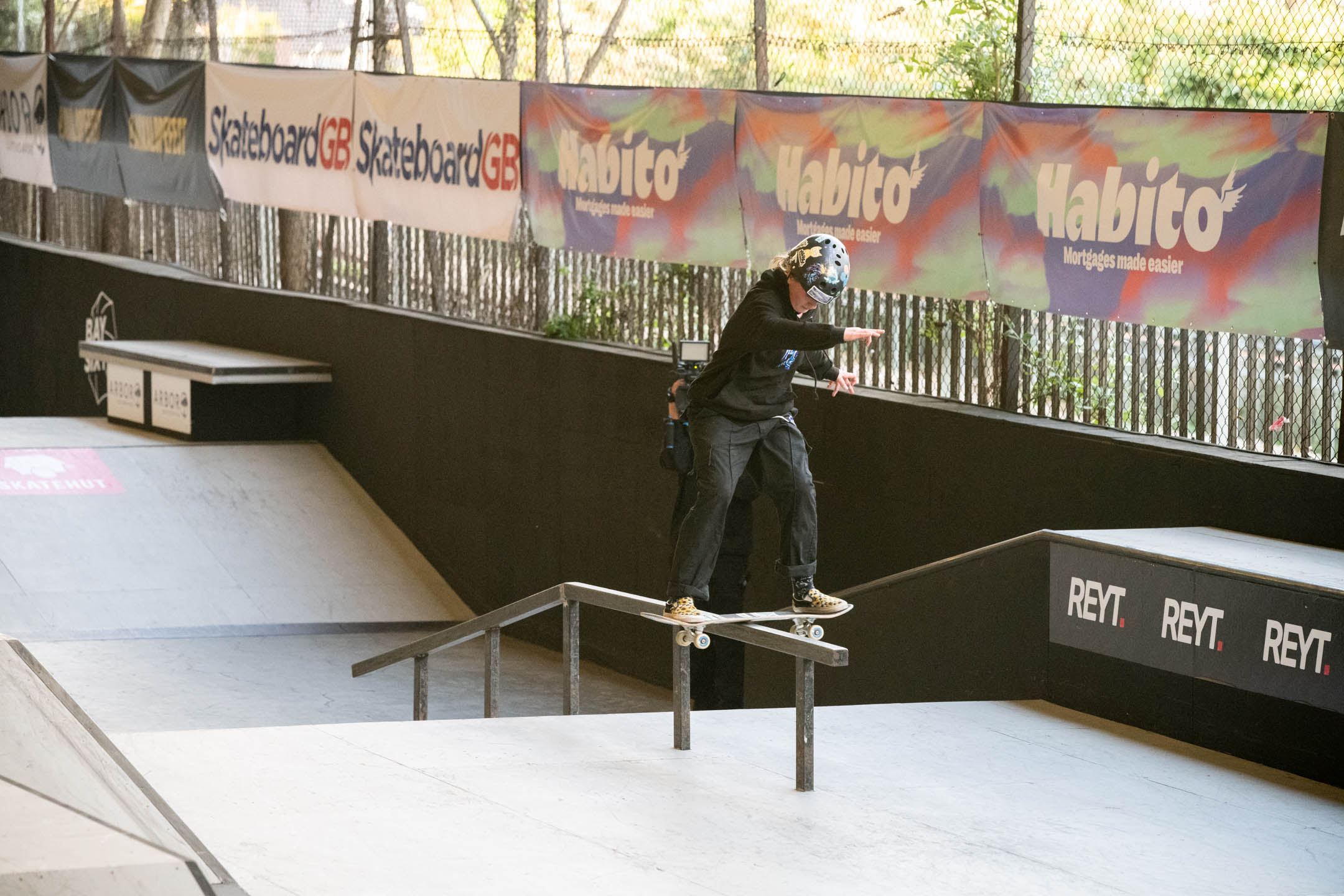 Miriam Nelson Photo: Skateboard GB / Garry Jones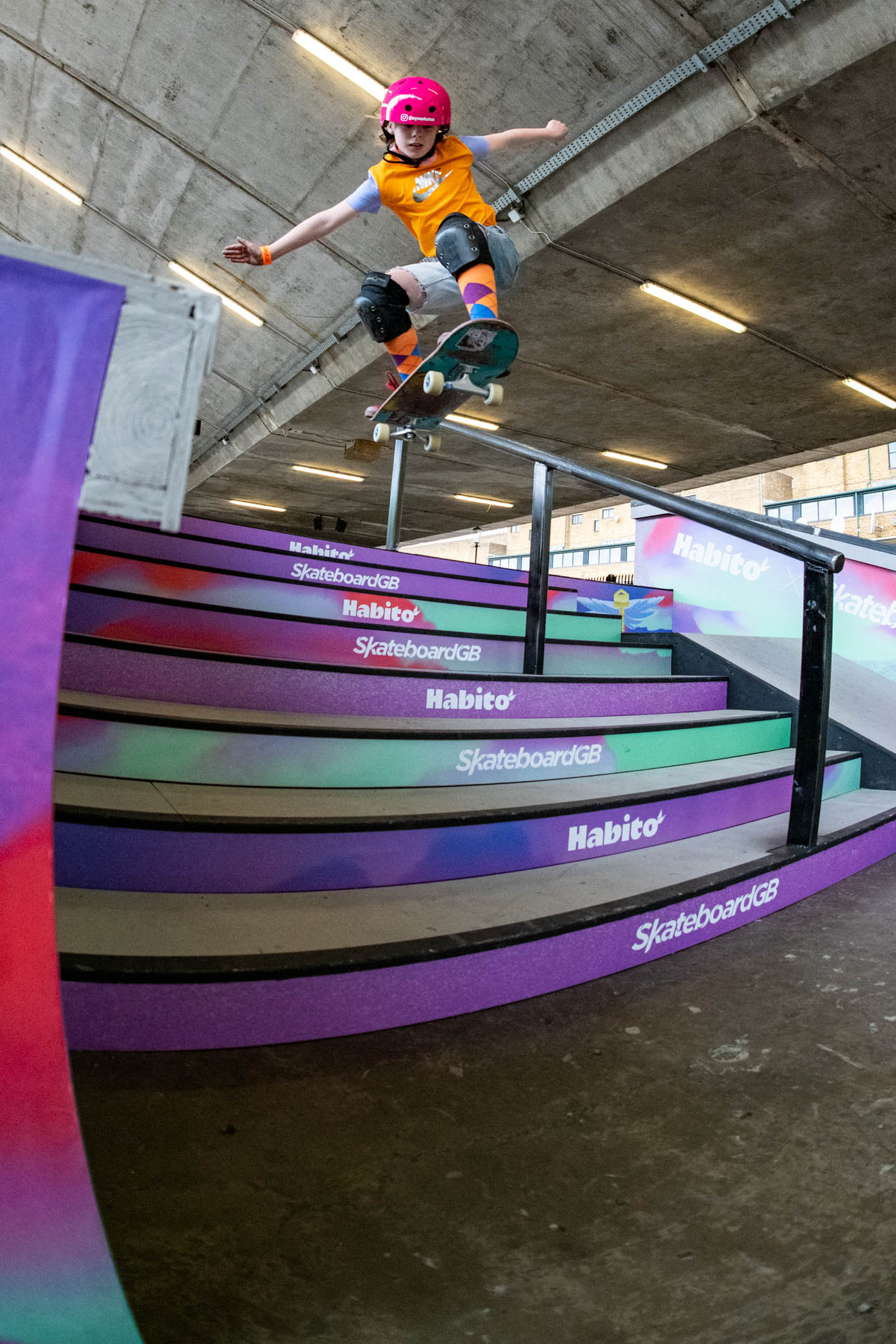 Ayva-Mae Whittenbury Photo: Skateboard GB / Garry Jones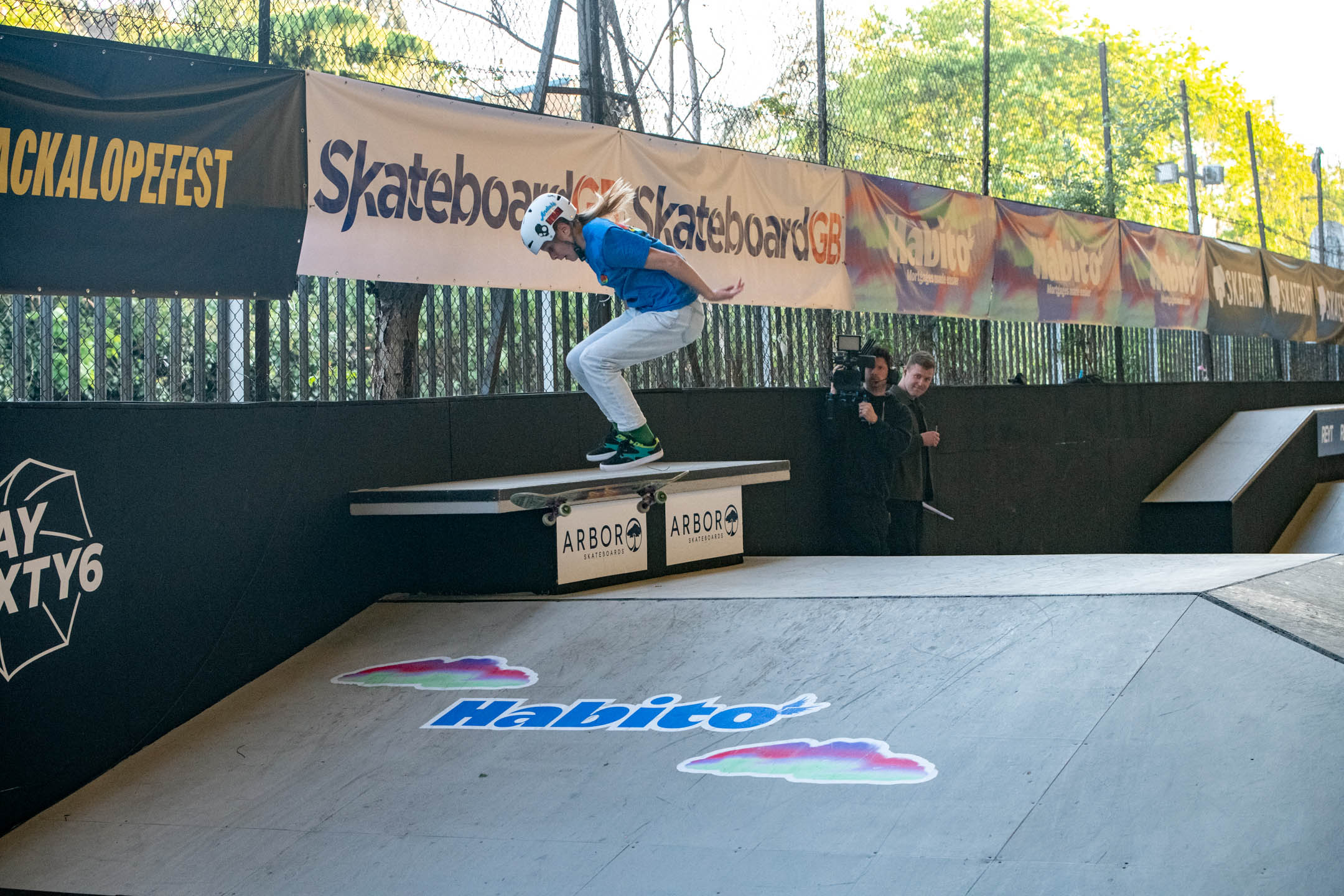 Roxanna Howlett Photo: Skateboard GB / Garry Jones
On the boys' side of things the final looked certain to be a dogfight between the power of Joe Hinson and the consistency of Alex Decunha for top honours, with the psychological subtext of Joe's occasionally spiky temperament versus Alex's relatively extensive international contest experience being the filter through which the outcome seemed likely to reveal itself. It would end up going right down to the wire between them.
The rest of the men's field included the butter-smooth Niall Gilroy, Scottish missile Kieran Menzies and solid showings from Etienne Turnbull, Jamie Manning and Harry While, but it was spontaneous, raffish newcomer and crowd favourite Nathan Clancy who would take a creditable third place despite having earlier bopped his noggin.
Joe Hinson's second run won the contest, no question, with the centrepiece kickflip frontside 50-50 being hard skateboarding currency in anyone's language.
In so doing he overleaped previous leader Alex Decunha, who replied with the final run of the day. Despite landing everything including a bigspin heelflip boardslide on the big rail as his last trick, he couldn't unseat the on-form leader and came in second place by a margin of just four points.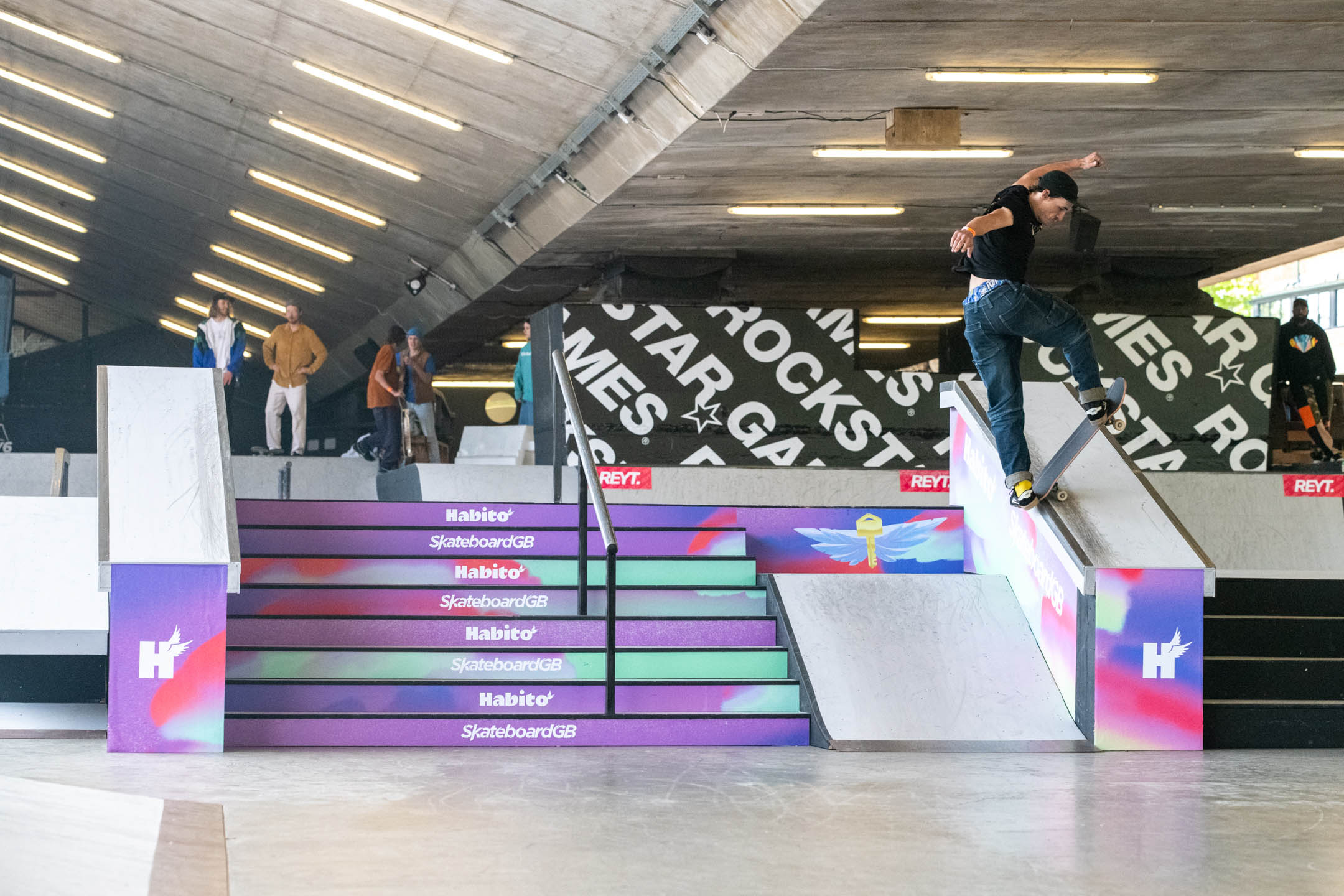 Joe Hinson Photo: Skateboard GB / Garry Jones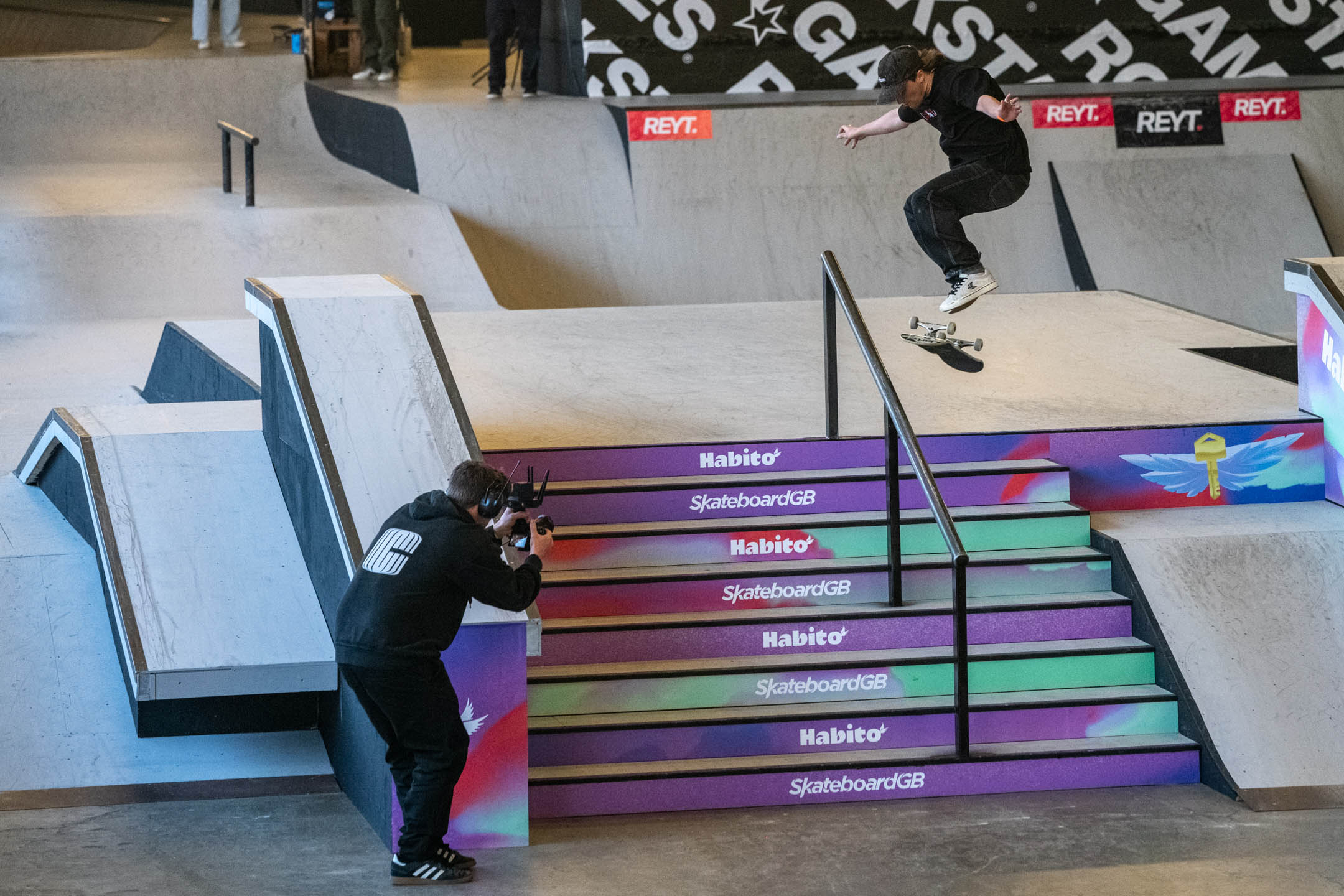 Alex Decunha Photo: Skateboard GB / Garry Jones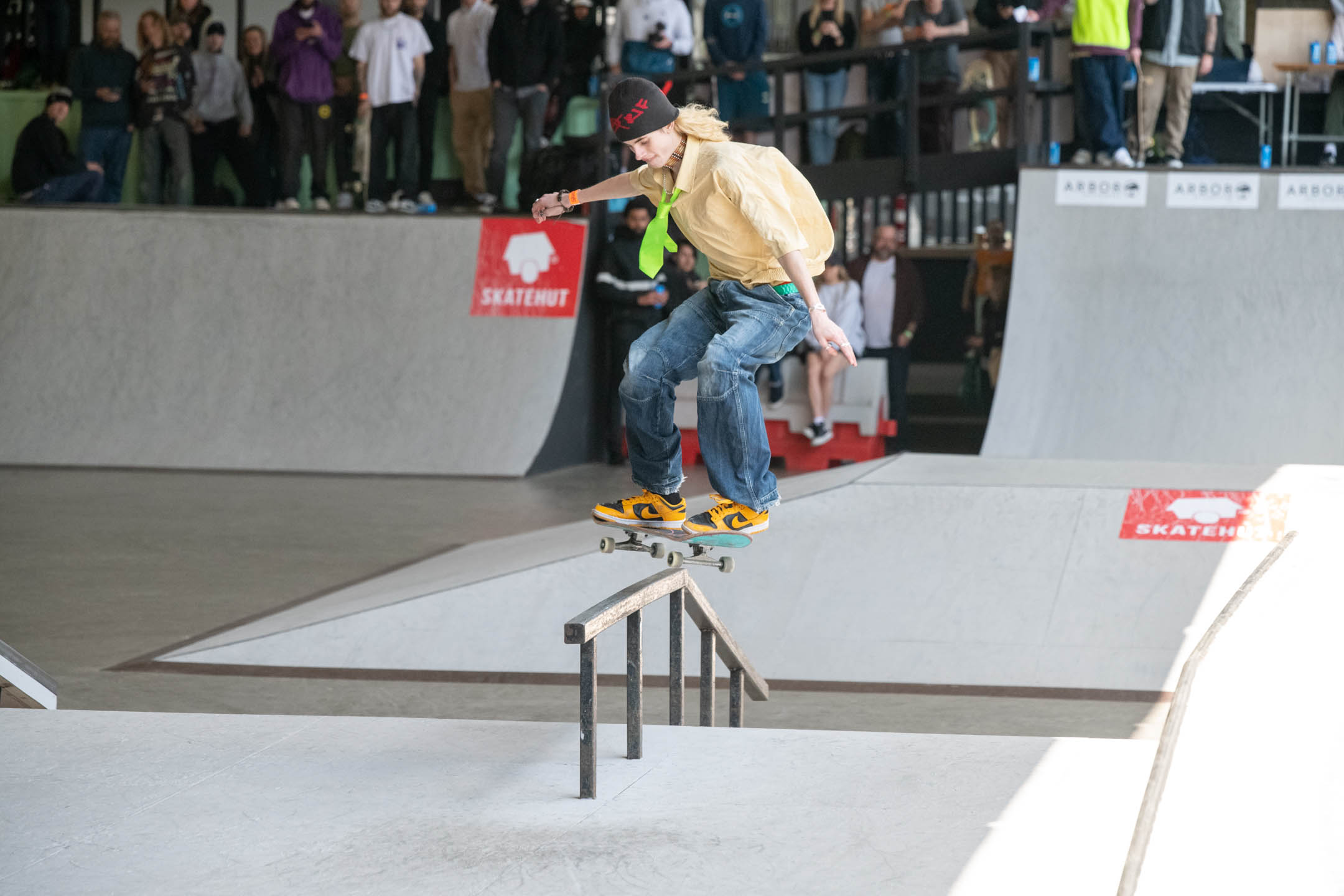 Nathan Clancy Photo: Skateboard GB / Garry Jones
UK skateboarding has a rich history of national skateboard events, both competitive or otherwise. Through overlapping reasons, not least of which is Covid, most are regrettably no more. It is no small delight to see new fixtures establish themselves year on year as Skateboard GB have done. The energy was high under the motorway on Sunday night and full of smiling faces- boys, girls, Mums, Dads, old-timers: everyone.
And here's a beautiful thing: once the prizes were dished out and everyone had updated their Instagram accounts accordingly, they all jumped on the train at Westbourne Park together- winners, losers, girlfriends, boyfriends- and headed home, talking about this board, that spot, where-to-next and all that good stuff.
That is the kind of skateboarding energy that makes what we do unique, and it was on full display as that evening sun came streaming in under the Westway on Sunday past.
More power to all involved.
Winners
Male
1. Joe Hinson
2. Alex Decunha
3. Nathan Clancy
4. Harry While
5. Etienne Turnbull
6. Jamie Manning
7. Niall Gilroy
8. Kieran Menzies
Female
1. Miriam Nelson
2. Ayva-Mae Whittenbury
3. Roxanna Howlett
4. Samantha Bruce
5. Marieme Corlett
6. Daisy Buchanan
7. Kitty Davies
8. Lily Lu-Zheng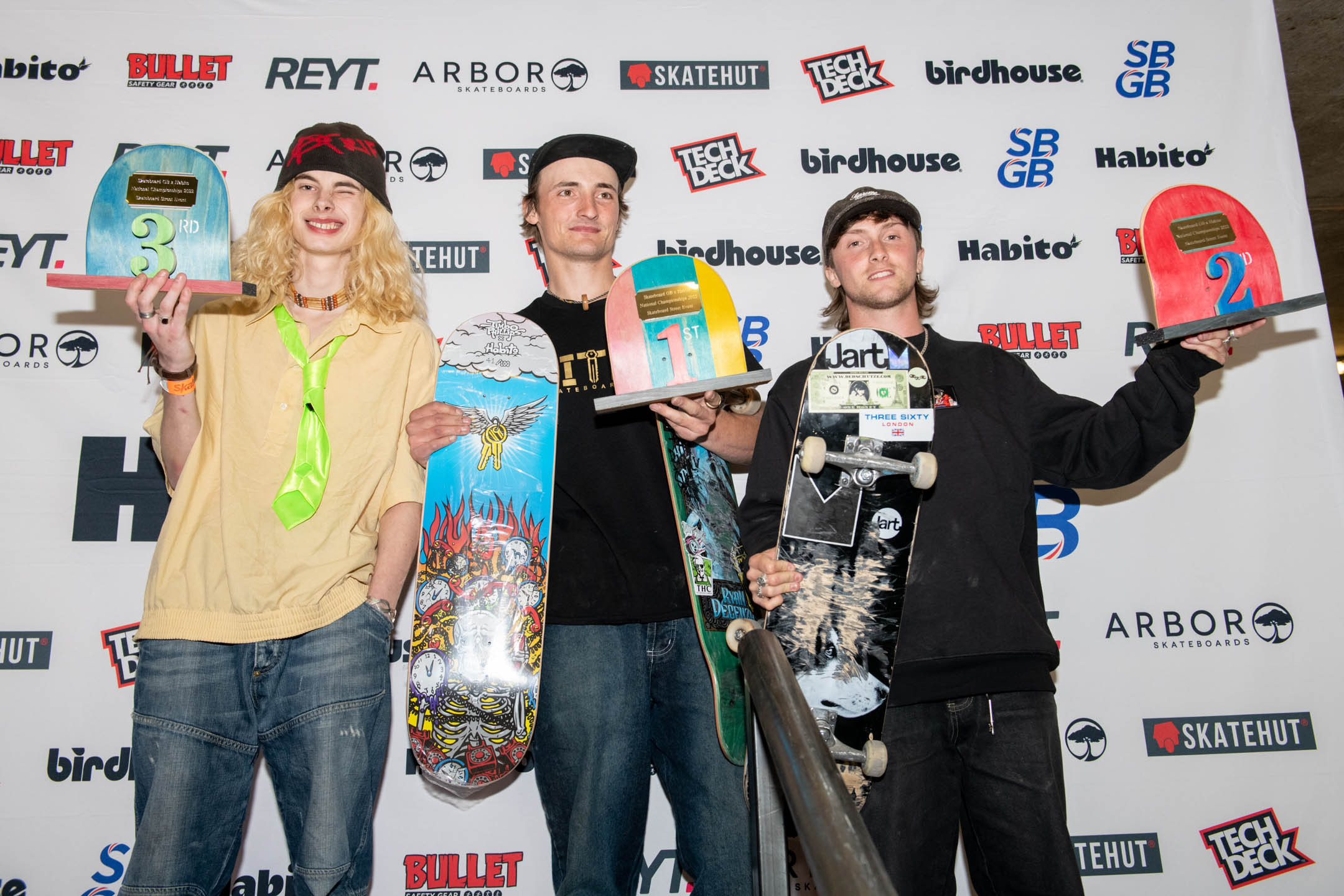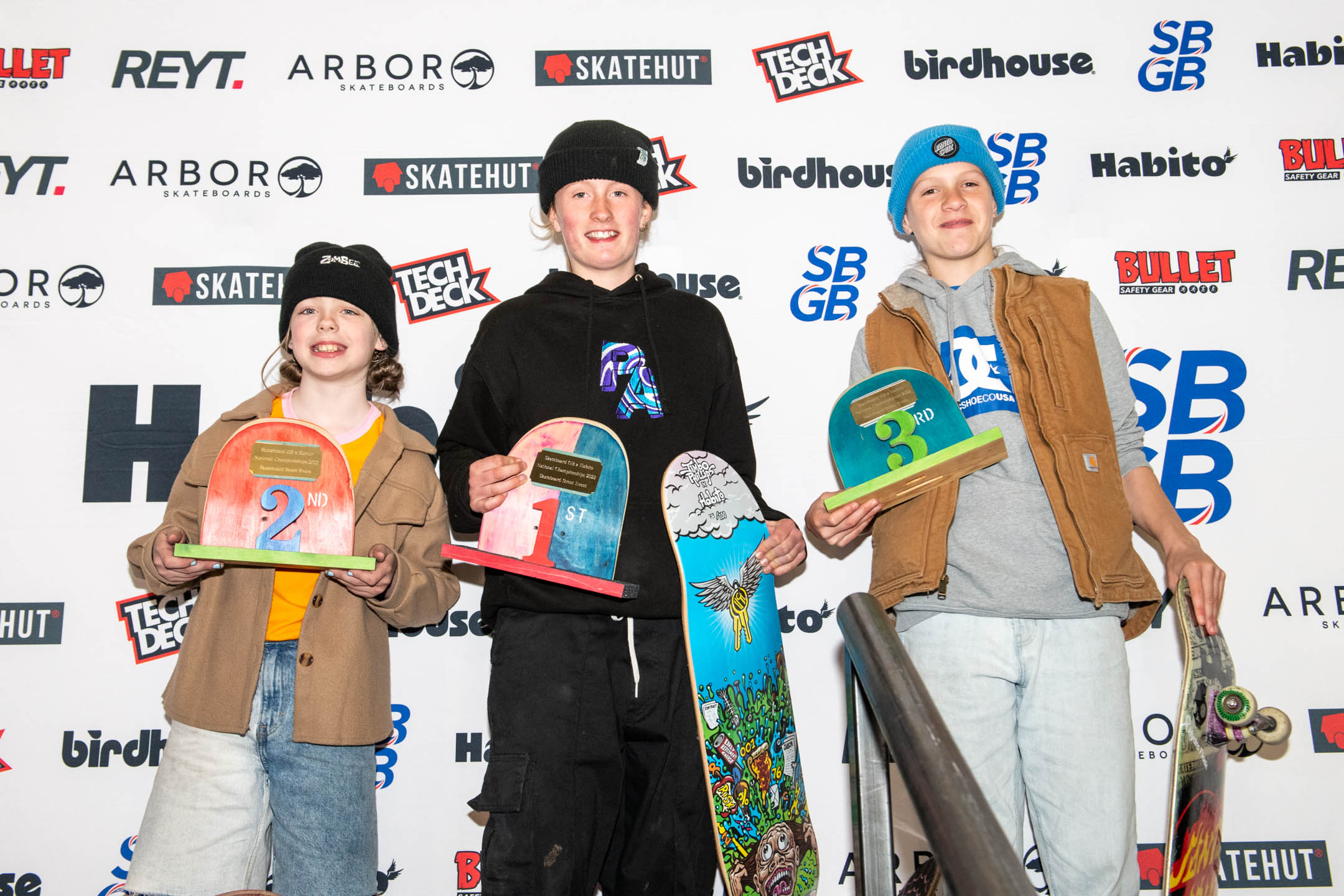 Photos: Skateboard GB / Garry Jones
Words: Niall Neeson