Observed since the early 1900's, the UN officially designated March 8, as International Women's Day in 1975. Marked as a day to celebrate the achievements of women in our society and also as a day to acknowledge how much further we need to go. It is hard to fathom that until the end of the 19th century, women did not have the right to vote, finance their own accounts, or have access to an education. Without forgetting the great achievements obtained to date, it is important to emphasize that in the 21st century, women continue to live in a wide gap of inequality.
However, powerful women full of ambition continue to fight for their rights and are committed to change. Setting aside the difficulties imposed by the system, Raisa, Valentina, Jessica, Sayaka, Dani, Ariadna and so many more are creating paths and bringing more opportunities for future generations. These female athletes are brave individuals who are carving the way for a brighter future by generating change and shining a light on the presence of women in the skateboard industry.
Words: Natalia Sanchez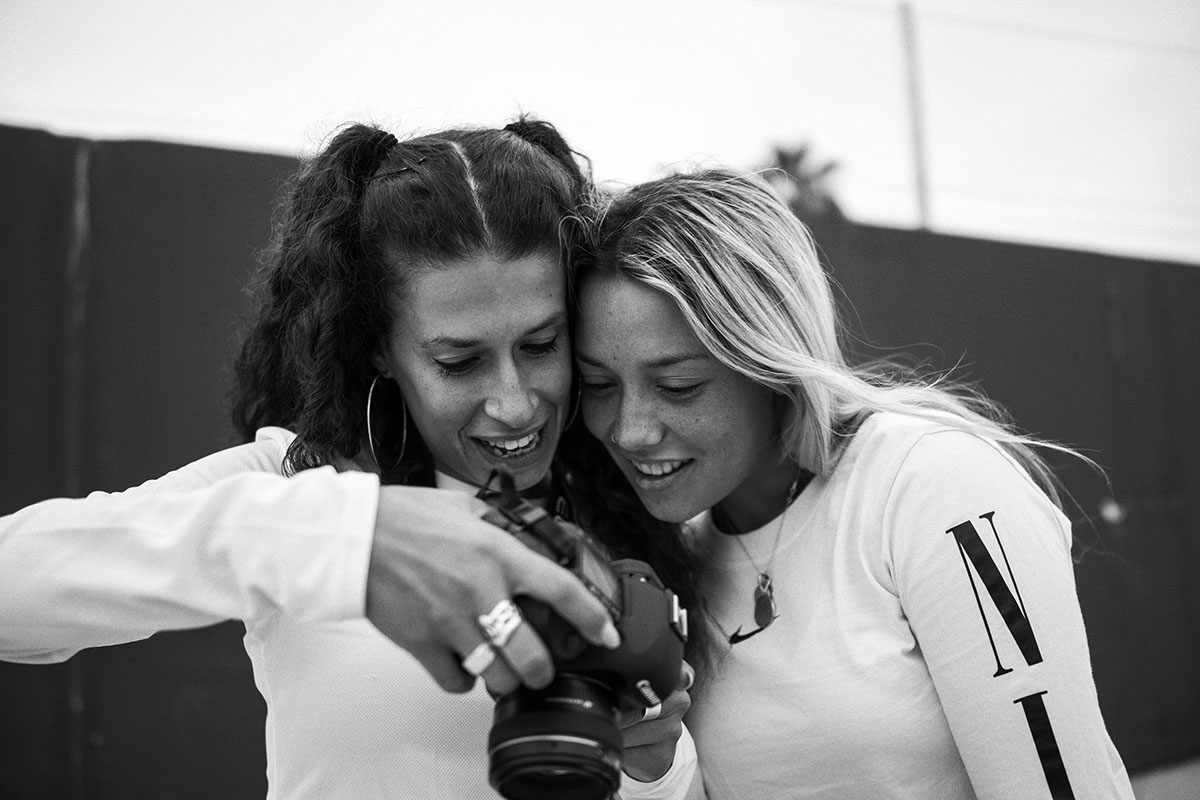 RAISA ABAL
Raisa Abal is 29 years old, she studied Audiovisual Communication (four years) and has a Master's Degree in Art Direction. She is a co-founder of DOLORES MAGAZINE, a full color printed female skate-mag, made 100% by women.
She started to skate when she was 22 years old, but she has been around the skateboarding world since she was younger.
"I met more girls who were already skating, and that truly motivated me. Since then, it has been part of my day to day."

Raisa, like other skaters, has two jobs which allow her economic stability and allow her to dedicate quality time to what she enjoys the most: her family, skateboarding and Dolores Magazine.
Dolores magazine began in 2019. At first the 'imaginary idea' that we were going to create a magazine seemed a bit impossible. Everyone liked what it could be, but no one supported it as such in the first place.
It was for this reason that we did the first investment ourselves, by doing the first print run and thus making sure that our own project went out into the world.
We are already preparing the sixth issue and are very happy. Verónica Trillo and I work hard to continue moving forward with the few resources that exist, but the truth is that it is very satisfying to see that things are possible and to feel that we can devote ourselves in body and mind to what we really like. Other difficulties are the small expenses of the day to day: the services of the web, the web itself, the postal delivery of the copies, emails, stickers, envelopes, labels, and that it reaches to all girls and stores.
"It is a discipline that is being acquired, I believe, between us, the community and the support we receive from brands, it's what keeps us supported and moving forward."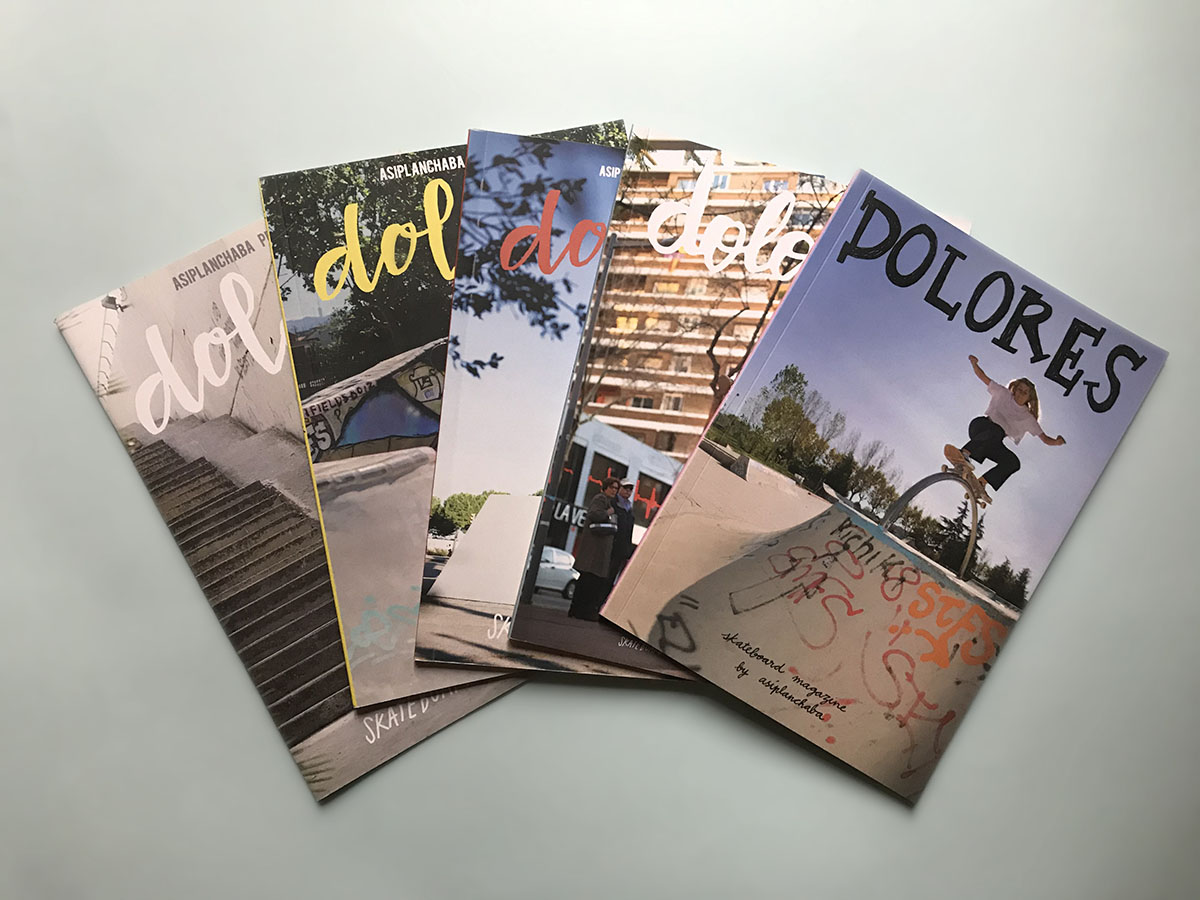 "My dream truthfully is that girls from all over the world can appear in Dolores, telling their story and their experiences, concerns, and their ways of living with skateboarding, which is what we all enjoy in the same way. We have a creative side within us, that's why I always try to get everyone to contribute something of themselves in each edition: a text, an interview, photos, collage, illustration, the introduction ... In the end, I would like Dolores to be a place where everyone feels welcome."- Raisa
ARIADNA PÉREZ BALLESTER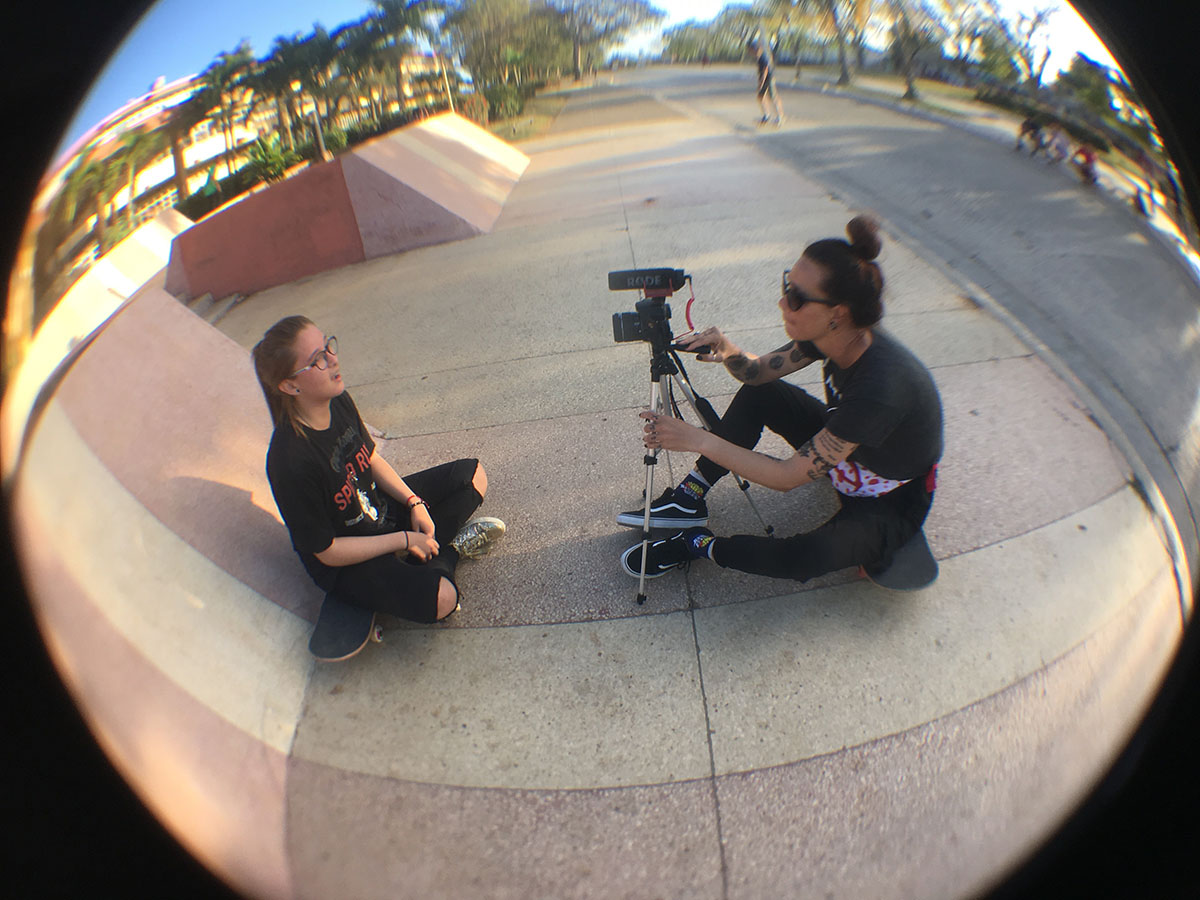 Ariadna Pérez Ballester is 31 years old and was born in Camagüey. She is a graduate of the University of Camagüey with a degree in socio-cultural studies. She is a freelance artist, photographer, and has been a skate activist since 2015.
She collaborates with "Amigo Skate Cuba" to send donations of skateboards and accessories to the center of the island in pursuit of the growth of the Cuban skate movement all throughout Cuba, given that resources are very scarce and it's more difficult for cities located outside of the capital.
Ariadna has been skating for 14 years, an activity that was eventually interrupted for a long time because she didn't have boards and getting a skateboard was almost impossible.
Groups such as Amigo Skate Cuba and the skate movement of Havana, collaborated in the process, and since 2016 Ariadna travels at least 2 times a year to bring donations of skateboards and supplies to the inner parts of the Cuban country.
"In Cuba it is difficult to carry out a project, there is a lot of censorship."
In September 2019, Ariadna began filming the documentary "Skate in Cuba", where she tries to capture the realities that exist in her country, the shortcomings and the effort, among many other things. Therefore, her activism went from being a project, to a movement called Comunidad Skate en Cuba.
"A skate community has been created in Cuba that sees the project as a place to share and promote their lifestyle, and that gives me great pleasure"
Currently Cuba's economic model is going through a process of change, the elimination of a currency and Covid-19, plus also the economic blockade, make daily life very difficult. And at the same time, the government is experiencing a very repressive situation, the connectivity is not where it used to be. Approximately 2 years ago mobile data service began in Cuba. The service still has many connectivity problems, it can be be difficult to share through networks and it's very expensive, but it allows a greater flow of information and many people have access it.

In February 2021, certain decrees were put into effect that make Ariadna's work as a photographer and documentarian not legal until it is recognized by government entities. In this way, it is very difficult for the outlook towards skateboarding and her work to change during these times.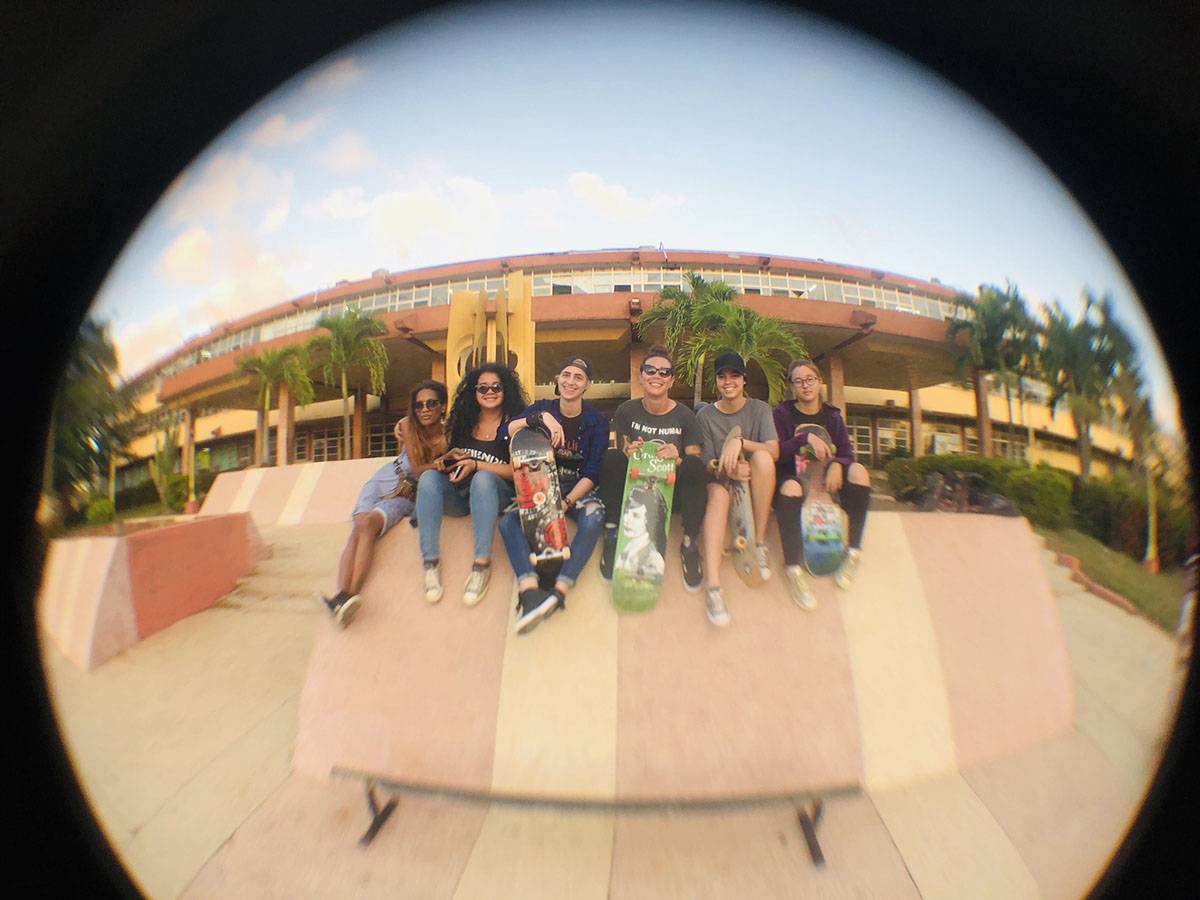 "My project has suffered setbacks that sometimes makes me feel that I should not continue ... that is how difficult it is sometimes, in the best of cases, we skaters are ignored, because we can be fined, detained and even beaten and only for the love of skating to be taken as vandals. On a social level, I feel great pleasure in saying that society, the people, have increasingly accepted skateboarding in the day-to-day life of the city, the online platforms of my project have also united and given a form of expression to many of these guys, and that motivates them and makes them continue, being very happy to be the person who in this way, helps them." - Ariadna
SAYAKA TAKANO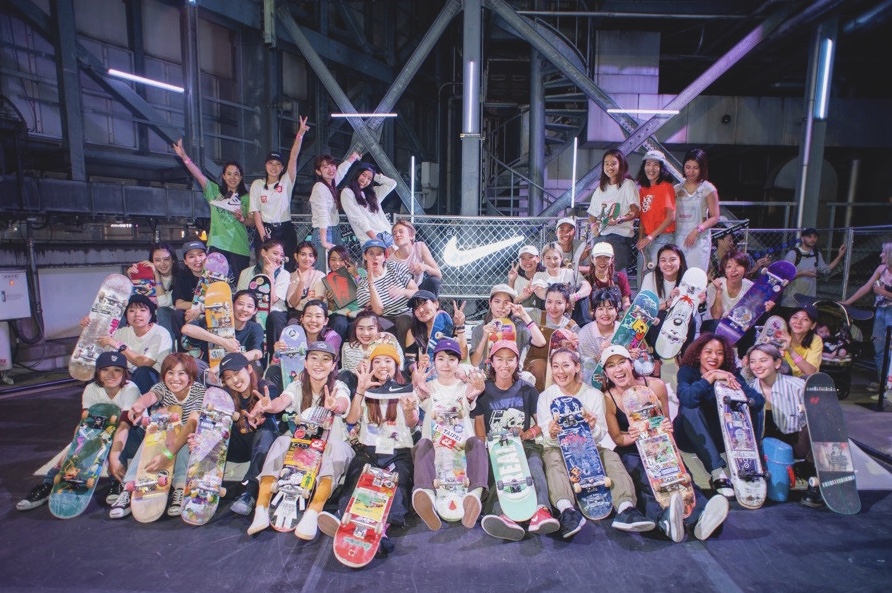 Sayaka Takano is 27 years old, was born in Kanagawa, Japan, and began skating when she was in college. She works at a skate shop (Instant Skateboards) and at a skate park (Tokyo Sport Playground).
Little by little the population of skateboarders is growing and the number of parks are increasing in her town. When talking about her town, Sayaka mentioned, "There are still a lot of things that people don't understand." She is from a very small community and she never thought much about public appearances, but now is planning and executing events.
Sayaka enjoys holding skate events, from beginners to experts. Her goal for each event is to celebrate the courage of each person to go beyond themselves, regardless of their level, and to make people realize the importance of it, (and to love skateboarding even more) connecting it to a larger community of all races and genders.
She organizes events for girl skaters, including one for International Woman's Day on March 8th. She is hosting girls night at Tokyo Sport Playground every Thursday night, and also leading beginner skate every Saturday morning.
Sayaka's love and passion for sports motivates her to get more and more involved with skateboarding. She has a strong desire to teach and show people how much it has changed her life, and her hopes of sharing that joy with the community have led her to want to open a school.
Today more active than ever, between traveling and new cultures, Sayaka has discovered not only how immense the skateboarding community is, but also about the great human values that she puts into practice in her daily life.
"I often get asked, 'Is it okay to start skateboarding at this age?' I think it's your timing when you decide to start skateboarding. Everyone has an equal chance to start. I don't want people to give up because of their age or gender."
"I even had a friend telling me that my world was very small. I wasn't good at expressing my opinions, and I wasn't comfortable presenting anything in front of people because I lacked confidence."
"I am often asked how long it took me to learn how to do tricks. The time it takes to do a trick varies from person to person. It may be great if you can do it fast, but I think that the effort and courage to not give up until you can do it is more important and wonderful than how fast you can do it. There are times when we are motivated to work hard in order to be competitive with others, but I believe that the most important thing is to keep trying and to never give up. So don't get caught up in the time frame, work hard in your own way, and have fun skating in your own way!"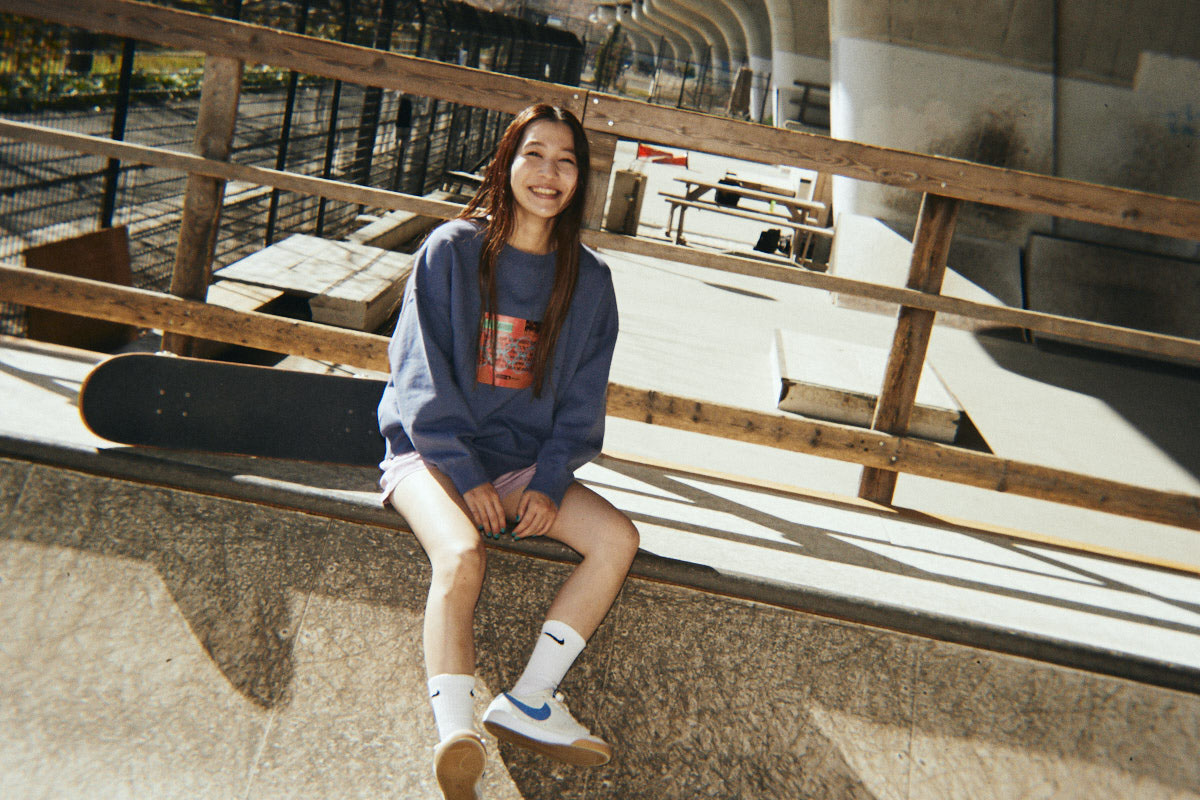 "My life has changed a lot since I started skateboarding. I went from being serious all the time to being appropriate in a good way. I gained confidence in myself. The sense of accomplishment that comes from trying and succeeding is not something you can do alone, but something you can share with everyone around you." - Sayaka
VALENTINA DÍAZ GUTIÉRREZ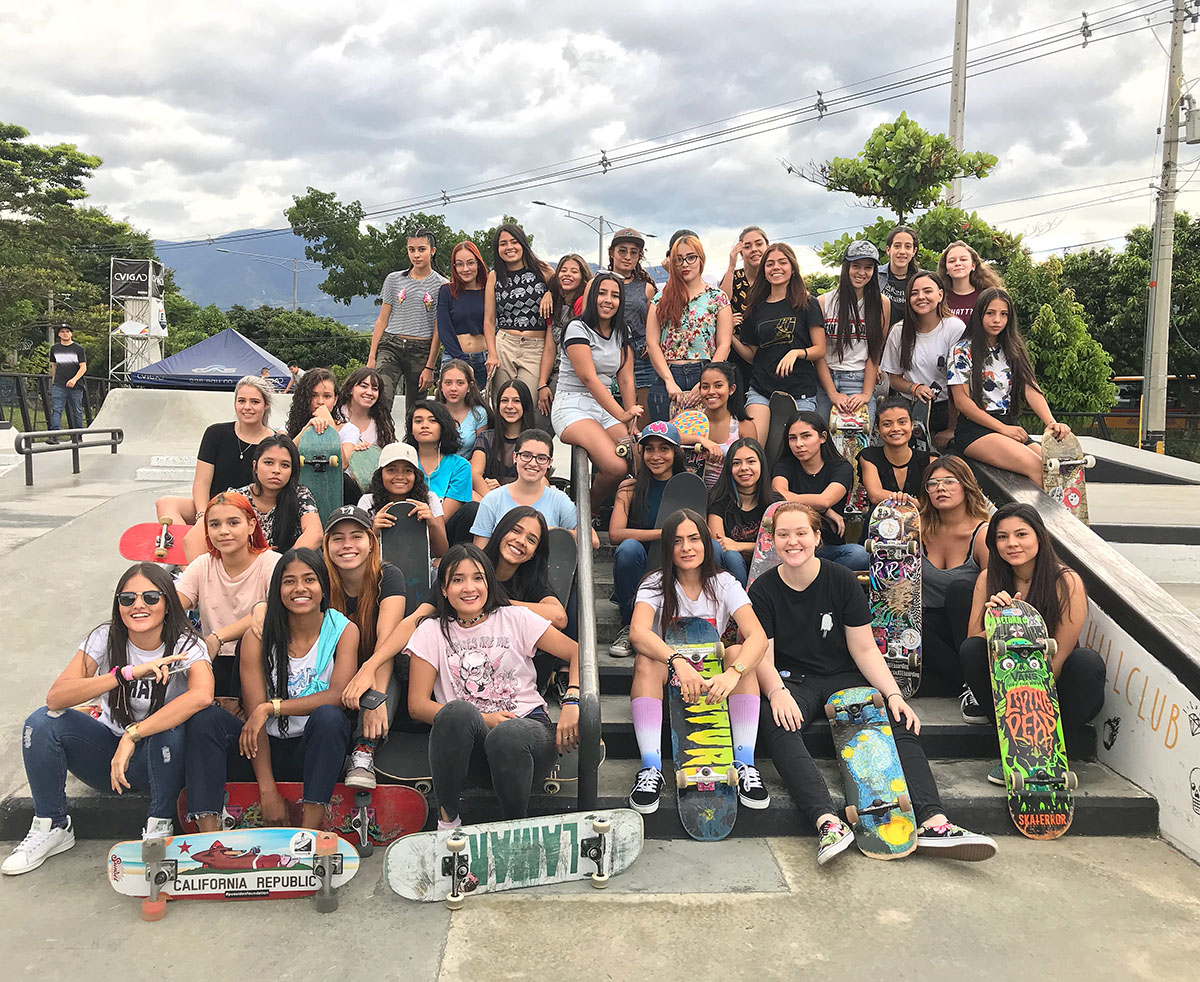 Valentina Díaz Gutiérrez is a social communicator and works in the development of sport through communication strategies and social work. She is co-founder of the collective @sobreruedasgirls where she generates projects and collaborates with more female groups, opening spaces both physical and virtual, to connect with Colombian athletes.
Valentina is twenty-four years old and studied communication and journalism. She started skating ten years ago. Four years ago, this project was born: "On Wheels", which arises from a necessity for the city, to have spaces for girls, where it begins as teamwork, which later becomes an official collective of national skateboarding.
With the support of her family, Valentina decided to follow the path of skateboarding for her career. She had the opportunity to write for (SHIT Magazine), a Norwegian skateboarding magazine, which was a very significant process in her career, an experience that led her to write about different topics such as competitions, foundations, projects, sports venues, skaters and more. This process ended up focusing her more on her personal project and the impact it could have at the district and national level.
From this, the opportunity arose to work with the Bogotá sports institute and act as a communication link between the institution and the community.
Valentina is committed to education and generating more information by weaving listening and curiosity to unify and build new concepts around skateboarding. Value what the city has to offer to the entire community and understand the needs of sportswomen, children, youth and the entire skate scene in general, as well as begin to decentralize and think about a common good that contributes to everyone.
"Over time you discover tools for social transformation, where you can encourage athletes to channel their skills and academic knowledge in the area of sports, specifically in skateboarding, since it needs it now more than ever: communicators, architects, administrators, coaches, designers, publicists, doctors and many more professions that ultimately contribute to the development of skateboarding in each country."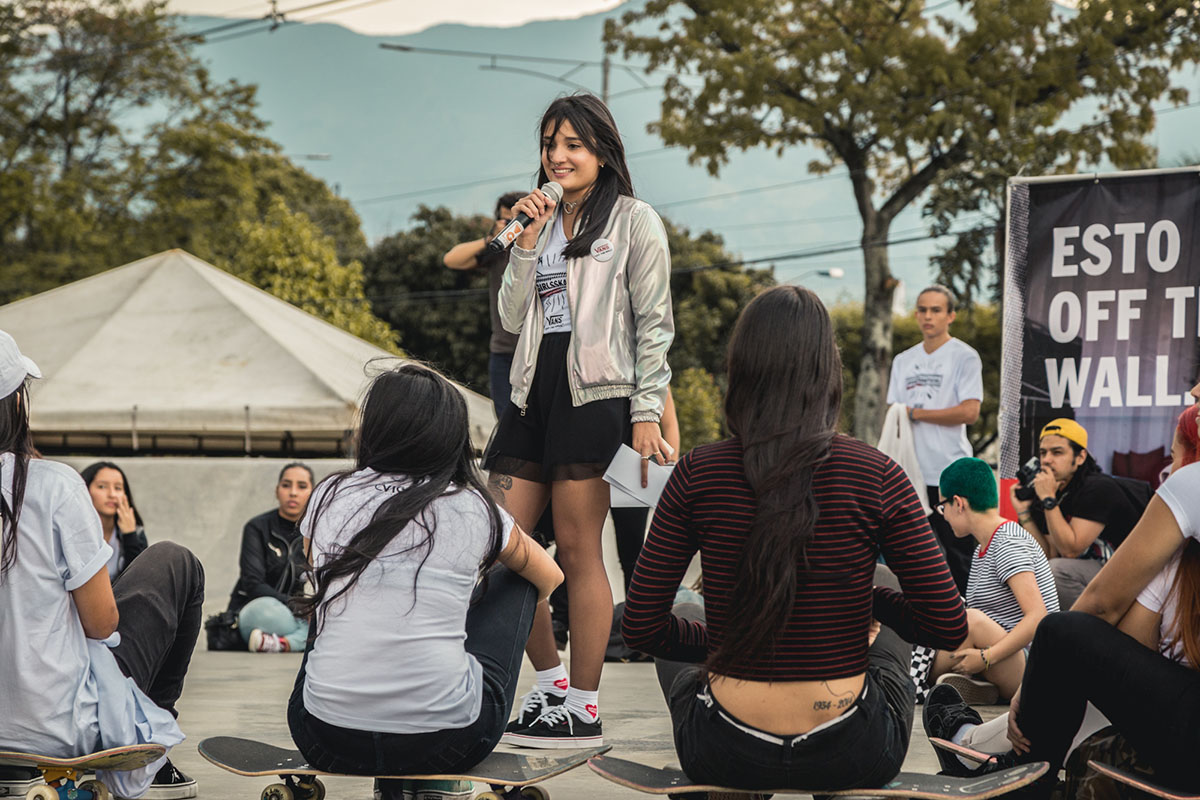 "Ultimately all of us are contributing grains of sand so that this continues to work. There is a lot to do, manage, develop and think about, and little by little we will see the change and transformation for the benefit of skaters." - Valentina
With their own voice and identity, these women and their achievements are examples and references for future generations. Women who dared to take the reins of their destiny and transcend beyond the context they have to live. It's also necessary to highlight all those not-so-visible stories of women who fight against the current and have achieved goals that could have been hindered by their gender. Those who have played a fundamental role throughout our time in the development of events. Great revolutionaries who, day by day, broke with what was established in each of their fields and in society. Brave women who opened the way for so many others and who, in their struggle for equality, have made the world a fairer and more egalitarian place. You may have even shared a coffee without having noticed, maybe that great revolutionary woman is part of your family... who knows...