In a progressive move, Skateboard GB split their 2022 Championship contests in street and park over two locations and two weekends, the better to spread the post-lockdown stoke of a British skateboarding public starved of the kind of lifeblood scene events which used to be a hallmark of the culture in previous eras, the most recent of which in England was the Battle Of Hastings held at the Source indoor park in Hastings back in 2017.
Last Sunday's Park Championship held at the XC centre in Hemel Hempstead, a satellite town about 25 miles from London, added a new chapter to that history by hosting two outstanding contests complete with live broadcast showcasing a calibre of skateboarding which any crowd from Radlands to Night Of The Living Dead to War Of The Roses would have had no problem getting behind for the sheer standard of skateboarding on display.
The XC is a kind of multi-use leisure space which has historically struggled with internal condensation issues, but the complete surface clean and addition of temporary extensions meant the park could be play host to a new era of possibility for this rare British indoor concrete bowl.
Once again, the girls contest delivered on the storyline of the day, a ridiculous high-stakes final run from Lola Tambling around an inflection point of a gap up to rock n' roll slide the temporary extension which took her directly into first place in the kind of drama that you couldn't write convincingly. If Bombette Martin was disappointed about getting bumped into second by Lola's moonshot she was gracious to a fault about it and already has all the hallmarks of being a pacesetter in the UK women's scene from now much as Sue Hazel did back when the UK scene was in its infancy. The superb, self- taught Lily Strachan rounded out the podium in the highest- standard UK women's skateboard contest held up to this point. The UK women's skateboarding scene continues to flourish and develop and there is much we can all learn from it.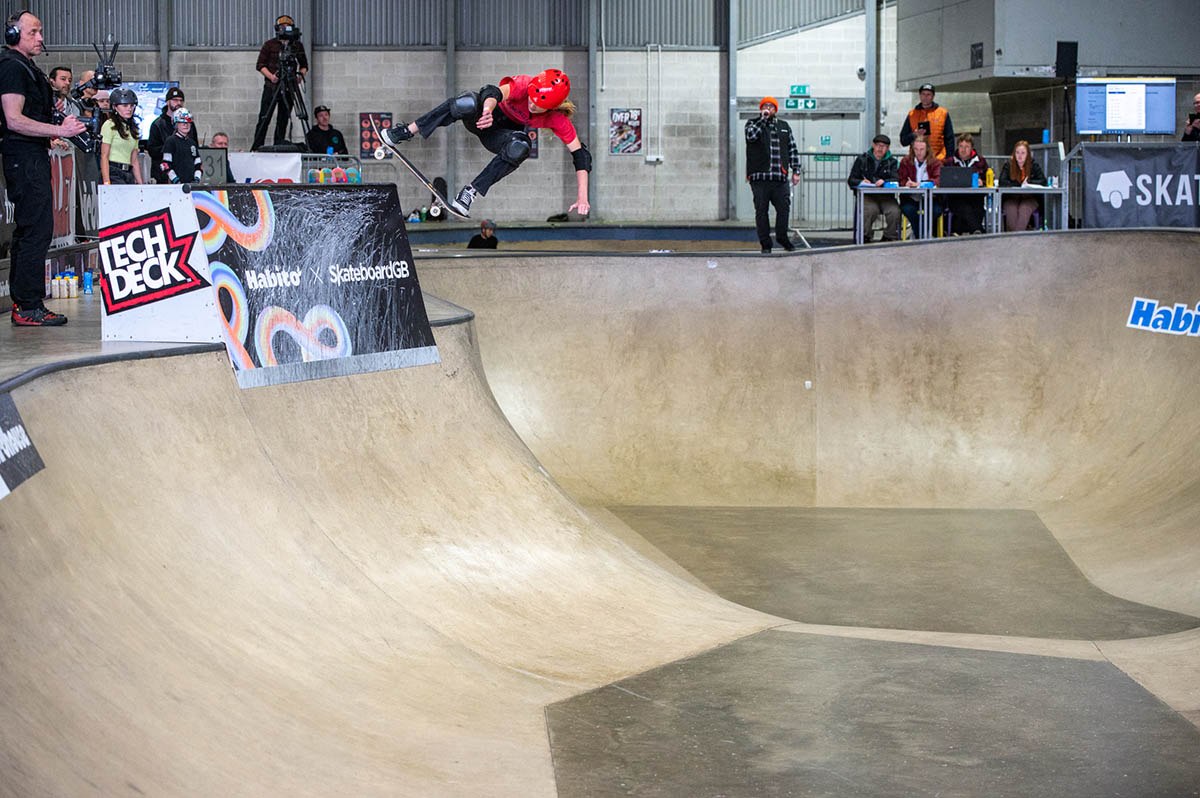 Bombette Martin | Ph: Garry Jones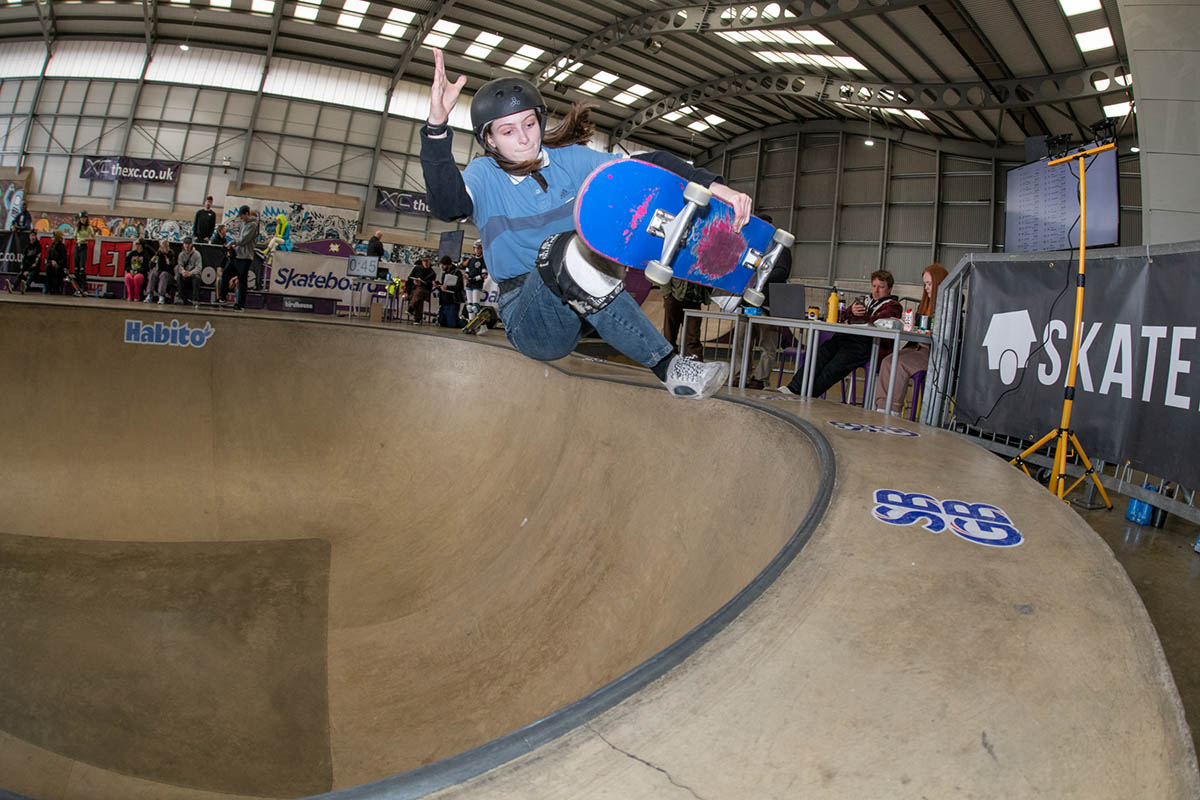 Lily Strachan | Ph: Garry Jones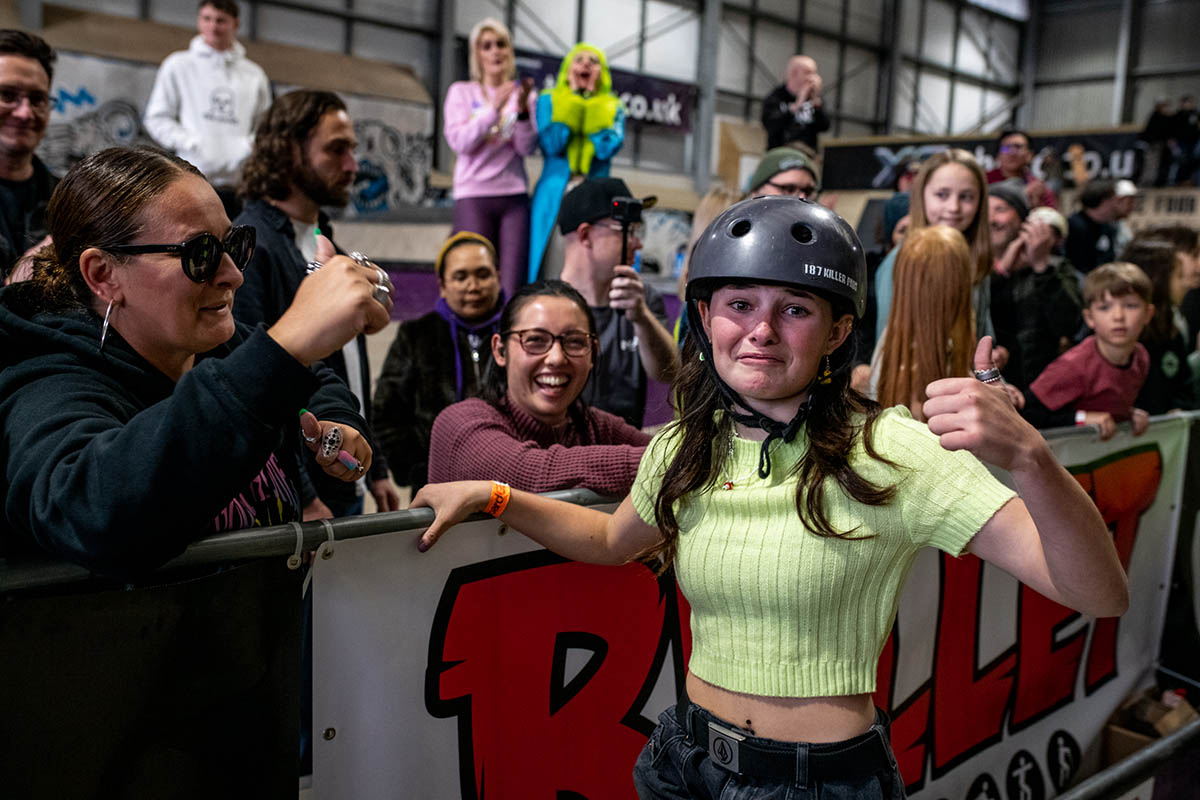 Lola Tambling | Ph: Garry Jones
How great is it to see crowds back at skate contests again?
It seems like the appetite for live skateboarding action is really coming back with a bang here in the UK.
Marc Churchill as ever kept the energy and tempo high on the mic, while Lucy Adams and Ben Powell provided colour commentary and much else besides for the online audience of over 5,000 all told.
The boys final was an eclectic mix, featuring some second-generation transition pedigree, a backyard vert gnarler, an X-Games veteran and a couple of frighteningly talented youngsters who have already got the minerals to put together full 45-second runs on concrete without repeating a single trick. Regardless of your feelings about formats or events, the contest represented a raising of the bar for competitive British skateboarding.
Phoenix Sinnerton qualified in first and proved unassailable from then on, making his final run a play to the gallery since he already had it in the bag. Second place Jesse Thomas has become one of Britain's great transition prospects seemingly out of nowhere in the great tradition of low-key legends like Alex Hallford (who also shone today, killer second run) and Stevie Thompson. Jesse could have won on another day and on bigger transitions possibly would have. Third placed Andy Macdonald brought a little frisson of big moment experience to Hemel Hempstead and despite the age gap between himself and the winner, Andy like Chris Miller has enough intuitive skateboarding in their bones to be able to turn up and deliver in a way very few skaters can later in their careers.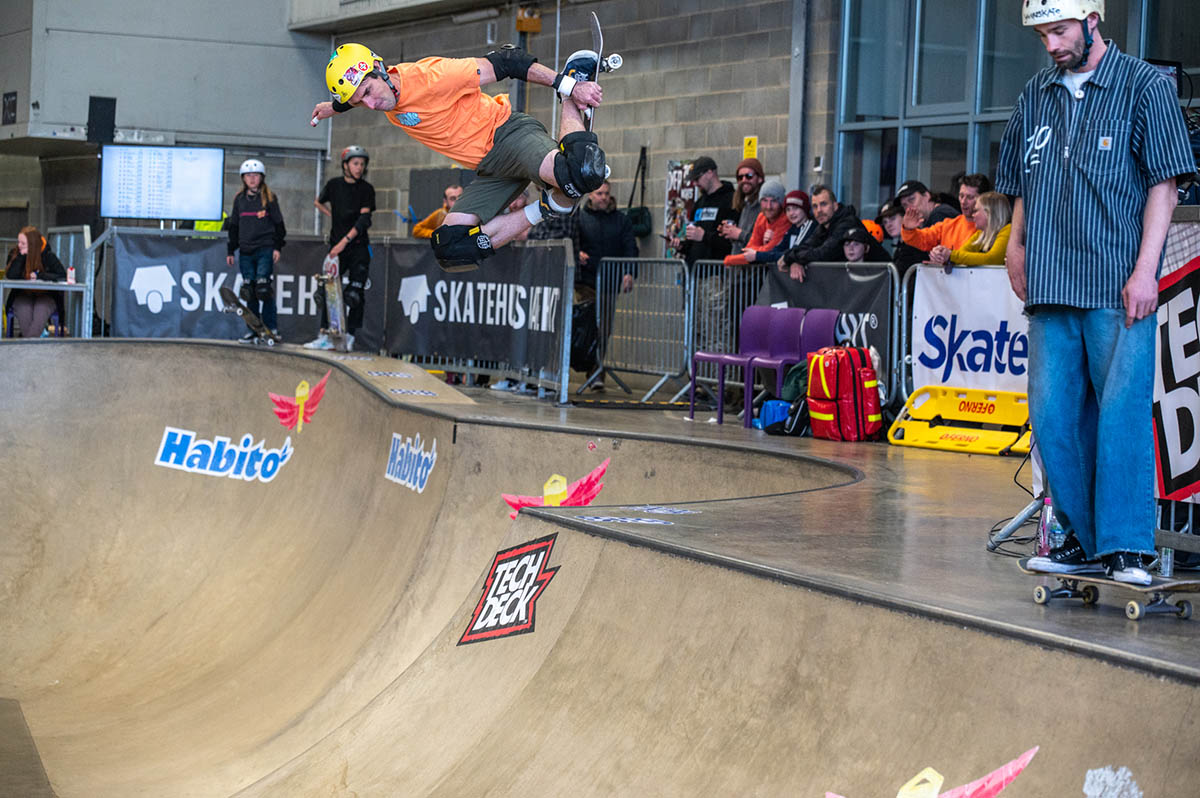 Andy Mac | Ph: Garry Jones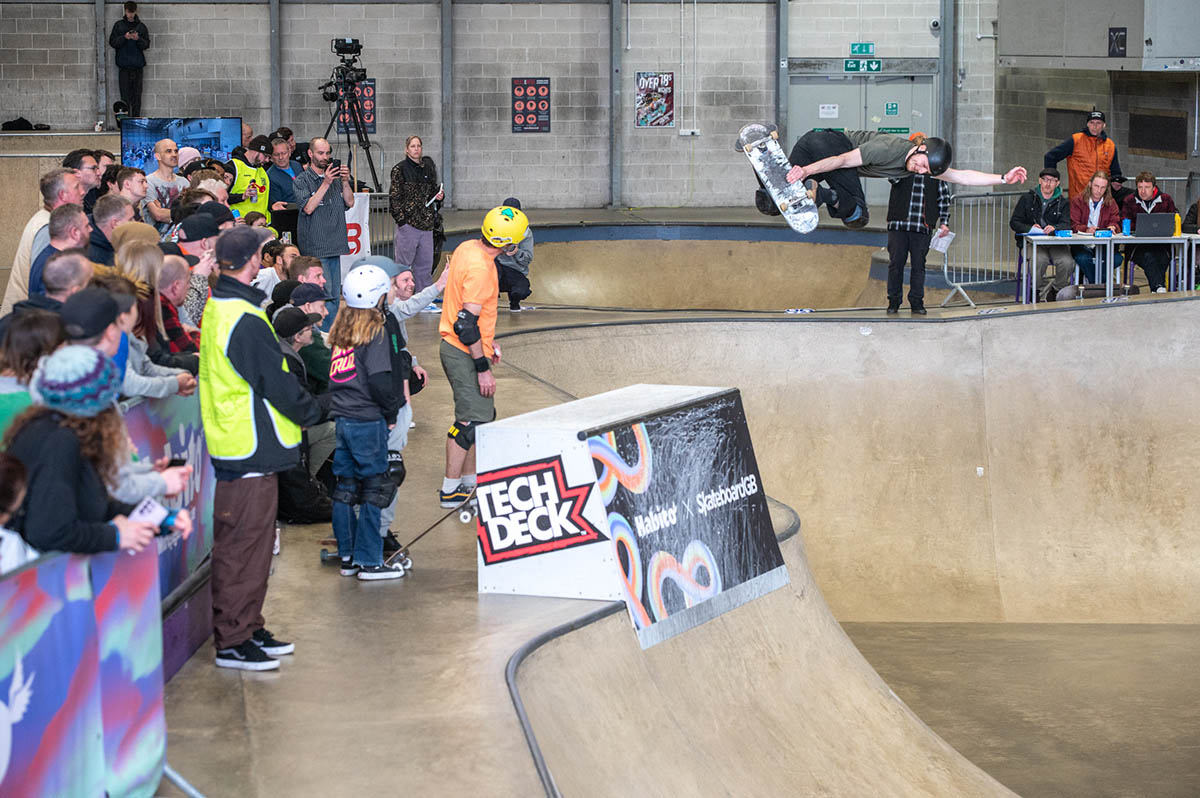 Jesse Thomas | Ph: Garry Jones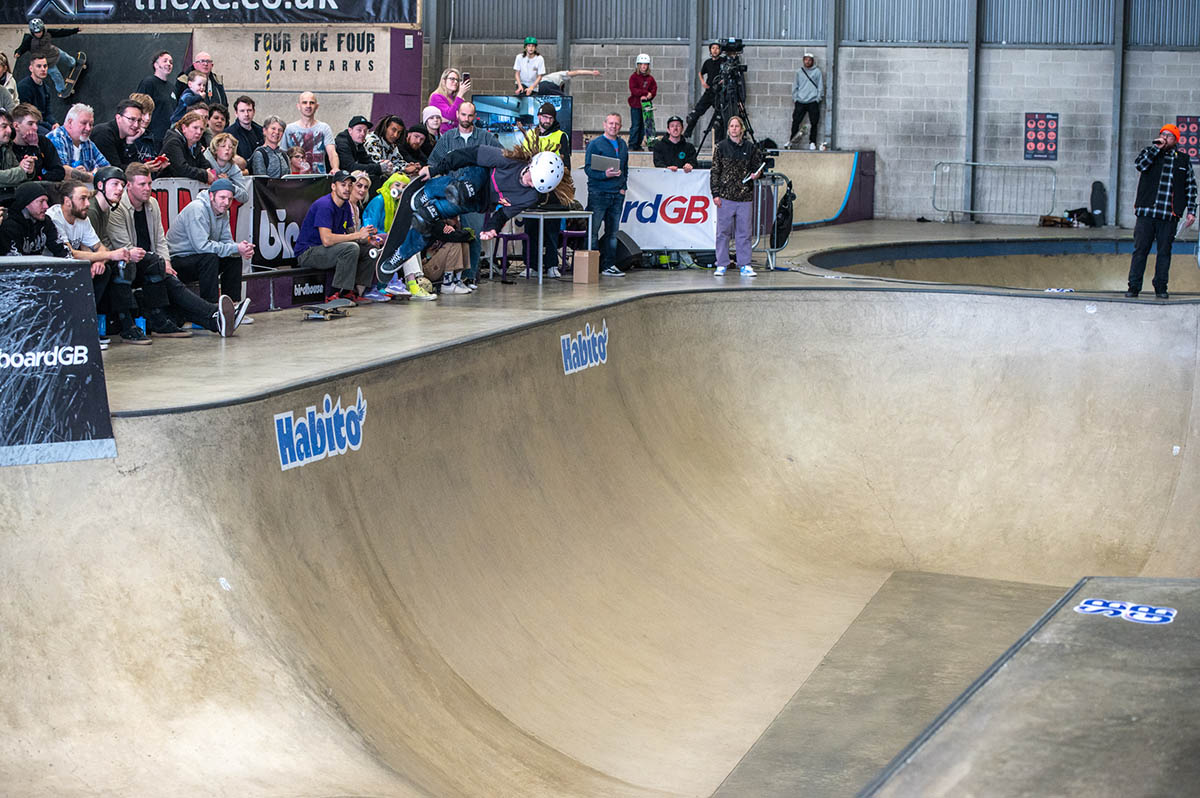 Phoenix Sinnerton | Ph: Garry Jones
Next, attention turns to the National Street Championship in West London's landmark Bay 66 skatepark underneath the M4 flyover, but for now everyone involved can reflect on a successfully organised, well-run and well attended concrete carnival here in Hemel Hempstead.
All credit to Skateboard GB and their staff and helpers for getting the UK skateboard event train running again after the global hiatus!
WINNERS

Male
Phoenix Sinnerton
Jesse Thomas
Andy Macdonald
Tommy Calvert
George O'Neill
Alex Hallford
Akin Hendricks
Kayo Martin

Female
Lola Tambling
Bombette Martin
Lilly Strachan
Molly Seed
Olive Newman
Izzi Wilkinson-Campbell
Carys Connolly
Ruby Dolan