In one sense, the Semifinals of a skateboarding contest are a crescendo of excitement all of their own, because it is the last time in which you can see the skaters who were destined for the finals go head-to-head with what you might call the 'bubbling unders', the skateboarders who have barged their way into the public attention through sheer force of will. Today at WST Sharjah Street World Championships Semifinals we enjoyed just that experience and although the cruelty of the field of 16 being cut in half in both Men's and Women's by the end of today, the margins of difference between making the cut and watching tomorrow's final with an ice cream were sometimes as thin as a whisper; skateboarding can be a merciless game at this level. Having whittled down the field from the enthusiasts to the talented and from the talented to the gifted over the last few days, today was the guillotine which bifurcated the gifted skateboarders from the gifted and consistent. While the gifted and consistent get their chance to shine tomorrow here in the United Arab Emirates, we should also here pay tribute to the gifted and consistent but unlucky, foremost among them must be Holland's Roos Zwetsloot who came into today as the Women's top Quarterfinalist from yesterday only to have the dreams of a first European Women's World Champion unravel in the Best Trick section which comes into play from now.
Here's how that part works very quickly: on top of the twin 45-second run format of previous rounds, now each of the 16 entrants in each field have 5 attempts to wow the judges with standalone tricks which could leapfrog successful skaters up the leaderboard by degrees of magnitude which conservative runs cannot.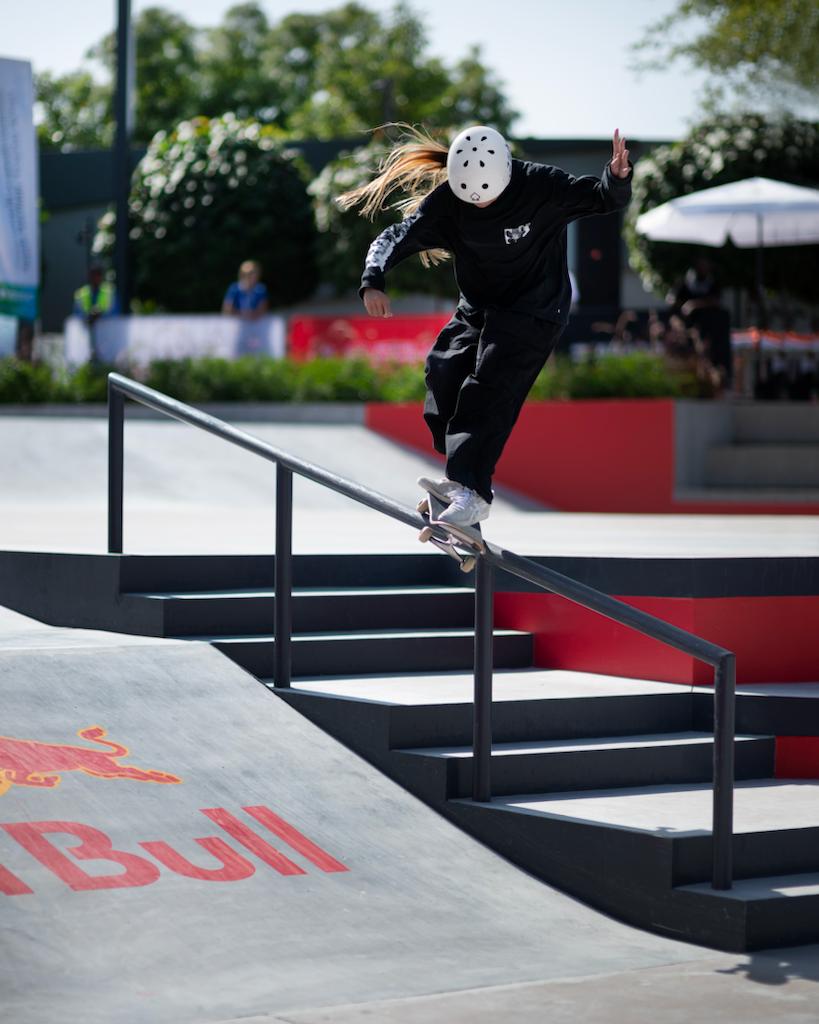 The scoring system from here on in combines the athlete's highest-scoring run of the day with their two highest scoring best tricks, all three of which are given an equal point weighting of a possible 100 up to a theoretical 300. This has the effect of weighing consistency with the explosive ability to create magic out of thin air, but today that was not to be for Roos. The Best Trick format also uncharacteritically upended more than one of the usually flawless Japanese female contingent including Thrasher cover star Funa Nakayama who stacked twice on her signature frontside crooked grind on the round handrails before switching tack with a backside lipslide to secure a point footing and then returned to the front crook on the slightly more forgiving hubba ledge. She is either very well coached or has a tactical nous beyond here tender years, but either way she played a blinder.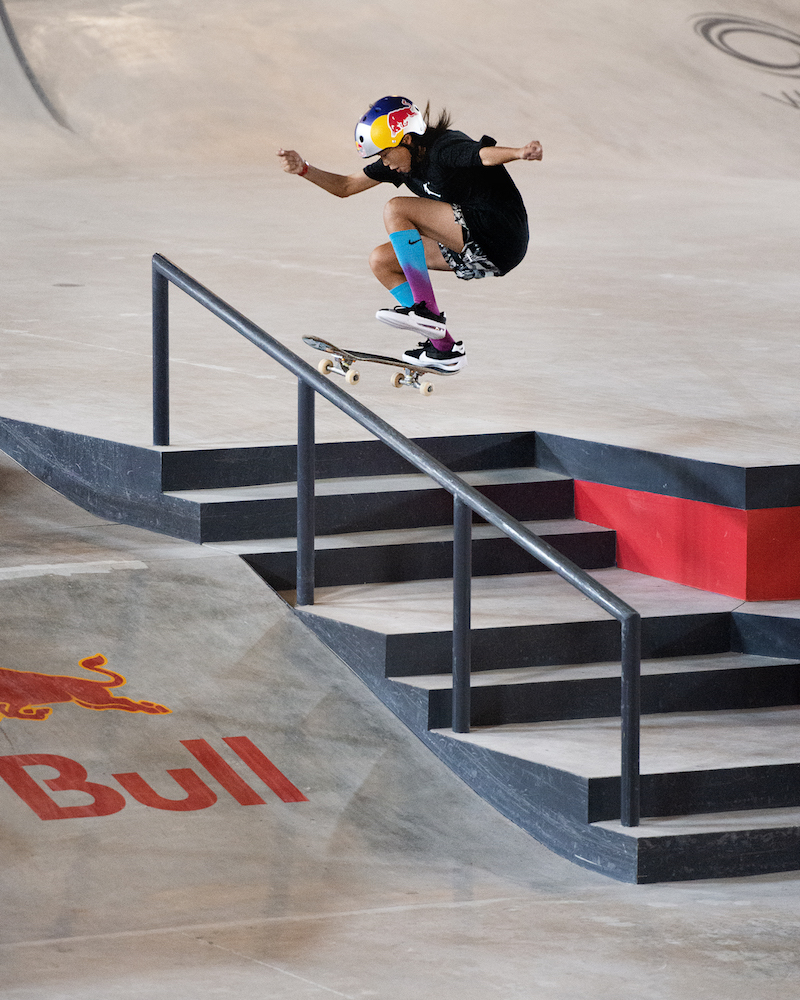 The other standout from the Best Trick section which injected a new sense of vitality into the contest was Colombia's current breakout star Jhancarlos Gonzalez who was one of two male skaters to set a new benchmark by landing all 5 of their Best Tricks, to wit: fakie ollie to switch front feeble; 180 ollie to switch crooks; switch backside tailslide; switch blunt shove it and a switch hurricane so effortless it looked regular. The boy is magnificent, but alas his endeavours were only good enough for 9th place in a field in which everybody brought their A-game (the other skater to land all 5 was Jagger Eaton, natch!)
Among the other notable stories from the battles tonight was Kelvin Hoefler who fell so heavily on a kickflip backlip that he required medical attention and forewent his first Best Trick attempt before battling back just when he needed to and the outlandishly talented Japanese 12-year old Ginwoo Onodera who only missed a single trick out of two full 45-second runs and 5 Best Trick attempts. Read that sentence back to yourself. Now, somehow, some way, the 16 brave souls left in this dogfight have to find the minerals within themselves to dig deep enough to do it all again tomorrow as the postponed 2022 World Championship reaches a showdown here in the sensational Aljada skatepark in sunny welcoming Sharjah.
We will be broadcasting live and direct with hosts Marc Churchill, Samantha Bruce and Danny Wainwright via Olympics.com, Worldskate.tv and Red Bull TV .
Livestream starts at 4:25PM GST.
Use Google for time differences where you are.
Be sure to join us for it, because based on today's evidence it seems set fair to pop off!
WST Sharjah World Championship Finalists:
Men
Ginwoo Onodera
Jagger Eaton
Gustavo Ribeiro
Sora Shirai
Aurelien Giraud
Chris Joslin
Kelvin Hoefler
Richard Tury
Women
Rizu Akama
Rayssa Leal
Momiji Nishiya
Chloe Covell
Gabi Mazetto
Pamela Rosa
Funa Nakayama
Paige Heyn