Park skateboarding will be the second World Championship discipline to be held in the Emirate of Sharjah in the UAE in the space of one week as World Skate's unique double-header kicks off the World Skateboarding Tour offering half a million dollars in prize money and experiences which take skateboarding into the professional echelons it not only deserves but other activities already enjoy.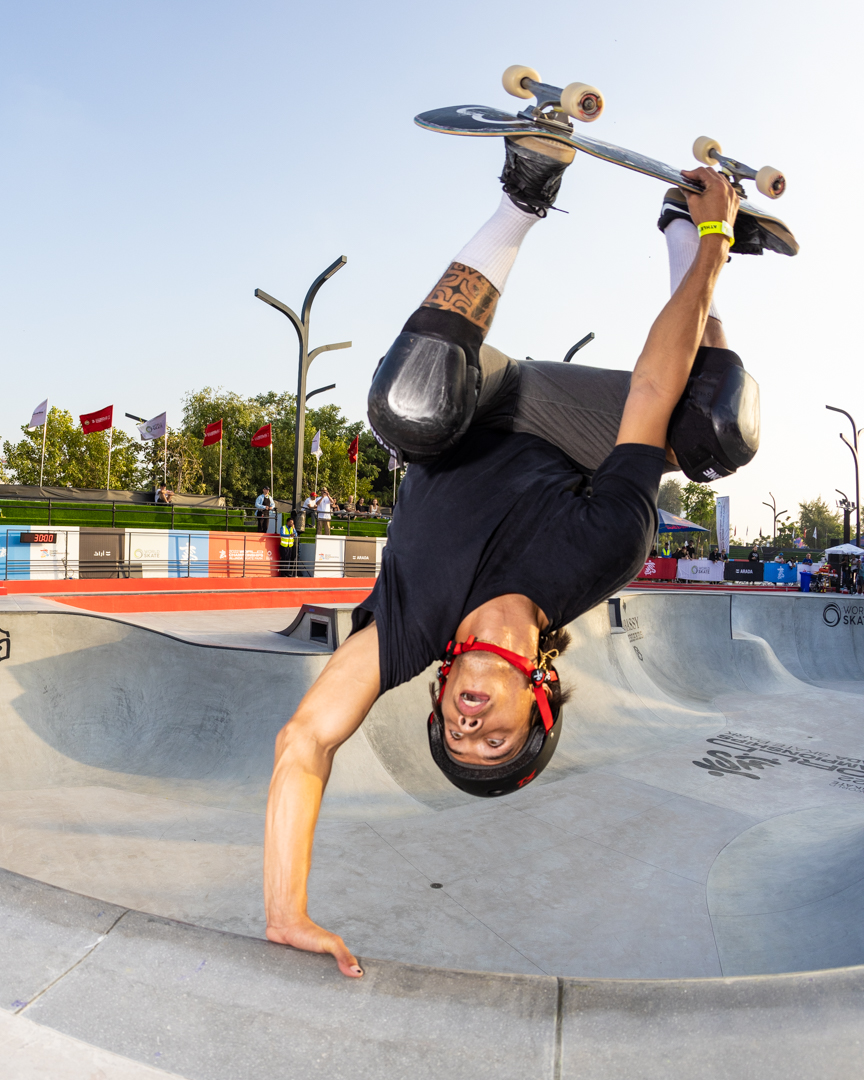 Although the World Championships of course contribute to point accruals which will determine which skateboarders go forwards into the Paris Olympics of 2024, ultimately only 12 skateboarders will leave France with a medal and only around 40-50 realistically have a shot at being one of those 12. So why, then, would 200 skaters fly into the United Arab Emirates to take part in the Wolrd Championships of Park Skateboarding this week knowing only 6 (3 men, and 3 women) would end up on the podium? Might it be that despite all the pre-emptive spin, the doubters might actually have been spectacularly wrong, and the world-class California Skateparks configuration here actually be one of the few places in the world where skateboarders from every continent in the world can be welcomed for skate sessions that include not just the powerhouse nations but the new arrivistes, too?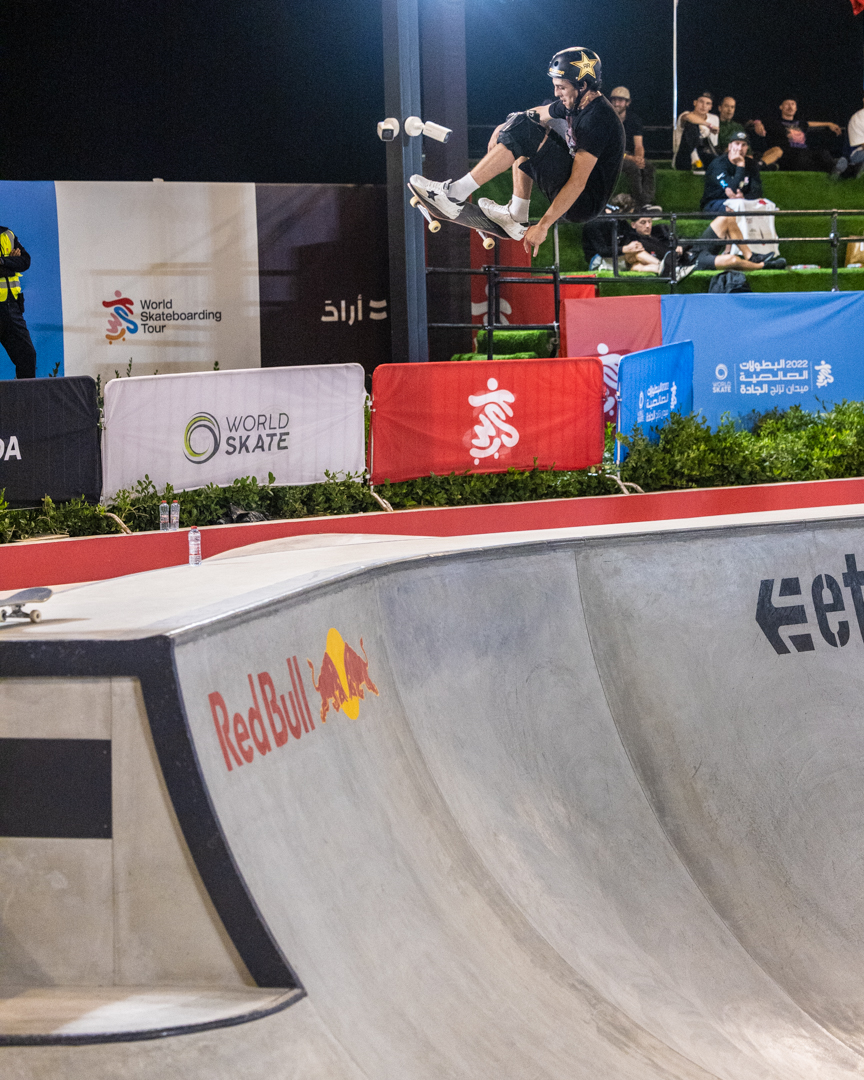 Perhaps we could ask the charming Indonesian skater girl Nyimas 'Bunga' Cinta who is here as part of the Youth Athlete Development programme sponsored by the IOC and who would have needed all sorts of visas to skate alongside her heroes in Europe or America. In these quarterfinals tonight we have seen men and women, boys and girls from 40 nations ripping together in a way which put simply has never been done before.
Who would have thought that in 2023 in the United Arab Emirates we would see the emergence of competitive Park skateboarding which featured largely unknown rippers from Finland to Thailand, South Africa to Chile, Korea to Mexico and England to China. Of course, among the 200 entrants there are included the famous and the almost-famous who will battle through to Saturday and half of those will compete in Sunday's final. Yesterday's open qualifier was the first cruel cut, taking out some established names alongside those who showed up to throw down in the full knowledge that they would be watching from the bleachers come Sunday with the rest of us.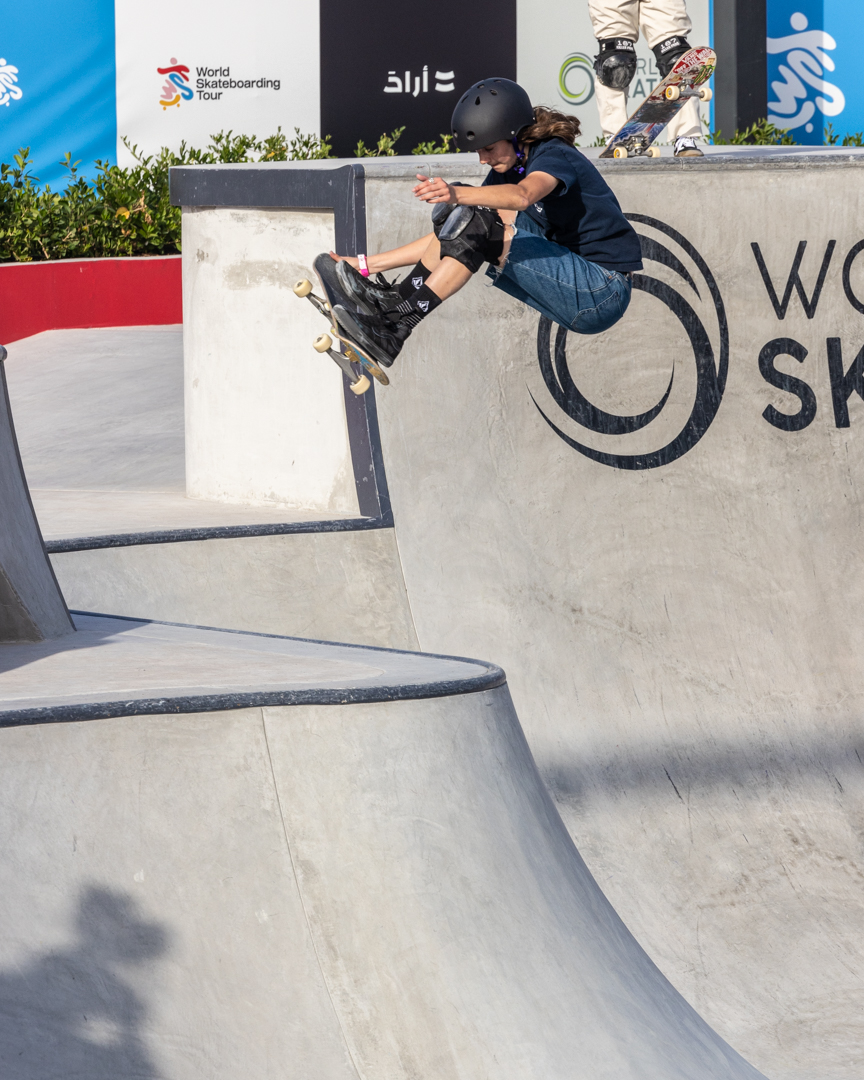 The remaining field of 32 going into tonight's Quarterfinal all had the ability to progress if luck and consistency shone on them. Yesterday's desert winds died down along with the sand they blew occasionally into the corner pockets which was quickly dealt with by the execellent cleaning crew, meaning that Friday night's conditions were near-enough perfect.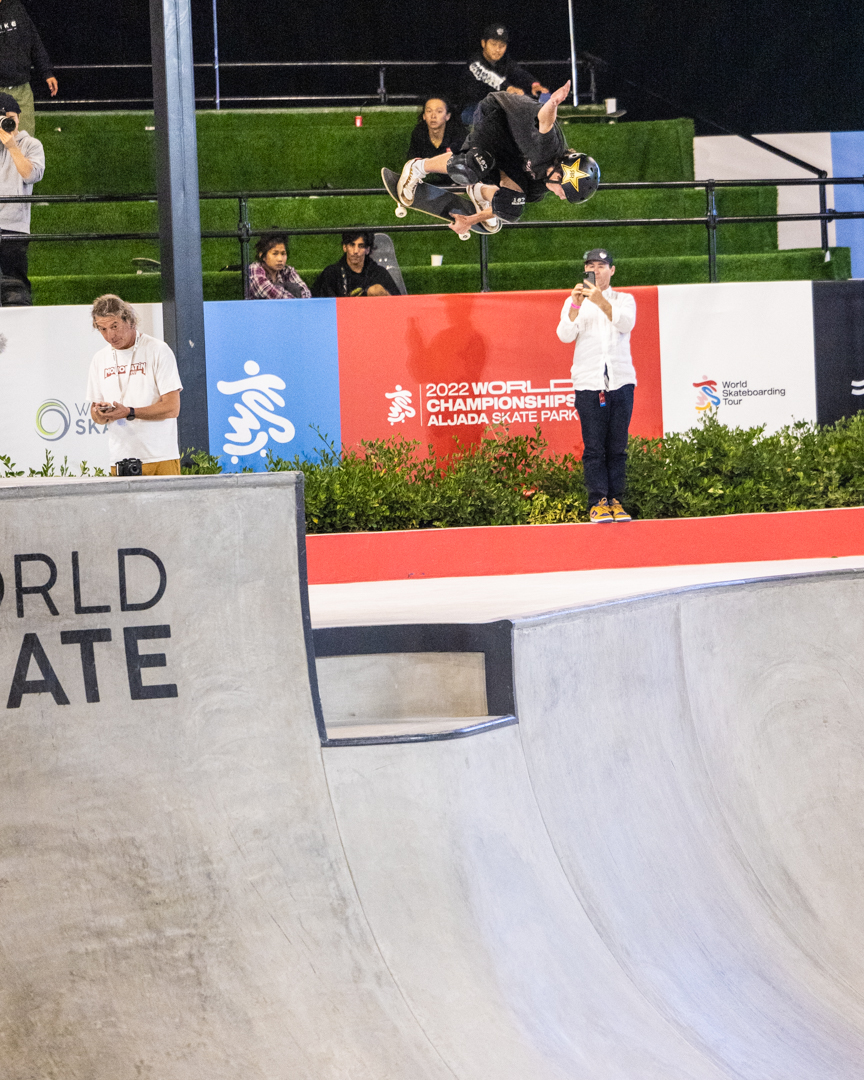 Alex Sorgente snapped his board on a disaster exactly one minute before he was supposed to kick off proceedings and possibly struggled a little with the brand new deck he gamely tried to ride in his runs but which was not broken in and therefore too crisp for him to be comfortable on. Brazil's Luigi Cini absolutely atomised his and had to grab a friend's. Israel's Yam Behar skates like a youg Rune Glifberg, but mind you Rune Glifberg also skated like a young Rune Glifberg. He is much beloved within this scene and it shows. Gavin Bottger stormed into first position with an flawless, electrifying opening run before slamming on a fairly innocuous-looking disaster and retiring with what looked worryingly like a broken wrist- tomorrow will tell if he returns.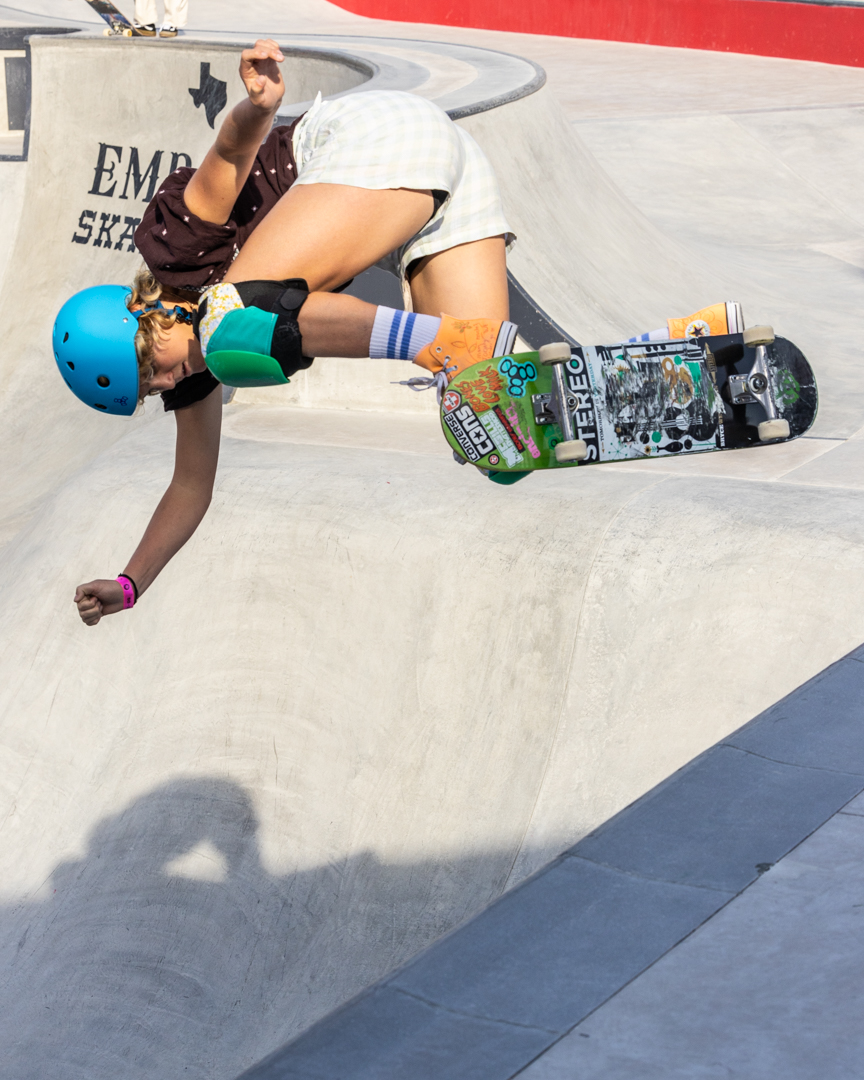 Turning to the Women's discipline, two things jump out at you immediately.Firstly, the ridiculous leaps in standard which we are seeing not just year on year now but contest by contest- the glass ceiling of 540's on concrete has been broken now and, like the backflip in BMX, that seems likely to usher in a whole new strata of progress. Put it like this: if I tell you the ripping American Jordan Santana landed two McTwists and still didn't make the cut into the final 16 then we can conclude that this might be the most exciting thing happening in skateboarding today. The second is that the atmosphere, energy and positivity that the women are bringing into skateboarding are changing our culture for the better. A 14 year old girl from Plymouth, England qualified third in the world for the Semifinals of the World Championships of Park Skateboarding here today, and not one of the five or more skate media outlets based in the UK will mention it tomorrow. If something is broken is skateboarding, it isn't here. Real talk.
The following skateboarders will progress into tomorrow's Semifinals where the format switches from best 45-second run of two to best hang-on run of three meaning the skaters can continue until they fall or they are spent. It promises to be sensational based on tonight.
Join us live on World Skate TV and the Olympics website as you prefer.
WST Sharjah Park Women's Quarterfinal Results
Hinano Kusaki
Sky Brown
Lola Tambling
Naia Laso
Kokona Hiraki
Grace Marhoefer
Minna Stess
Yndi Asp
Sakura Yosozumi
Jordyn Barratt
Bryce Wettstein
Kisa Nakamura
Raicca Oliveira
Lilly Stoephasius
Carlin Makibbin
Ruby Trew
WST Sharjah Park Men's Quarterfinal Results
Keegan Palmer
Gavin Bottger
Pedro Barros
Augusto Akio
Tom Schaar
Jagger Eaton
Kieran Woolley
Liam Pace
Tate Carew
Ash Willcomes
Heimana Reynolds
Ale Mazzara
Steven Pineiro
Josh Dirksen
Taylor Nye
Vincent Matheron