As Rod Stewart knows, the first cut is the deepest- and so it was with the Open Qualifiers becoming the Quarterfinals; but the Semifinals are the place in which skateboarding's new entrants into the top flight have their 'high noon' moment to do or metaphorically die against the relative veterans who already understand how to do enough but no more to advance and still leave something in the tank for the finals showdown.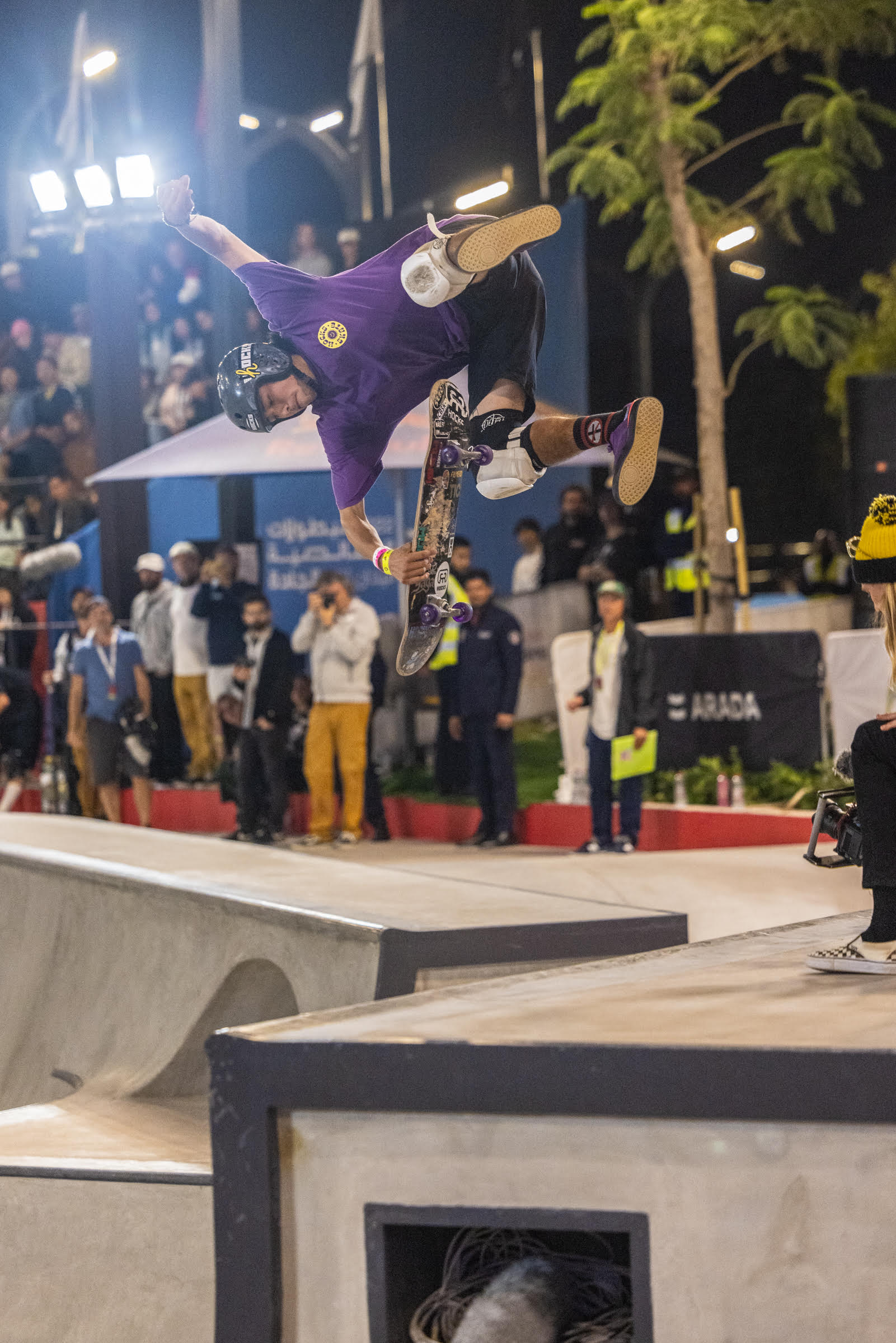 As was the case in Street this day last week here in the United Arab Emirates, this also makes the Semifinals potentially if anything more exciting than the finals itself because you have skateboarders with reputations to defend up against newcomers with zero respect for status and absolutely nothing to lose.
What that means is that the relatively cosy expectation of the big names to advance goes out the window at this point, which was a bitter lesson to learn for a couple of Thrasher favourites in Street last week. The Semifinals now have the intensity of Finals, nothing is held back, and all bets are off. It is unbelievably exiciting out here right now.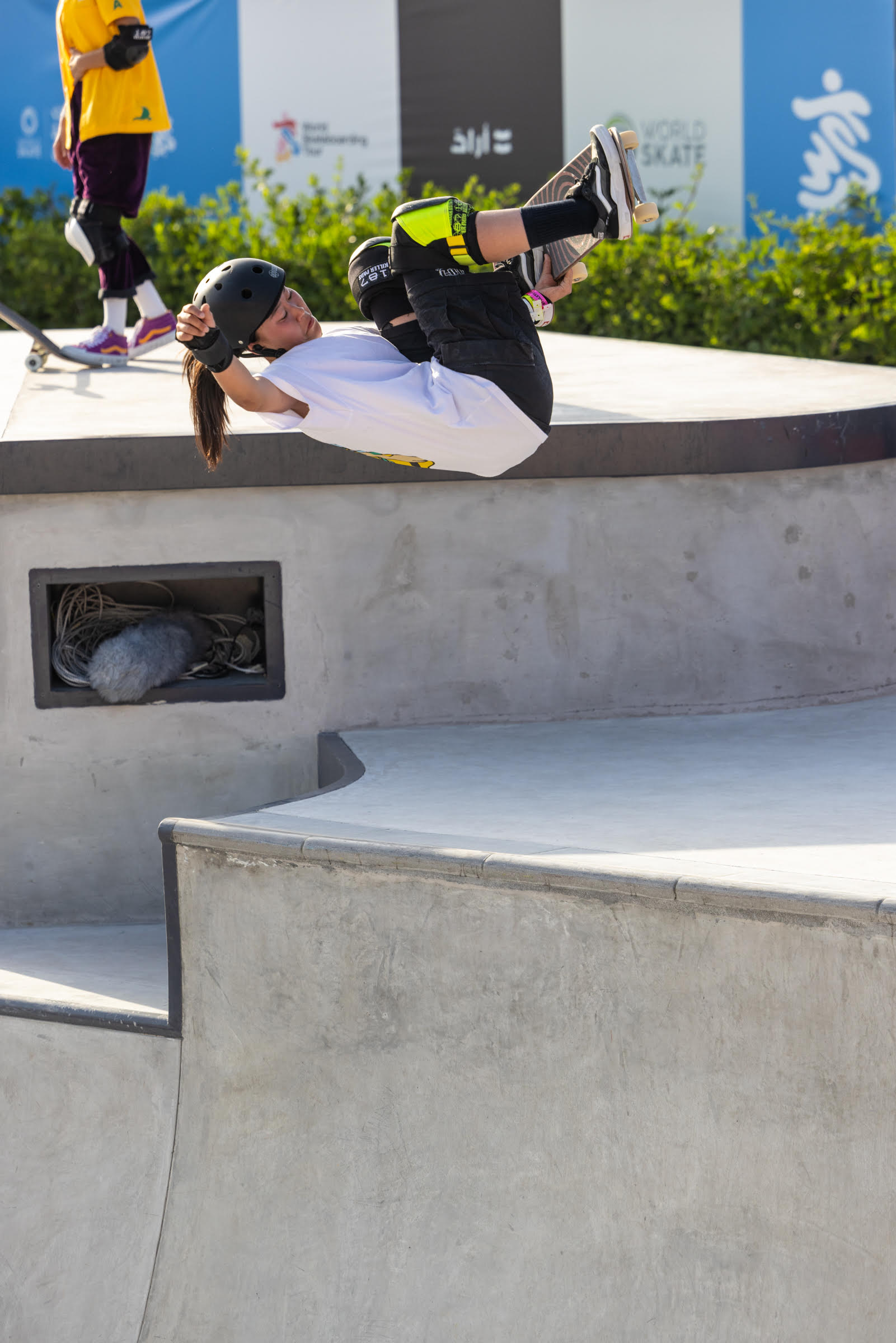 Tate Carew, Ash Willcomes, Taylor Nye- names that Team Managers will claim to be familiar with before slinking off to Google them; these youngsters are barging their way into the running order with superstars like it is their birthright, as are Hinano Kusaki, Naia Laso and Carlin Makibbin in the women's division. Who they are and where they come from only their mothers (many of whom are here in rowdy good voice) can say, but they are coming to take names and wreck games, best believe.
The net effect is that everybody is turning it up to 11 out there on the state-of-the-art Aljada skatepark, in what is already shaping up to be one of the best skatepark contests of all time (say it quietly). 16 Quarterfinalists in each division were cut down to 8 Finalists for both Men's and Women's World Championships tomorrow. The format has moved from 2 timed runs to best run of 3, and cruelly but realistically at this level any error was enough to miss the cut. We will forego the trick lists and run analysis until tomorrow's grand finale because suffice to say the speed, flow and standard of skating on display here is unlike anything seen anywhere around the world since the Tokyo Olympics two long summers ago.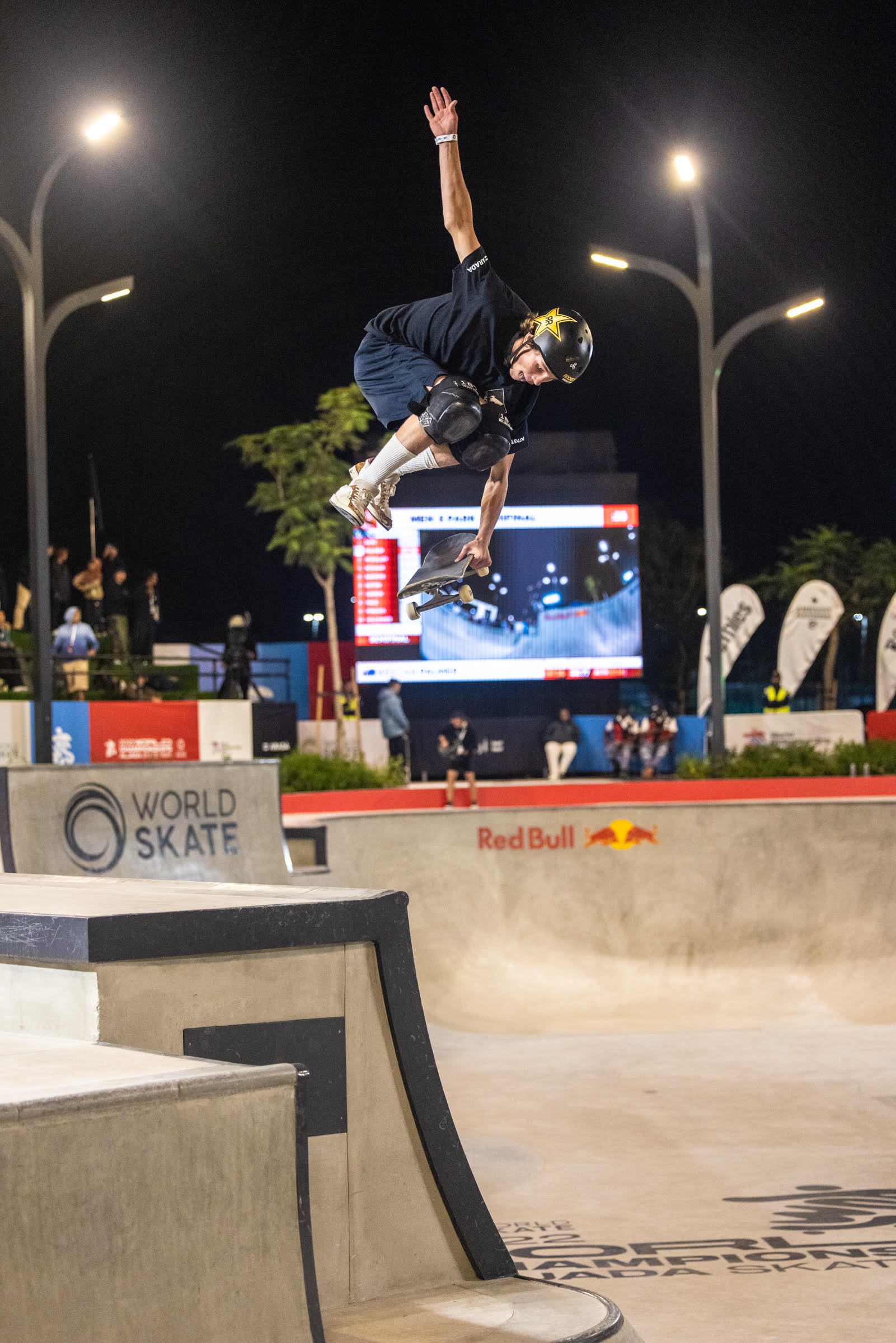 Among the women unlucky enough to narrowly miss the cut was the excellent Australian newcomer Ruby Trew, who although crestfallen has a long bright future ahead of her, everyone's favourite Yndiara Asp, who slid out on a kickflip indy that would have seen her skate tomorrow, and Naia Laso from Bilbao, Spain, who came from nowhere to shock and impress in equal measure before getting smoked on a final 540- but who will be back to upset leaderboards in the near future, for sure.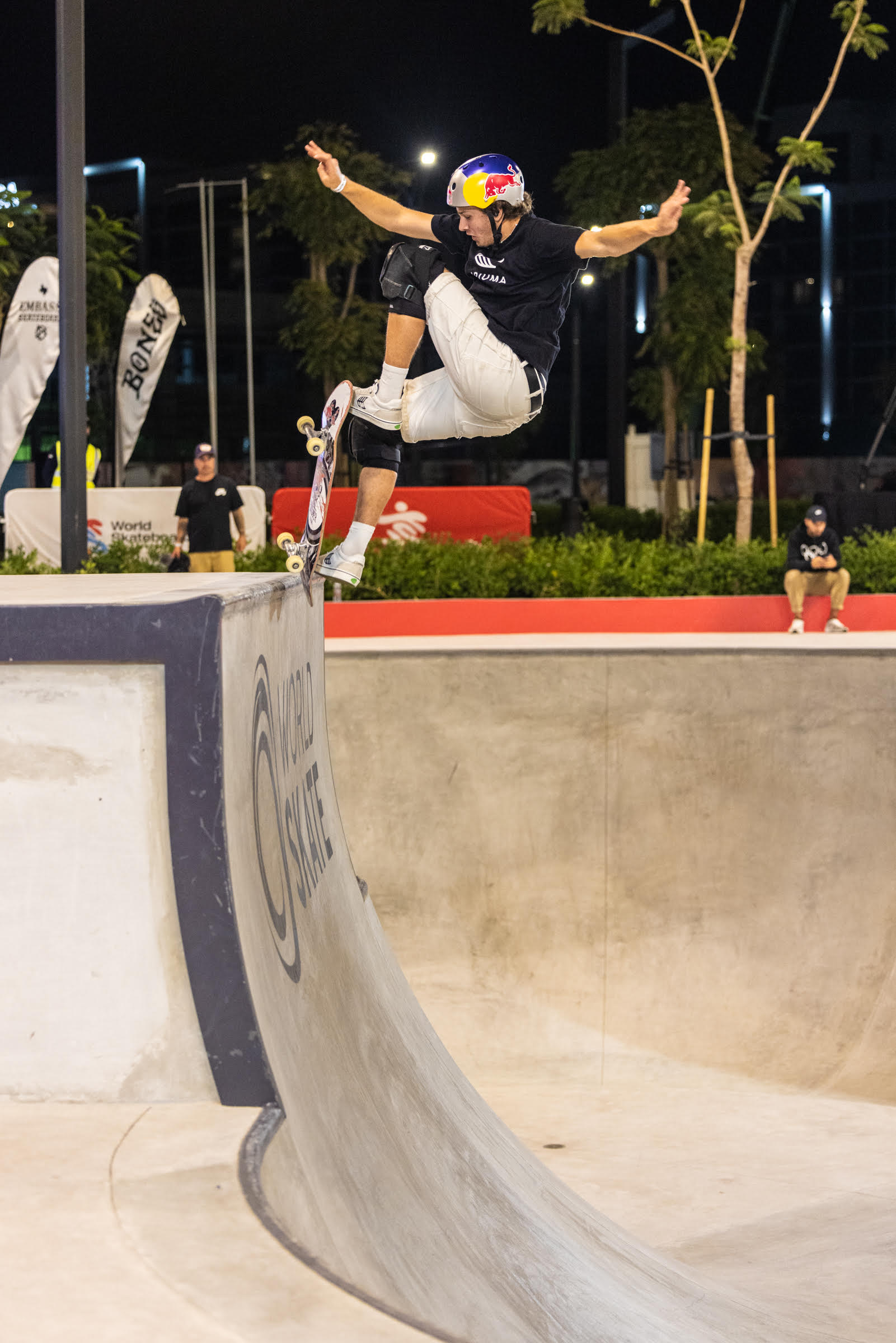 The men's Semifinal saw the entire second heat bar Gavin Bottger who broke his wrist yesterday go through to the final alongside Tate Carew as might have been expected, with Olympic gold medalist Keegan Palmer looking like the man to beat early on before Brazilian magician Augusto Akio stormed into first position. We would also like everyone to know that the mighty Heimana Reynolds who was stretchered out of the park after a nasty slam on a scrambled egg invert has been discharged from hospital before midnight and lives to fight another day. We wish he and Gavin both quick recoveries and salute their courage.
Watch the entire live replay here for every hammer worthy of the name from a scintillating skate contest in its own right.
Tune in tomorrow as Red Bull TV join World Skate TV and the Olympics website in broadcasting all this mayhem to the world. This is a new era of skating and event production in a brand new, globally accessible and universally welcoming facility. Join us.
WST Sharjah World Championship Park Skateboarding Women's Semifinal Results
Sky Brown
Hinano Kusaki
Kokona Hiraki
Bryce Wettstein
Grace Marhoefer
Sakura Yosozumi
Minna Stess
Lola Tambling
WST Sharjah World Championship Park Skateboarding Men's Semifinal Results
Augusto Akio
Keegan Palmer
Kieran Woolley
Tom Schaar
Pedro Barros
Jagger Eaton
Tate Carew
Liam Pace