Now, one thing that anyone who skates or even used to skate but is now more of an armchair enthusiast (and there's nothing wrong with that, after all now skateboarding is more than forty years old there are many more former skateboarders around the world than current ones in point of fact)- will tell you about the current skate scene, is that it has been transformed for the better by the flood of women entering the culture and making it their own. What has been interesting to observe about that phenomenon is the wonder of seeing a movement in it's relative infancy flourish and progress with a trajectory all of its own.
The standard of women's skateboarding has staggered everyone over the last decade (let's say for the purposes of argument), but even within that change there has been another, potentially even more significant shift. As anyone who watched the WST Street Championships last weekend will have no doubt noticed, the average age of the female skaters is getting younger, with 15-year olds and even 13-year old rippers challenging for top honours.
No problem there- they are starting younger and improving faster so that is to be expected, right? Well, the other side of that coin is that street skating is an absolute meatgrinder. Put it like this: the oldest skater in Men's Street contest was 31. In Park, there were a couple pushing 50. In layman's terms, if you learn to bail correctly and wear pads, you can skate transitions for longer and while injuries can be worse they tend to be less frequent or unpredictable than skating handrails, for example.
What this has meant for Women's Park is that the standard there is progressing even further, faster than in Women's Street. Just look at Britain's 14-year old Lola Tambling: a year ago she was in tears of surprise at winning the UK Park Championships in the perfectly good but dimensionally-modest Hemel Hempstead skatepark, and now here in the United Arab Emirates she is completing her full runs in the absolute behemoth which lies at the centre of the Aljada skatepark in Sharjah. The standard here was higher even than in the Tokyo Olympics just two short summers ago. So something exciting and genuinely radical is happening in Women's Park skateboarding today. I might even suggest it is the most exciting thing happening in the whole wide world of skate culture today. Certainly seems that way to me.
So with all that preamble out of the way, let's go in on the WST World Championships of Women's Park Skateboarding in Sharjah, UAE, the finals of which just wrapped up here mere hours ago tonight.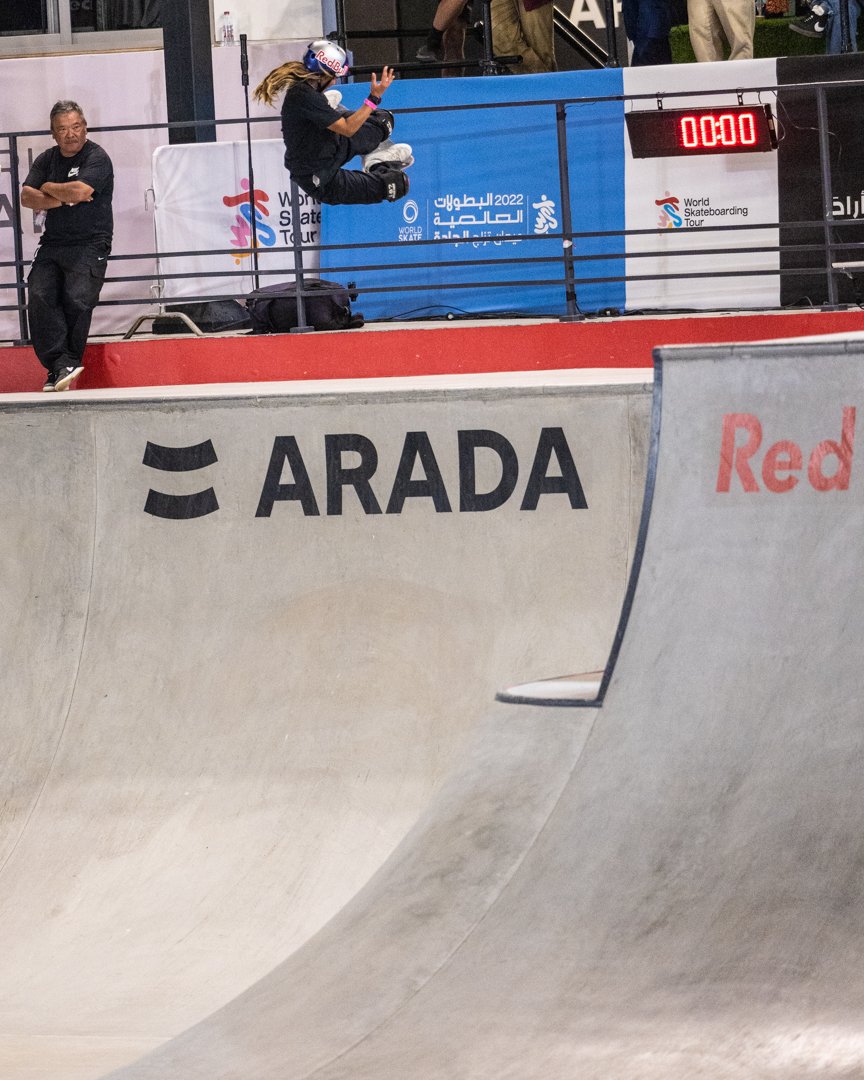 Sky Brown
Arguably the most famous face in the entire Park discipline today, Sky Brown has a mesmeric consistency (she barely bailed during the entire week of skateboarding) and a deep enough and stylish enough trickbag- with a particularly awesome stalefish- to make her all but nailed-on to be a fixture in competitive female skateboarding for as long as she enjoys it, which based on her smiles this weekend seems to be an open-ended proposition. Every generation has a skater who transcends the activity to become a pop-cultural icon. Sky Brown is that figure for this one. She had flip tricks and 540's in every run and had already won by the time she broke the 90 barrier with the final run of the day.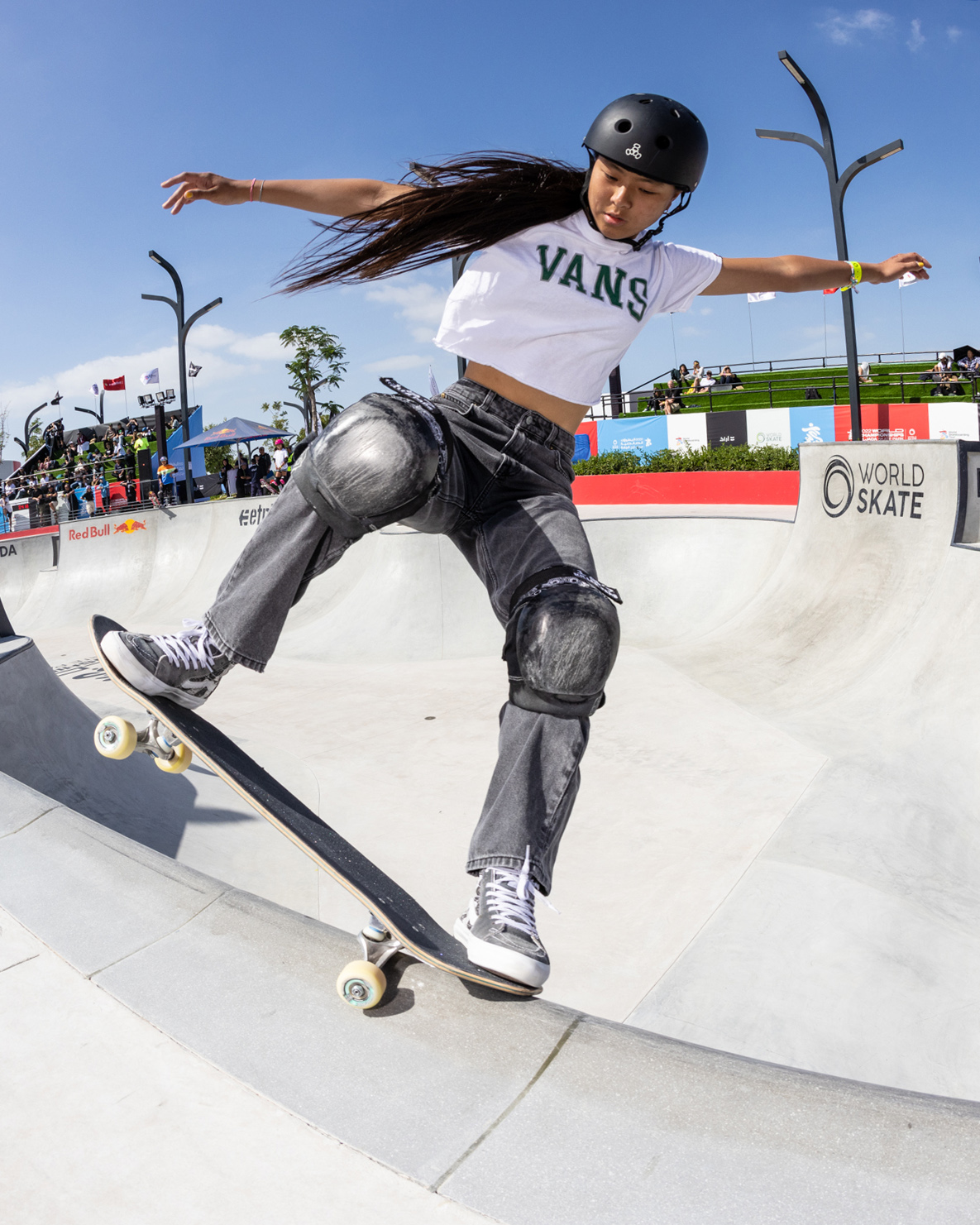 Kokona Hiraki
Although not as well known as her Olympian counterparts in the street contingent, Kokona Hiraki is arguably the most talented of the bunch. More aggressive than much of the rest of the field here and growing in both confidence and ability since we last saw her in Tokyo, she alongside Minna Stess shares the quality of somehow skating like she has been doing it forever despite being a mere 14 years old. The future is hers. Although she was unlucky to stack on a fairly routine liptrick in her final run, she backside kickflipped on a concrete transition twice in two runs and added a frontside nosegrind revert to her second, which is video-part ender-type shenanigans. Incredible.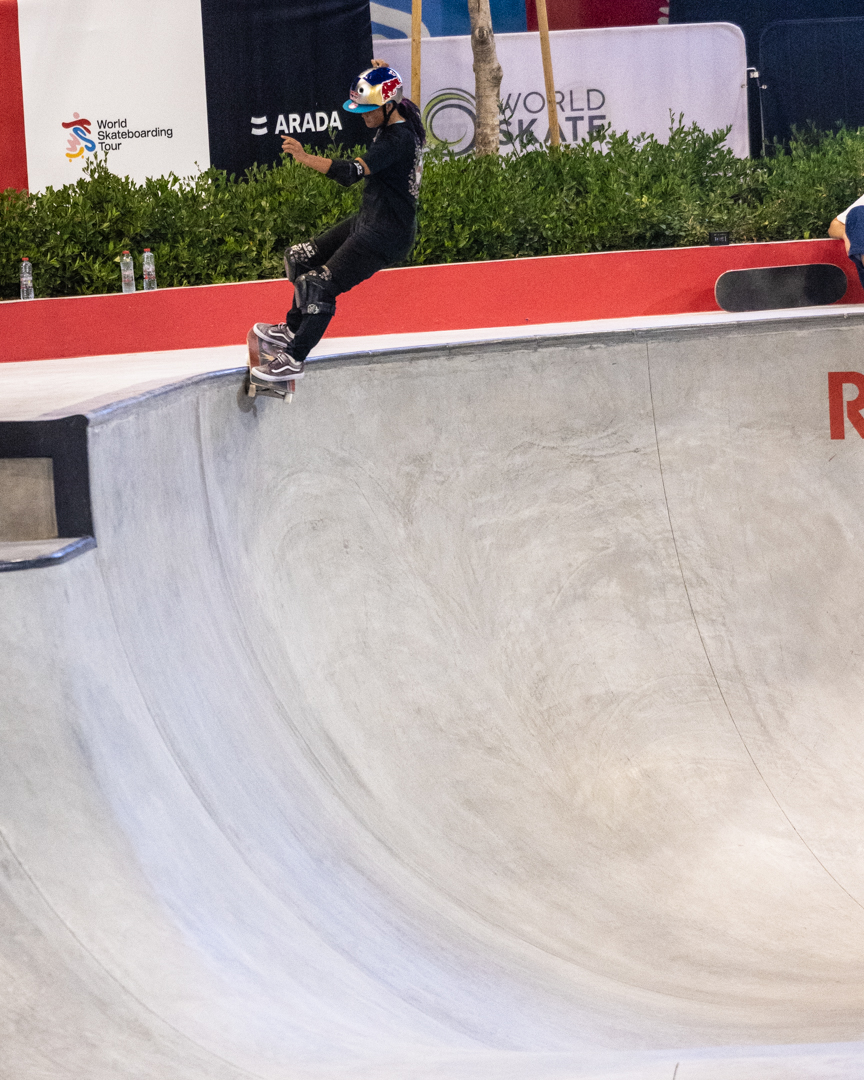 Sakura Yosozumi
According to the professional filmers who are on the road with these guys day in and day out and therefore probably best-positioned to say, Sakura Yosozumi is money in the bank when it comes to competitive women's park skating these days. A poised and accomplished vert skater in her own right (which is something not necessarily true of many others here), she is not intimidated by the size of the Aljada park in any way and progressed to the finals with an assurance that suggests she probably has tricks in reserve that she doesn't even need to produce in order to dominate. Uncharacteristically she fluffed her first two runs here and was lying in last place before pulling a barnstormer of a comeback off the ropes including a backside heelflip indy in the deep end and a grabless backside 360 ollie to leap five full places for bronze. Remarkable, really.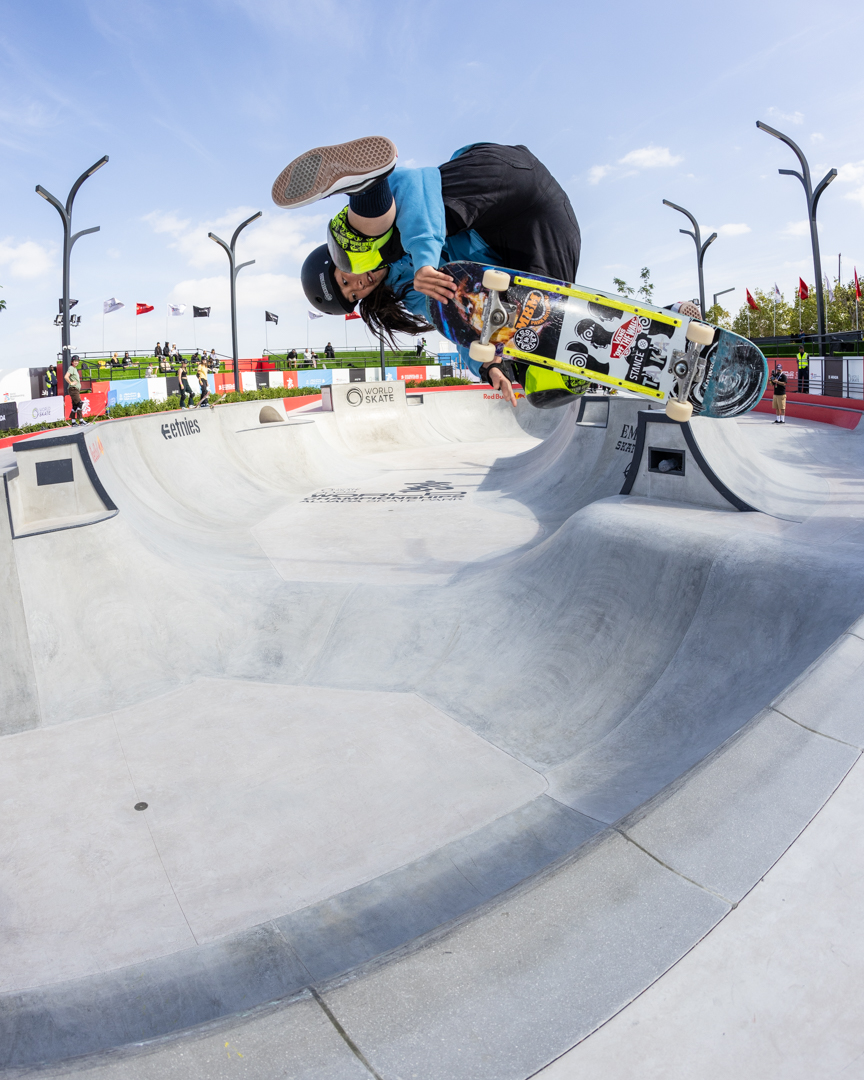 Hinano Kusaki
Possibly the biggest 'who they' story of the entire fortnight of skateboarding, Hinano Kusaki qualified first into the Quarterfinals and second into the Semis. If the much-discussed Japanese women's armada has been the story of the last 3 years of competitive female skateboarding then Hinano represents something even more incredible- the emergence of a second wave within. 14 years old and unsponsored, she has shaken up everything in her division with melon 540s. Watch her go.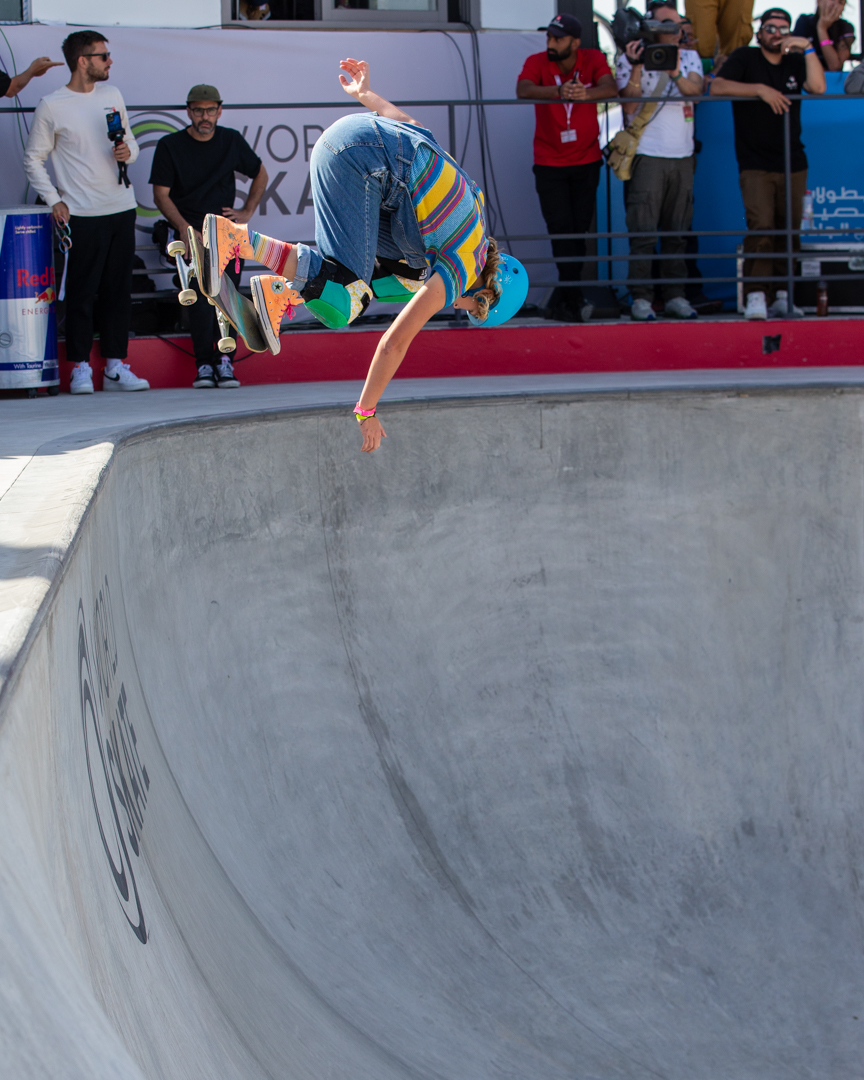 Bryce Wettstein
What more can be said about the spiritual touchstone of women's concrete skateboarding today? To describe Bryce Wettstein as unique doesn't really grasp what is so special about her; beneath her whimsical, ethereal nature there lies a kick- ass skateboarder whose grabless backside ollies in the deep end speak to unteachable courage and technique, and she has probably the widest trick repertoire of all the women here. So much so, she keeps going after the buzzer without once repeating herself. Nothing short of magic, and sunny with it. Made every single run over the last 5 days.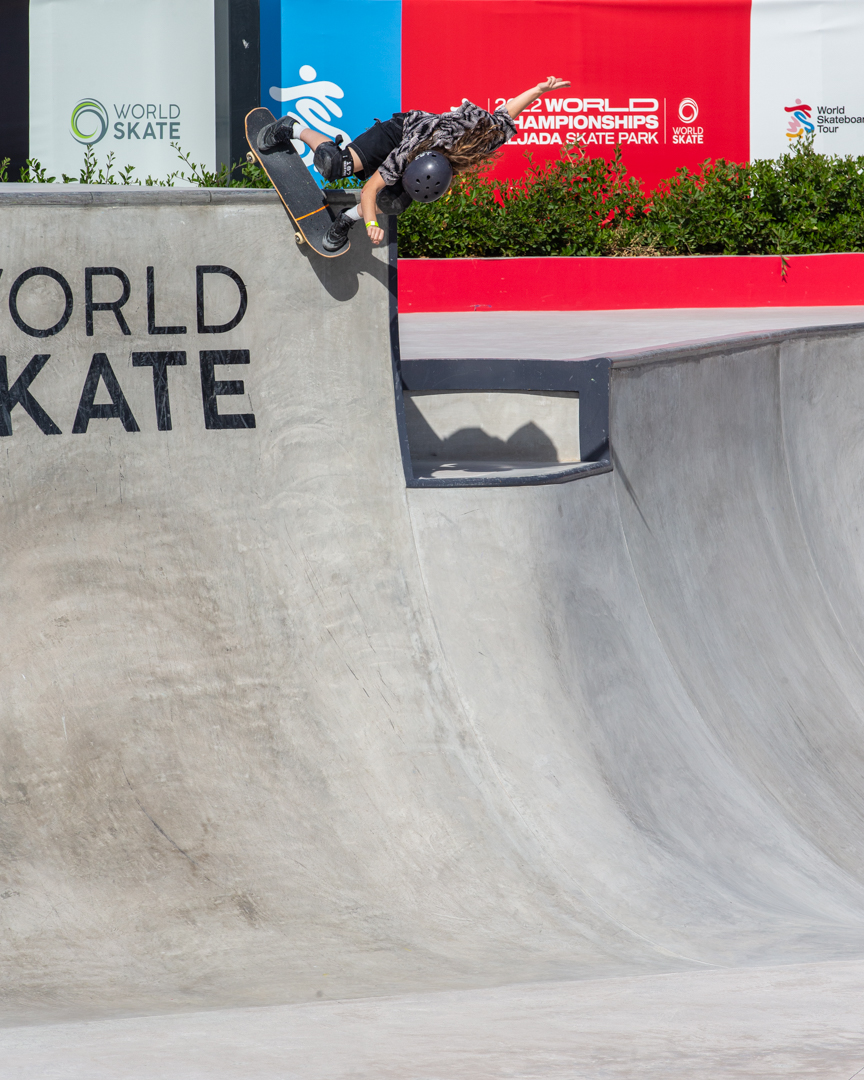 Lola Tambling
Although the stealth arrival of Japan's Hinano Kusaki has been the most impressive in pure ability terms, Lola Tambling's presence in the finals of a World Championship is the stuff that they write West-End musicals about. It was only in April of last year that she surprised everyone including herself by becoming the inaugural UK Champ and tonight she was in the global elite by merit,and in one of the great underdog stories of this entire Middle-Eastern double-header she came a staggering 6th in the world. You can't shake the feeling that a star is born here, if she can keep the tears and the profanity under manners- and even if not.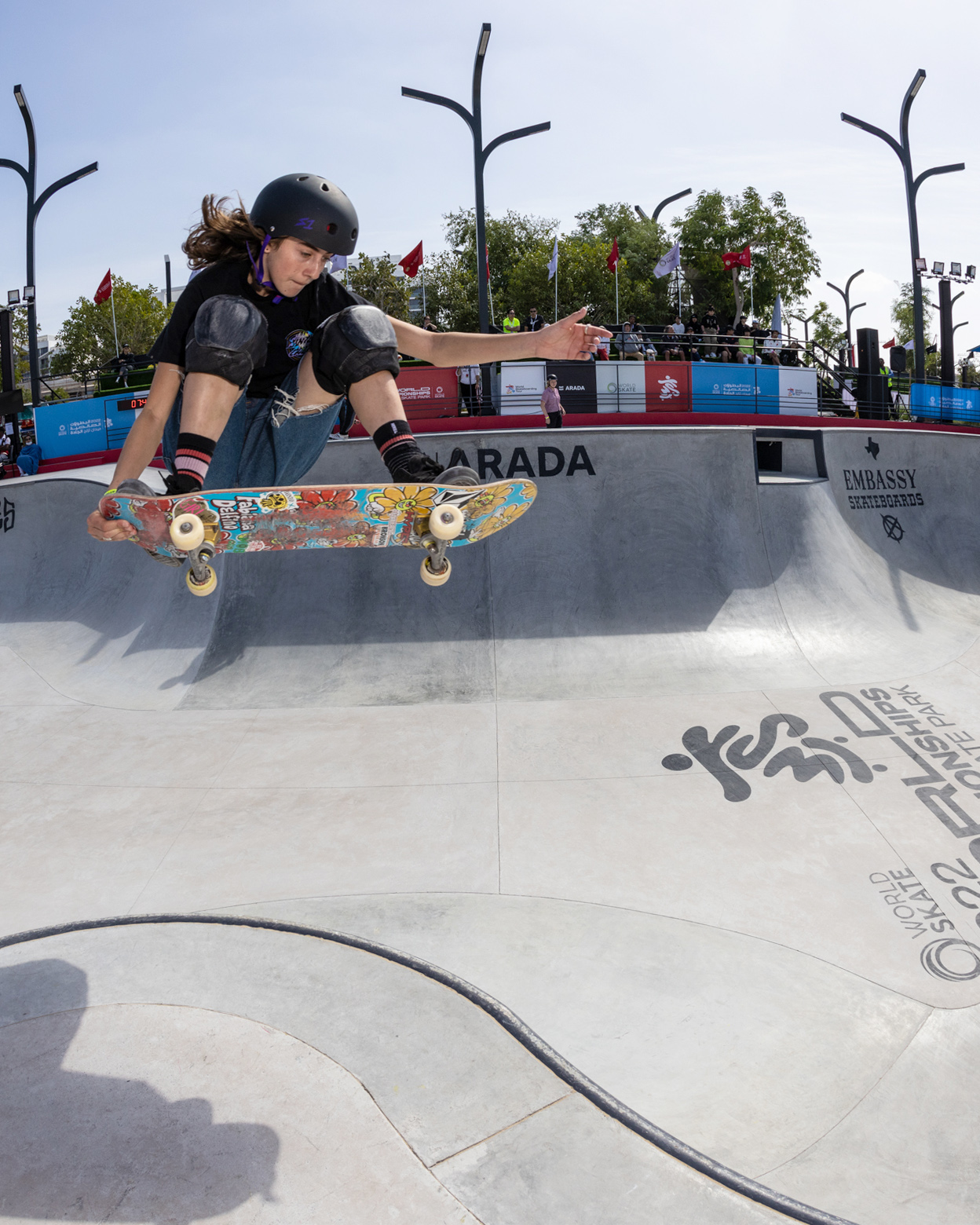 Minna Stess
Without going over the tiresome cliches about being a skateboarder's skateboarder, Minna Stess has a delightfully rough edge to her skateboarding which suggests she knows her way around ditches and DIY skateparks just as much as she does the glassy surfaces of these showcase masterpieces. With a flawless style and great knee-tucking form on her grabs she almost seems to hark back to an earlier era of skateboarding which belies her youth. While some of the girls skating here only skate parks with a view to competing, Minna is an all-round skateboarder who also enters contests. That may seem like a semantic distinction but it carries a lot of cultural weight within skateboarding itself.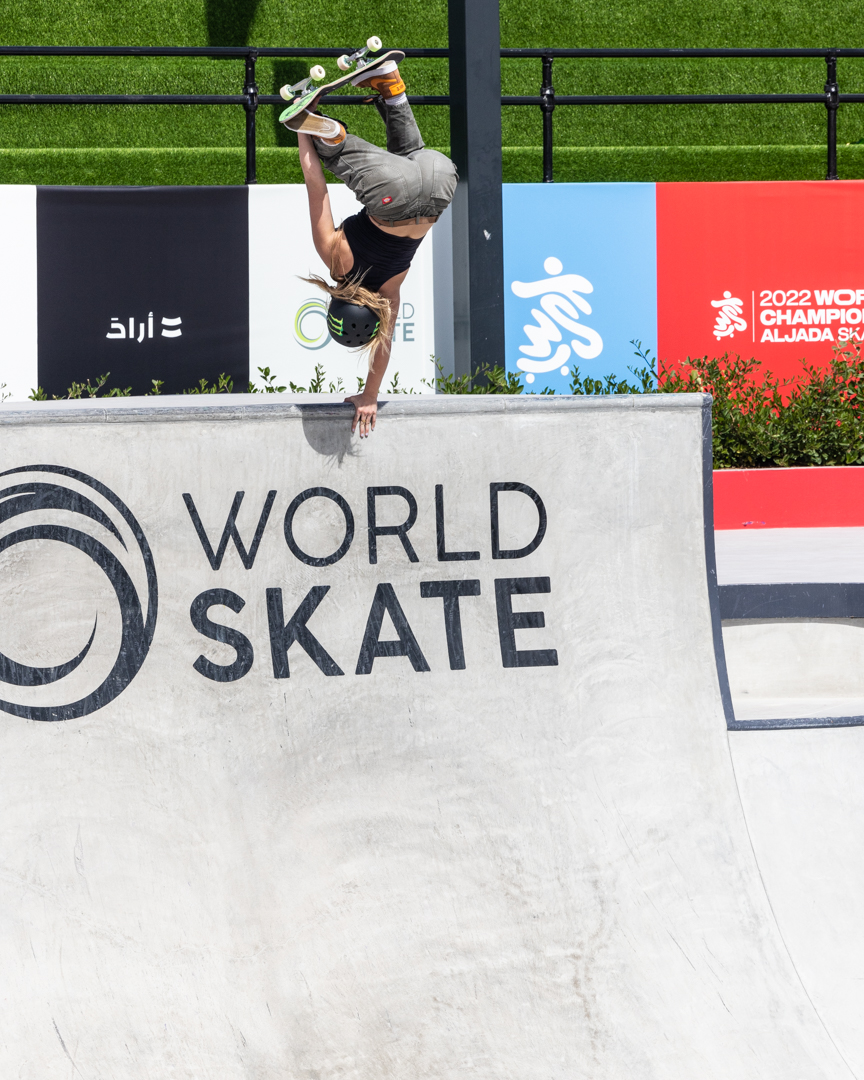 Grace Marhoefer
At this stage of proceedings, technique will only take you so far. You also need to be able to charge and Grace Marhoefer charges harder than anyone else in her division. Park skateboarding's cultural phenomenon has been how the early teens get so good so quick, but that under-appreciates what can happen when the youngsters hit full physical maturity and find their fifth gear. Fast, confident and with a terrific rootsy invert, Grace Marhoefer made all three of her runs and is at full revs right now.
WST 2022 Park Women's World Champions
Sky Brown
Kokona Hiraki
Sakura Yosozumi