The WST World Championships of Park Skateboarding absolutely went off here tonight at the Aljada Skatepark in the UAE, a state-of-the-art California Skateparks-designed mega-bowl which itself is at the heart of an entertainment district called Madar designed by internationally-acclaimed Zaha Hadid Architects firm. The skatepark complex currently consists of six separate parks, ranging from the Olympic-level Street and Park courses which are nothing short of works of art, right the way down to smaller bowls, street sections, snake runs and beginner-level spaces.
It is, in other words, the perfect location to launch the World Skateboarding Tour, a series of events which will both professionalise and internationalise competitive skateboarding culture in a way never seen before as the Road To Paris 2024 begins in earnest.
Last weekend saw the WST Street World Championships go down here in what was an unqualified success by any estimation; tonight it was time for the global elite of Park skateboarding to crown two new World Champions and divide up $250,000 in prize money in a new era for professional skateboarding worldwide. The results of the Men's division played out as follows: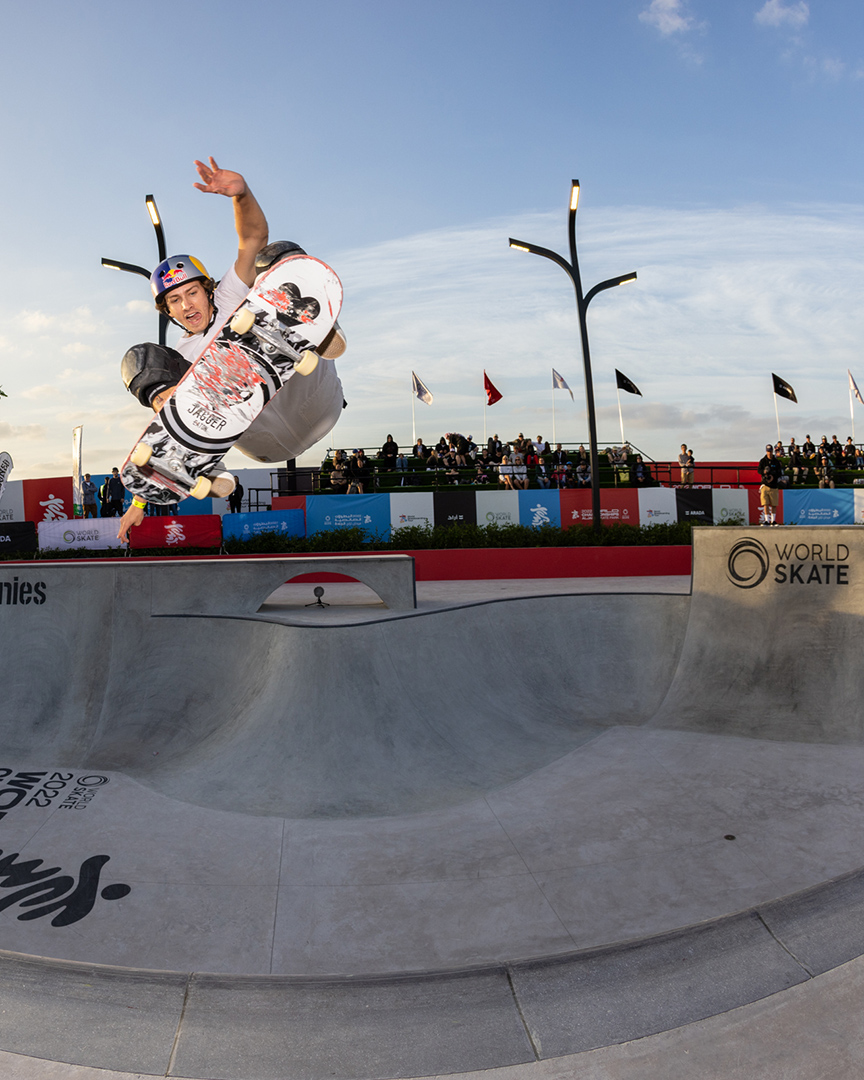 Jagger Eaton
As MC Tim O'Connor pointed out, Jagger Eaton was the only skateboarder to enter both Street and Park World Championships, which speaks to an undeniable all around skateboarding talent. His drifting backside ollies are a thing of beauty and he is as consistent as they come but he really galvanised everything he had here tonight. Nobody else is doing kickflip backside lipslides, kickflip back noseblunts, blunt kickflip out and indy 540s in a 45-second run. Having not necessarily arrived in the finals as the favourite he did his eye of the tiger thing and is 50G's up on the deal tonight as a result.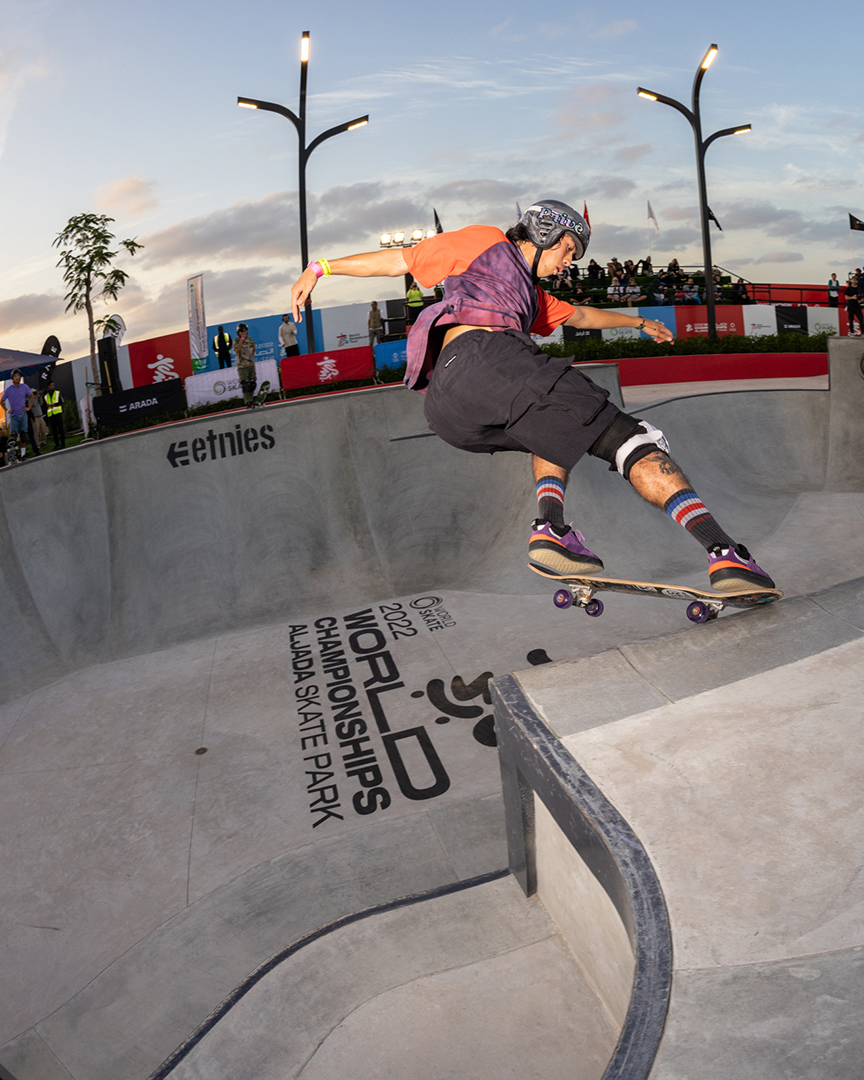 Augusto Akio
Brazilian magician Augusto Akio was up until now a relative unknown outside his own country having only really seen international exposure through Red Bull's Skate Generations held at the Barros family compound in Florianopolis. He qualified first from the Semi's and brought the Brazilian contingent to full voice, thereby cranking up the intensity of the event for all concerned. His second run tonight will go down as the stuff of skateboarding legend, featuring two 540s, a fakie heelflip indy on the tombstone extension which he didn't even attempt beforehand, a heelflip frontside air and a backsmith revert through the deep end corner pocket to sign off and delight purists and newcomers to skateboarding alike. Could have won, certainly deserved silver. Genuinely magnificent.
Pedro Barros
Pedro Barros is the best box office of the lot. As the Daddy of this genre, he lives off the adrenalin and crowd noise, whipping everyone up and making sure the kids don't feel nervous. If Kieran Woolley is great for skateboarding, then skateboarding needs Pedro Barros. He blows the doors off every time, and he has fun doing it. Worth the entrance price alone every single time, he opened his account with a 90 which was enough for bronze- but he is the showman we need.
Kieran Woolley
The humble, down-to-earth Kieran Woolley is well-regarded throughout the pro ranks of Park skateboarding because he absolutely tanks around the course. Alongside Keegan Palmer he seems certain to be a pacesetter in this culture for decades to come and is endlessly watchable with a sunny disposition. He is great for skateboarding and skated out of his skin in his final run which brought the packed bleachers to their feet in recognition. Just needs a smidgen of luck to podium.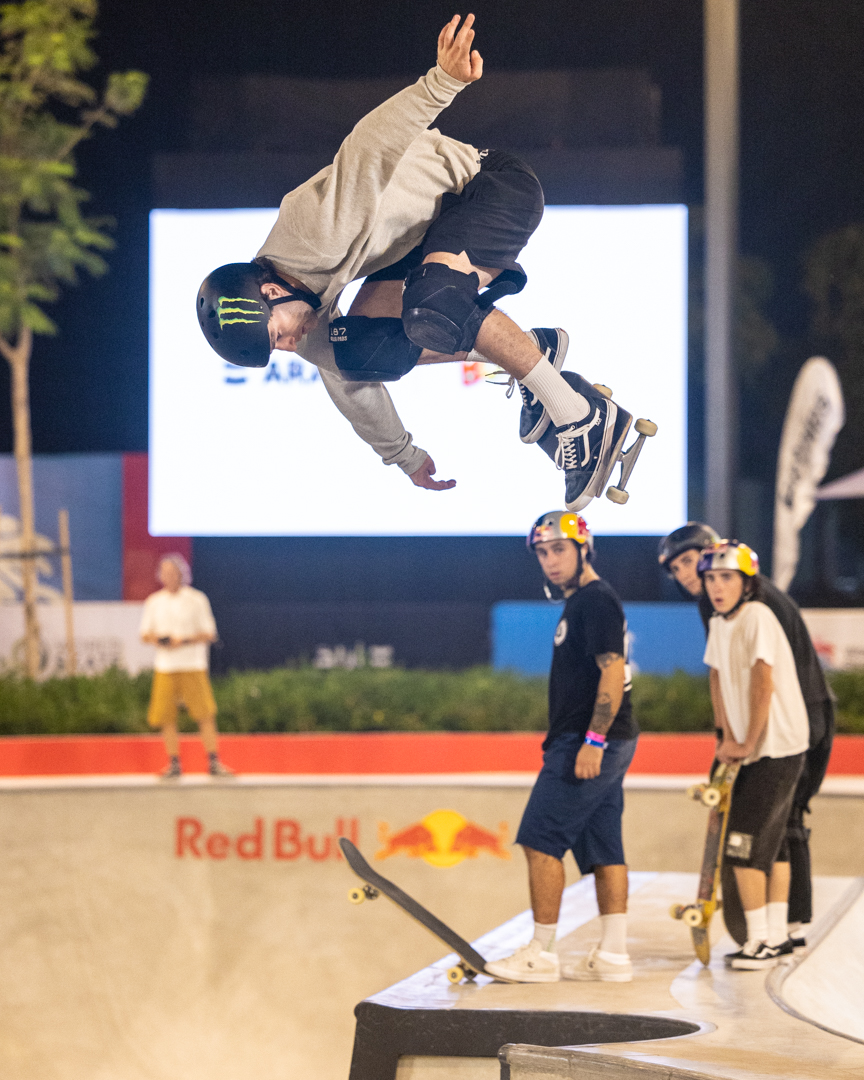 Tom Schaar
Tom Schaar established himself early as a crowd favourite, having transitioned from child prodigy into a full grown charger. He is so complete as a skateboarder in this game that he sometimes does the second half of his runs switch. Biggest backside ollies you will ever see, too. Rode the entire contest with a flatspotted wheel which he now seems to treat as a pet, he had a better Semifinal than Final but he is as strong as a bull and has much more to come as the Road To Paris progresses, have no doubt.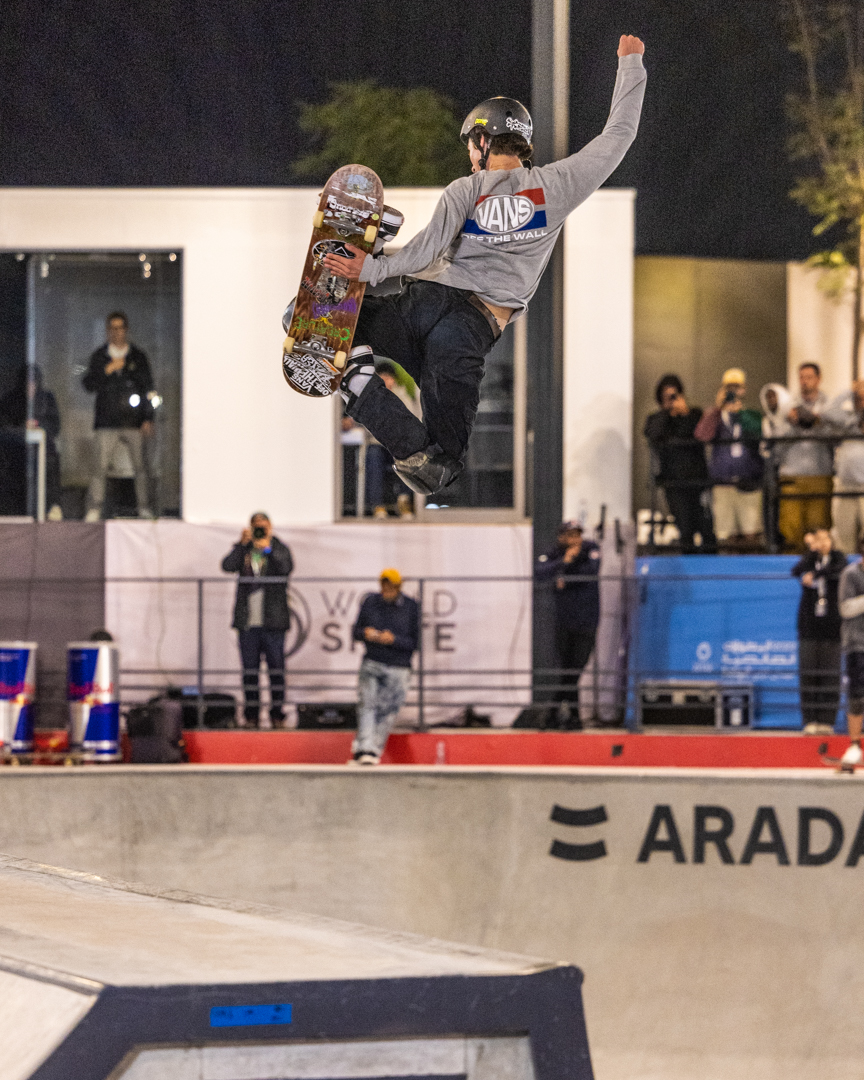 Tate Carew
Tate Carew was the only skater from the first Semi heat to hold his spot against the top boys of heat 2, and in doing so announced the arrival of a fully-fledged top-flight contender seemingly from nowhere. Incredibly, alarmingly, he is at 17 already a complete skateboarder with tailgrab 540s and tweaked stalefish tail slaps which have to be seen and heard to be believed. He was unlucky tonight but the experience will have been invaluable. The boy is magnificent. Go write that name down.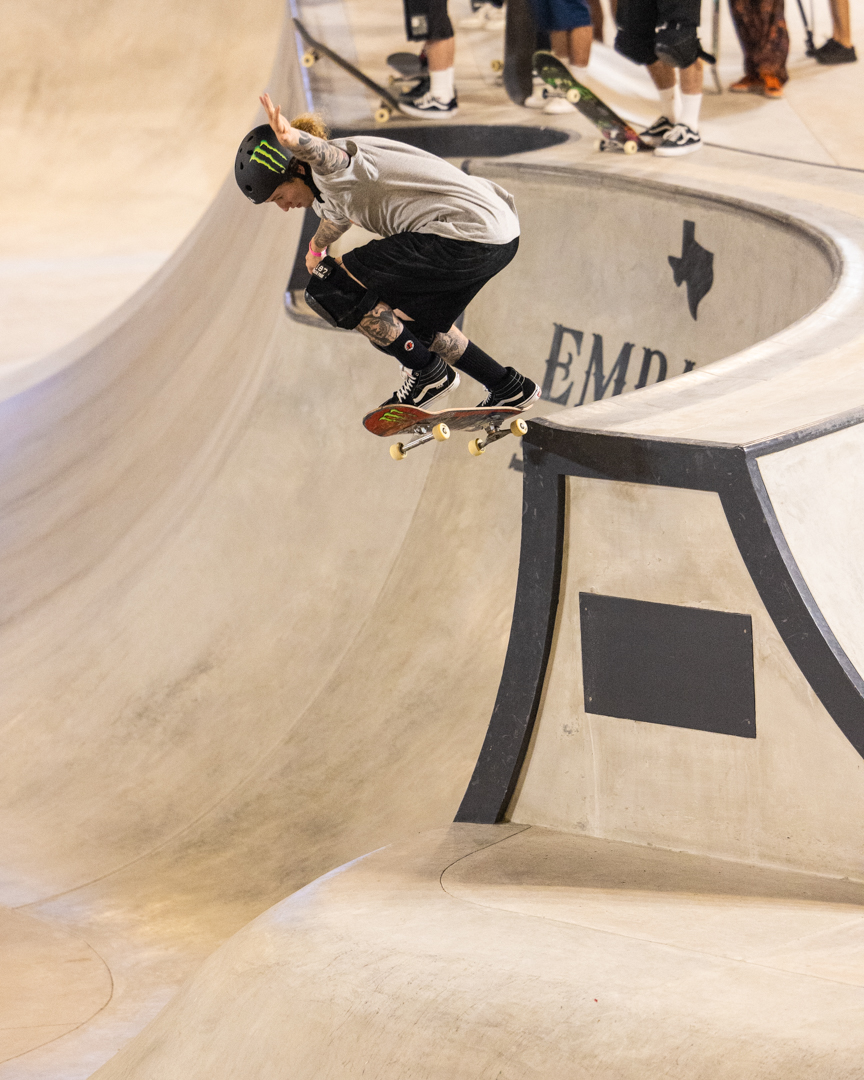 Liam Pace
The likeable and versatile Liam Pace has been making his mark on the international circuit from China to Estonia over the last four years or so, immersing himself fully in the road life of a skateboarder who can literally skate any terrain he comes across- something which is claimed by many but true of few in an era of specialism. In an ideal world he would be at every event going, and with his workrate and attitude that certainly seems to be his intention. Guaranteed to bring that Arizona sunshine with him.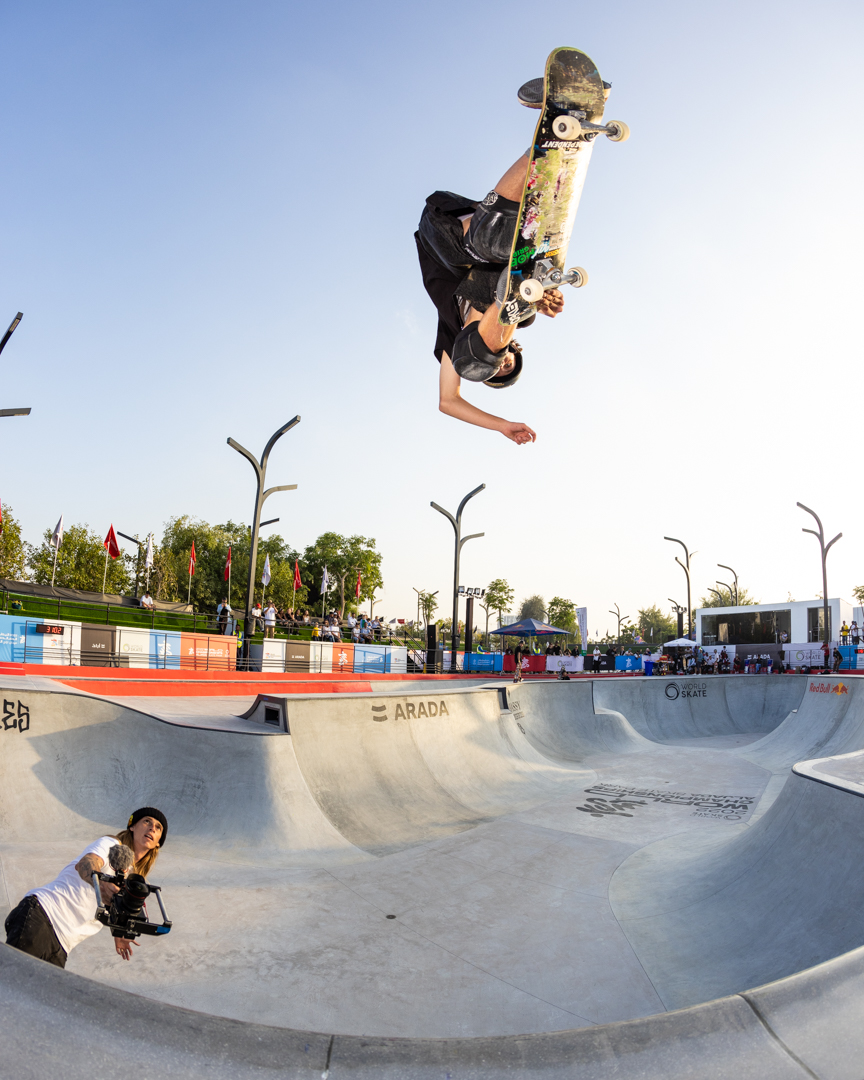 Keegan Palmer
Keegan Palmer came into this final as the man to beat not only as the current Olympic gold medalist but just as a uniquely fluid talent in full bloom right now. Head- height kickflip indy airs caught and then boned into a divebomb are just one manifestation of his otherworldly greatness. He was born to do this. However, skateboarding is a mercurial business and he couldn't make it mesh at the end of what must undoubtedly have been a long and exhausting week- although we might well see that disappointment turn into the motivation that propelled him into the Tokyo limelight as the World Skateboarding Tour progresses.
All told, the upscaling of production values, event organisation, prize purse and media broadcast reach at WST Sharjah World Championships is only one facet of what made this event so special- we would also like to take the time here to acknowledge the kindness, courtesy and undeniable hospitality of all the event staff, the people of the UAE, from drivers to hotel employees to people on the street and in the shops and restaurants who have all made us feel so welcome in the country they call home.
WST 2022 Park Men's World Champions
Jagger Eaton
Augusto Akio
Pedro Barros