One interesting feature of the genesis of skateboarding competitions down the years has been how they have evolved into different sub-genres ranging from invitee shows with some kind of ranking element through to open formats where anyone can enter.
World Skate contests are at the egalitarian end of the International skateboarding contest spectrum in the sense that everyone who is endorsed by their National Federation can enter and as a result you get a way more diverse mix of entrants than elsewhere.
Unsponsored skateboarders from new skateboarding nations have the same opportunity to throw down as famous skaters from established powerhouse countries and boy, is that ruffling feathers among those who think their sponsorship status alone should bump them into the higher echelons of the standings. From Tom Penny at Radlands through to the Brazilian takeover of the Mystic Cup, upsetting the gatekeeping applecart of 'legitimacy' is a strong and wonderful skateboarding tradition which has in no small sense led to the decline of the mystique of elitism which has quietly made established pro's fear being publicly eclipsed by someone who saved up their own money to get there.
The skaters who enter World Skate contests are no respecters of status and there is- as one very experienced former professional noted to me here in Argentina- every chance of being beaten by someone with (heaven forbid) uncool sponsors.
That is fantastic and long may it last. San Juan already saw one such flounce early on, and there will doubtless be more down the line as skateboarding's new avenue increases in traffic. Over the last week here in Argentina we have been privileged to bear witness to a lot of see-sawing leaderboard positions as established faces and comparative newcomers have all had to throw down like there is no tomorrow in order to advance to the finals which were held tonight. There were no free passes and no deference to status, so it was non-stop wild skateboarding action and stepped-up games.
This is how it went down under a beautiful Andean sunset tonight: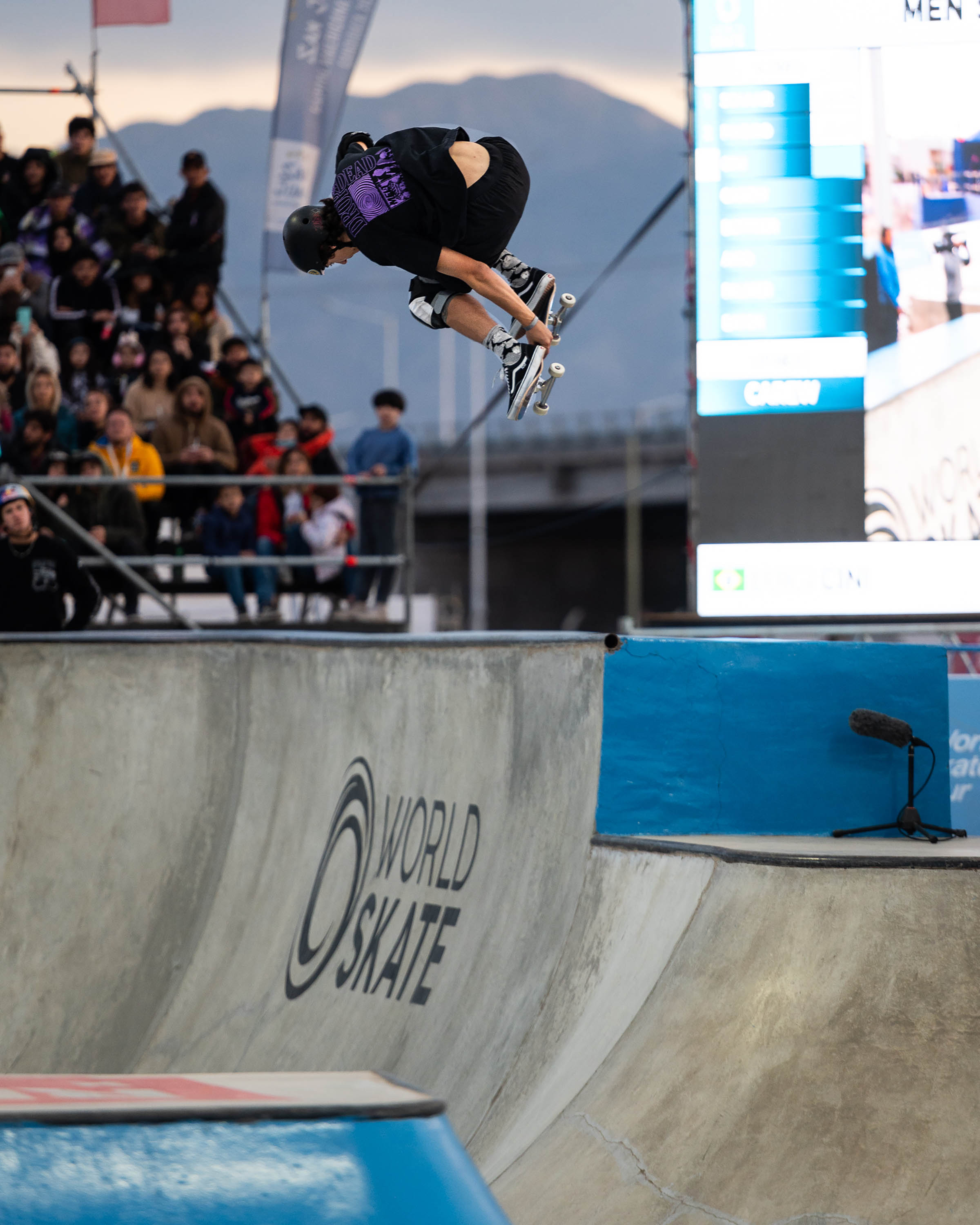 Luigi Cini
The Brazilians were out in force in San Juan which has been a delight to behold as competitive skateboarding's torch bearers stage something of a comeback. As well as the names who we expected to see leading that charge- Pedro Barros, Murilo Peres, Pedro Carvalho and Pedro Quintas among them, we are also seeing the emergence of their second wave in people like Gui Khury and Luigi Cini. Luigi is perhaps the most intriguing prospect of them all, in that he skates with the composure and assurance of someone who was born to do it despite being something of an enigma beyond his native shores. In that respect he is a product of the hermetically self-contained Brazilian skate scene which has its own industry and event series' so that when he appeared on the world stage he appeared not as some nervous ingenue, but as someone unafraid to take names and wreck games, which is exactly what he did. Kickflip 540's, backside kickflip stalefish over the hip and into a 14-foot vertical wall- he came out swinging in his first run and was unassailable from then on. A worthy winner, there are comparisons to made between his liquid grace and that of the legendary American Chris Miller. High praise indeed: you have to love the Brazilians, unless you are competing against them.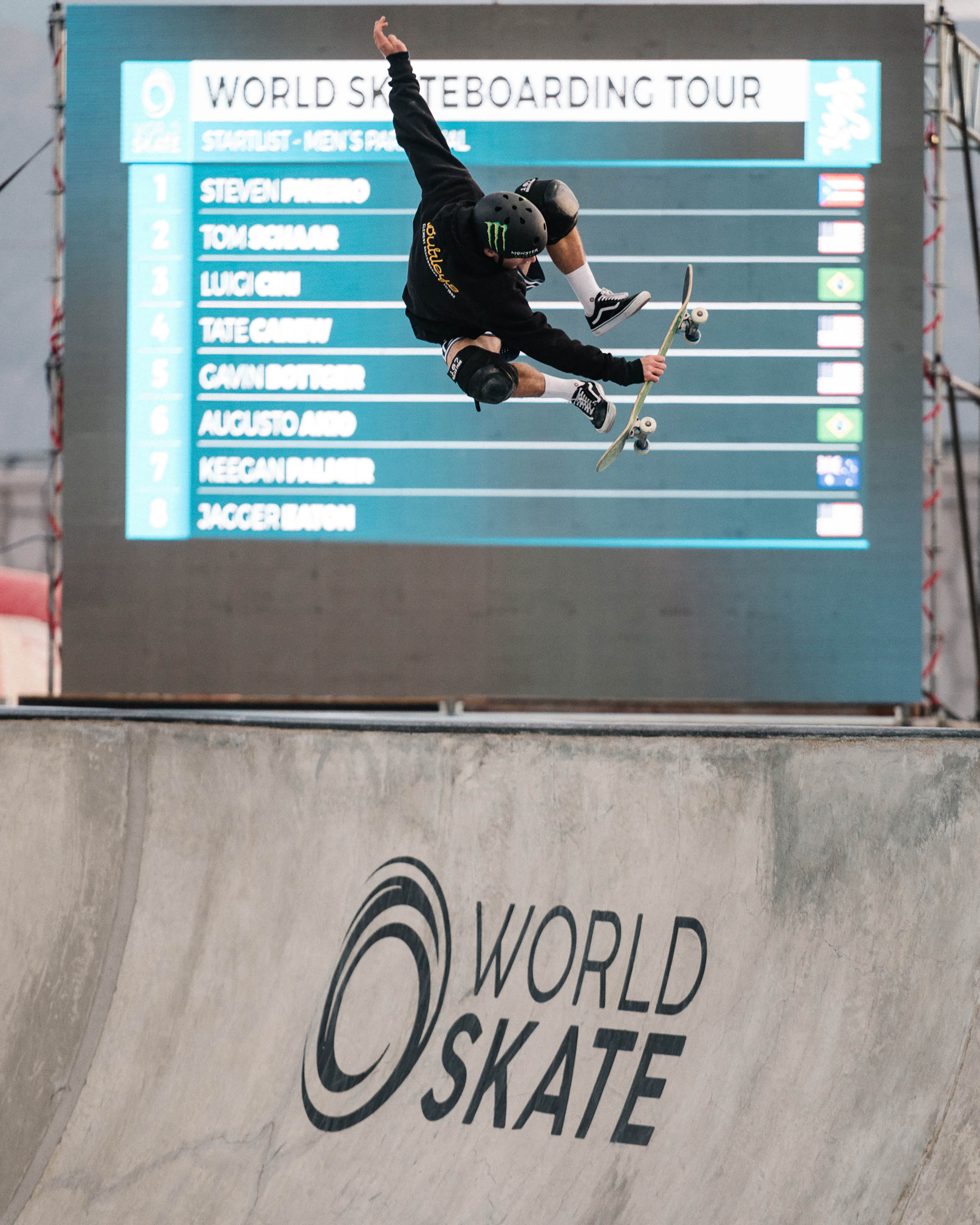 Tom Schaar
The former child prodigy (9 X-Games medals by the age of 18) has morphed into the most powerful skateboarder in the Park circuit today. Spinning alley-oop 540's twenty-plus feet in the air, Tom Schaar's Mega-Ramp experience has put him on another level of amplitude to everyone else. The inherent challenge there, of course, is that he has to temper his temptation to go ballistic on terrain that, while huge to your average skateboarder, is actually on the small side for him. Like Keegan Palmer, he is shredding on the frontier of his own ability alone and could probably comfortably come in the middle of the rankings just by running his engine at 60% of his capability. Fans of skateboarding on the outside edge of sanity are glad he goes foot to the floor instead as he did here tonight. Alley-oop backside ollies over the hip to lipslide in the deep end, he really needs to be seen to be believed. A comfortable second place from an unbelievably powerful skater.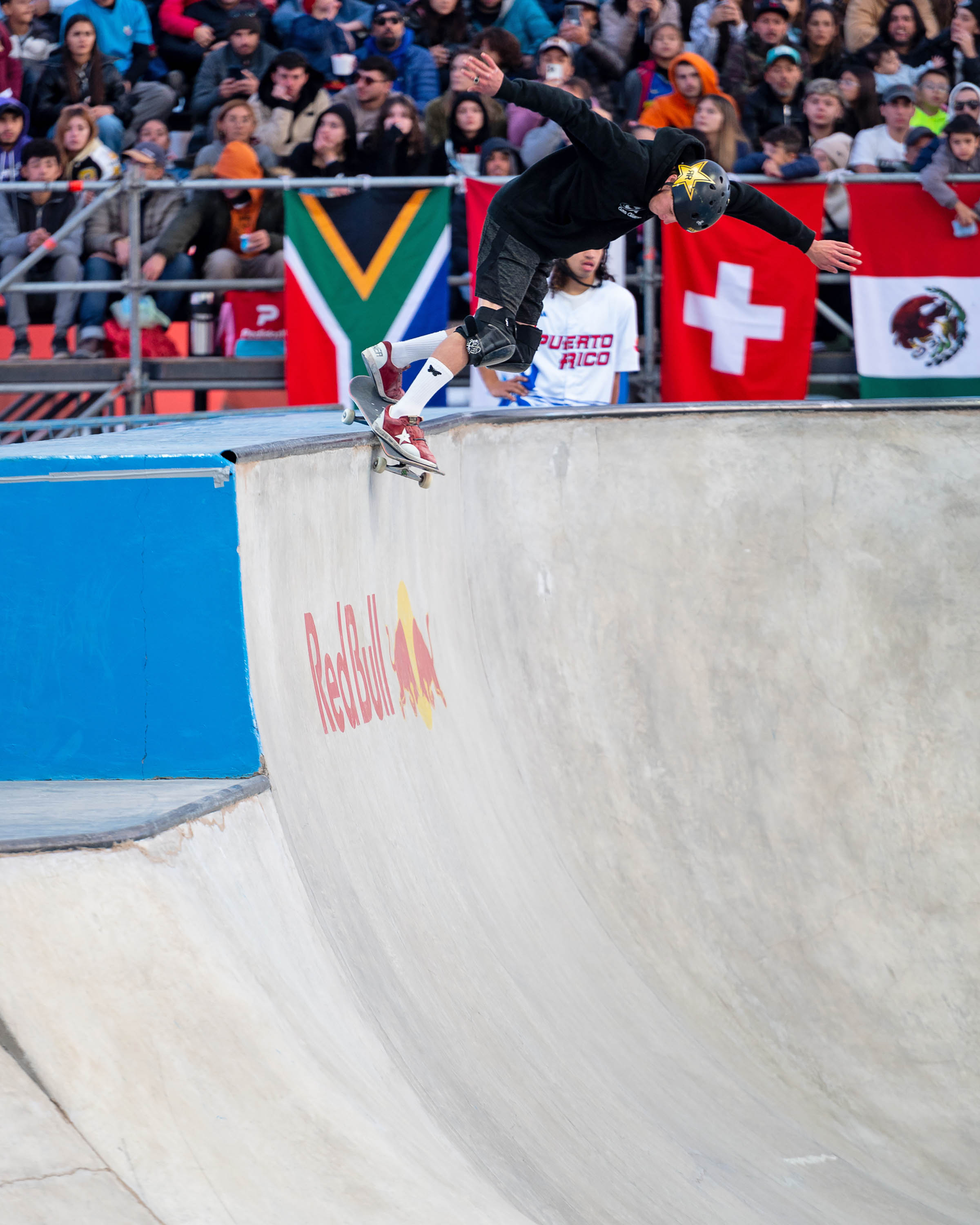 Keegan Palmer
The Olympic gold medallist is arguably the purest Park skateboarding talent in the world today and in a real groove of form. Right at the cutting edge of what is possible in skateboarding he can simply do things that nobody else can and in that sense he is only competing against himself because it is impossible to be super consistent at that level. To do so would be super-human. Without question the most exciting skateboarder to watch ripping a skatepark in the world today, he is so fluid that he seems to be riding on glass. Despite giving himself a fat knee minutes before the finals started, he still stuck a single run including a backside flip indy over the jumpbox with booming authority before retiring hurt. It was still enough for thrid place. With Keegan Palmer, you don't need to understand anything about skateboarding to appreciate that you are watching something exhilarating and fantastic.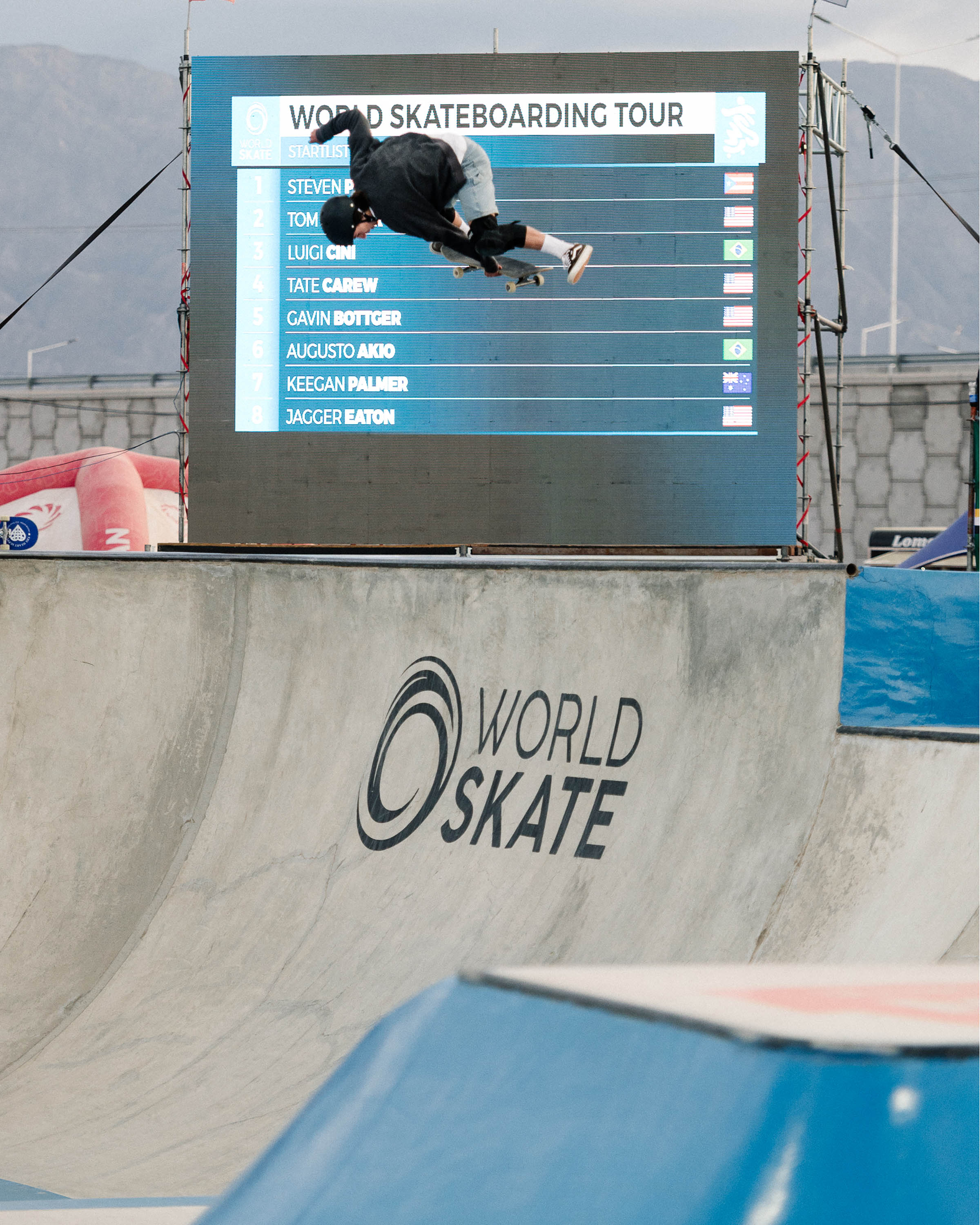 Tate Carew
Probably the best example of the a Wold Skate event's ability for talent alone to project a skateboarder into the elite arena is San Diego-based skate rat Tate Carew. A relative newcomer to the international stage before the WST World Championships last February, he is- at just 18- already a complete skateboarder with tailgrab 540s and tweaked stalefish tail slaps which spank the coping. He has now made the finals of his first two global contests with the assurance of a seasoned pro. Already magnificent, and only just arriving on the skateboarding public's radar, Tate threw down couple of unusual tricks like hardflip indys over the hip and an insane bigflip backside 360 over the jumpbox. A very exciting prospect to watch whenever you get the chance, he came within a hair's breadth of the podium tonight.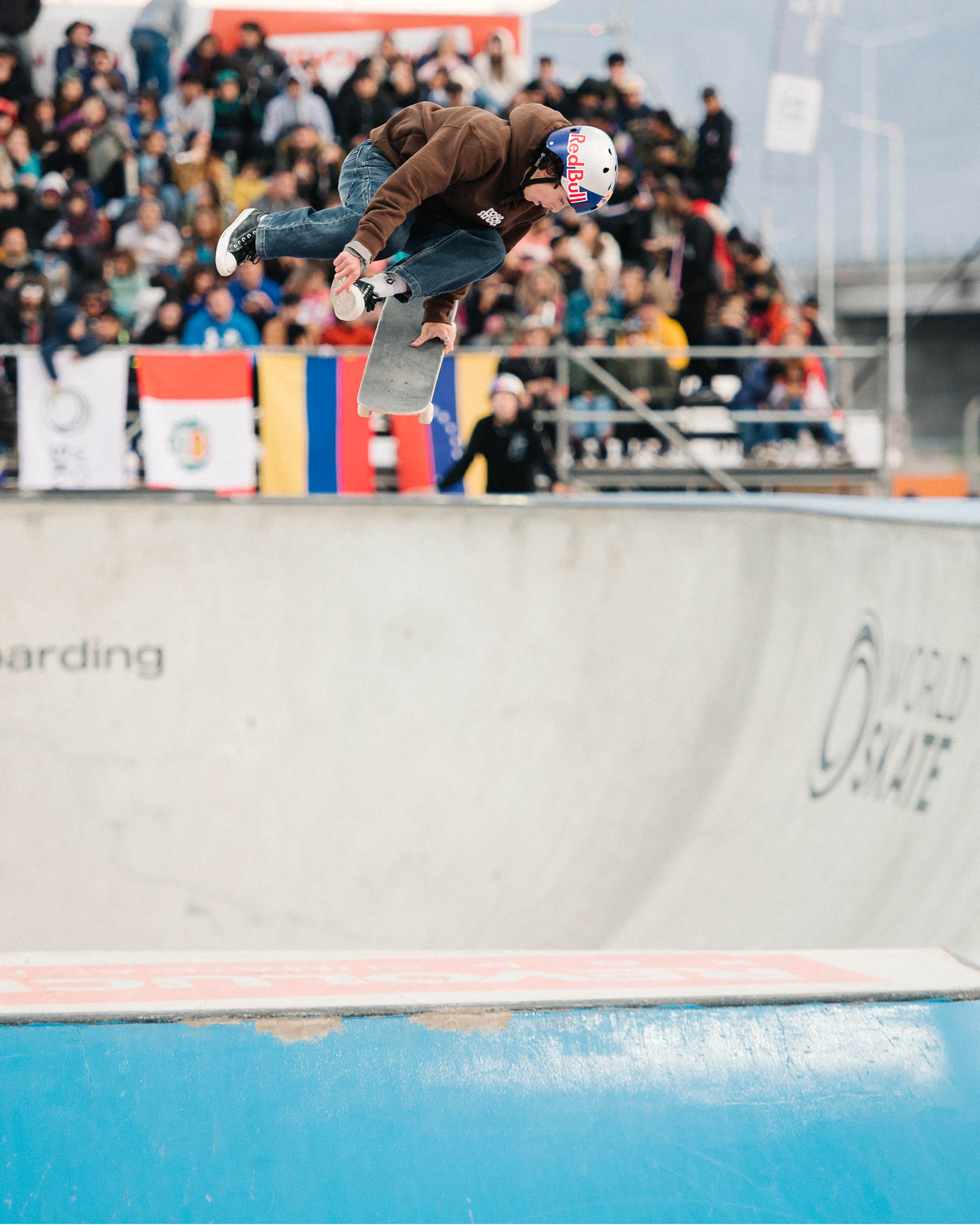 Gavin Bottger
The great 'what-if' story of the 2022 WST World Championships was Gavin Bottger's almost out-of-nowhere broken wrist the day before the finals. The great unknown quantity of this field and the youngest finalist here by several years, there is a real sense that he had not until tonight fully revealed what he was capable of. There have been flashes of real brilliance before now and occasional gear shifts into something approaching untouchable natural ability, but this was the first opportunity he has had to really unleash. If his recent wrist troubles have had any impact on him mentally we didn't see any evidence of it at all in Argentina. With stratospheric tuck-knee 360 indy airs over the fun box and a unique varial flip indy over the hip on lock, he left it super late to gel a full run but when he did it was wild. If the rest of the world of competitive park skateboarding are not yet afraid of Gavin Bottger then they haven't been paying attention. Simple as that.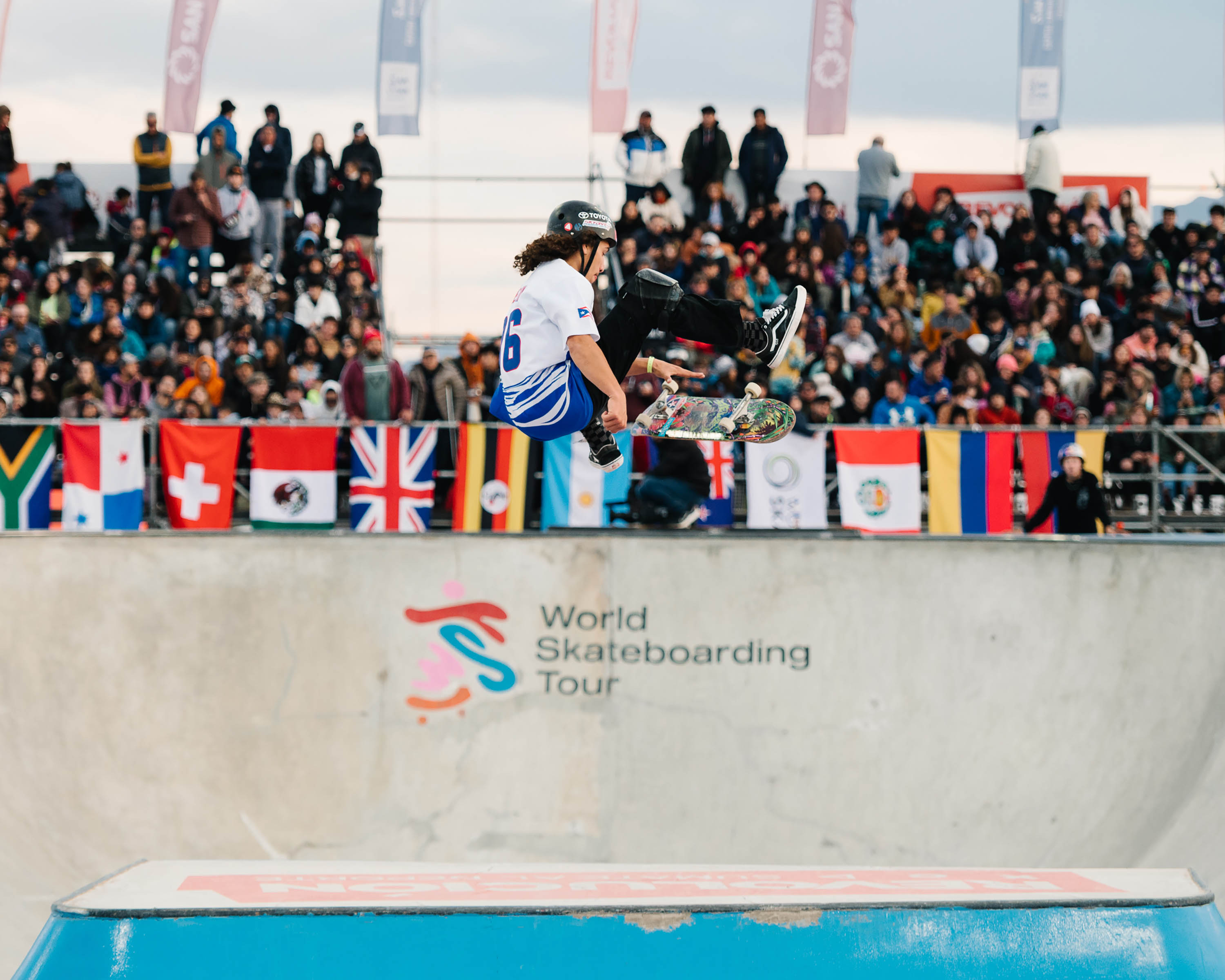 Steven Pineiro
One of professional skateboarding's more interesting character studies, Steven Pineiro never read the script of how the game was supposed to play out. He has improved not just since his Tokyo debut for Puerto Rico but, remarkably, since Sharjah just 3 months ago. As we mentioned earlier in the week, Yancy hired an apartment in San Juan two months ago and has been working tirelessly to up his game every day since. It shows. Backside 360 kickflip indy's on lock and a trick in his back pocket for every approach angle and inch of the park, he has become one of the best-established faces on the circuit in the last few years. The crowd love him and he loves them, and that interaction raises the energy levels not just for him but for everyone taking part. He gave his everything out there this evening and was one trick away from the podium but it wasn't to be. While he was crestfallen, he accepted the vagaries of skate life with good grace. The people's champion.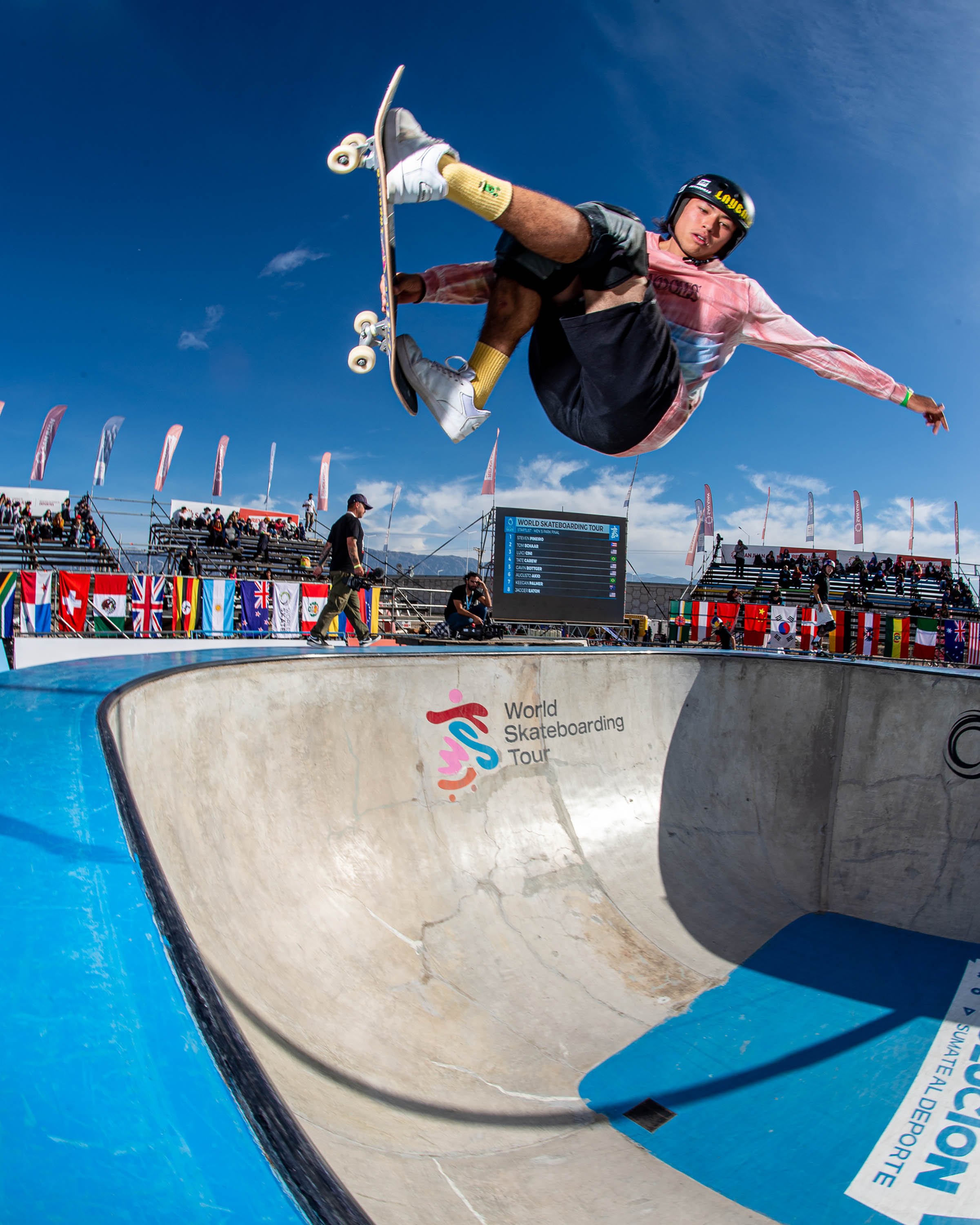 Augusto Akio
The big breakout story of the WST Park World Championships in Sharjah last February, Augusto has become a crowd favourite through his spontaneity, unpredictability and ability to pull tricks seemingly out of thin air which he hasn't practiced. Whether that level of inventiveness can be enough to usurp the tacticians and the trick trainers over the long term remains to be seen but from an excitement perspective he has the audience in the palm of his hand. Skateboarding at this level certainly benefits from his loose, stress-free creative approach and that is reflected in the crowd response every time he drops in to wild out, although his luck deserted him tonight and he struggled to repeat his form from Sharjah earlier this year.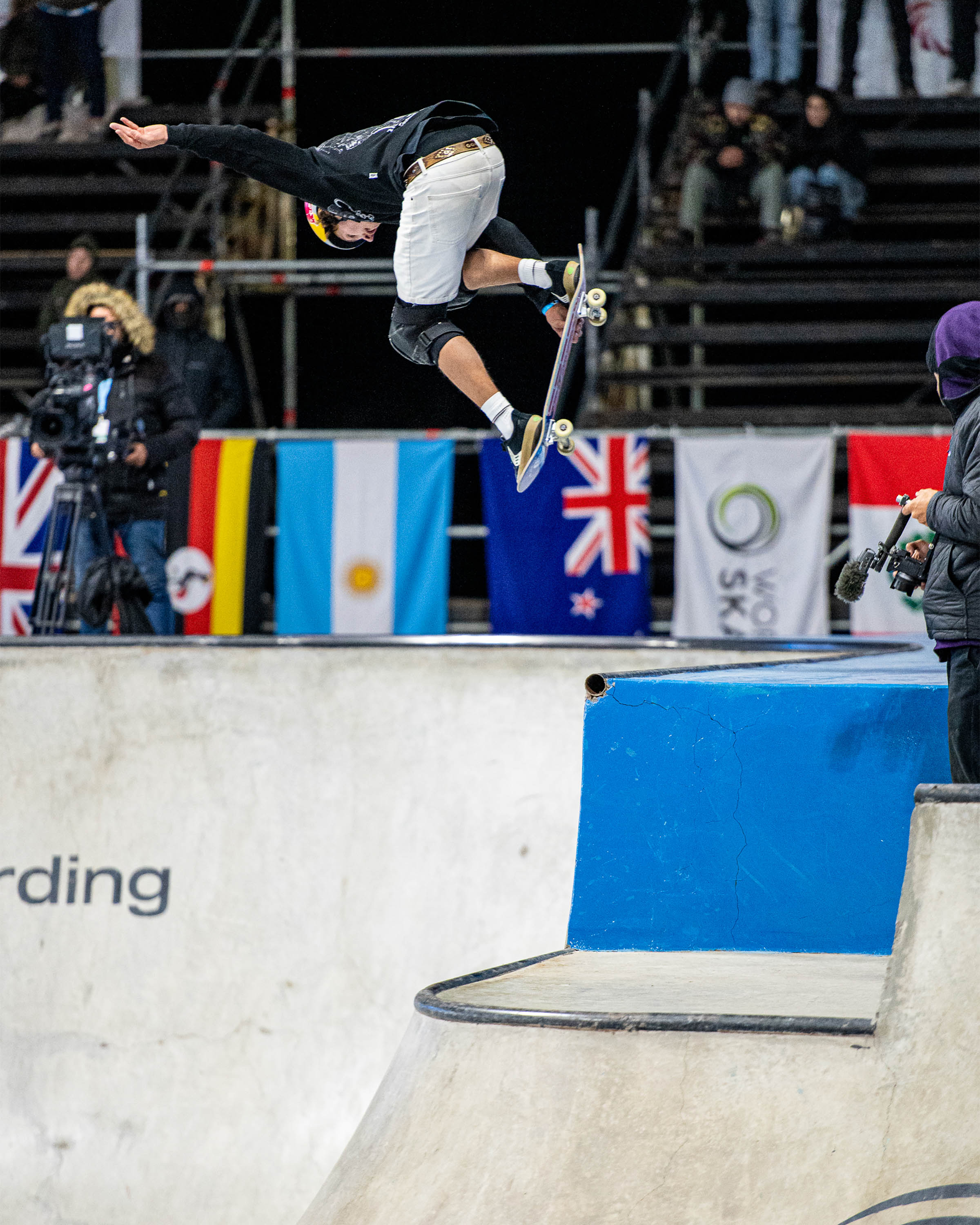 Jagger Eaton
Leaving aside his undeniable all-round skateboarding ability, Jagger Eaton is also hungry and a master tactician with levels of gear change in reserve for when that 'eye of the tiger' moment is required. Ultra consistent and with the ability to step it up as the situation requires, his first-place semi-final qualification left him skating last in the finals which is exactly where he likes to be in terms of seeing what everyone else has thrown down first. Against the flow of his consistency throughout the weekend, he was unable to stick a complete final run and while he will doubtless be disappointed, the current Park World Champion was the only skater to take on the jump box switch and hucked himself around the deep end with kickflip backside lipslides like he has been skateboarding his entire life- which, as it goes, he more or less has. You can tell.
As a sign-off from another outrageously intense WST contest we would as always like to thank all the skaters and support staff for giving of themselves throughout the whole rollercoaster week here in Argentina- but in particular we would like to thank Tatu Martinez, Sheryl Ragnetti and Natalia Sanchez for their boundless energy and enthusiasm. Without you all, this event would have not been what it was. See you in Rome next month for WST Street Skateboarding Rome 2023!