Let's open up this women's finals review by picking back up on one of the most interesting aspects of Park skateboarding as an Olympic discipline: the differences between what in sporting terms is sometimes referred to as the Field Of Play- which is to say in our case, the skateparks themselves.
Now: when we brought you our reportage from the 2022 World Championships in Sharjah in the United Arab Emirates, you may remember how we remarked upon how the bowl itself was deep but relatively compact- in the sense that there was no great abundance of flat bottom, meaning that speed between walls was relatively easy to maintain. Moreover, although the Sharjah bowl itself holds many features along its lip, the flat bottom itself is uninterrupted by features like pump bumps, volcanoes and the like.
Here in San Juan, by way of contrast, the bowl is much more open plan, with more expansive flat bottom and the relatively uncommon addition of a smooth-cornered central feature which has been variously described as a funbox, jump box or Twinkie- depending on where you hail from.
This has added a whole new dimension to the line possibilities and tricks thrown down as a result- as well as being responsible for a few very close calls in the practice jams through obscured sight lines. The flip side of that coin is that if you elect to use the jump box centrepiece for a big eye-catching, show-stopping, point-racking big air trick, then you are led by a small waterfall down into the deep end of the park from which it takes a whole lot of energy to make it back up to the hips of the comparatively shallow six-foot section. With the average age of female competitors getting younger rather than older year after year, and the move to 3 rather than 2 runs from the semi-finals onwards, strategy and strength become ever more relevant factors and the coaches had their work cut out for them in the women's finals here today as a result. In the end, every single finalist clocked at least one run over the 80-point mark; a new milestone has been passed.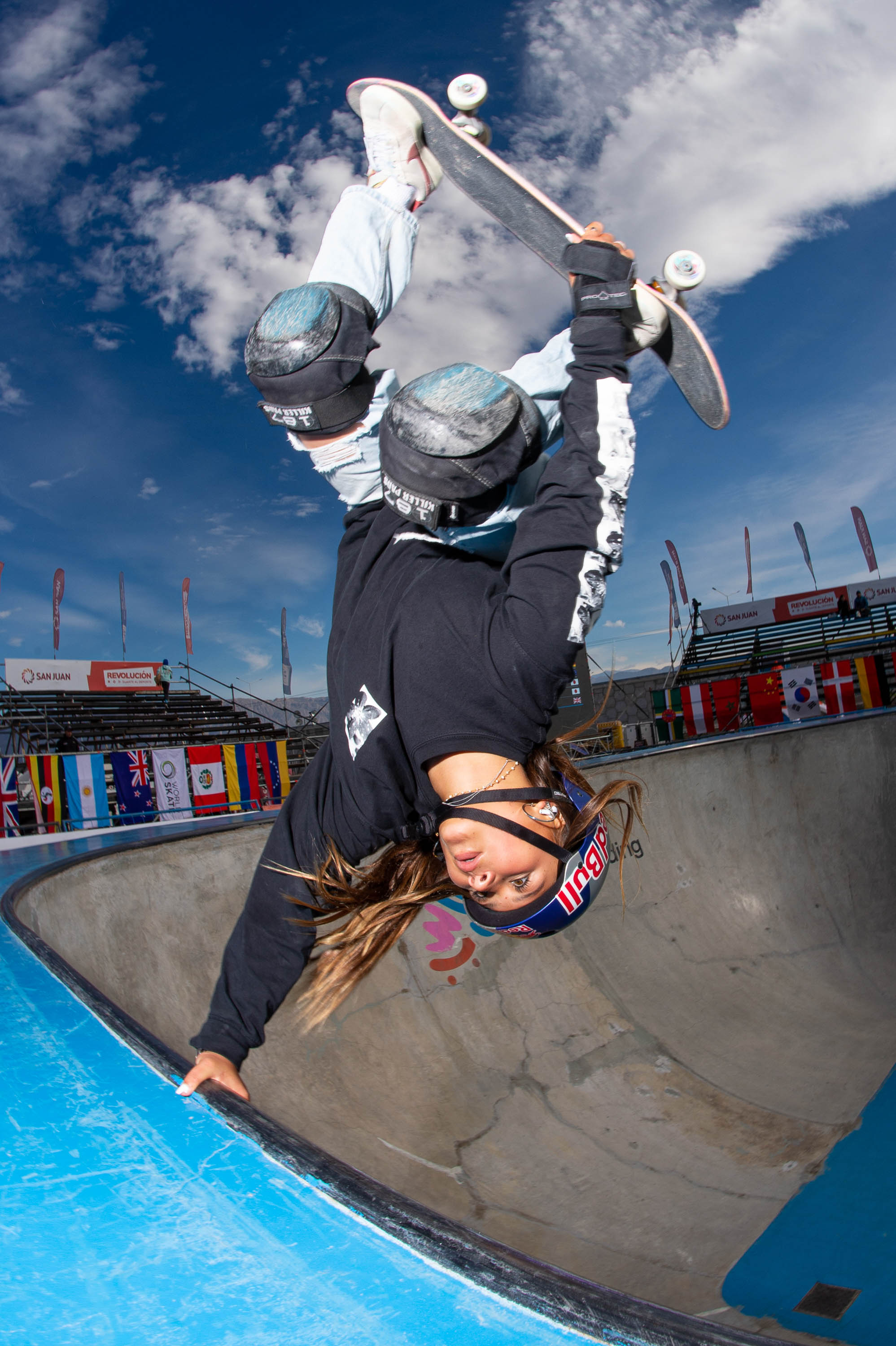 Sky Brown
The pacesetter in women's park skateboarding worldwide these days, Sky Brown is not unbeatable- but she is something approaching it. Rodeos over the jumpbox, 540's and fliptricks on lock and fearless backside airs both going over the waterfall hip into the deep end and on the back wall as well, there are no chinks in her armour. While it is true that Sakura Yosozumi was hurt and so not competing beyond taking her runs to establish that she had turned up, it is still hard to see who really has the full complement of liptricks and power moves necessary to dislodge Sky as the current World Champion. She is that good. Three full runs including a final victory lap which topped 90, it is no wonder she is one of the most famous faces in skateboarding today.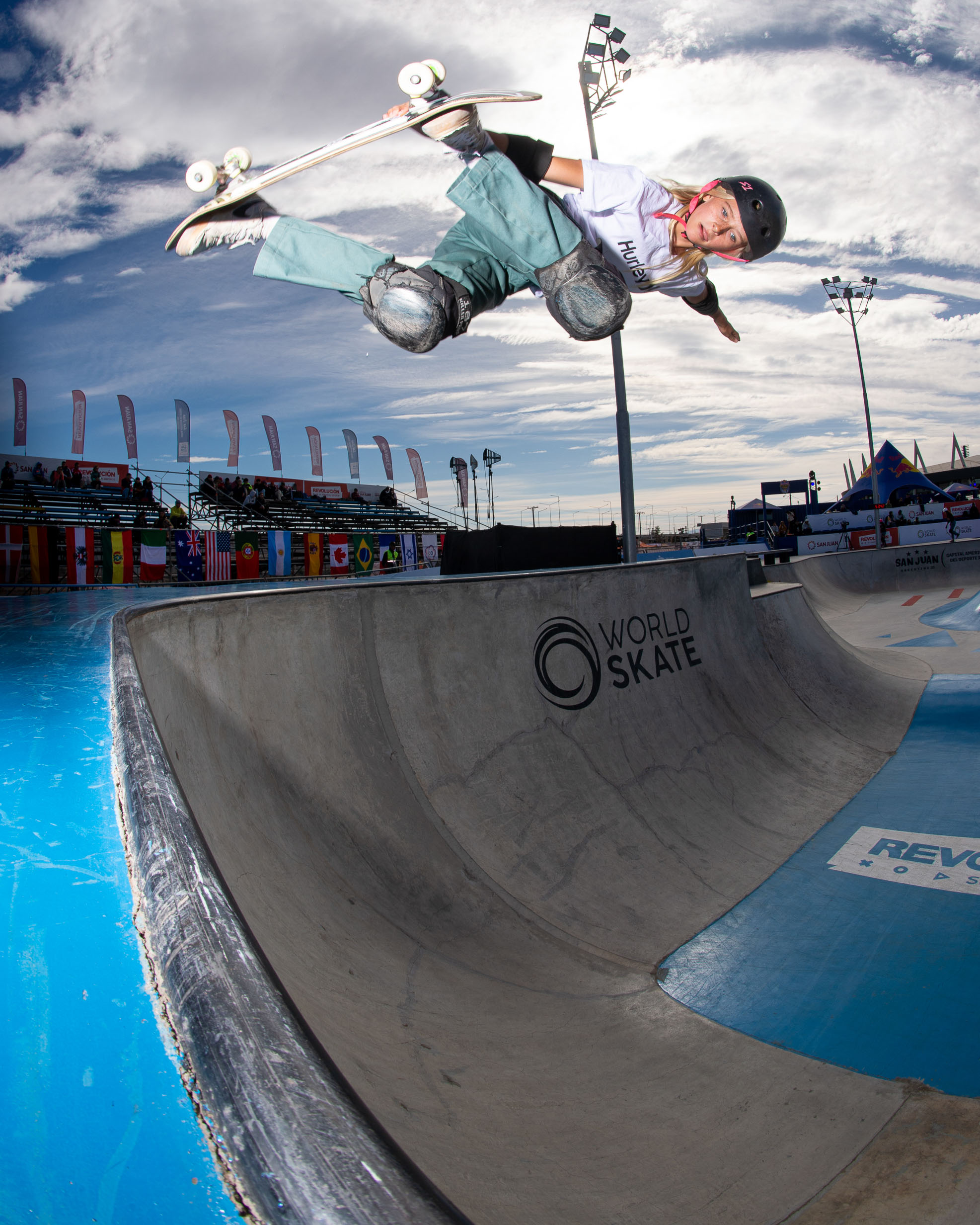 Ruby Trew
A member of both Australia's national surfing and skateboarding teams, Ruby won the Park skateboarding Championship there when just 12 years old and has that surfer's instinctive, unflappable sense of balance and poise. The split-level nature of the San Juan park which we mentioned elsewhere meant that she understandably gave way to some of the older women in terms of stamina and power but her final run blasted her into second place. With kickflip indy's over the jump box on lock and Mc Twists already dialled, she is developing the kind of tricktionary that will take her far. Having competed at both the WST World Championships in Sharjah and now here in San Juan, Ruby and her Australian coaching team will have a pin-sharp focus on where to develop her talent on the Road To Paris- so her peers would do well to keep an eye on her progress as her surfing life also feeds into her instinctive ability to make tricks others would bail.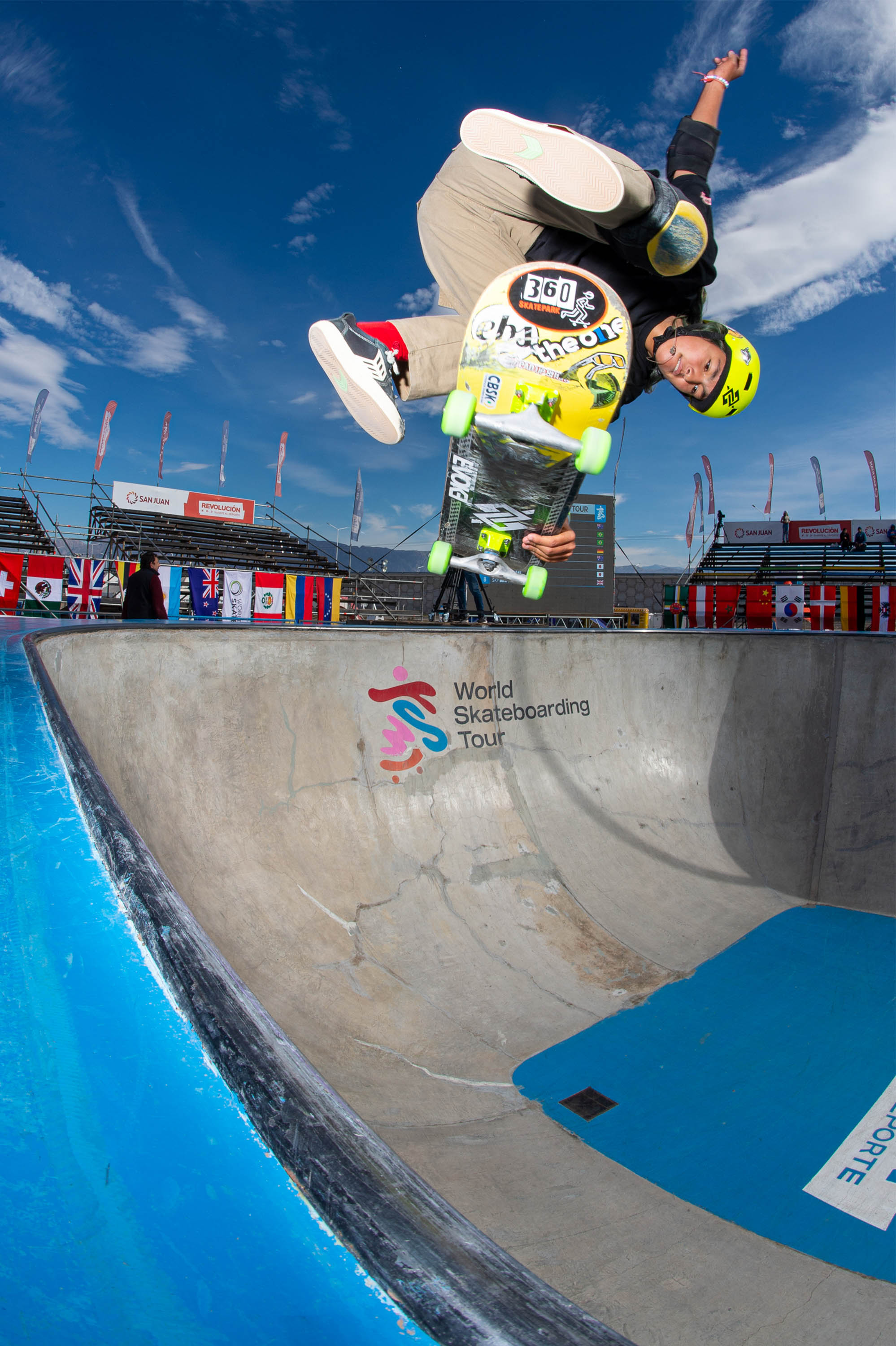 Raicca Ventura
Considering that she is 3-time Brazilian champion in both Women's Park and Vert, Raicca came into WST San Juan with a relatively low international profile relative to other members of the Brazilian national team. Having started skating aged just 6 and competing since 11, she has become one of the few women ever to skate Mega Ramp. The daughter of a skateboarding father, she had greater reserves of strength and a deeper trick bag than much of the women's field- and the raucous support of a heavy Brazilian squad willing her ever onward throughout. With a buzzer-beating backside kickflip indy on her last run she skipped up the leaderboard and into a well-deserved third place. It will be interesting to see what her international impact will become as her reputation and talent spread beyond Brazil. Like Arisa Trew, she has star quality that could take her far with the right support and opportunities.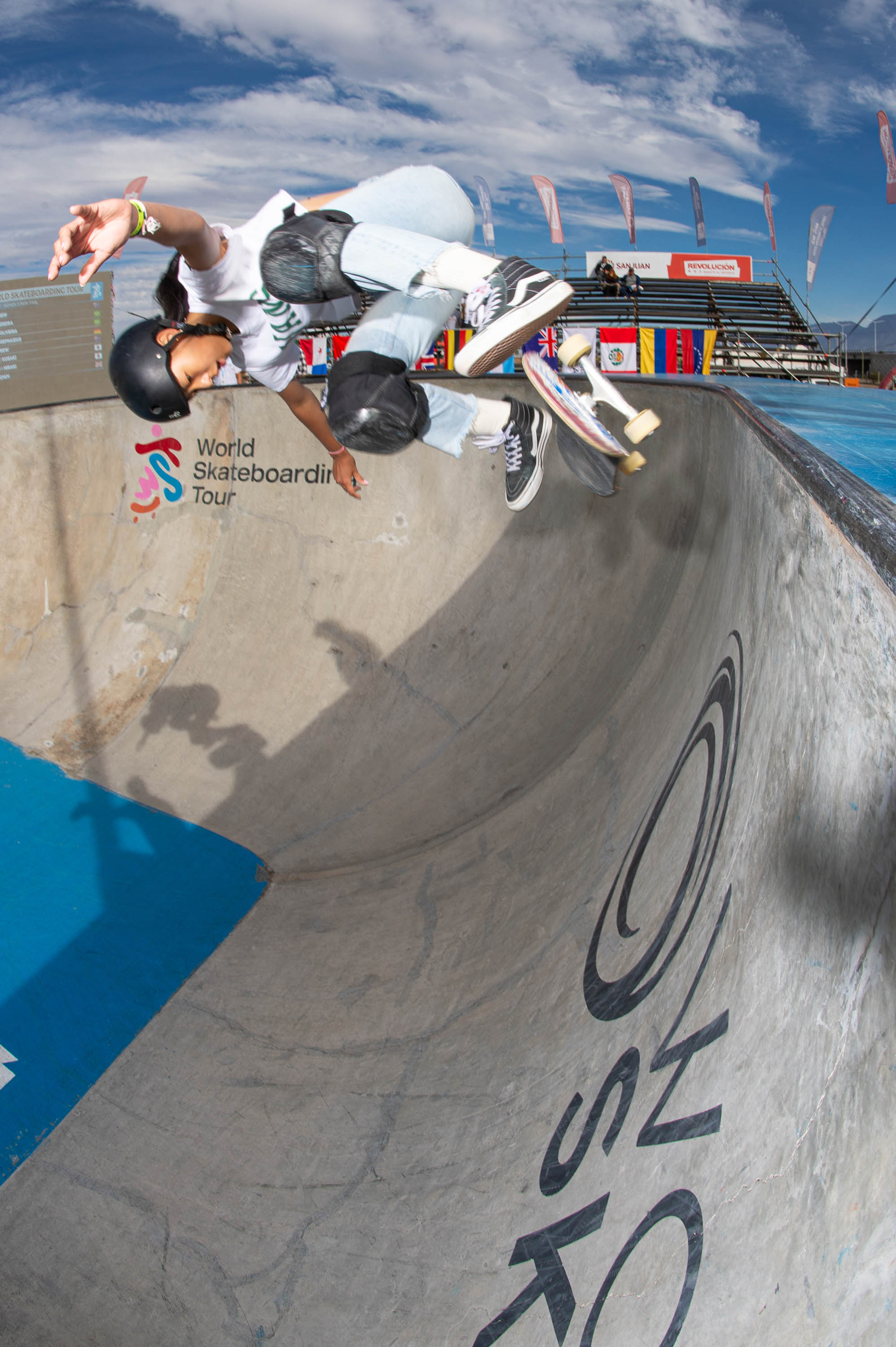 Kokona Hiraki
Although less well known than her compatriot Sakura Yosozumi, Kokona Hiraki has never not been in the finals of any women's park event since the Tokyo Olympic Games. Quiet, low-key and humble, she has a different trick selection from the other Japanese women who tend to duplicate and refine established tricks in which the scoring is understood, rather than innovate. With the treacherous and scary nosegrind being her calling card, she brings her own energy and verve to the women's division and brings progressive liptricks to bear at each new stop on the WST. Her smithgrinds on the offset bench over the 6-foot hip and grabless backside kickflips on transition are examples of tricks which she does that nobody else of either sex were even attempting in San Juan. In that respect she is a pioneer in the genre.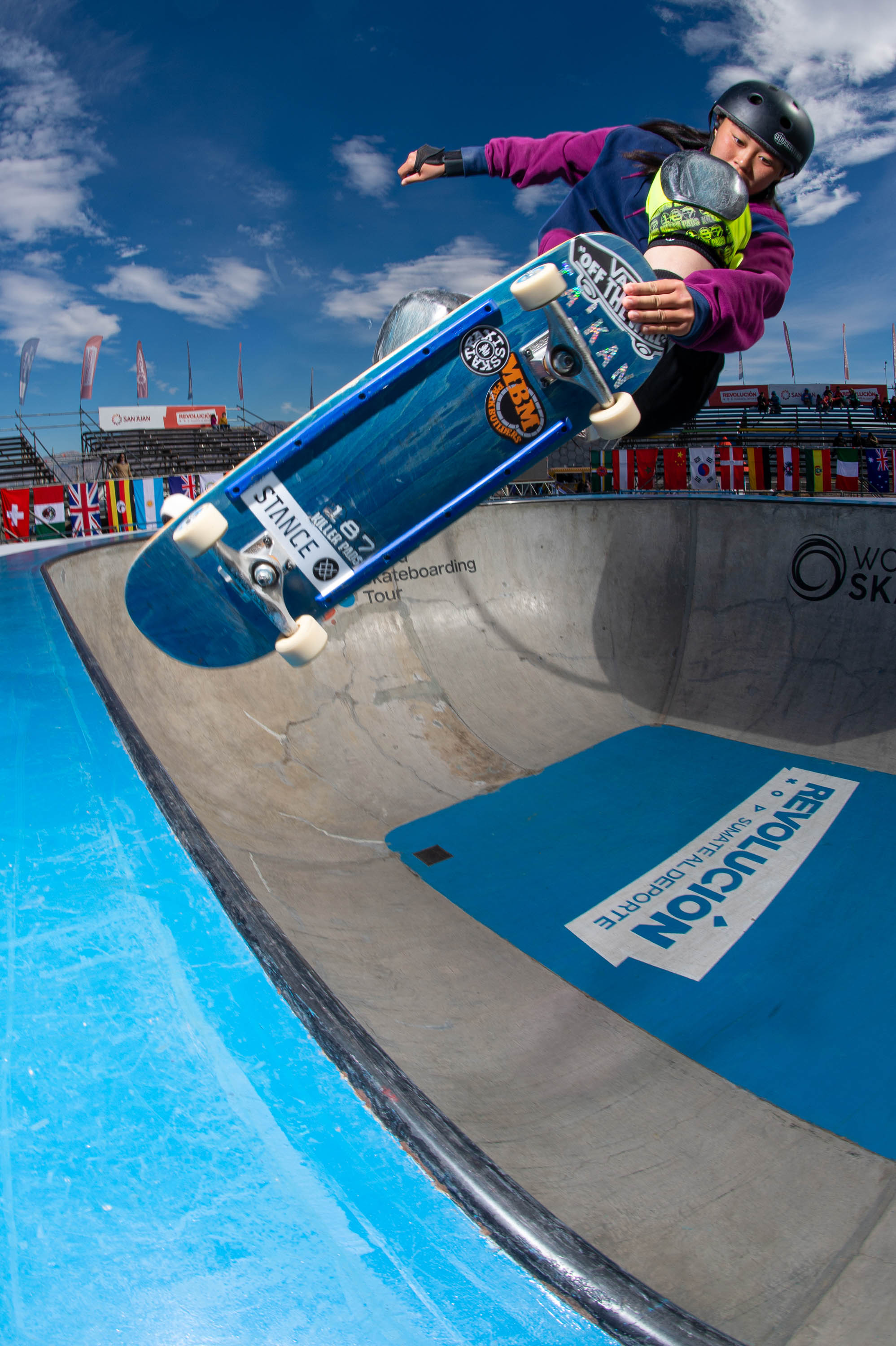 Hinano Kusaki
At 15 years old, Hinano Kusaki seems to have appeared out of thin air to send shockwaves through the women's division. The most powerful skater in the finals division, she is blazing a trail through the rankings with rock and roll slides round the deep-end corner, blasting backside airs, melon 540s and saran-wrap airs which nobody else is doing. If woman's skateboarding has an Eric Dressen-type figure who just tanks around like their tail is on fire, it is Hinano Kusaki. Ripping all week but perhaps a little unlucky in the final, she remains very much one to watch, especially from a sponsorship perspective.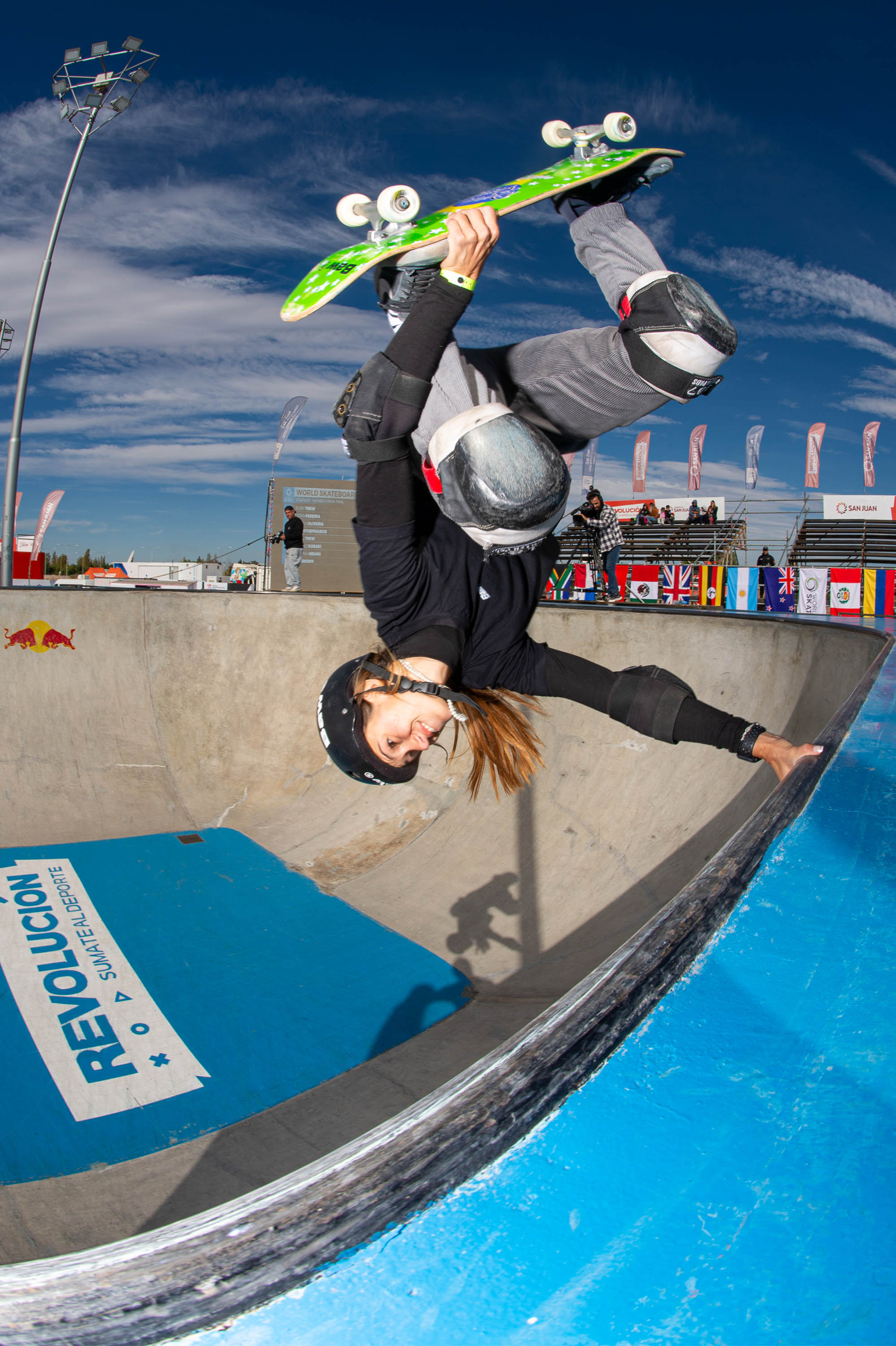 Dora Varella
A relative veteran in women's competitive park skateboarding terms, Sao Paulo's Dora Pereira shares with her Brazilian team-mate Pedro Quintas the quirk of being international- standard bowl skaters from a mega-city where street skating is the predominant version of skateboarding and such bowls as they have to practice in are as often as not DIY constructions. How she managed to get so good under those circumstances remains largely unexplained but she is more consistent than most and stronger than them all. With the Japanese emergence in competitive female skateboarding having been the story of the last three years, it is great to see the pushback from skateboarding's original nation of leaderboad upsetters and Dora is leading that counter-attack. Her backside 360 mutes over the jumpbox to backside heelflip indy on the back wall of the deep end were a contender for combo of the contest. A full final run gave her a solid 84 to rapturous reaction from the Brazilian fans who are making the most noise here tonight.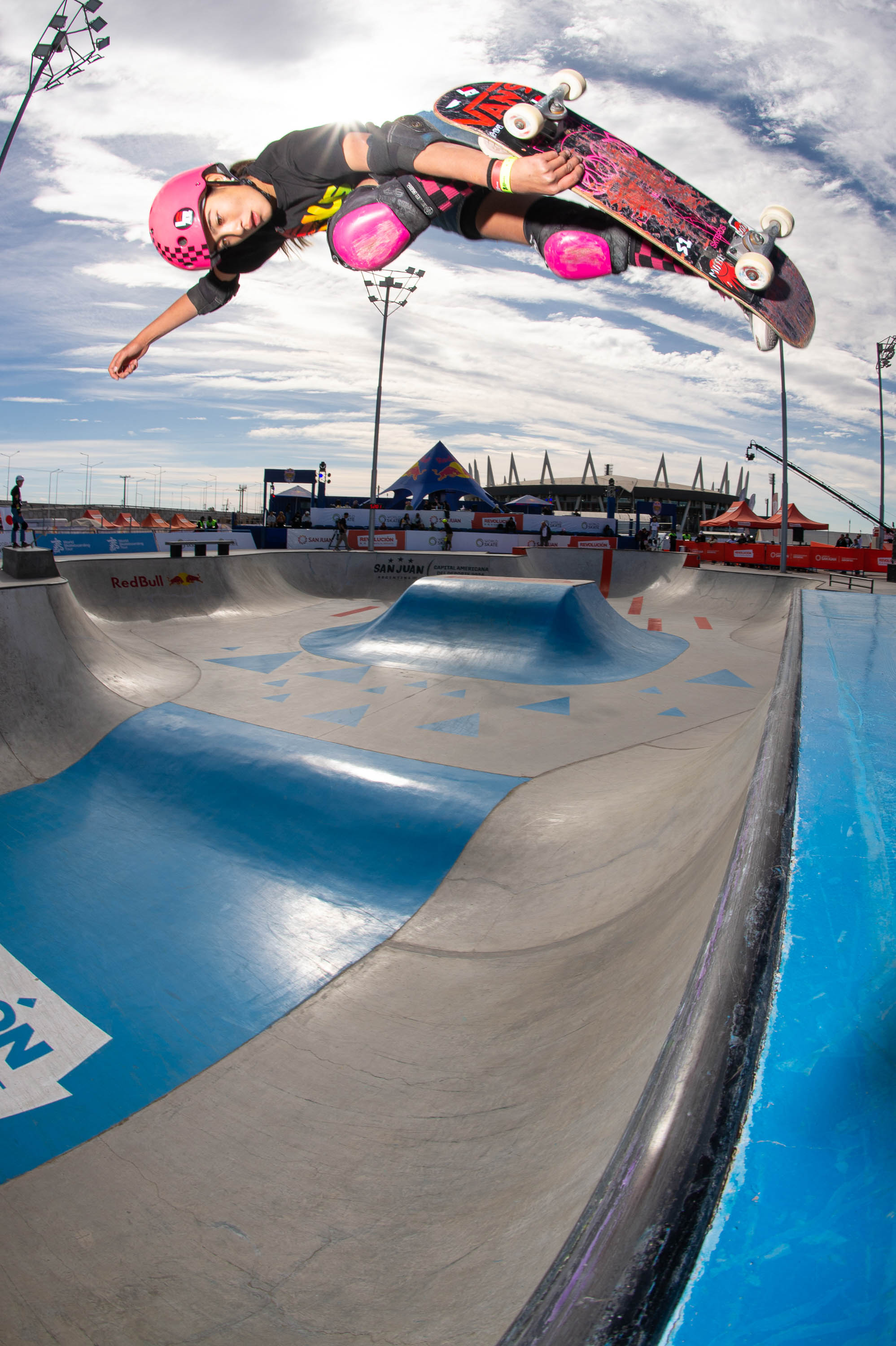 Arisa Trew
While it might be churlish to start talking about the next Sky Brown when Sky Brown herself is only in the ascendant, Arisa Trew has that same sense of future greatness about her. The youngster from Cairns started skating aged 7 and is already throwing down perfect McTwists- every single time- kickflip indy's to fakie on quarterpipes, handplant rodeos (AKA 'the Unit'), nosegrab 540s over the jumpbox hip and finished off her runs with the borderline impossible switch frontside boneless. Terrifyingly good already: a star is born, have no doubt.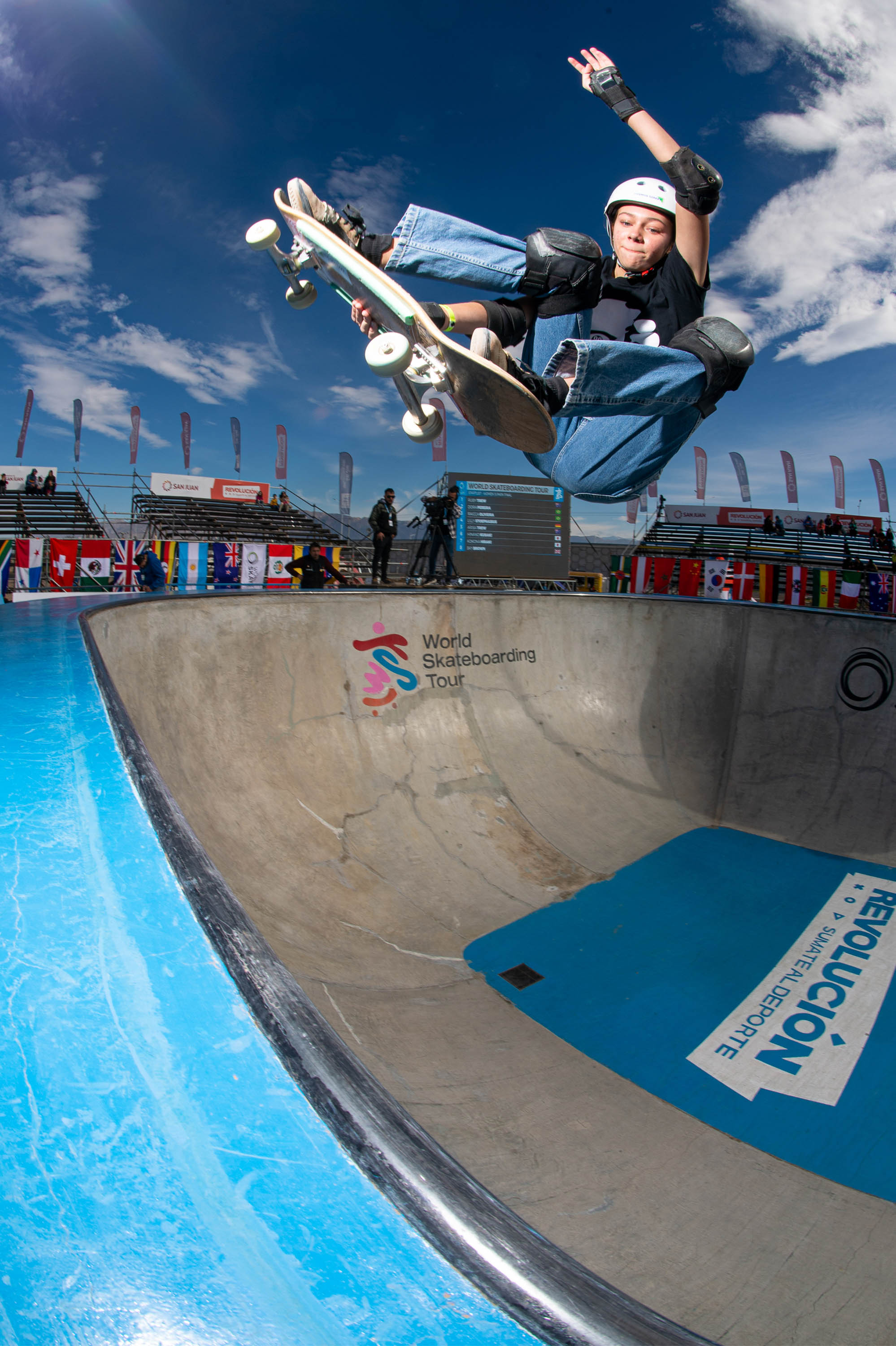 Lilly Stoephasius
One of the many admirable things about Lilly Stoephasius making it to the finals of this contest is that unlike, say, the Brazilian or Japanese contingents who not only travel but practice together, Germany's three-time Women's Park champion is pushing herself into these top echelons of international skateboarding. Her vertical prowess (she won the female division in Malmo's Vert Attack this year) means that she had moves and power for the roughly 14-foot tall deep end of the San Juan park which she used to good effect with varial airs, jump box 360s and a fakie to fakie 540 that took her through the 80-point barrier. One of only a handful of European contenders with the wherewithal to go up against the established skatepark-ripping nations, she grows in both strength and confidence with every outing.