The atmosphere had been growing steadily here in Ostia throughout the week and it was not hard to see why- the unseasonably good weather for October in Italy and the skatepark's proximity to the beach has meant that there is something of a holiday ambience to this WST World Championship. Two other factors have also added to the buzz: firstly, the Spot skatepark crew themselves have been throwing a week- long block party outside the venue with mini ramp, food trucks, skate lessons, breakdance sessions, outdoor cinema and even cycle spin classes.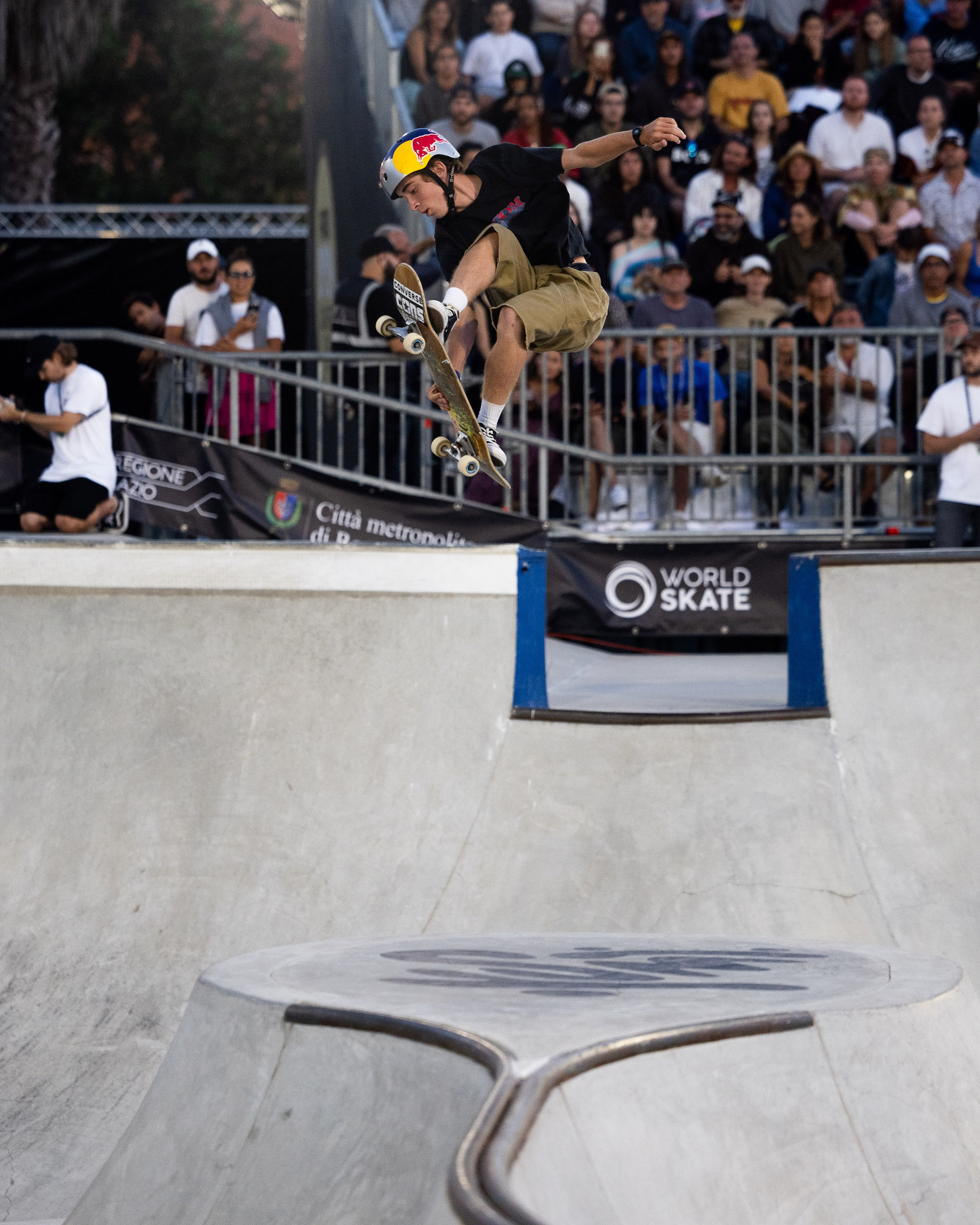 Secondly, the entire carnival are staying collectively at the nearby Roma Capitol campsite (who have taken great care of everybody) which allows everyone the chance to hang out together in the evenings and dip in and out of each other's cabins to gossip and vibe. An inspired idea, and one which has worked really well- as everyone involved seemed to agree.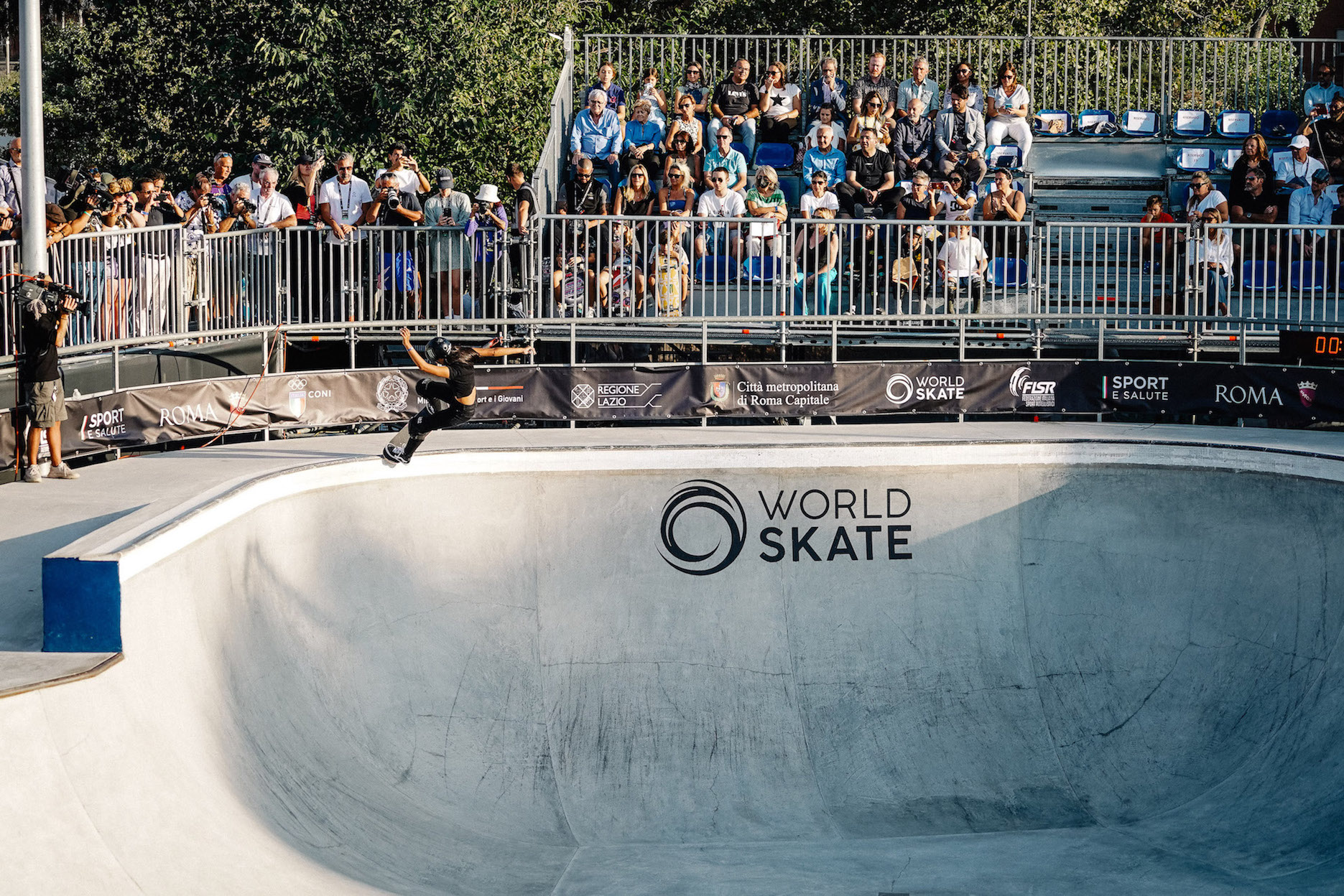 Now, if you have been following our rolling updates throughout the week you will know that by Semifinals time, there was not a single spare seat or sightline to be had anywhere in a jam-packed park. Judging from the noise of the Italian crowd, beer sales have presumably been brisk, also. With the stands rising steeply from the edge of the park, the fans feel as if they are overhead.Although their favourite, hometown hero Alessandro Mazzara, didn't make the cut they seem to have adopted Brazil's Luigi Cini as a surrogate Italian going forward based purely on his first name alone. What a people.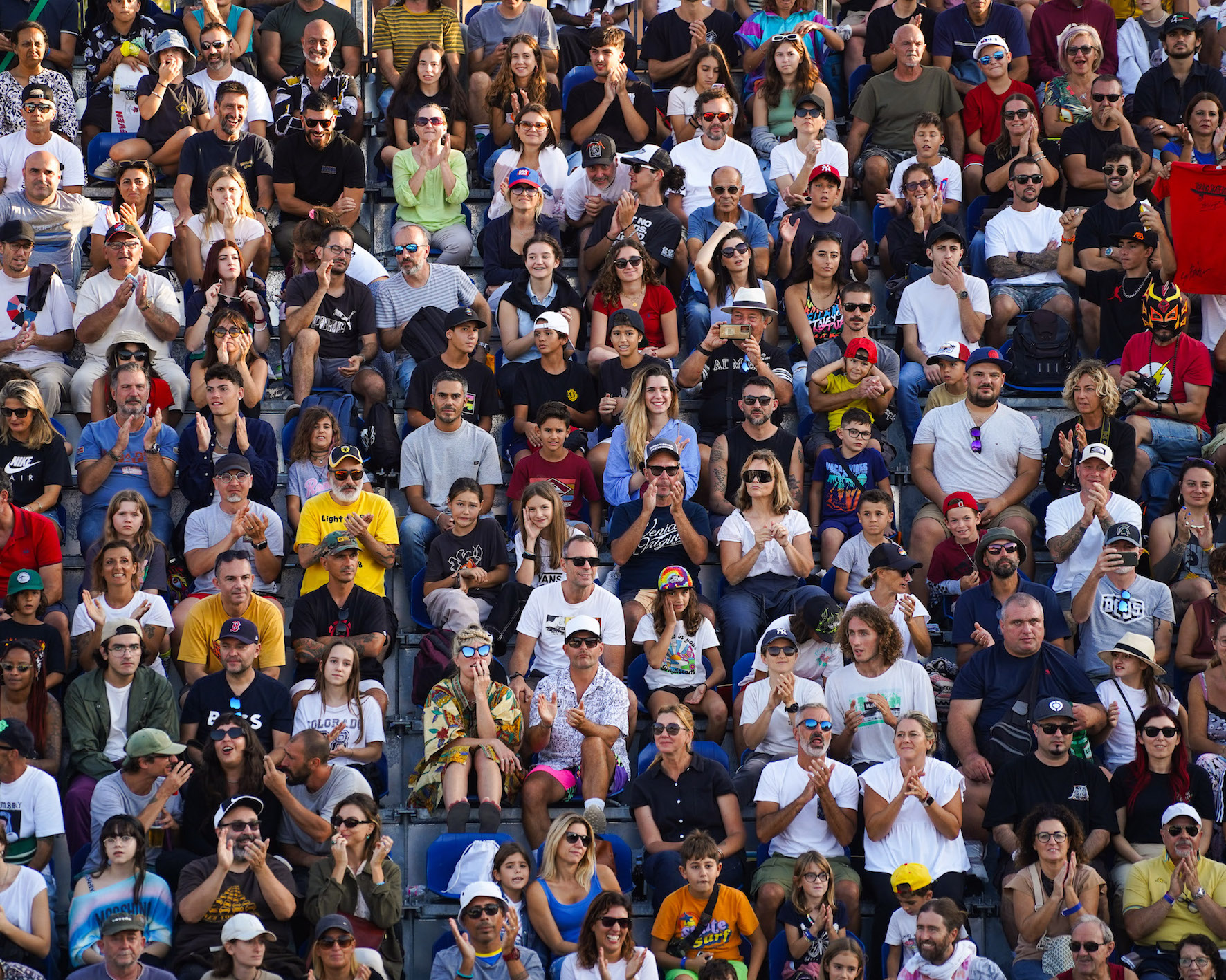 Staying with the Brazilians, they had four finalists taking part here tonight (3 men, 1 woman)- a feat reversed by the Japanese who sent a single male and 3 women through. Stronger than both those nations however was the USA, who (in Park at least) seem to have weathered the onslaught of the upstarts to re-establish themselves as the dominant skateboarding nation. With three men going through from the semi's within the top four positions and two women barging their way into the other division, they had a slight numerical superiority over Japan and Brazil- but as we have seen this week alone, in skateboarding anything can happen. The men's finalists were rounded out by sole Australian Keefer Wilson who is rapidly emerging alongside Keegan Palmer as a force to be reckoned with, while the only European representation across both finals was to be found in the women's contest courtesy of Spanish newcomer Naia Laso and Germany's ever-improving Lilly Stoephasius. It is a testament to the consistency of judging that this national split broadly reflects what we may have expected on paper going into the event- even if some of the faces are new.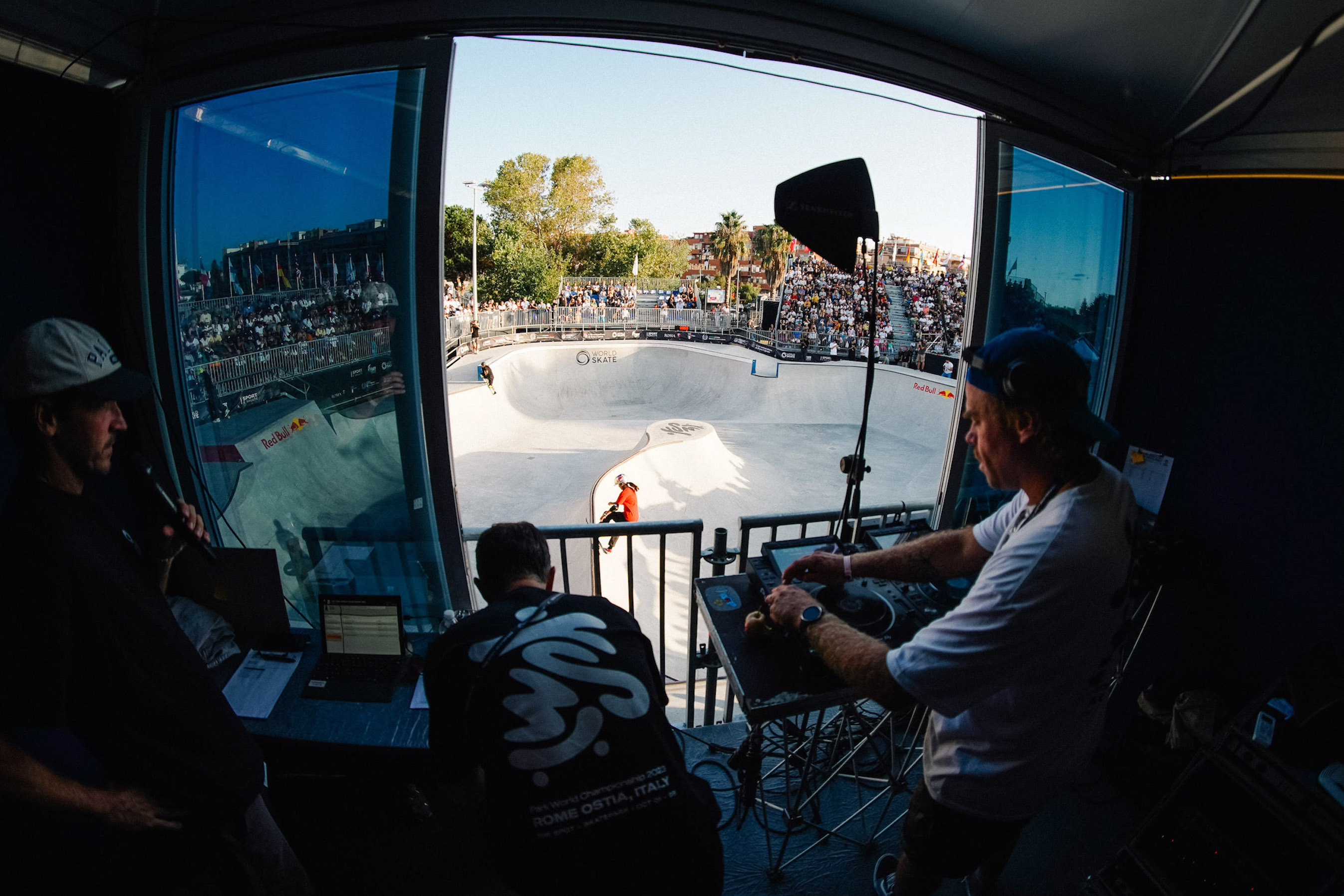 The women's finals saw an ever-more consistent Minna Stess improve on last year's 7th place to claim her first and well-deserved 3rd place podium spot with a 90 in her second run which left her momentarily in second spot and awaiting later run scores in an absolute nail-biter for the USA. It was a quick change at the top, however, as 4 runs later Japanese powerhouse Hinano Kusaki stormed into a momentary lead before her compatriot Kokona Hiraki topped her first-run 92 with a 94 right after Hinano. With most of the field failing to complete their final runs it was in the hands of Brazilian charger Raicca Ventura to upset the podium but her final run didn't pan out and when Hinano Kusaki's final run floundered as well, it left the alarmingly consistent Kokona with a victory lap having already posted two scores high enough to win a medal. A new women's World Champion was made.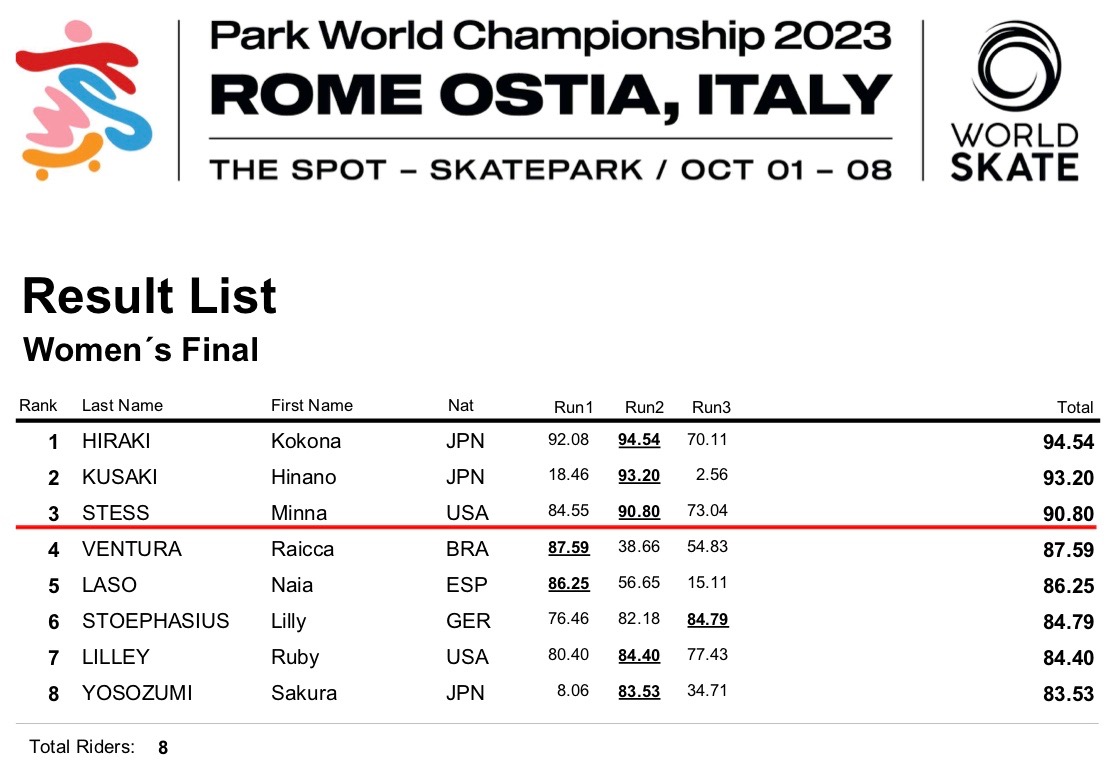 If anything, the men's comp was even more of a shootout. By the end of the second run cycle, only America's Tate Carew had posted a score in the 90's and was leading with Jagger Eaton in second right up until the last 2 runs. Gavin Bottger, who had struggled to get his last trick in throughout the week pulled what might be described as an around-the-world revert on the volcano to storm into first with a 94 before WST San Juan winner Luigi Cini brought pandemonium to the Brazilians with a last trick tre flip stalefish over the hip which has to be seen to be believed. Literally just plucked it out of thin air. A deserved, if knife-edge second place. An amazing ending to an amazing World Championship.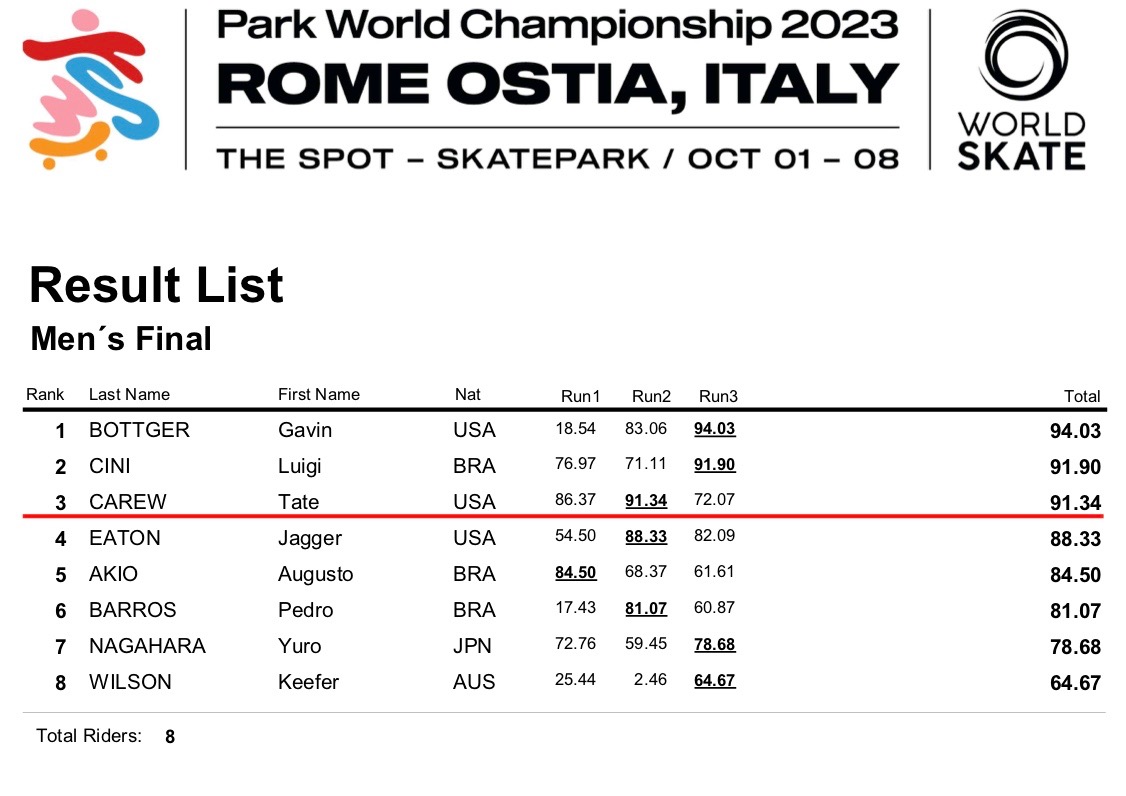 Grazia, Italia- and arrivederci.
The World Skateboarding Tour continues: next stop, Tokyo!