From the distance of a week out since the WST Park World Championships in Ostia, Italy, the thing that still rings in the memory (and ears) is the noise of the crowd.
This contest had a long tail, in that many skateboarders had been back and forth to the Spot Skatepark there in order to figure out lines ahead of the comp itself. For that reason, a lot of the skateboarders taking part had forged deeper friendships both with the local skaters but also with each other over the preceding weeks, and as a result there was a lot of hanging around and saying farewells afterwards. That sense of community is not found everywhere so let's start by applauding that first and foremost. More than 200 skateboarders entered, hailing from 37 different countries. That is something.
The World Championship itself contained no shortage of upsets, not least of which was the news that then-current World Champion Sky Brown hurt herself right before the event, meaning we would have a new female ruler come what may. The second perhaps unexpected turn of events was that despite having three separate forty-five second runs and the practice lead times mentioned earlier, nobody had three full runs. Only a few (including Carew, Stess and Hiraki) managed to complete two.
The reason that can be concluded given that everyone had ample time to learn the park, is that the sheer standard meant nobody could play it safe. That made everything just a little more knife-edge because nothing was guaranteed and with runs and strategies collapsing left and right we had podium newcomers in fully half the available positions by the time the giant cheques were being handed out. Given the OWSR point implications from this crucial World Championship on the narrowing Road To Paris 2024, the changes to the ranking leaderboard have proven pronounced and in some cases potentially decisive. Only WST Sharjah remains for the Park leg of the World Skateboarding Tour from which those eligible progress to the two-leg Olympic Qualifier Series that ultimately determines who competes in Paris 2024.
Since we started with the men in Lausanne last month, let's start with the women, this time around?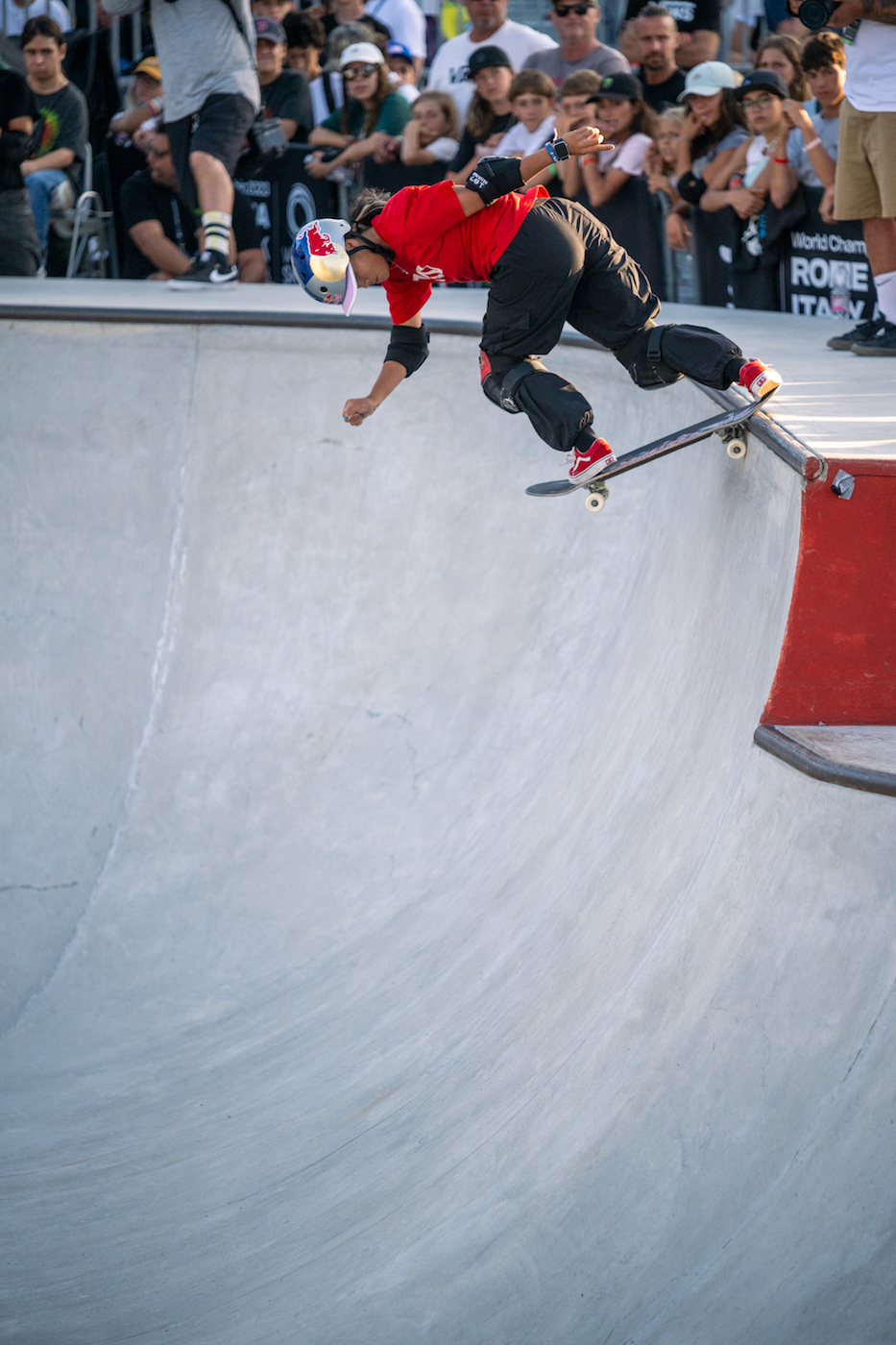 Ph: Garry Jones
Sakura Yosozumi
The current Olympic gold medalist is once again a finalist after last making the final 8 in last year's World Championship in Sharjah where she took 3rd with her last run. Only completing her middle run of 3, she nonetheless has an effortless deep-end backside 360 ​​ollie to fakie every single time and looked happy and comfortable back out there in the finals. She now has plenty of time ahead of WST Sharjah to improve on her current 6th place in the OWSR rankings.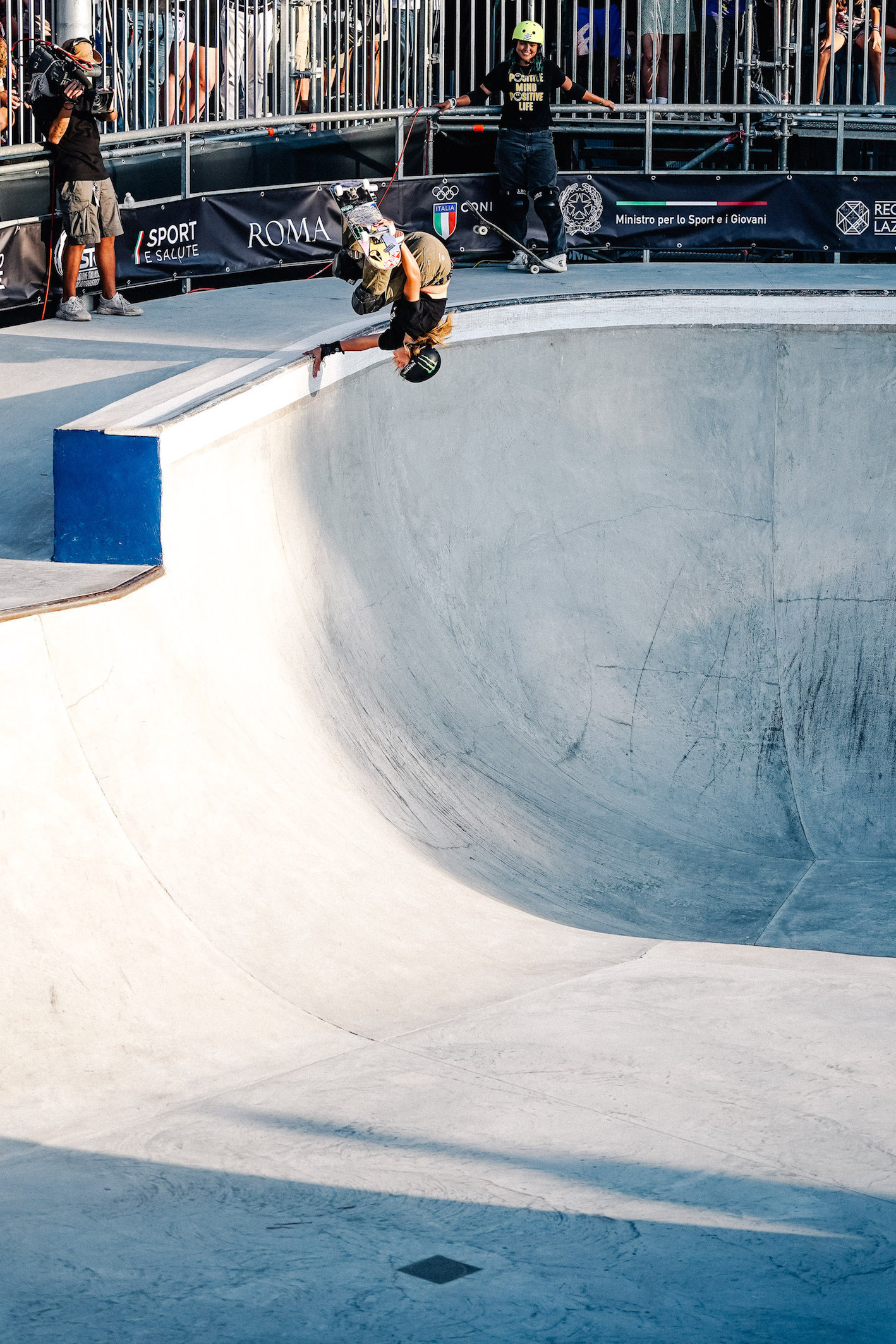 Ph: Mark Dillon
Ruby Lilley
The ever-improving teenager from Maryland has a full array of classic Park moves at her disposal including the un-practicable crailslide revert, which you either make or a wide variety of unpleasant alternatives await. Great blasting backside airs, and more consistent than most, this seventh-place result bumps her up from 16th to 11th in the OWSR rankings about which she can allow herself to be pleased. Things are galvanizing for her at the right time.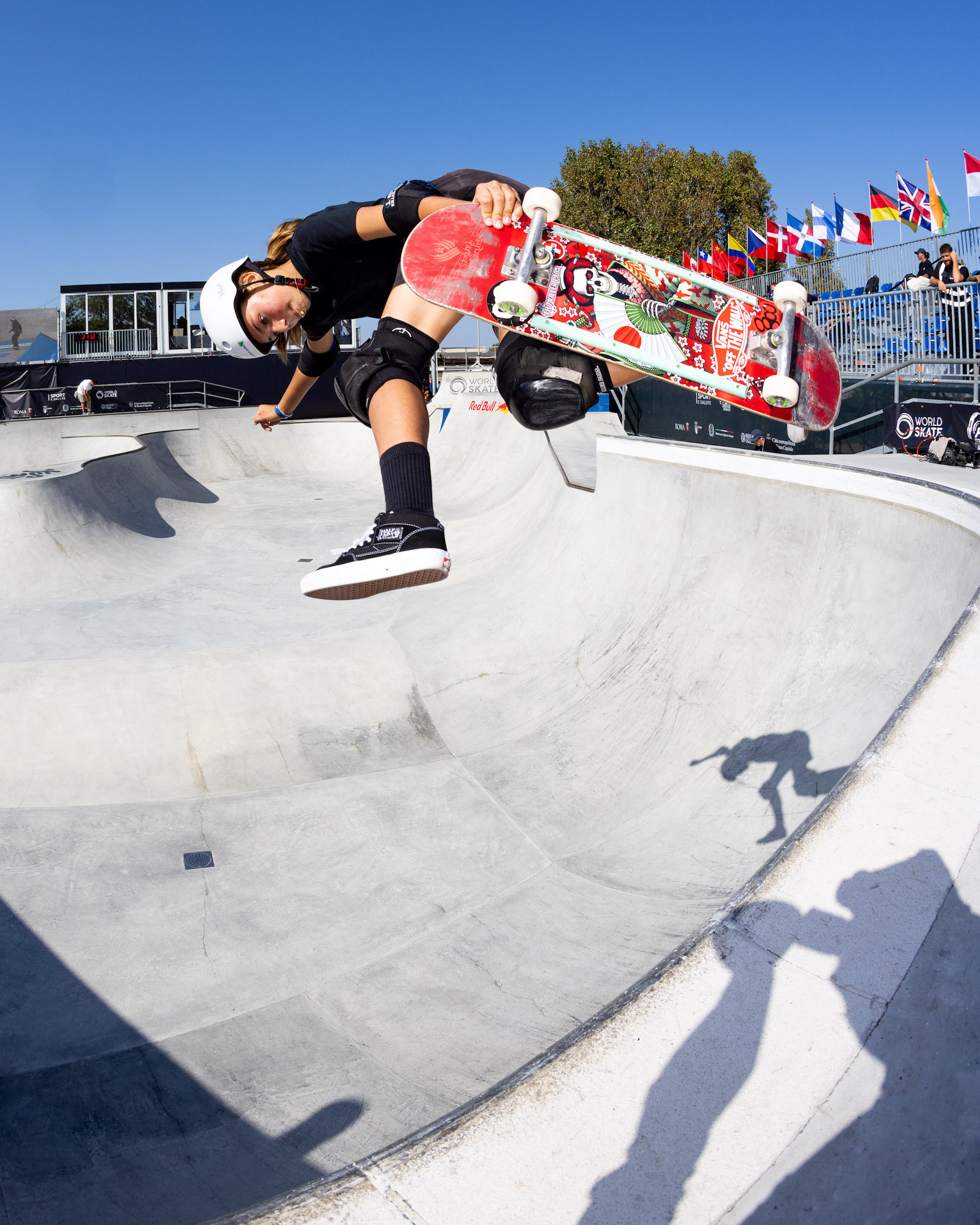 Lilly Stoephasius
The cannily-coached German youngster was able to make good use of the vertical walls of the deep end to produce varial airs and backside 360 ​​Melon grabs over the teardrop feature, which many of her challengers avoided. This best-ever 6th-place WST result for her moves her from 11th place to 7th in the OWSR rankings- which is a remarkble achievement coming from a German skate scene in which Park skateboarding is by no means the most common kind.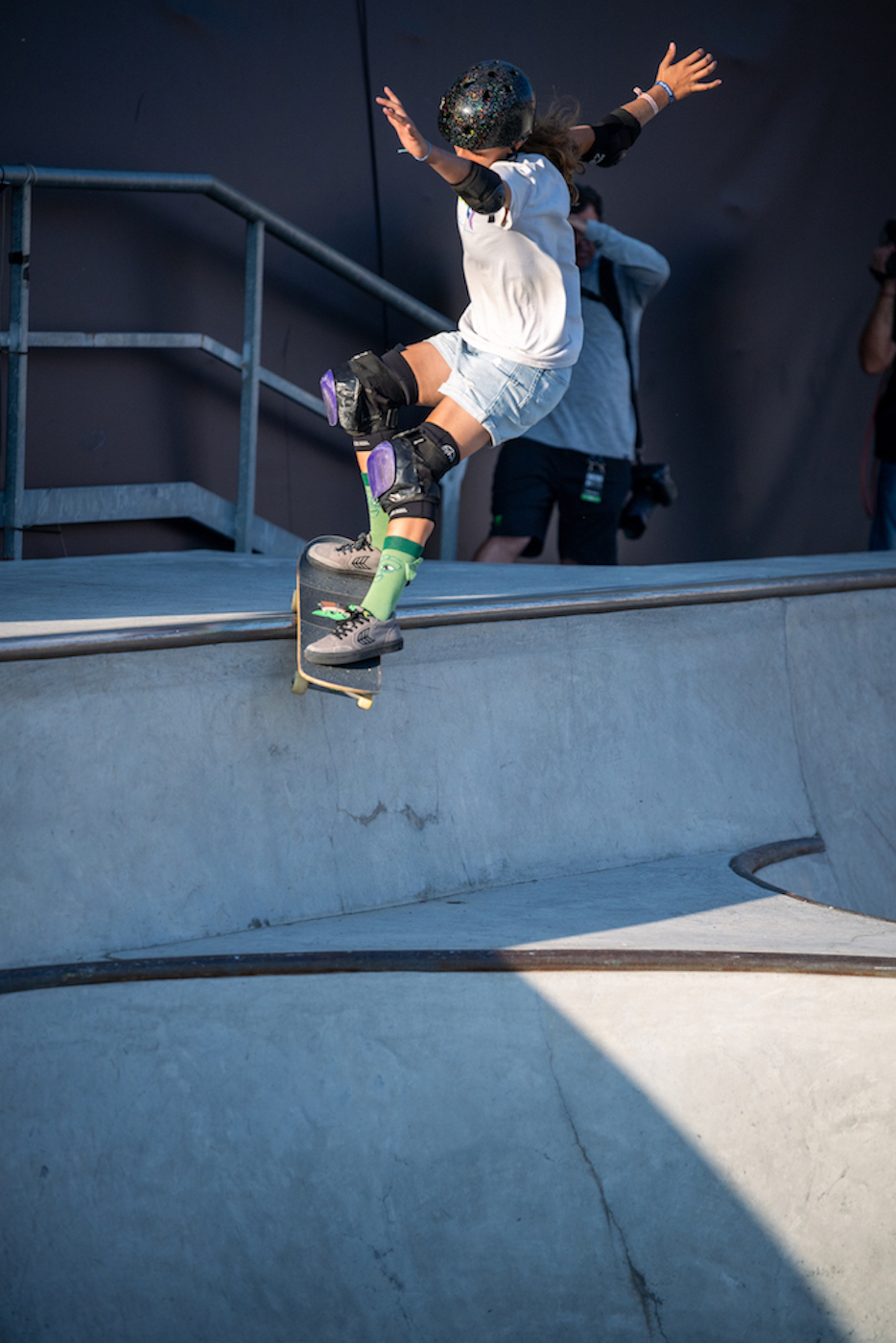 Ph: Garry Jones
Naia Laso
One big European skateboarding story on the WST is Spain's remarkable scouting program (they had 8 skateboarders qualify here, just one less than the mighty Brazil). The Cantabrian coastline's long surfing history feeds into the inter-generational skatepark scene in what is sometimes dubbed 'Europe's California', and 14-year-old Naia Laso is the latest product of that phenomenon. Although she had to rely on her opening run 86 in her first WST final, the fact that she made it to a frankly incredible 5th place at just her 3rd WST event is the story in itself. The result moved her up 5 places in the OWSR rankings, from 15th to 10th.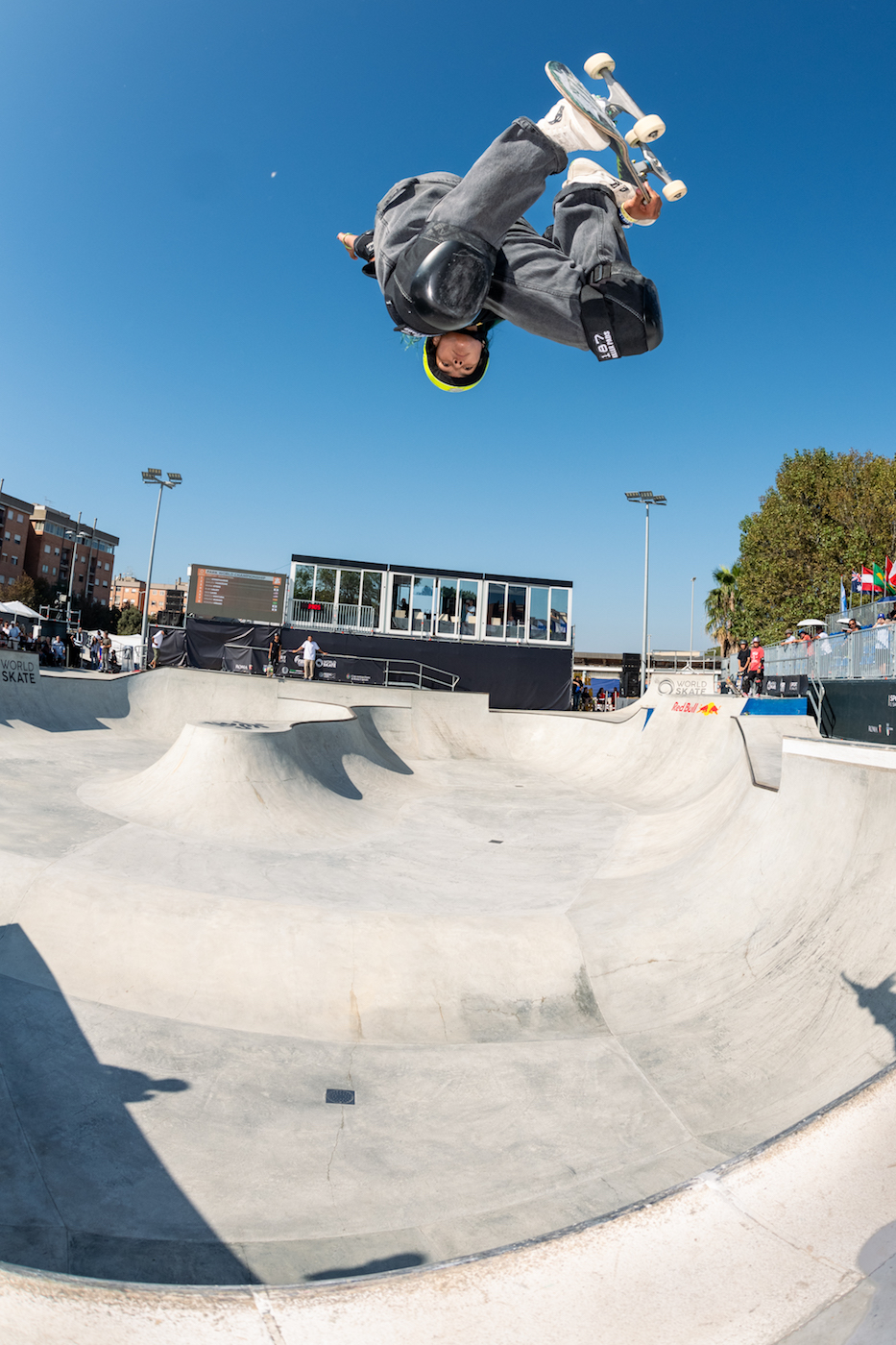 Ph: Garry Jones
Raicca Ventura
Alongside Hinano Kusaki, the Brazilian was the fastest skateboarder in her division and a joy to watch. Huge Japan airs, nosediving indy airs over the channel hip and full complement of committed lip tricks, although she had to depend on her 87 first run and just missed out on the podium, this 4th and her 3rd in San Juan bump her up from 6th position to 4th in the OWSR rankings, as a January showdown in Sharjah looms.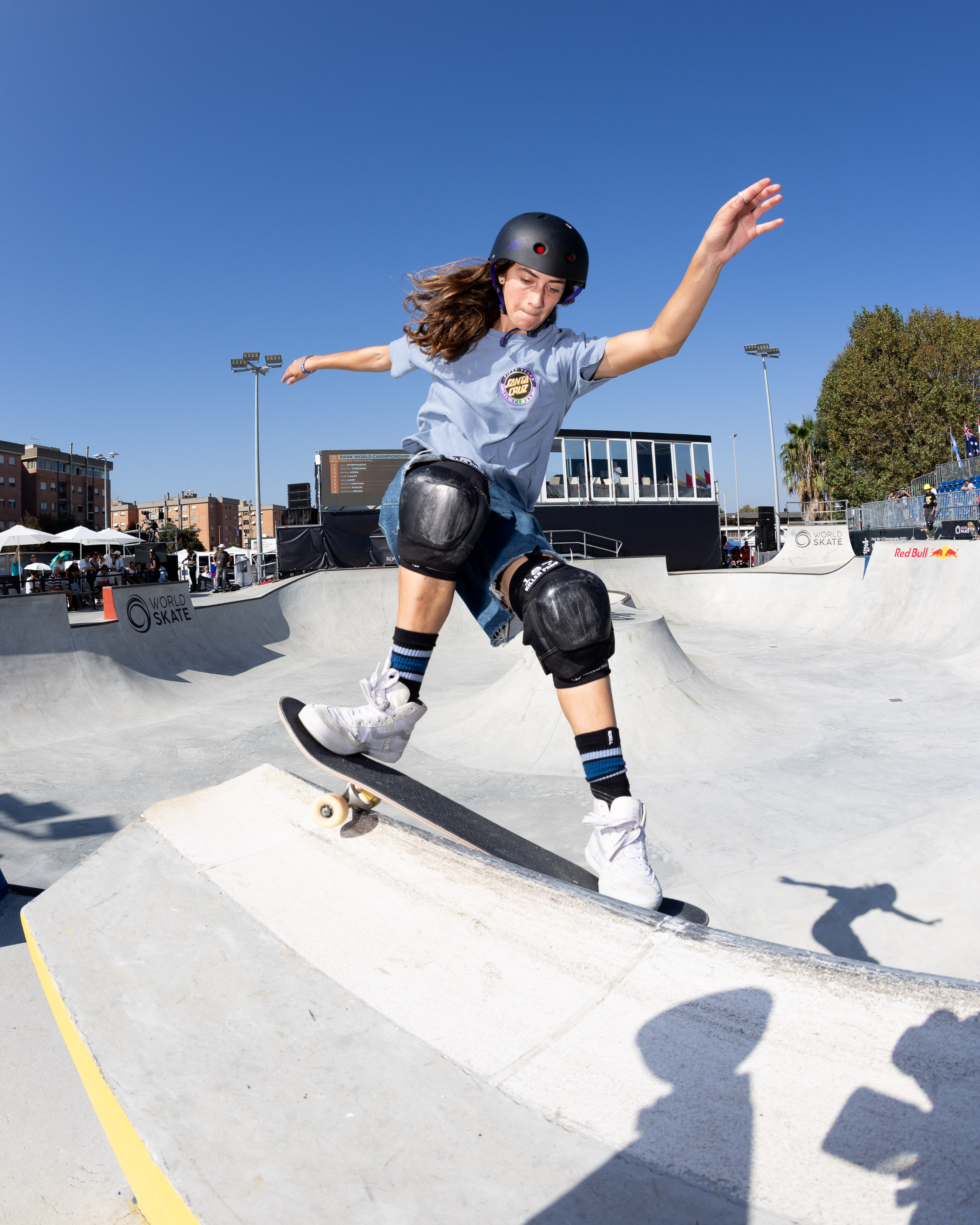 Minna Stess
As mentioned in our finals report, this best-ever showing from USA's well-regarded Minna was a victory for improved consistency. While all around her competitor's runs fell apart, she broke the 90 barrier by ending on a kickflip indy on her second and then had to await the results of 12 more runs (10 of which were from women who had outscored her on the road out of the Semi's) to see if it would be enough for her to remain in the top three- which it was, by more than two clear points.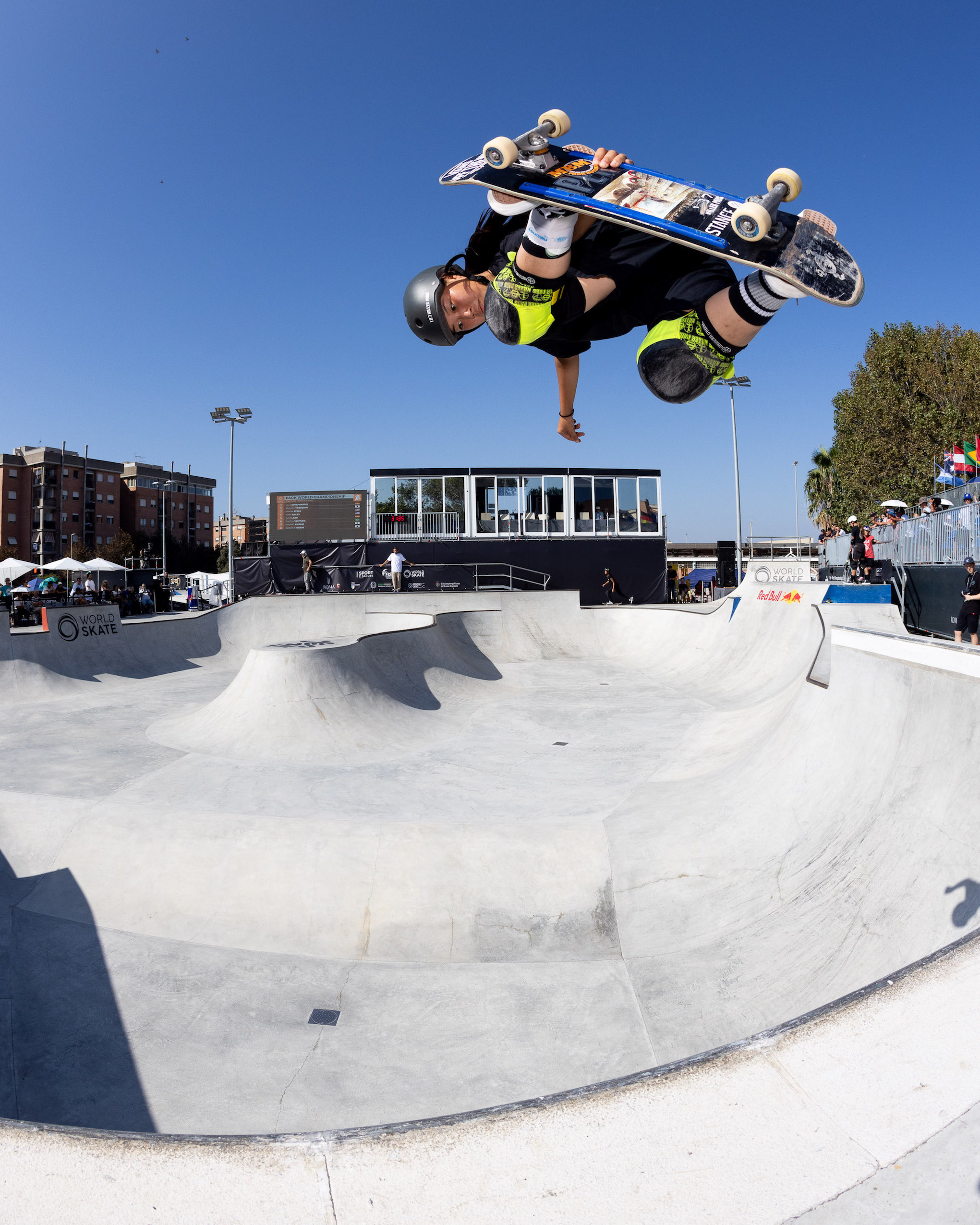 Hinano Kusaki
Alongside Brazil's Raicca Ventura, Hinano skated noticeably faster than anyone else in their field. Something of a stealth contender, the fact that Hinano both absolutely charges and melon 540's on lock as well as lesser-seen trick like saran-wrap airs means that- although this is her first WST podium- her two previous 4th's meant she was already lying 3rd in the OWSR rankings before this deserved 2nd place put her 2nd overall, too. Bear in mind that, beyond pads, she has no international sponsors to speak of.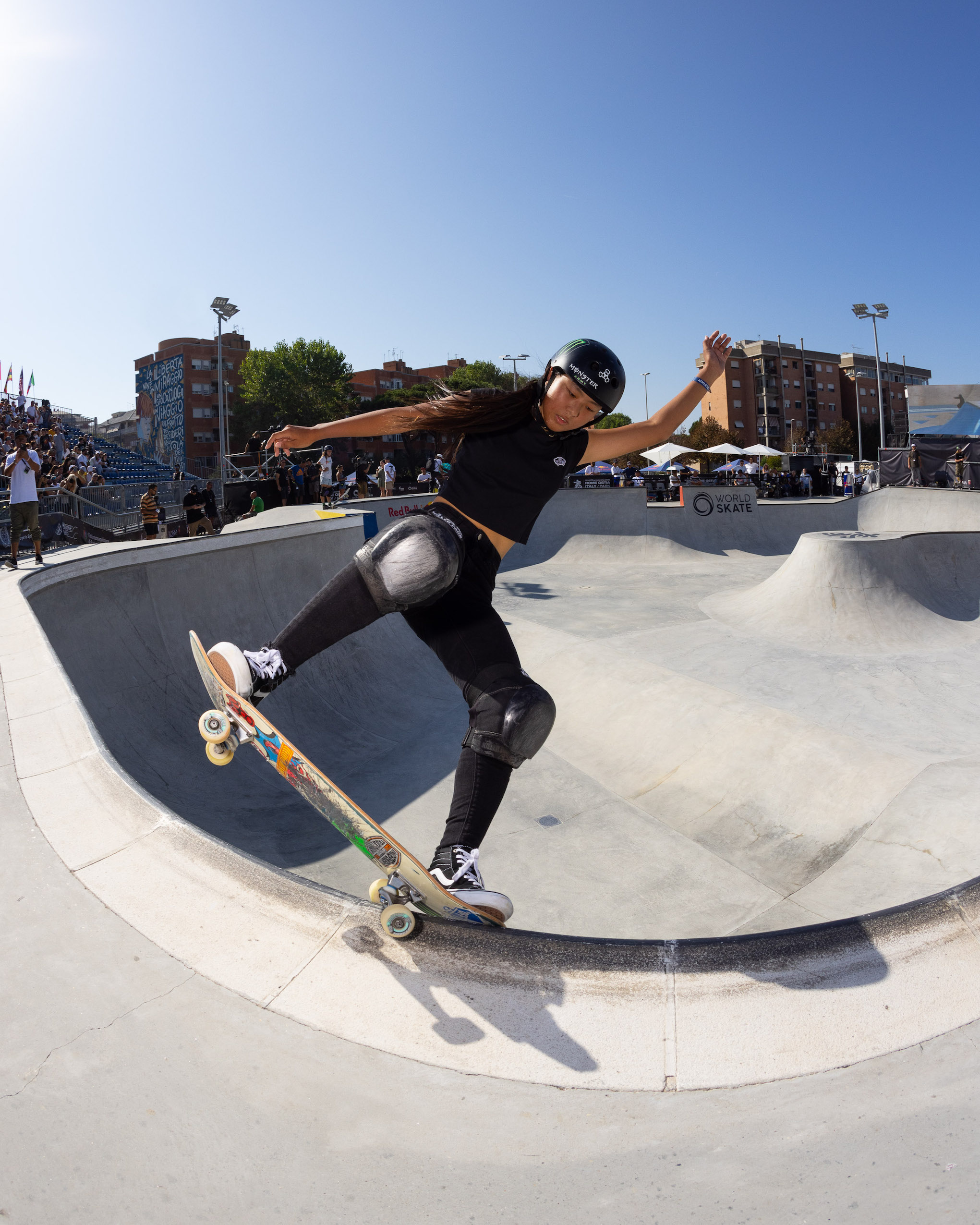 Kokona Hiraki
The 15-year-old Japanese Olympic silver medalist has had two previous second place finishes on the World Skateboarding Tour and was the most consistent skateboarder here throughout. She never once slipped out of pole position from the Quarterfinals onwards. Posting not one but two scores in the 90's in her first two runs, the falling away of the competition in their third runs left her final one as a victory lap- and all this without a single 540. Instead, she has grabless backside kickflips on vert as her showstopper which unlike 540s, nobody else in her division are doing consistently.
Exciting though the women's final was, the fact that Kokona was unassailable all weekend meant that the top spot there went unchallenged throughout. The men's final proved a rather different affair in that regard, with the last 2 runs changing everything in quick succession.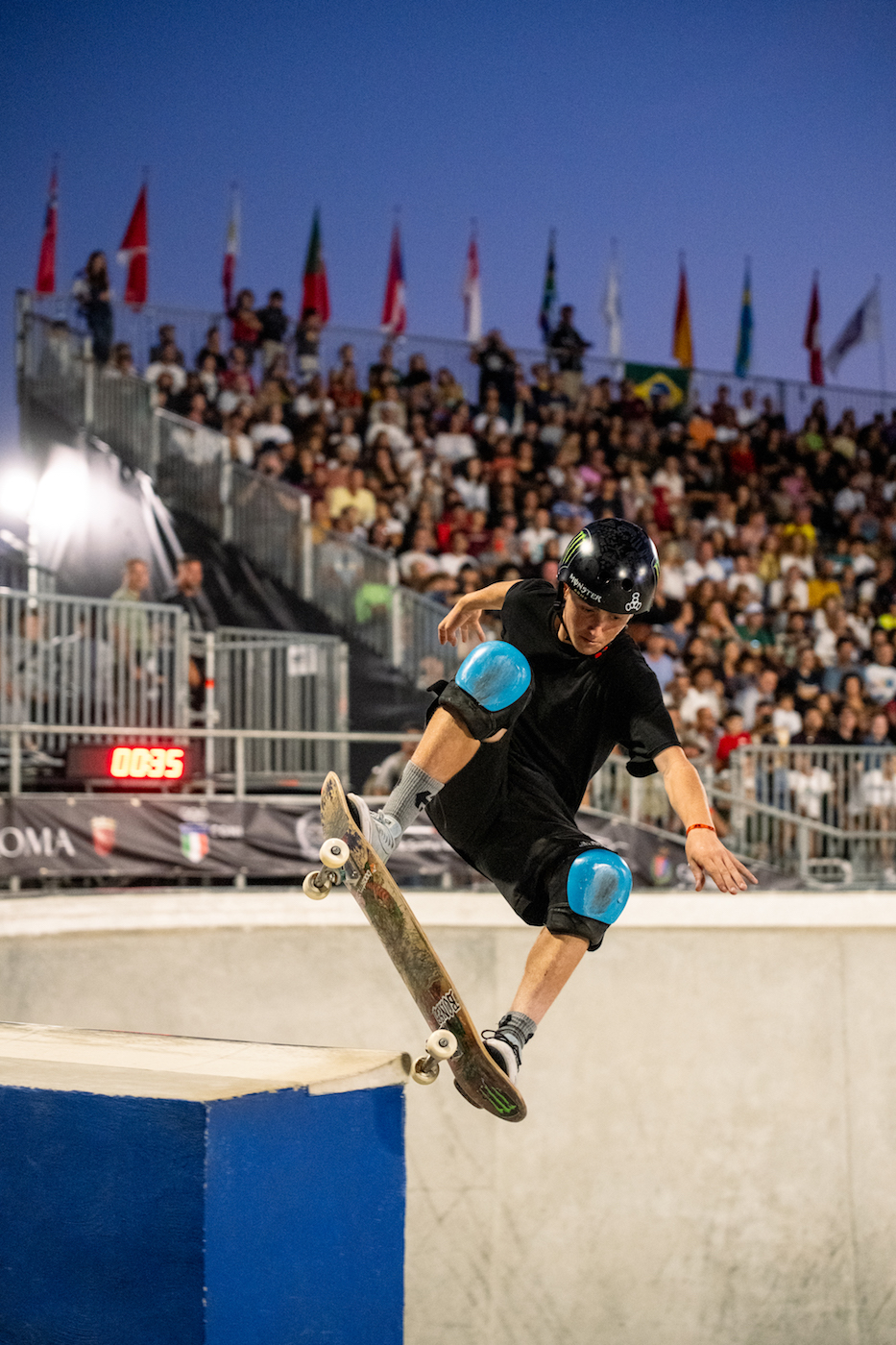 Ph: Garry Jones
Keefer Wilson
Australia's unknown quantity has improved with every WST outing and this was his first final. At 16, he already has enough ability and trick repertoire to win if he can make it all gel. It is easy to talk about consistency when its not you trying to put together kickflip 540's seven-feet out, but if we say that between the Semi's and Finals Keefer only managed one full run out of six then inevitably that's where we will come back to. If he can improve there, he is podium-bound like a freight train. All that notwithstanding, his 8th of him here will prove good experience for the 16-year-old, and allowed him to move up the OWSR rankings from 19th to 13th, so many positives to take away.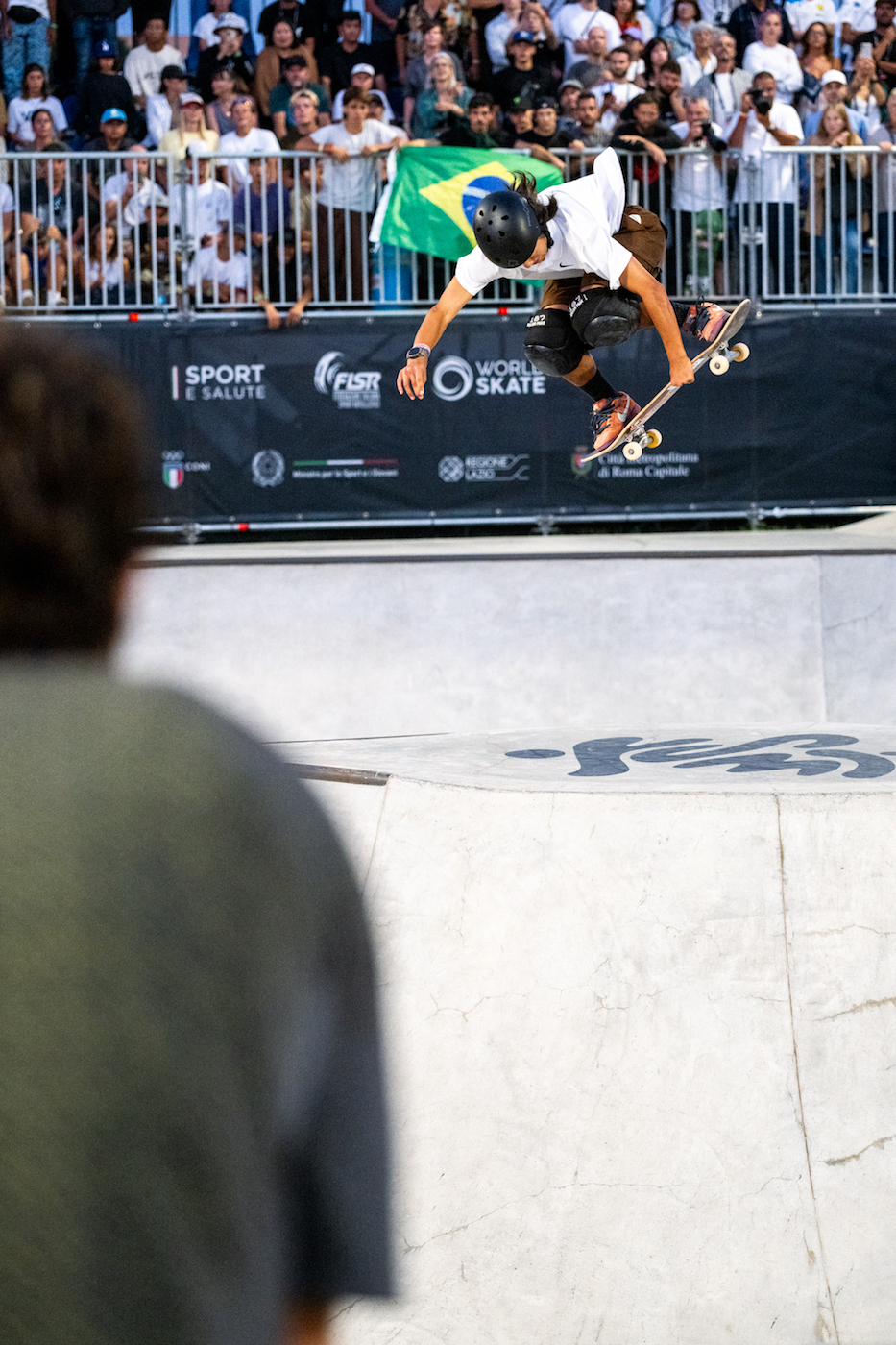 Ph: Garry Jones
Yuro Nagahara
The sole male Japanese contender from Quarterfinals onward looked threateningly consistent in practice and looked like he could be the person to complete the 4th piece of Japanese contest domination (they already have Olympic gold medalists in both Street divisions and Women's Park). In time he may still, but more than anyone he probably proved the truism about just how high the standard goes in bad Park these days- he had to go for broke with every run and only completed his middle one of three. Like Keefer Wilson, however, the experience will be as valuable as the OWSR points. 7th place in Ostia bumps him from 15 to 12th in the OWSR.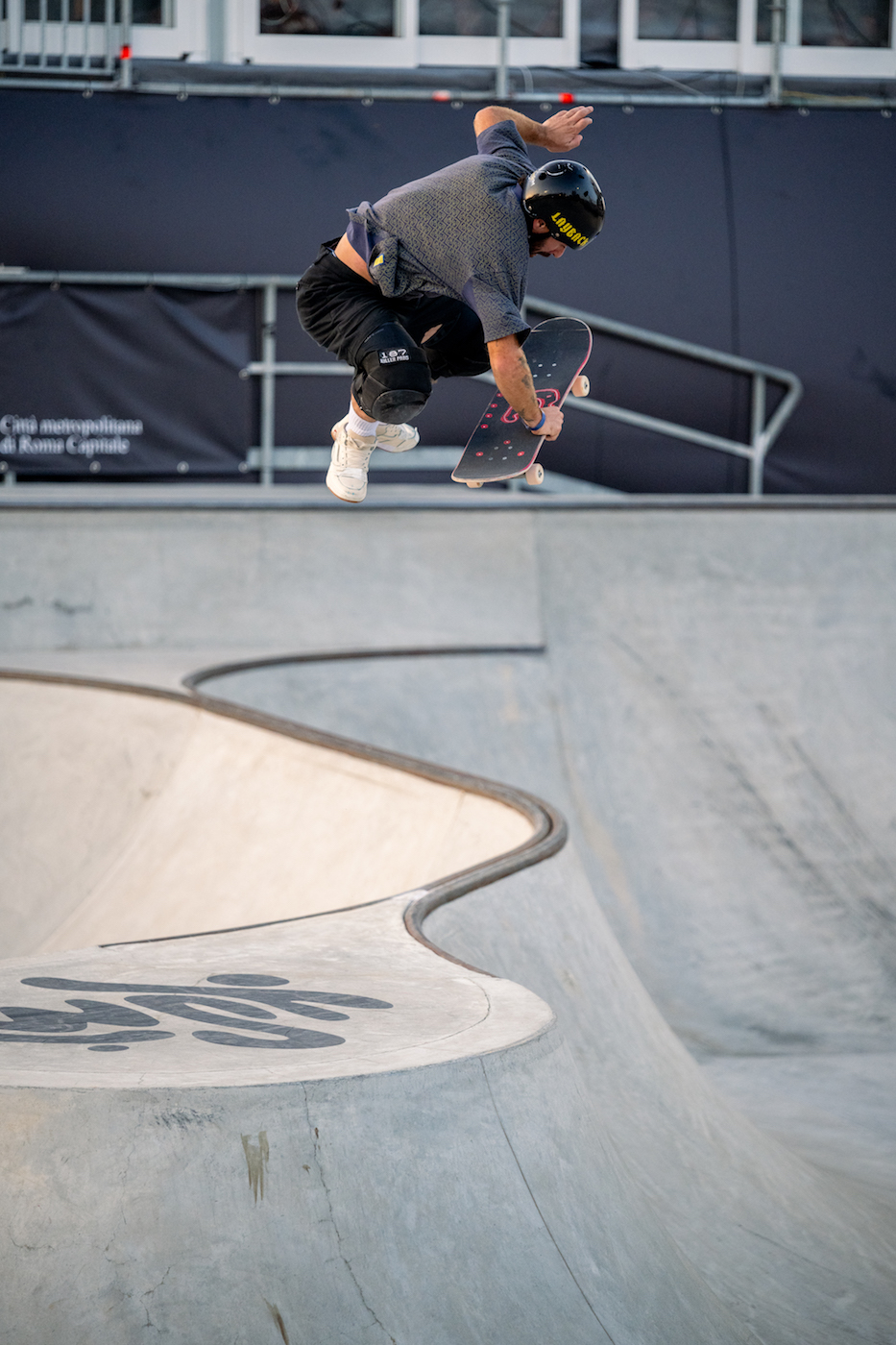 Ph: Garry Jones
Pedro Barros
What to say about international crowd favorite Pedro Barros? The Brazilian veteran seems to feel no pressure, goes absolutely ballistic, demonstrates little regard for strategy and appears to be enjoying these events more than anyone else as a result. He did better in the Semi's than the finals, but still managed to bag sixth with an incomplete middle run, such are the scores which his makes rack up. As well as stalefish 540's and kickflip grabs that he has no right landing, he also came out with a whole new panoply of switch moves like frontside 50-50's over the loveseat feature, which nobody else attempted much less made. A truly unique talent and natural showman.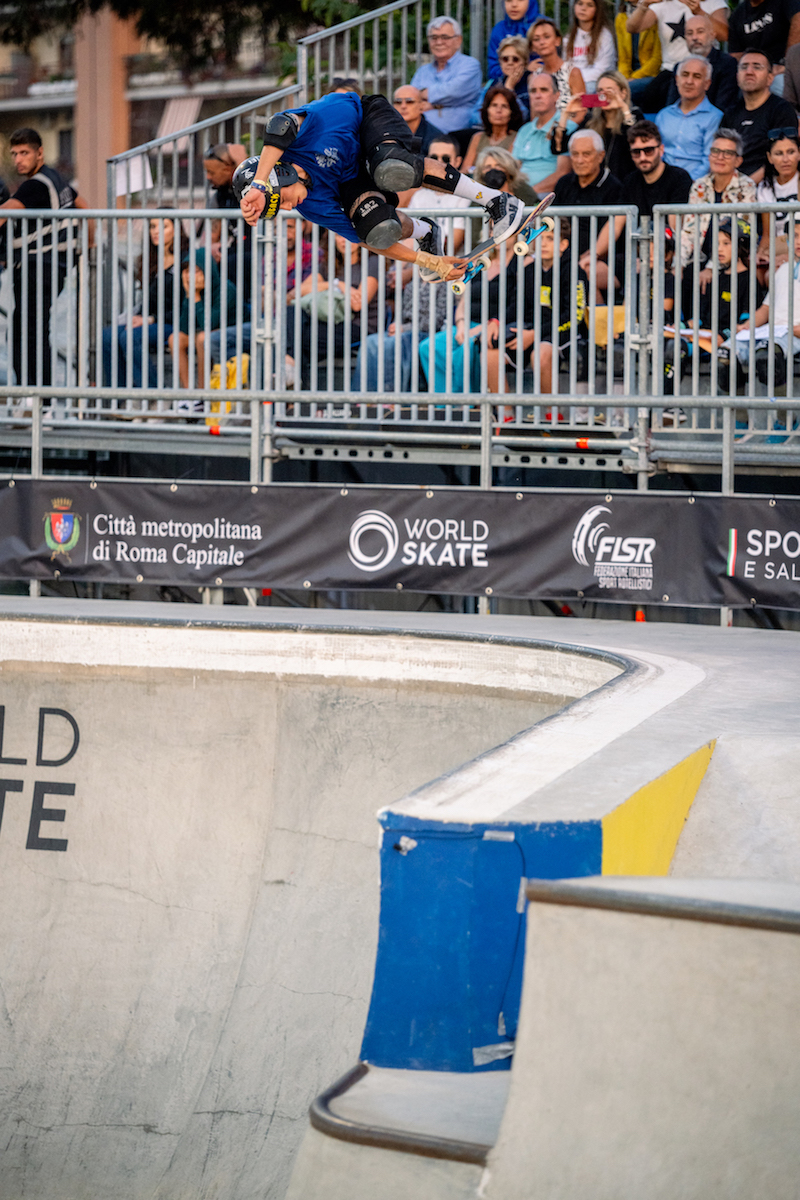 Ph: Garry Jones
Augustus Akio
As the skater who most blew minds in last year's World Championship in Sharjah where he posted his WST-best second place, Augusto like others had to rely on his first run having uncharacteristically come unstuck in his final two. If the dynamic which we talked about in the overview- that despite ample practice, the caliber of skating meant everyone had to gamble all the time- was most true of anyone in particular, then it was Augusto. Having to rely on his first run 84 meant that he was dependent on other people blowing their runs to stay in podium contention and he like the man above him could only watch on as the last 2 runs of the contest changed everything.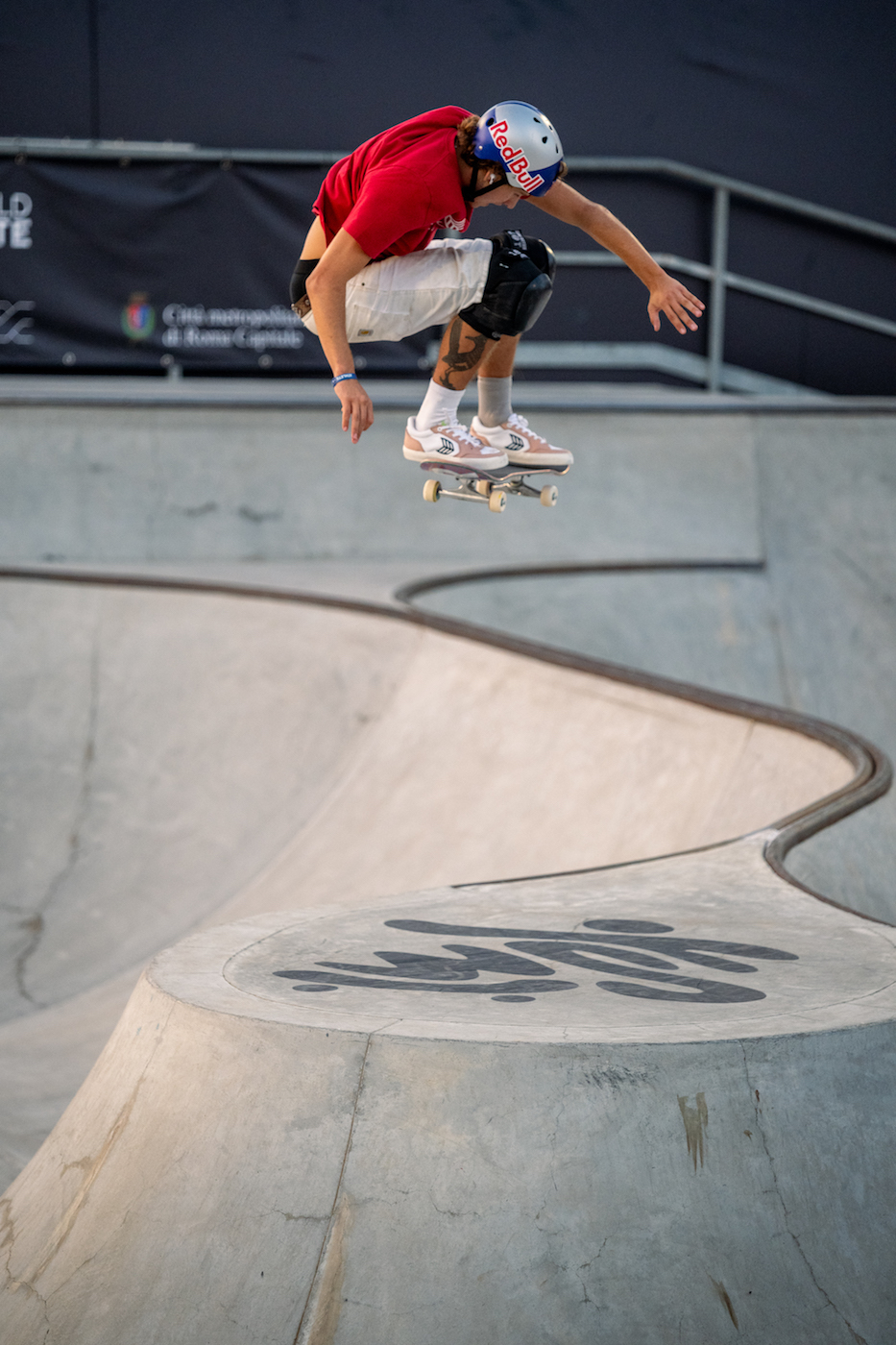 Ph: Garry Jones
Jagger Eaton
Spare a thought for Jagger Eaton. The defending World Champion who had his WST Park-lowest eighth place in San Juan last May looked unflappable in the Semi's before unexpectedly missing his on-lock indy 540 in his first run of the finals. With an 88-point second run temporarily good enough for second behind Tate Carew's 91, the master tactician went all-in on a front blunt kickflip in but got wheelbite on the deep-end transition and had to await the two runs after him to settle his final position. Nonetheless, he still remains some 1,700 points clear in first place in the OWSR rankings, and as such the man to beat.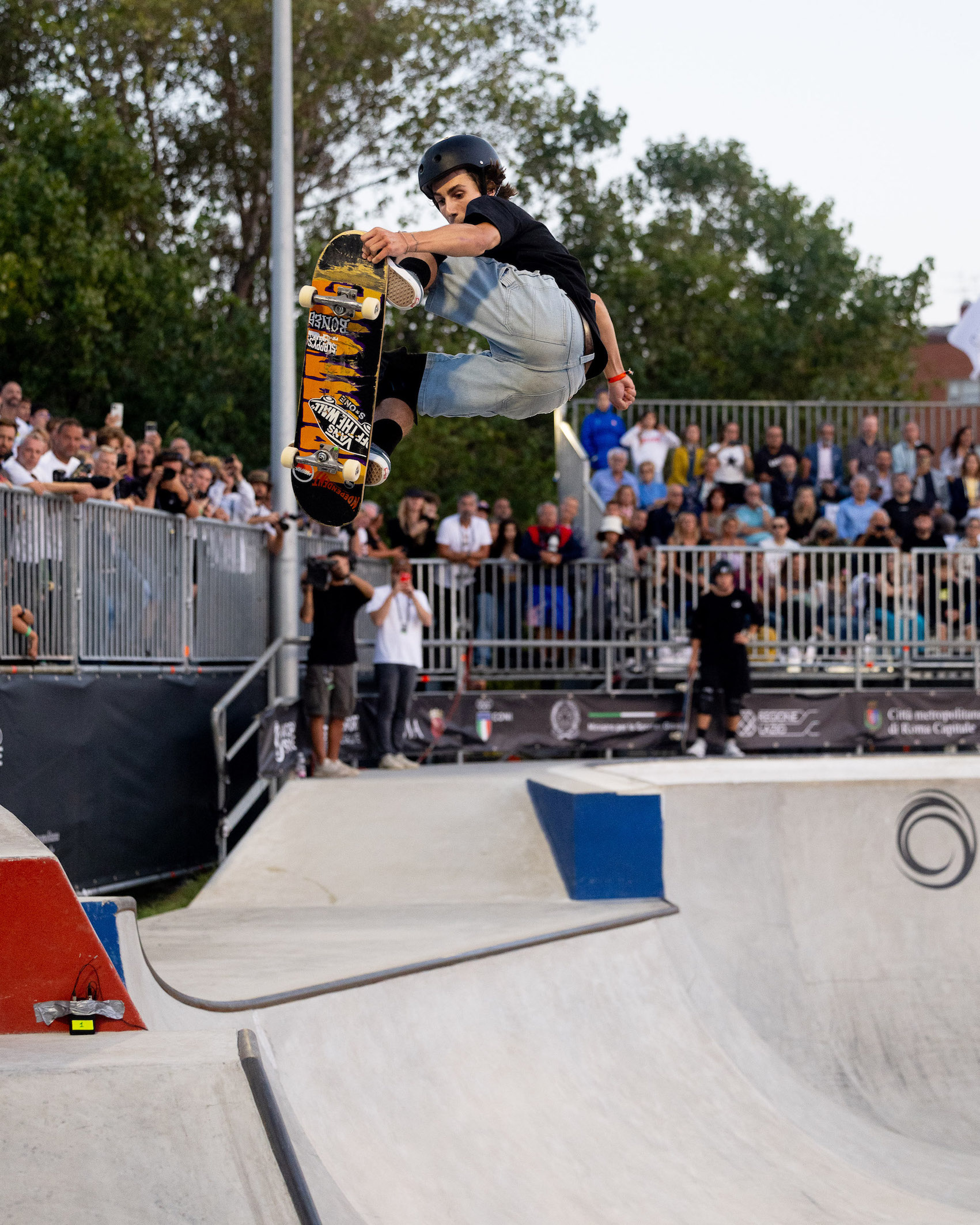 Tate Carew
The most-improved of the entire men's field, the 18-year-old from San Diego has a relatively low profile in the wider skateboarding world and looked like a possible winner early on in Ostia, posting the only 90+ score of the men's finals with just two runs to go. Although he has alley-top tail grab 540's and the like to call upon, the standout trick from each run is his unbelievable ability to bluntslide around corners on pool coping. Having led for over half the contest, he was guaranteed a podium place after Jagger's last run didn't fully come off- but then the last two runs happened. His first podium but his third WST final means he goes up a position from 3rd to 2nd in the OWSR rankings. Keep your eye on him.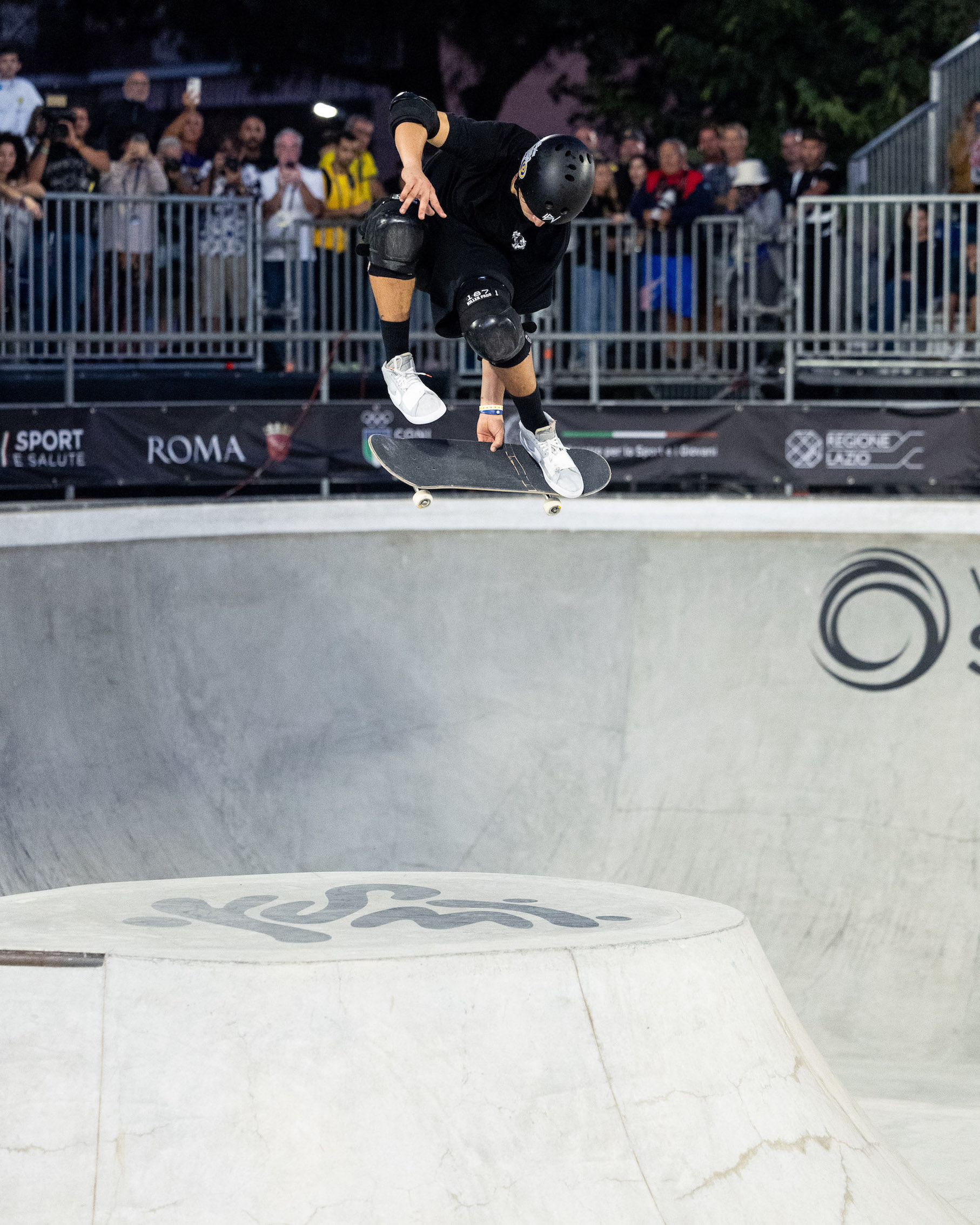 Luigi Cini
Park's most recent WST tour stop winner 5 months ago in San Juan, Luigi Cini was expected to be a threat in Ostia by carrying through his momentum into a park where- as noted earlier- the Brazilians had, to all intents and purposes, set up camp some months previously. Entering the finals off the back of a 90 score, he was expected to replicate his San Juan heroics but remarkably stacked his first two runs, leaving himself a do-or die last run. He duly did- ending on a 360 flip stalefish that brought pandemonium to the stands and a knife-edge moment to see if he could edge out Gavin Bottger for first. In the end he couldn't quite- but what an emphatic come from behind result it was nonetheless.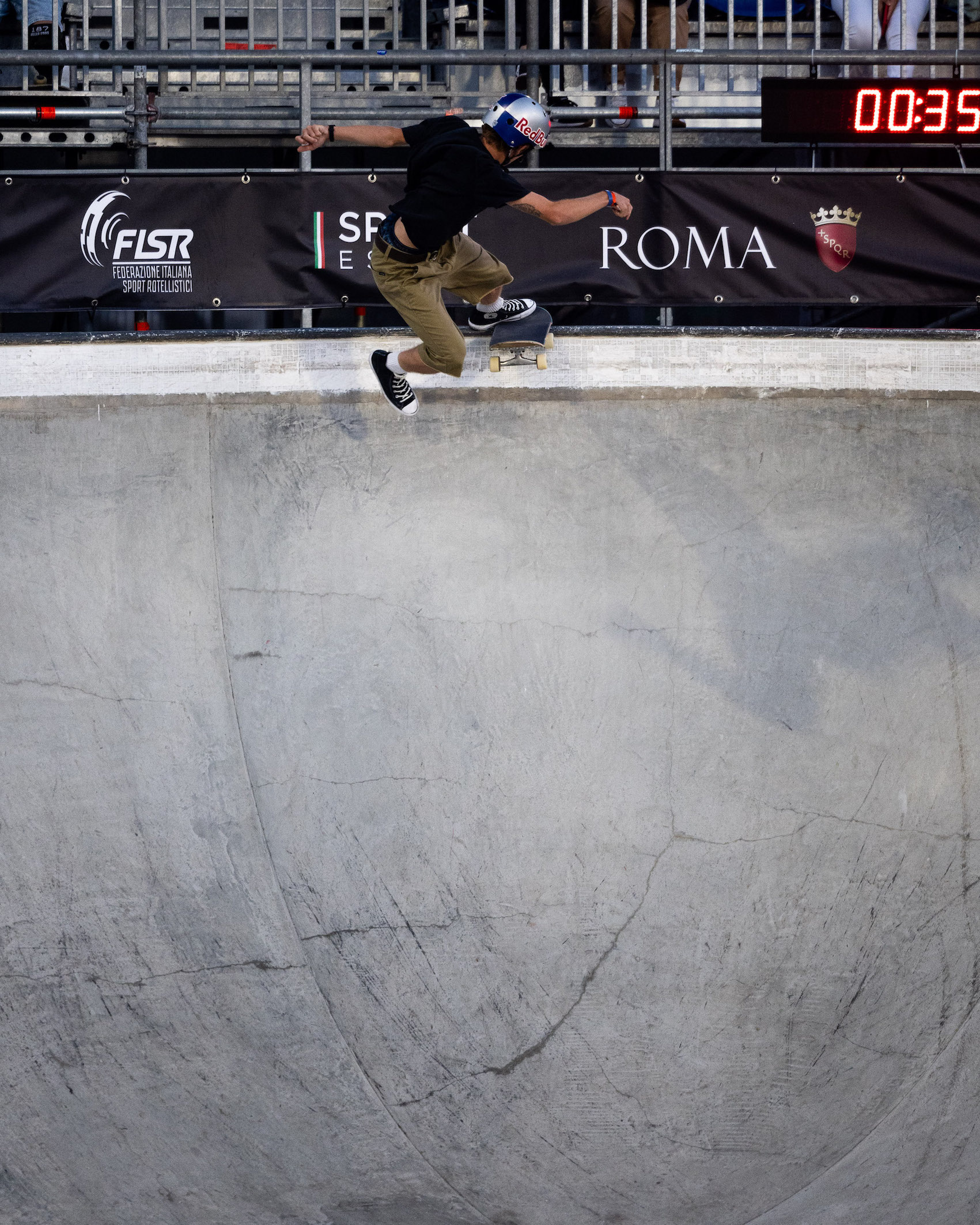 Gavin Bottger
And so we turn to the great unknown quantity of the World Skateboarding Tour. A year ago, Gavin Bottger was looking like he might experience an upset in Sharjah before breaking his wrist on an indy disaster he had made a dozen times before. An attempted comeback in San Juan saw him take a respectable fifth but here in Ostia he finally hit full stride. Having struggled with run timing before his last roll of the dice, he produced magic on his final run including an ender which had never been seen before- a kind of body variation on the volcano which he passed behind his back and then reverted somehow just as the buzzer sounded. Cue bedlam in the stadium and a deserved first place which leapt him up the OWSR rankings from 11th to 4th in a single result.
World Skate would like to thank our event partners and all the skateboarders for sharing their magic with us and the globe via live broadcast .
The World Skateboarding Tour continues.