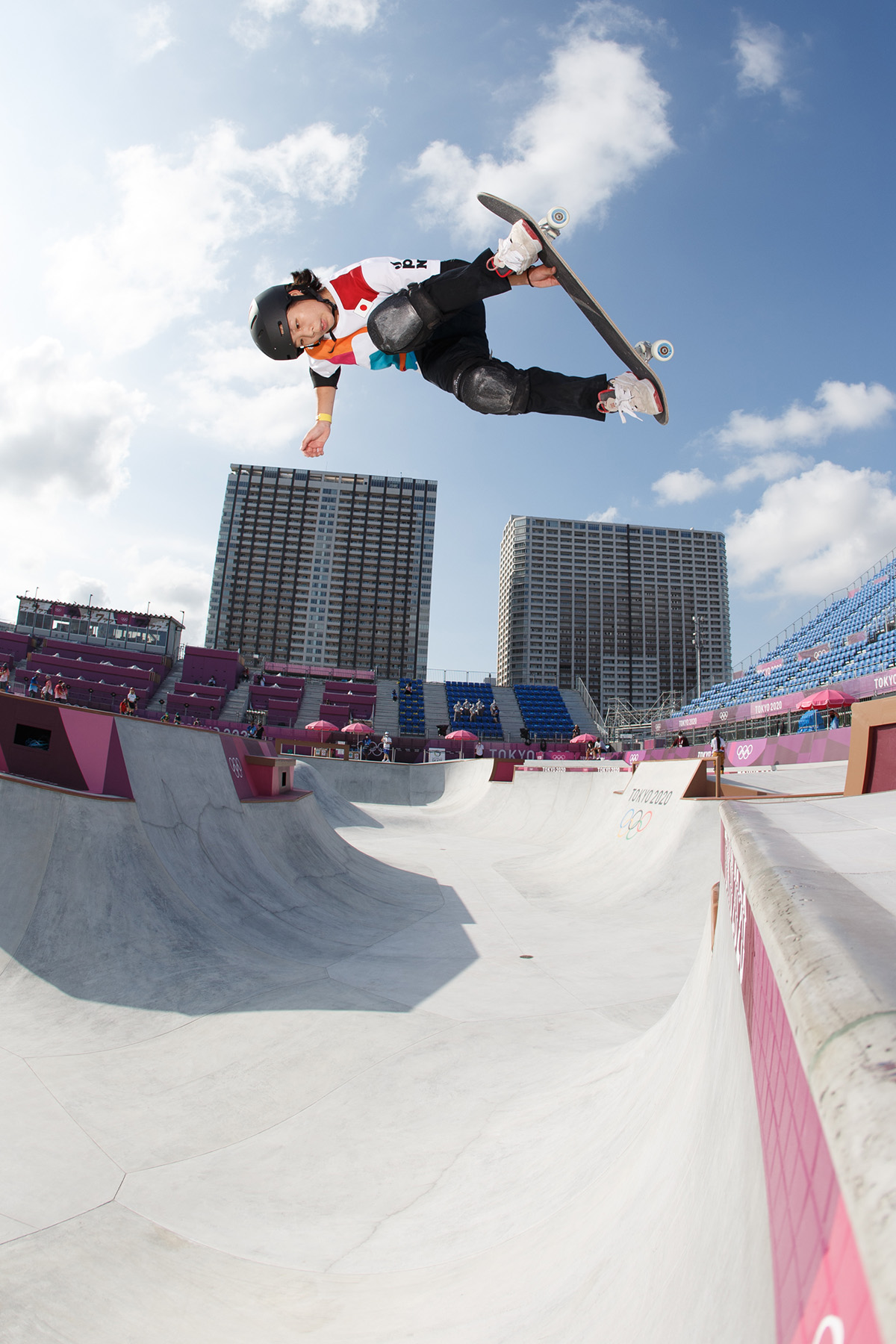 The first real rumblings of Japan's entry into the world of contest skating were felt in the years 2017/18. Nobody really comes from nowhere in an activity like skateboarding, rather what is meant is that young skaters who emerge off the radar of an industry and media still heavily skewed towards California still retain the ability to mystify.
Mystify is precisely what Misugu Okamoto has done: training six days a week after school she could already McTwist consistently at age 14 and has been practicing indoors on wood to dial in kickflip tricks which could separate her from much of the rest of the field if she can reproduce them on the faster, more unforgiving concrete terrain which the Park discipline takes place on.
The thing to continually remember about the Japanese contest skating contingent is that they arrive in Tokyo with virtually no hype train behind them, something which can be turned to their advantage in a theatre where ability and not public profile are being measured.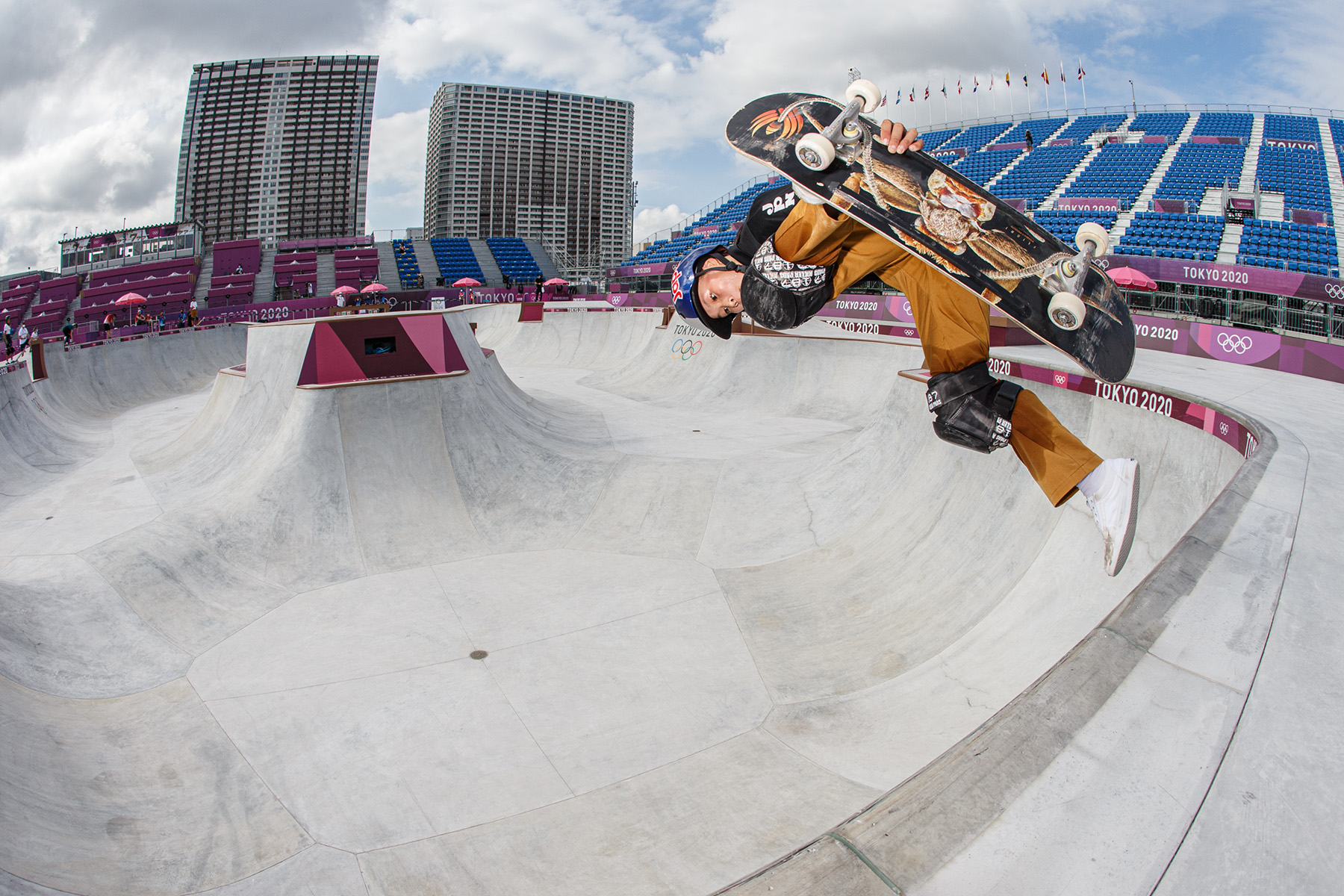 Sakura Yosozumi
The 2019 Vans Park Series World Champion brings with her some relatively high profile credentials from the Japanese representation in Skateboard Park.
A relatively late starter through her brother's encouragement at age 11, Sakura has by now become a dominating presence in all facets of transition skating including the almost monastic discipline of vertical halfpipe skating which teaches a different set of skills again to the bowled out park terrain which constitutes Skateboard Park. Recent video footage suggests she may have two new 540 variations at her disposal, but being able to deliver on new tricks in a contest setting is never an easy thing, so in a sense Sakura's biggest competition might be herself.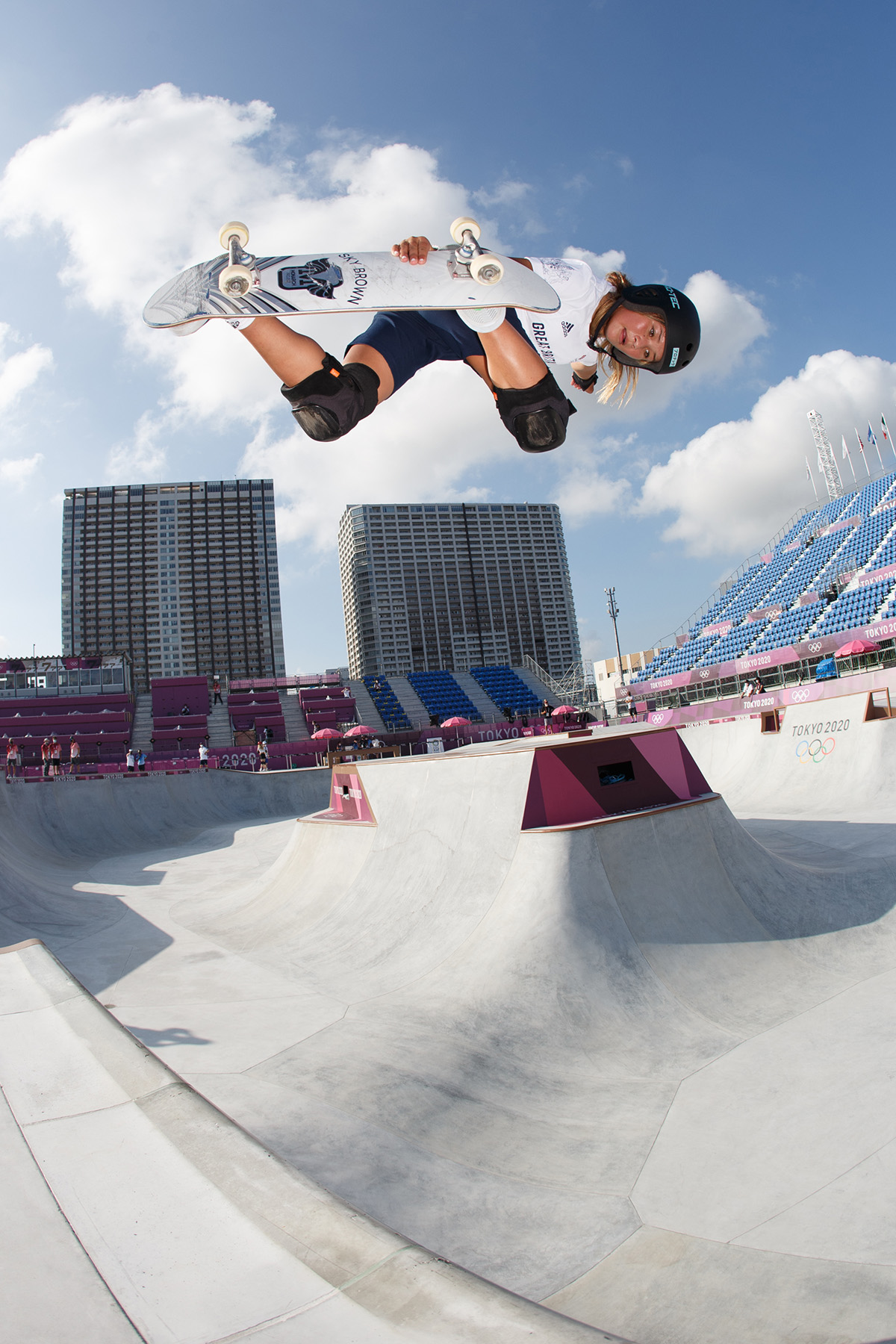 Sky Brown
The sweetheart of the world media, Sky Brown has become emblematic of what is new in skateboarding these days. Gifted, sunshine-y and savvy, she also has the wherewithal to win outright. Alongside Lizzie Armanto, Sky is coming off the back of the kind of injuries that can unfortunately come with tempting G-forces but looks on all accounts to be fully recovered.
Much has been made of her youth going into the Tokyo Games but she is by no means alone in that department and is where she is on talent alone. Given that, and given how many of those closer to her in age have been dialling in their own skating at private facilities, it seems likely that consistency will tell out in the end come podium time in Tokyo. If that does prove to be the case, Sky's age will become irrelevant and it will become a question solely of which new moves she can bring to bear without making any mistakes.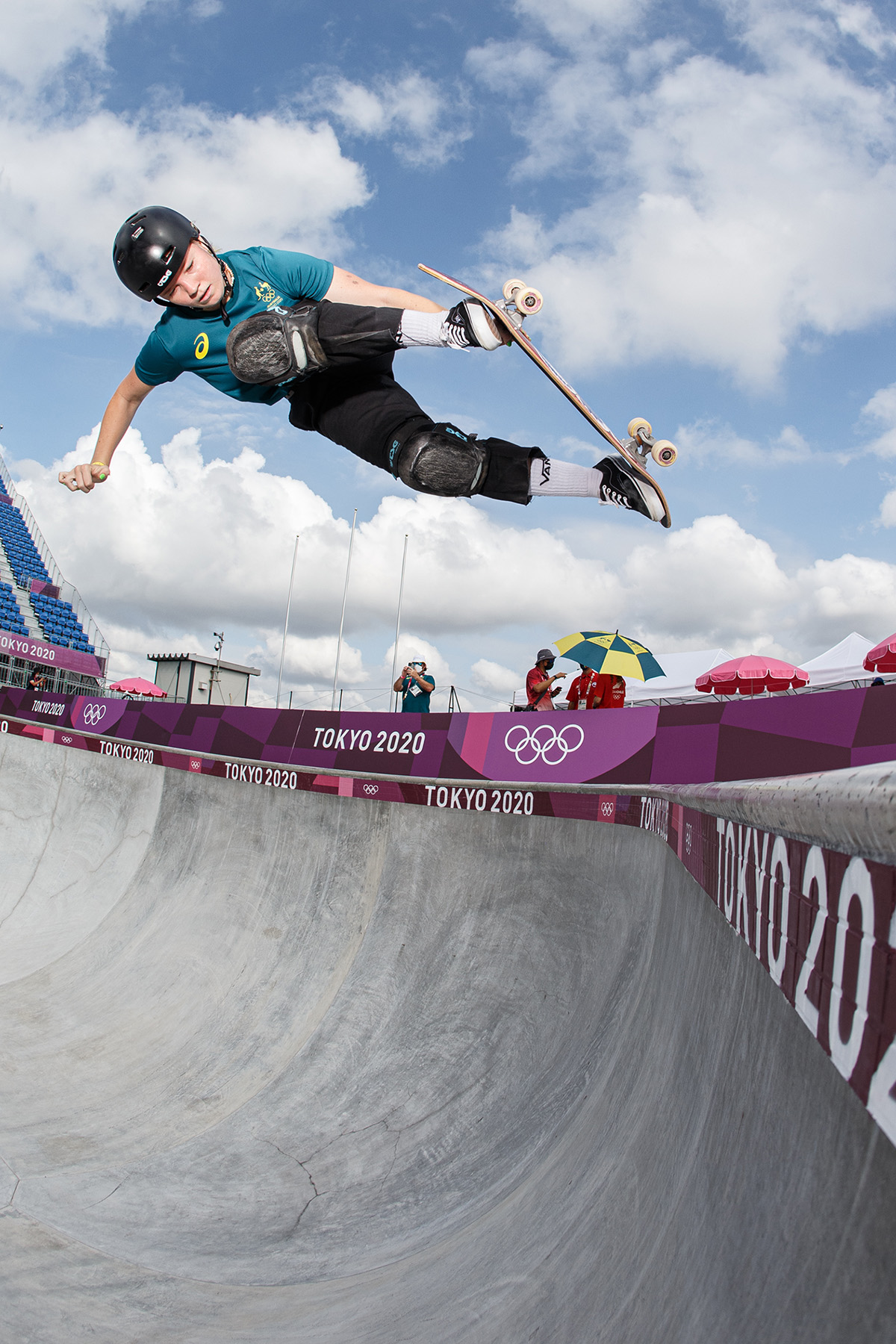 Poppy Starr Olsen
We are about to see a very different Poppy Starr Olsen from the Australian youth skating pioneer.
As a leading light of the class of young contest skaters who first changed the face of women's skateboarding in places like the X-Games during the satellite TV boom years. Now a confident, seasoned veteran of the contest circuit including all the fitness focus and travel that entails the Australian sporting establishment have seen medal potential in her and started working with here at an institute level possibly years ahead of some of her competitors whose focus will have only really begun in lockdown. Having begged her parents to let her start skateboarding aged eight and entered her first contest just a year later there is. A sense that, like Jagger Eaton, her life has been building towards this day and in a field with higher-profile skaters both older and younger than her, Poppy Starr Olsen could just stun the whole field.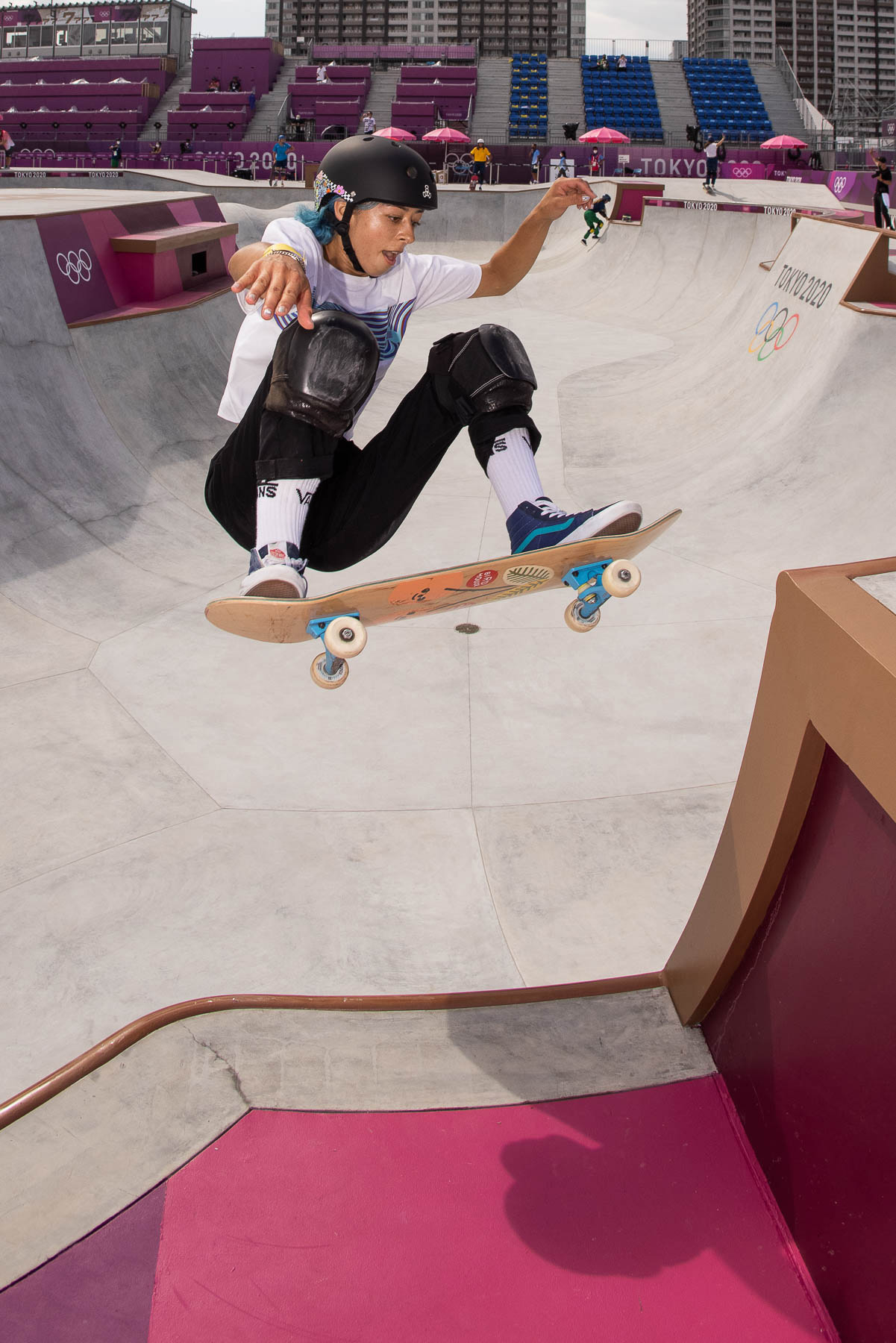 Lizzie Armanto
The best-established skater in the line-up for Women's Park, Lizzie Armanto is one of the biggest names in skateboarding today. Although not a contest purist she has, like Alexis Sablone in Street, enough natural talent to do seemingly as she pleases.The only woman to have completed a fullpipe loop and battling back after a slam that would have retired 99% of skateboarders for life, she brings charisma and roots maneuvers to a format where others might play things a little more conservatively. For that reason alone she is one to watch.
Whether she has recovered that edge of abandon which characterizes her skating and can bring it to bear in Tokyo, remain to be seen.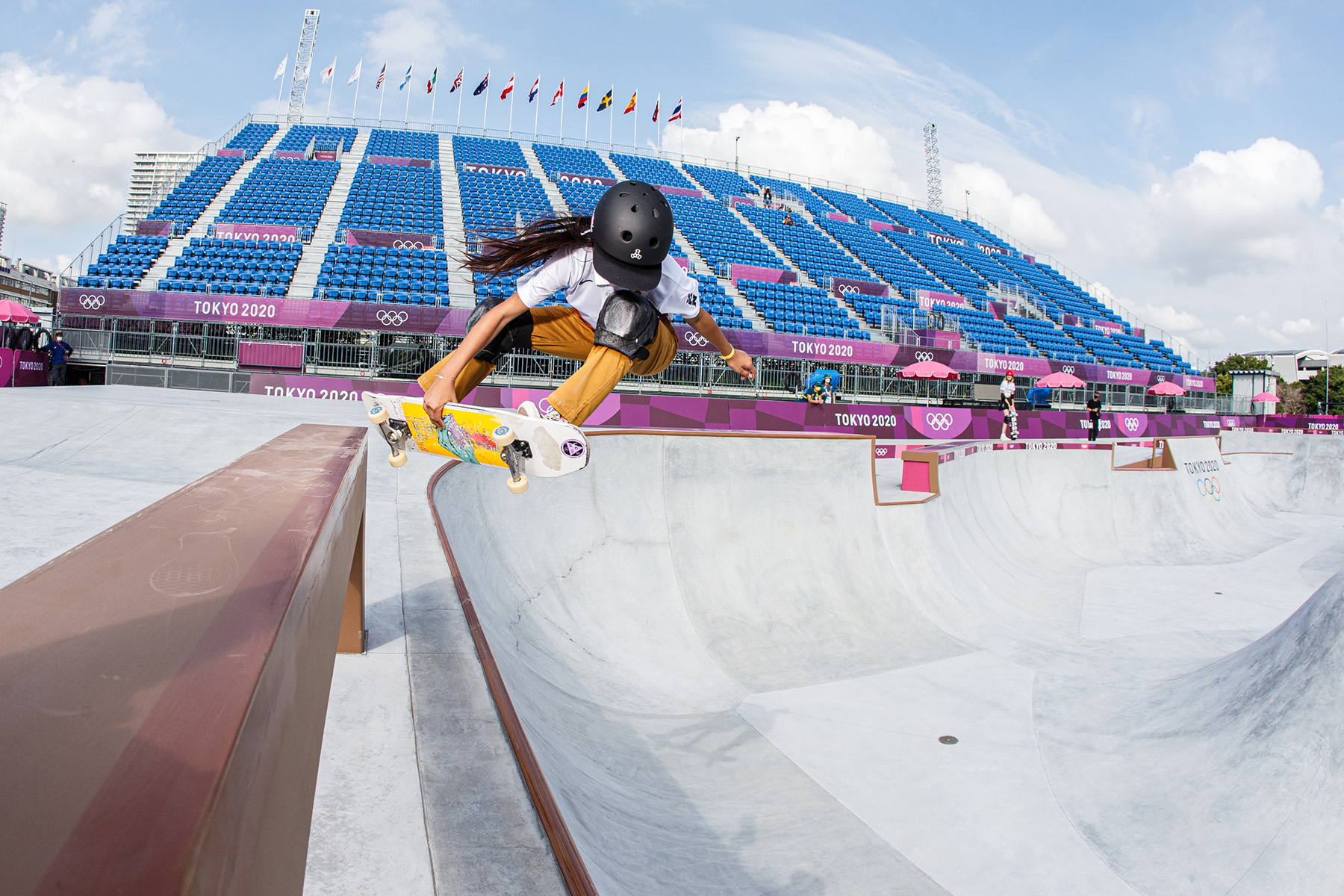 Kokona Hiraki
The success of Japanese skateboarding, not just at their home Games but also in the run-up to them, has been the wider narrative arc of this Olympic skateboarding journey.
Possibly the undertold part of that story is the enthusiasm they have brought into the circuit.
While Kokona Hiraki enters the Women's Park event as Japan's youngest Olympian aged just 12 having already troubled the leaderboards of contests around the world including both a first and second place at the Vans Park Series in 2019. Possessor of an unbelievable nosegrind, it will be interesting to see how her trick repertoire has developed in the 18 month contest hiatus.
Regardless, the Hokkaido native is guaranteed to bring a lot of uptempo energy to an activity she clearly adores being a part of.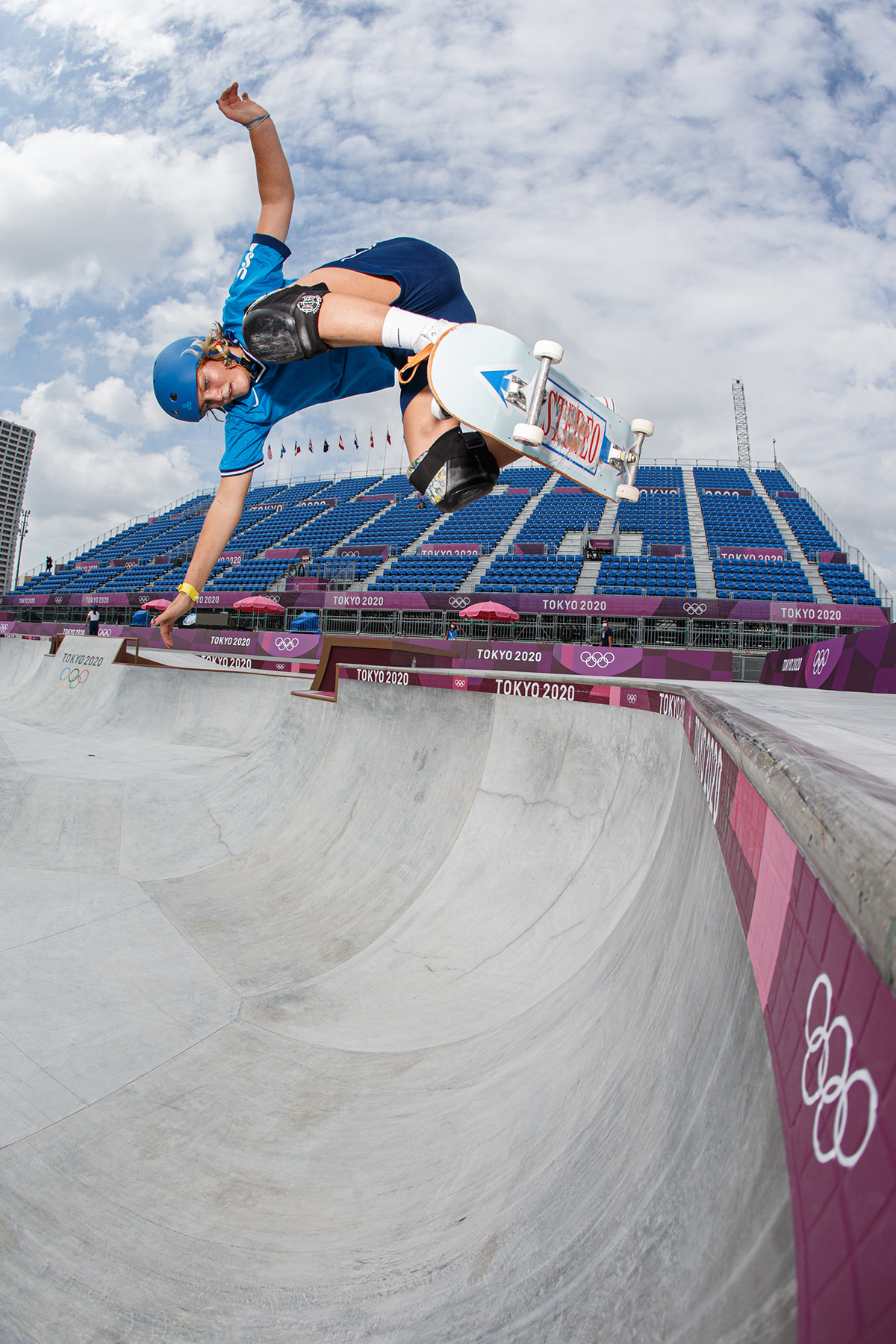 Bryce Wettstein
Early on in skateboard contest culture, the USA held an advantage in that they were the first to develop skateparks as leisure activity spaces where parents and children could co-exist with teenagers and young adults. These included the Encinitas YMCA and Woodward Skatecamps, which is where the first contest-driven American girls had an opportunity to dial in their balance and co-ordination from a young age. Remarkably, that Encinitas YMCA has produced two Olympic hopefuls for this event, childhood besties Brighton Zeuner and Bryce Wettstein.
A polymath ukulele player who adds her own music and animation to her video parts, Bryce has her own backyard vert ramp which has allowed her to master the mammoth transitions that younger skaters reserve only liptricks for. A vibrant personality and a role model to many of the young skaters she sees beginning in droves at the skateparks she frequents throughout California since she began skateboarding in 2009, expect her to eschew conservative straight lines in favor of slashes, pumps and carves into her tricks.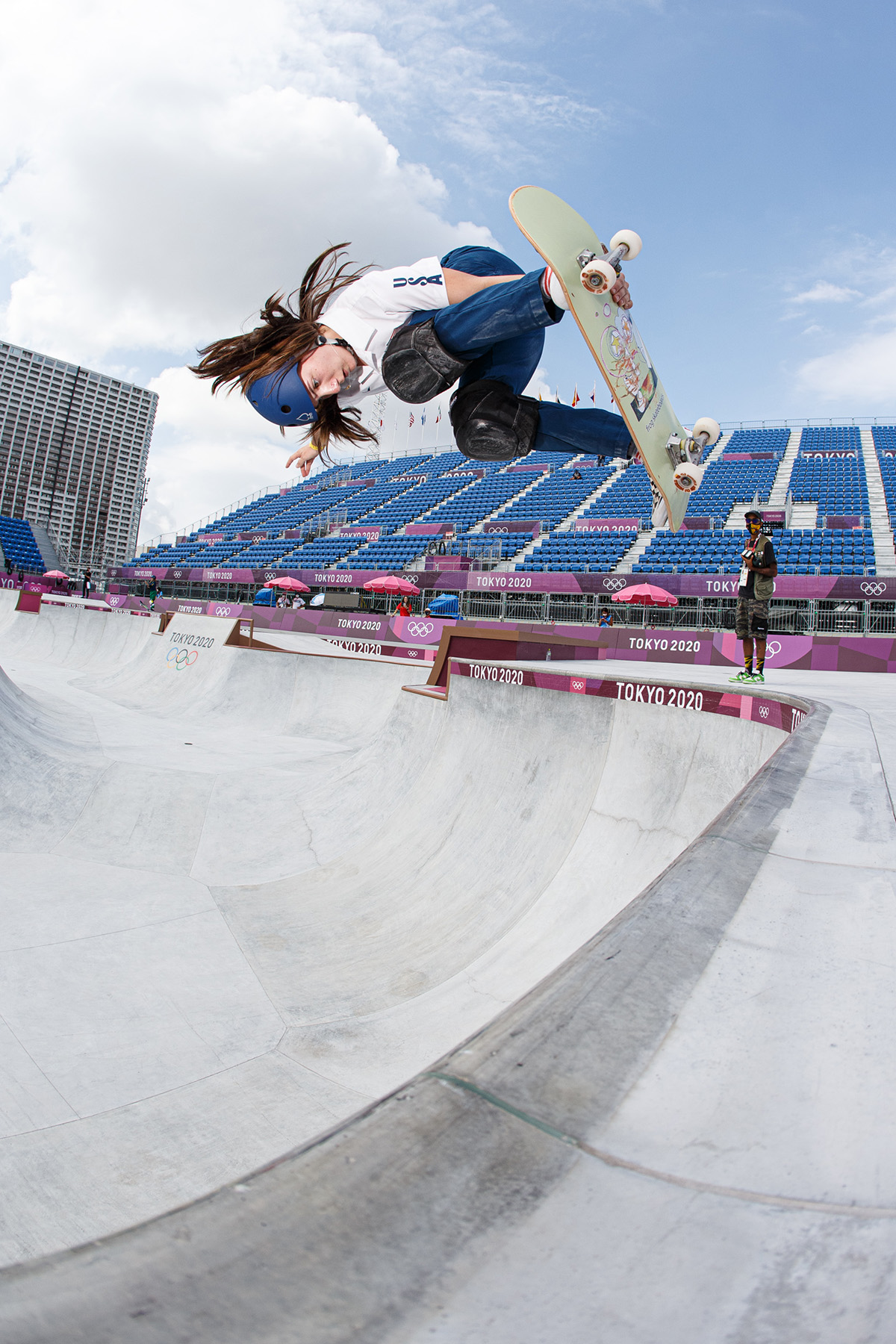 Brighton Zeuner
A fellow alumni of the YMCA skate complex in Encinitas, California, as Bryce Wettstein, Brighton Zeuner is forever connected in the mind's eye with headlines about youngest-ever X-Games winners. The 2018 VPS World Champion was indeed a temporary holder of that accolade, but with her 'Magic Frog' video part dropping in January of this year, Brighton demonstrated that she had more ability bandwidth than just winning contests as she shredded pools, vert ramps, full pipes and even boat hulls.
If she can avoid any unforced mistakes like overcooking grinds through corners, it is fair to say she is expected to do well. She will certainly be hoped as a medal prospect for the USA, which, after all, gave the world skateboarding but is by no means guaranteed a large medal haul.
With the high level of Japanese consistency to battle, that pressure may yet tell in what has all the makings of one of the stories of the entire Olympic Games.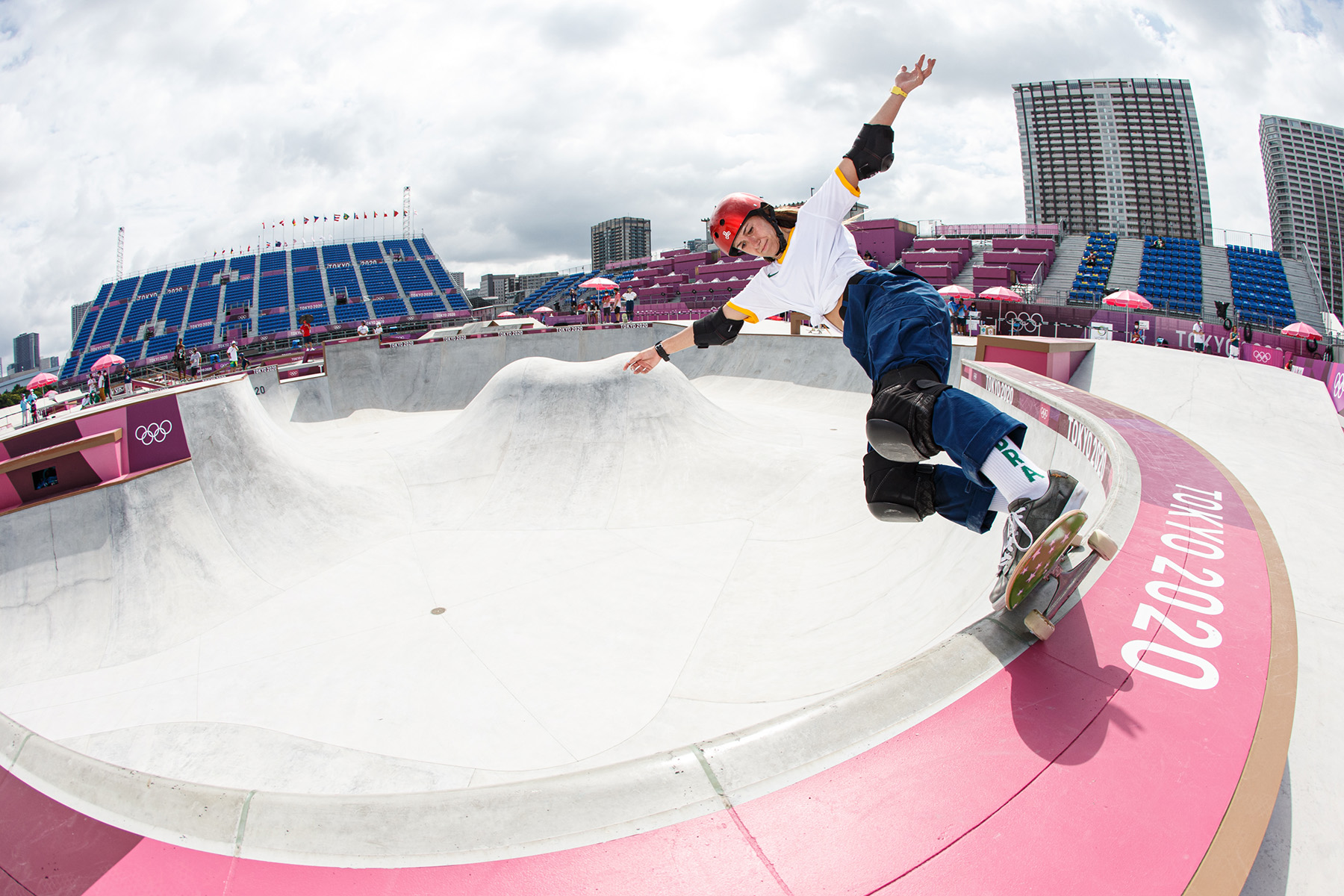 Dora Varella
As with Jaime Mateu in the men's division, Dora Varella's skateboarding story is remarkable in that she comes from somewhere in which her skateboarding specialism is not the dominant form of the activity. In essence, she is pursuing a minority activity in São Paulo, where street skating is much more common within the densely packed confines of one of South America's largest cities.
A skatepark specialist, she was a three-time Amateur champion at the Vans Combi Pool Classic between 2016 and 2018 and is a beneficiary of a Brazilian skateboarding scene which is almost hermetically sealed from the outside world in terms of brand sponsorships and a well-developed domestic contest circuit.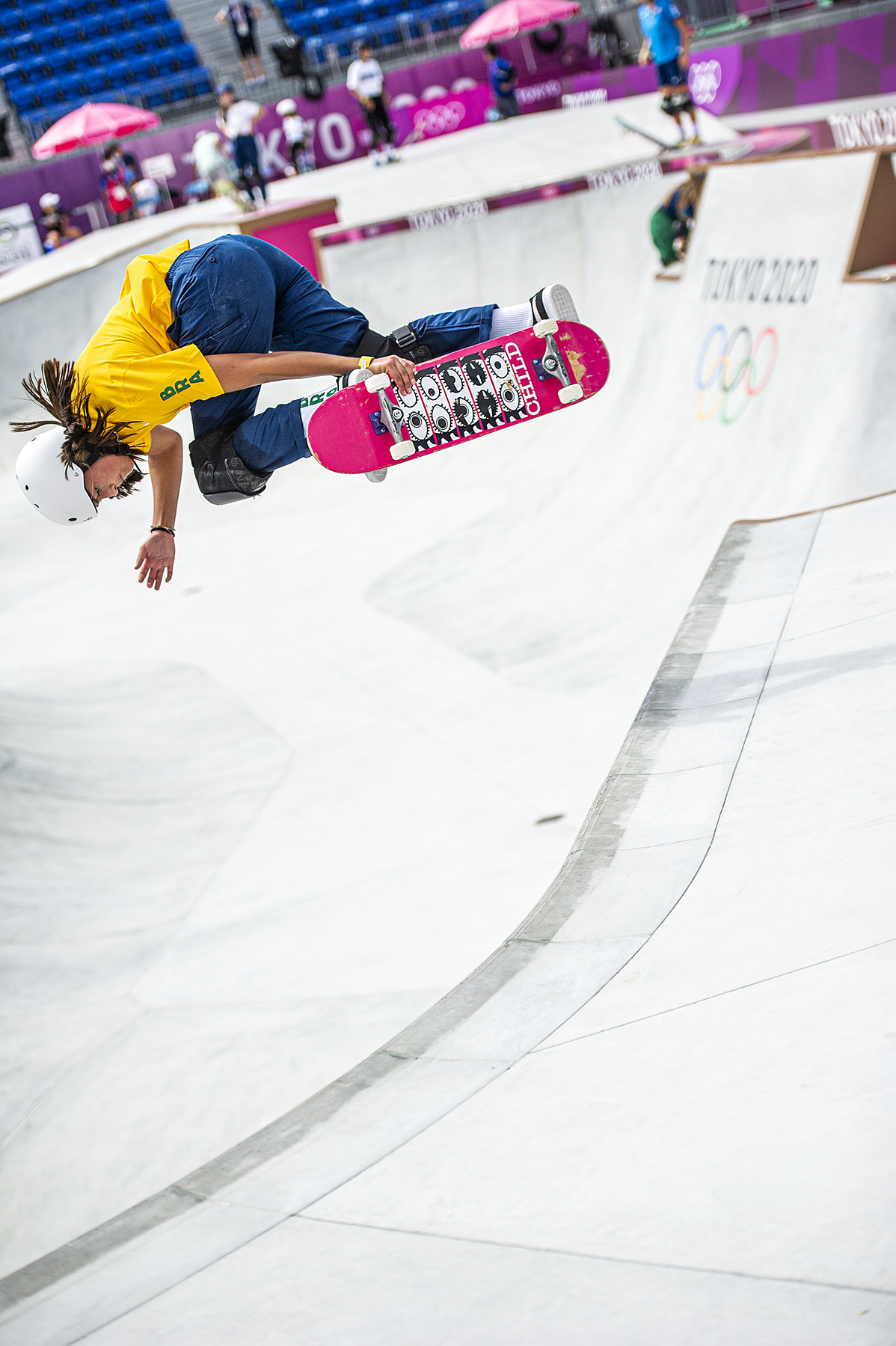 Isadora Rodrigues Pacheco
Isa Pacheco represents something which is diametrically opposed to the Asian approach to competitive skateboarding. Rather than discovering skateboarding and then zoning in on it as an activity to be mastered, Isa was born around skateboarding's bohemian edge and to understand her take on skateboarding is to understand something of a magical island off the coast of Brazil called Florianopolis. Floripa is Latin American transition skateboarding's Shangri-La, a tiny island of backyard pools and an inter-generational skateboard scene comparable with that of Oregon or the Basque country. That one little island has three Olympic competitors present in Tokyo, and Isa has honed her skate skills at the Hi-Adventure pousada bowl a mere stone's throw from a huge Atlantic wave break where the cultures of surfing and skating are fully intertwined. With only a single commercial sponsor to her name, she represents something close to the spiritual heart of skateboarding here in Tokyo as she will still live around skateboarding when some of her peers will have moved onto fields anew.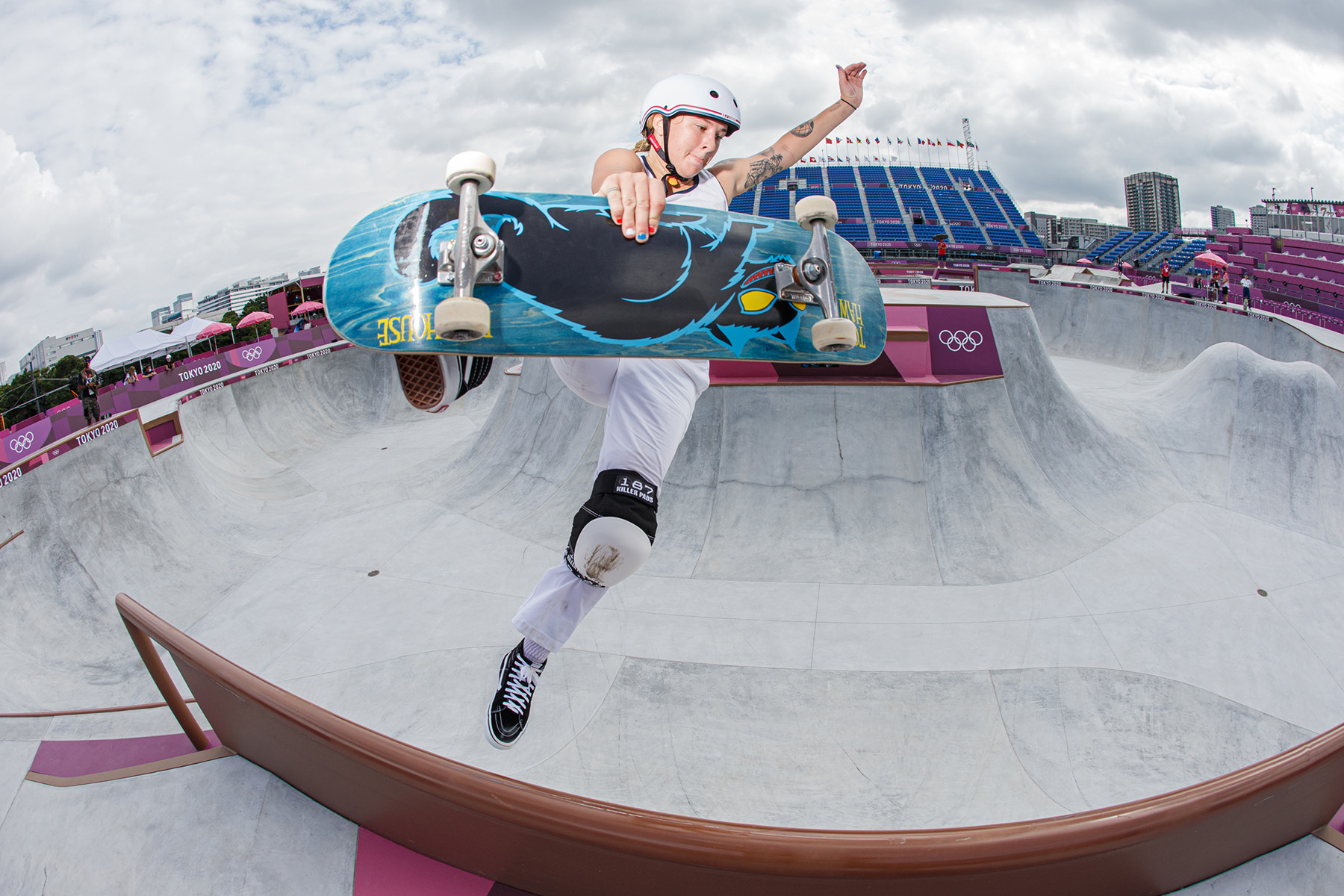 Jordyn Barratt
Hawaii's Jordyn Barratt was as close to a certainty for selection for the USA skate team and subsequent Olympic qualification as any of her male counterparts who arrived staking claims to medals. A skilled but (by her own admission) undevoted youth surfer in the Hawaiian tradition, the immediacy and intensity of skateboarding was a revelation to her: she had discovered 'her thing.'
After moving to San Diego at high school age, Jordyn became a staple fixture at the concrete proving grounds of north San Diego county where her savage commitment brought her to the attention of industry veteran photographer Dave Swift.
Although her medal haul on the run-in to the Olympics may not match that of other competitors, the competitive hiatus of 2020 is likely to have worked in Barratt's favor since at 22 she is reaching peak strength.
Strength becomes relevant not only in terms of endurance but in tricks like inverts which not only broaden the trick vernacular for judges but also allow the skater a momentary pause to adjust both feet and mindset. From a strategic perspective, that strength may prove Jordyn Barratt's card to play.
Yndiara Asp
Brazil's concrete transition queen, Yndi Asp is part of the bionic backyard skate scene in Florianopolis, Brazil.
Spotted by one of skateboarding's longest-established brands Santa Cruz back in 2013, she quickly became one of the most recognizable faces on the women's contest circuit not just at qualification events but community shindigs as well. The reason why this proves interesting is that it shows how adaptable and versatile Yndi is—she will be the first to get comfortable on what is a brand new course. Memorably, she won not only the women's division both at the fabled Basque Country danger zone which is La Kantera skatepark, but also Red Bull Bowl Rippers at the legendary Bowl Du Prado in Marseille in 2017 and 2018 respectively. Her small stature comes with courage bordering on fearlessness. She skates noticeably faster than almost anyone else in her discipline and has taken some awful slams as a result. Yndiara Asp brings an air of excitement to skateboarding which it both needs and deserves.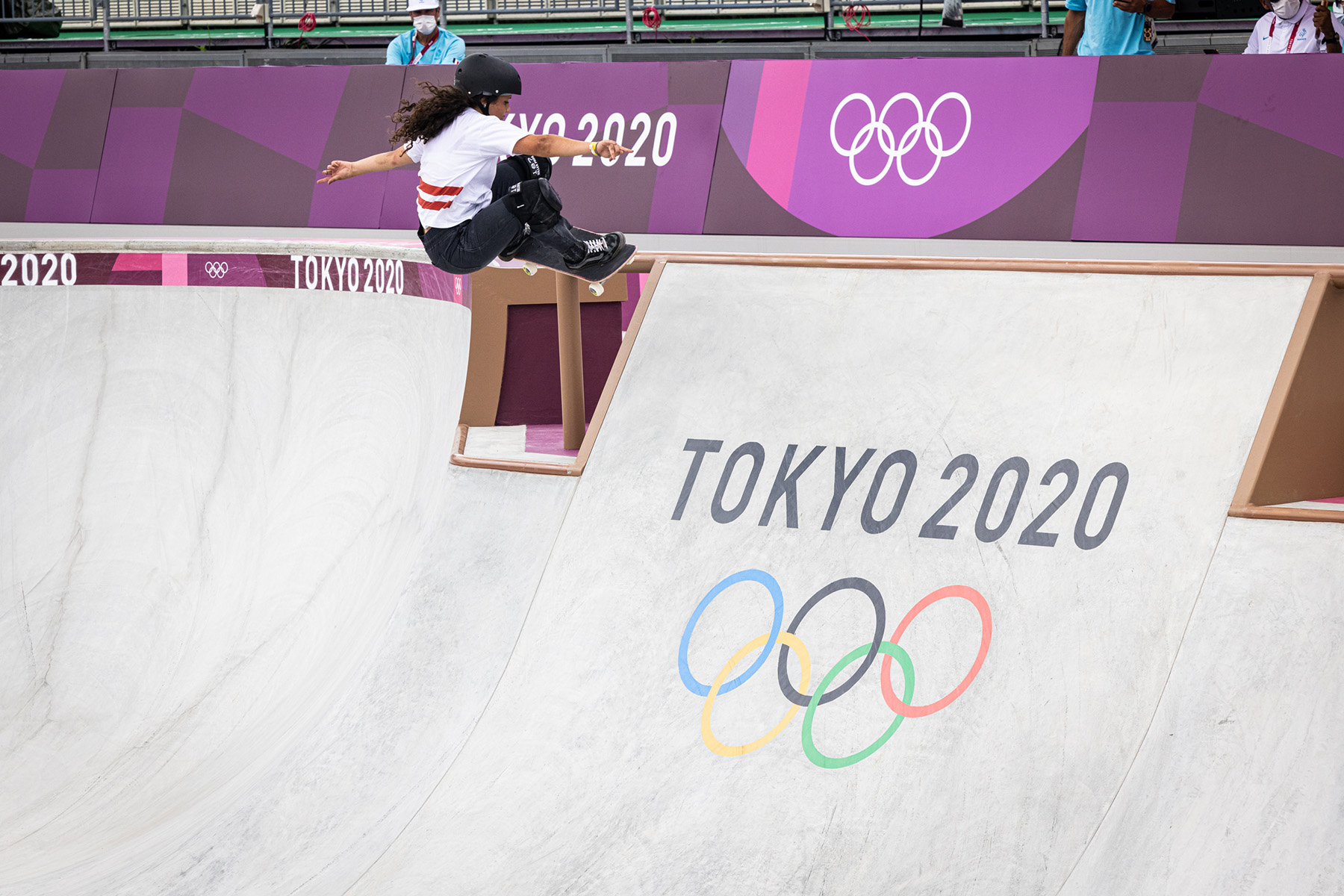 Julia Benedetti
The qualification of Spain's relatively unknown 16-year old Julia Benedetti from the Galician coastal hinterland of A Coruna has proved a matter of some consternation for the Spanish press.
In the first instance, Spain's centres of skateboarding culture are based around the population centres of of Barcelona, Madrid and Bilbao. Secondly, besides the pioneering careers of Begona Cortes and Ianire Elorriaga, Spain has not as yet produced a Leticia Bufoni figure to galvanize the imagination and ambition of wider society.
However, what Spanish team coach Alain Goikoetxea—himself a European skateboarding legend—has understood is that the geographic isolation of north-western Spain can allow Julia to develop her talent away from the manifold attractions and distractions of Spanish big-city life which have put paid to many a promising career not just domestic but international.
Although unlikely to outshine the more career-minded elements of her category due in no small part to her school exams falling nearby, the hope is that her very presence on the highest stage of all will prove to be a lodestar moment for women's skateboarding in Spain and indeed beyond.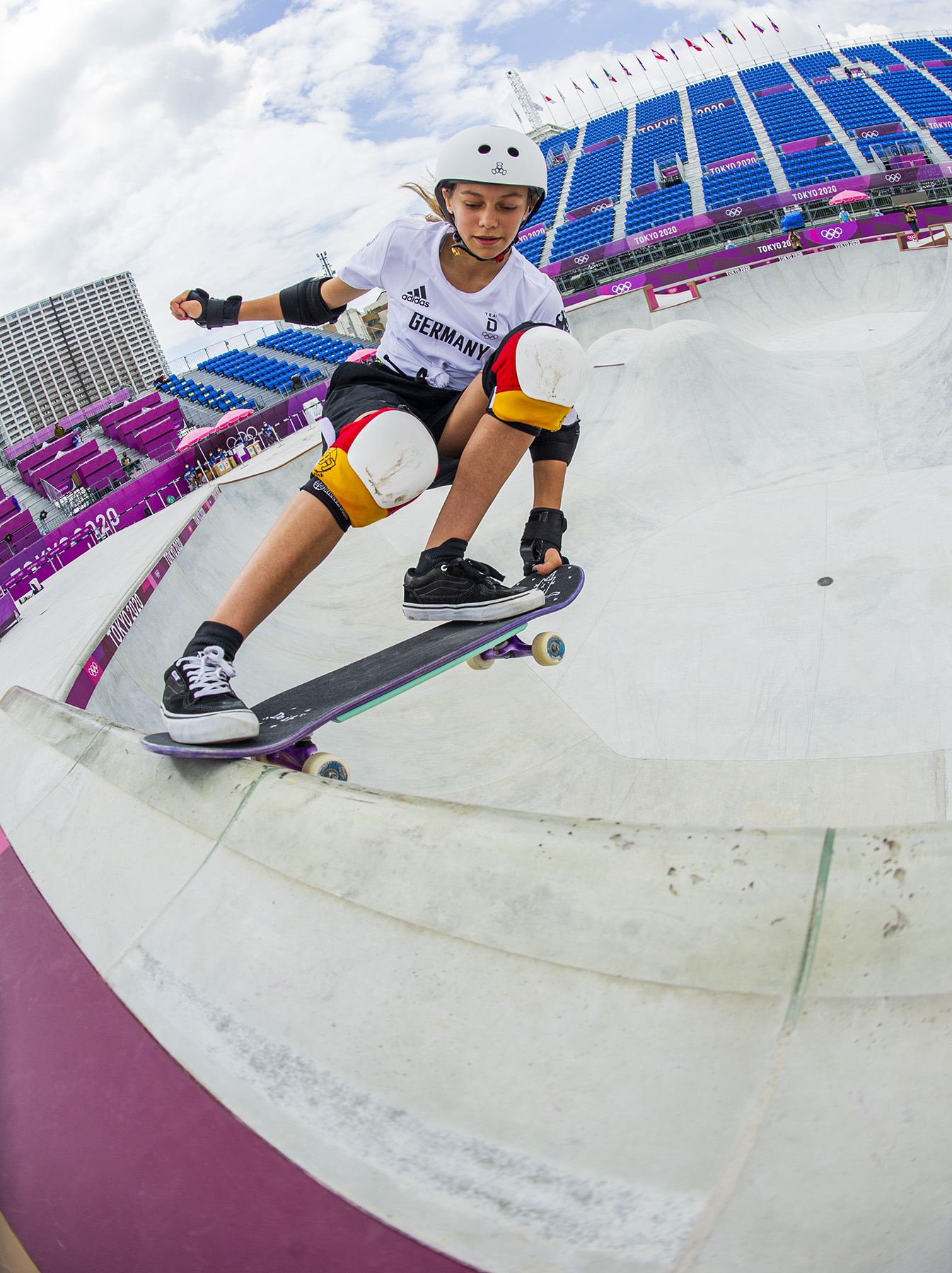 Lilly Stoephasius
Germany's youngest Olympic representative is already three-time women's park champion by age just 14. In a story with resonances of boxing underdog tale Rocky, Lilly skates the drizzly German winters away at Berlin's Skatehalle, a converted warehouse in a hippy enclave next door to a nightclub. Under the watchful eye of Germany's all-time most decorated skate contest veteran Jurgen Horrwarth, Lilly is spearheading a new standard in women's bowlriding culture within Europe, a continent which has been caught somewhat flatfooted in terms of development within this discipline by both the Brazilian and Japanese federations. With female participation mushrooming around the world as it currently is, the programs being ushered in by the Europeans such as Stoephasius and Benedetti will be instrumental in making European women's park skating a medal threat looking toward Paris 2024 and ever onwards from there.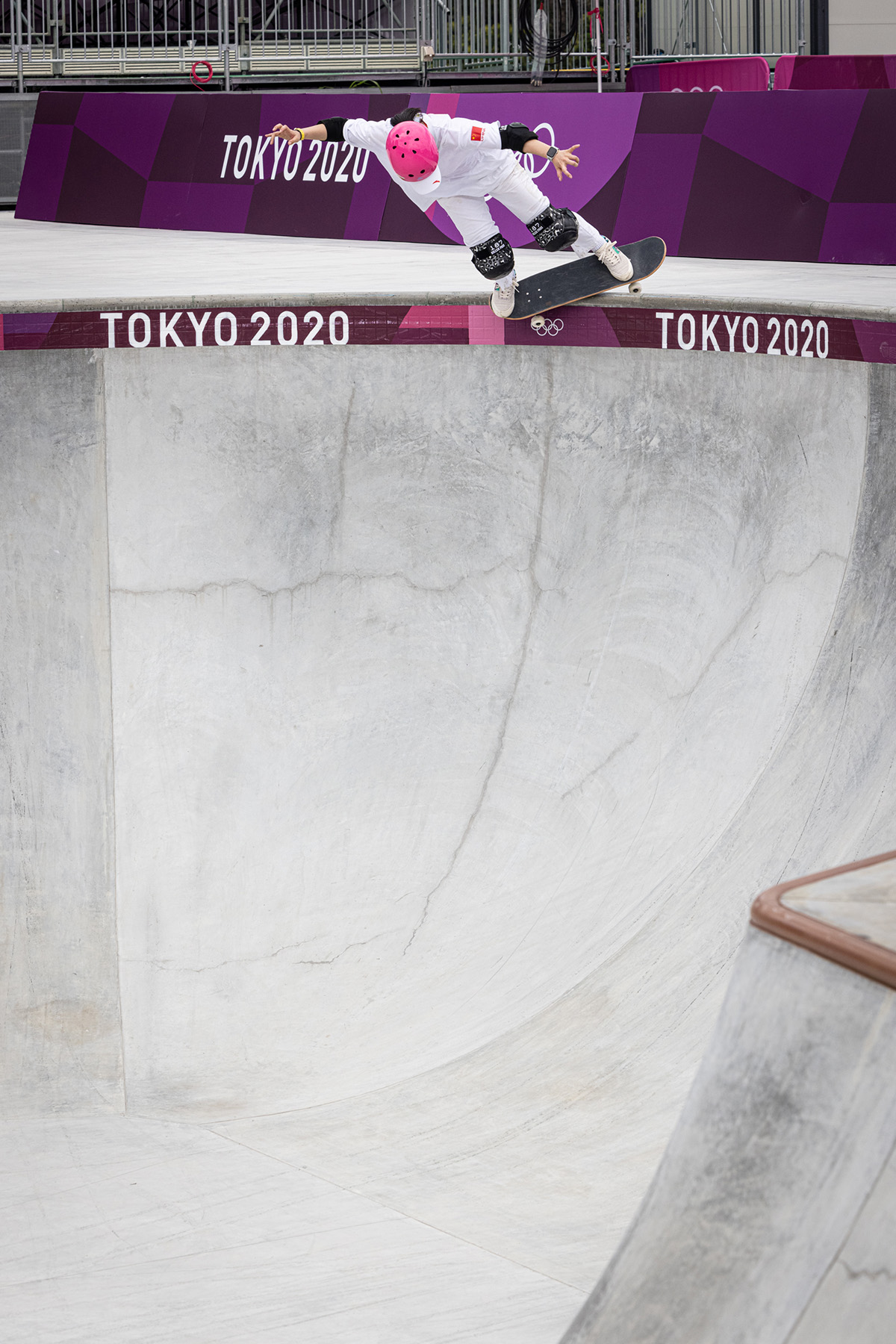 Xin Zhang
Possibly the most unusual road to Tokyo Women's Park skateboarding belongs to China's 22-year-old Xin Zhang. Four short years ago she had never set foot on a skateboard, instead devoting her athletic ability to becoming a cheerleader.
Responding to an advert seeking potential skateboarding recruits for China's Olympic programme changed the direction of her life. By 2018 alone, she had scooped a bronze medal in the Asian Games in her chosen discipline and has progressed ever since, doing enough to harvest points in continental events but without yet posing a ranking threat to a competitive field many of whom have two or three times as many years of skateboarding experience under their belts as she has.
With China doubtless already looking ahead to Paris for equivalency in these relatively new activities, Tokyo will prove an invaluable learning experience both for Zhang and those adherents of the conventional wisdom that skateboarding progress is most pronounced over short periods the younger one starts.
Madeleine Larcheron
Headed out to Tokyo at age 15 accompanied by her mother, Madeleine Larcheron is a demonstration of what is meant by product of the environment. Raised in a city such as Paris with strict limits on available outdoor leisure space and a history of more conventional sport involvement, Madeleine cut her concrete skating teeth on the terrain of Chelles skatepark in an eastern suburb almost twenty kilometres outside the city centre. Alongside Julia Benedetti and Lilly Stoephasius, Madeleine represents the first benchmarks in Europe asserting its skateboarding credentials within Women's Park despite few of the training advantages available elsewhere.
With such a level of commitment and supported by a federation network which includes widely-regarded skate industry veterans such as Greg Poissonnier, it can be expected that Madeleine will become an increasingly fluid and powerful skater as the Olympics arrive, implausibly, in her home town in just three years' time. For now, Tokyo will give her the grounding of understanding global pressure and the best possible idea of what competition the absolute top flight looks and feels like.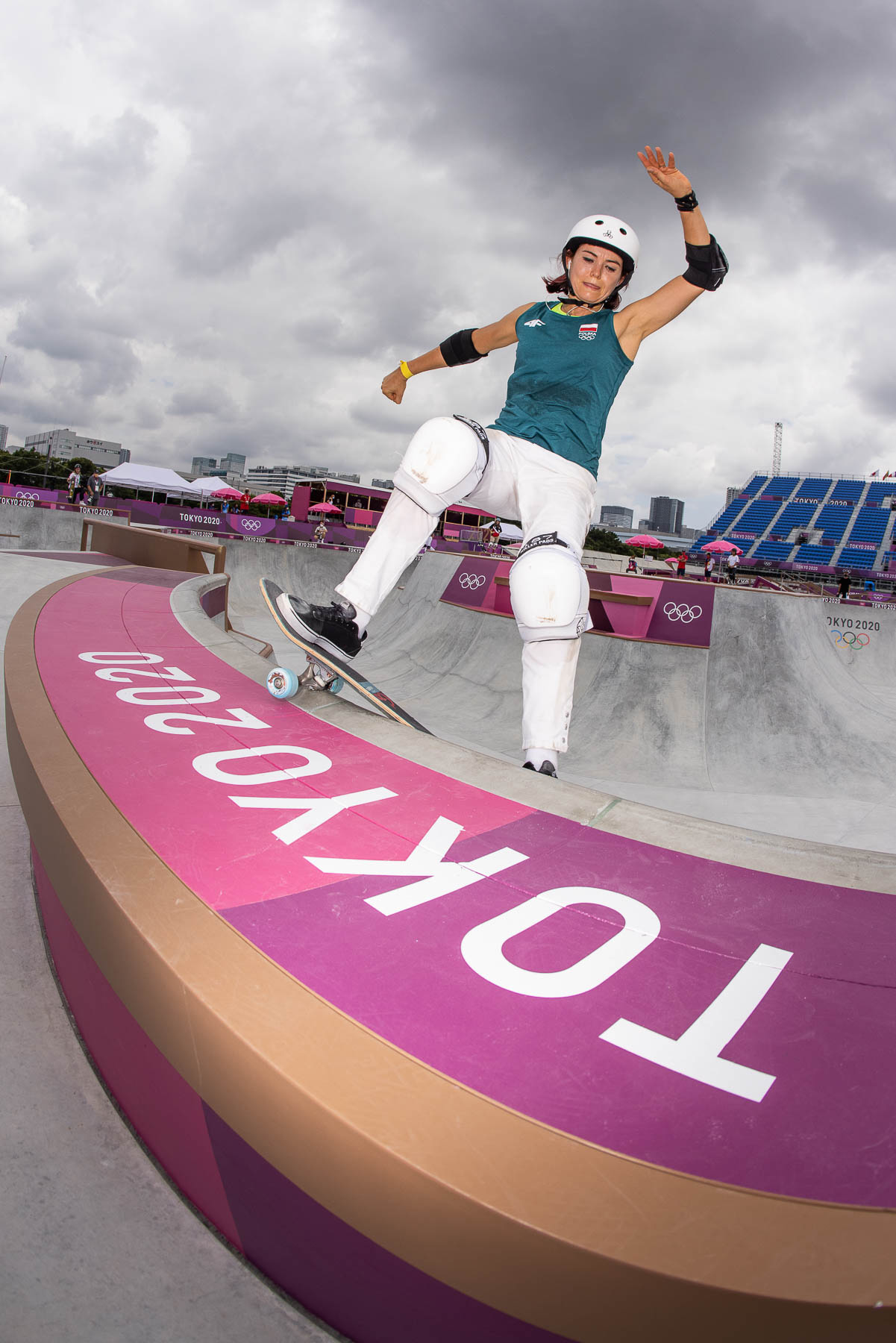 Amelia Brodka
What a delight it is to have Amelia Brodka skating at the Olympics. If there are four women who have done more to encourage and empower young women through skateboarding then they are Mimi Knoop, Candy Jacobs, Julia Brueckler, and Amelia Brodka. All are present in Tokyo (Although Candy tested positive for Covid and was unable to compete).
All fantastic skaters in their own rights their achievements on the board are nonetheless dwarfed by what they have achieved for skating off it. Brodka is co-founder of ExposureSkate, the pivotal all-female skate NGO which includes events and development projects for female skateboarding worldwide. Irrespective of how she fares against hungrier nations or more motivated competitors, she has watched her passion move from fringe activity to global cypher knowing hers is a significant role in making it so. What a victory that must feel like.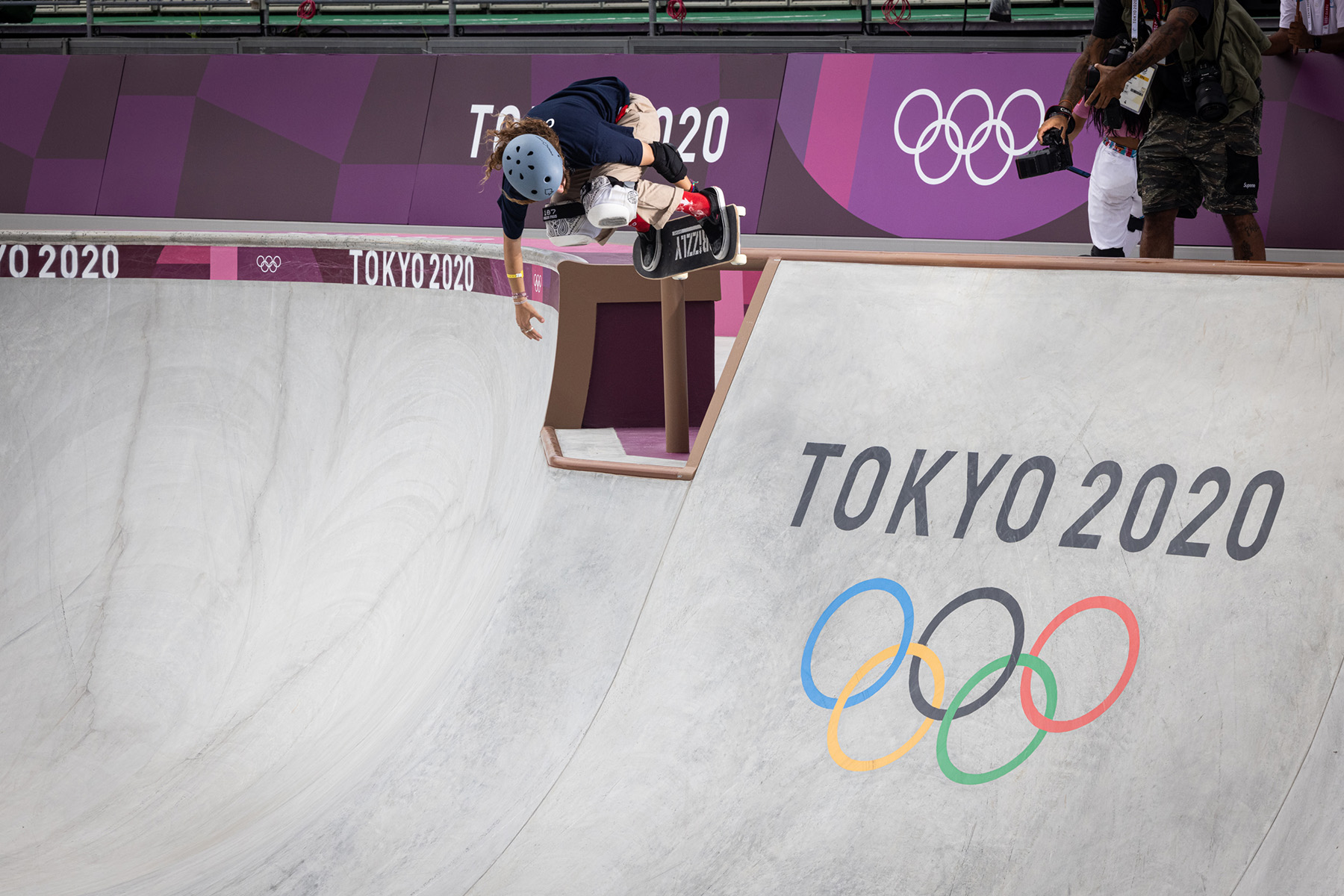 Josefina Tapia Varas
Valparaiso, Chile is home to some of South America's most dangerous downhills and more readily associated with urban mountain-biking than skateboarding for that reason. Nonetheless, the hilled city is where Jose hails from. The only daughter of one of Chile's most famous surfers, in 2017 she left a country more famous for producing masterful Andean snowboarders and made her way to the Brazilian skate centre of Florianopolis to learn from the Latin American masters.
Having relocated to San Diego for the three months prior to making her Tokyo debut in order to dial in the dimensions of international-standard skateparks, the 19-year-old aims to add her name to those of Mathias Torres, Braulio Sagas and Spiro Razis in putting Chile on the world map of skateboarding.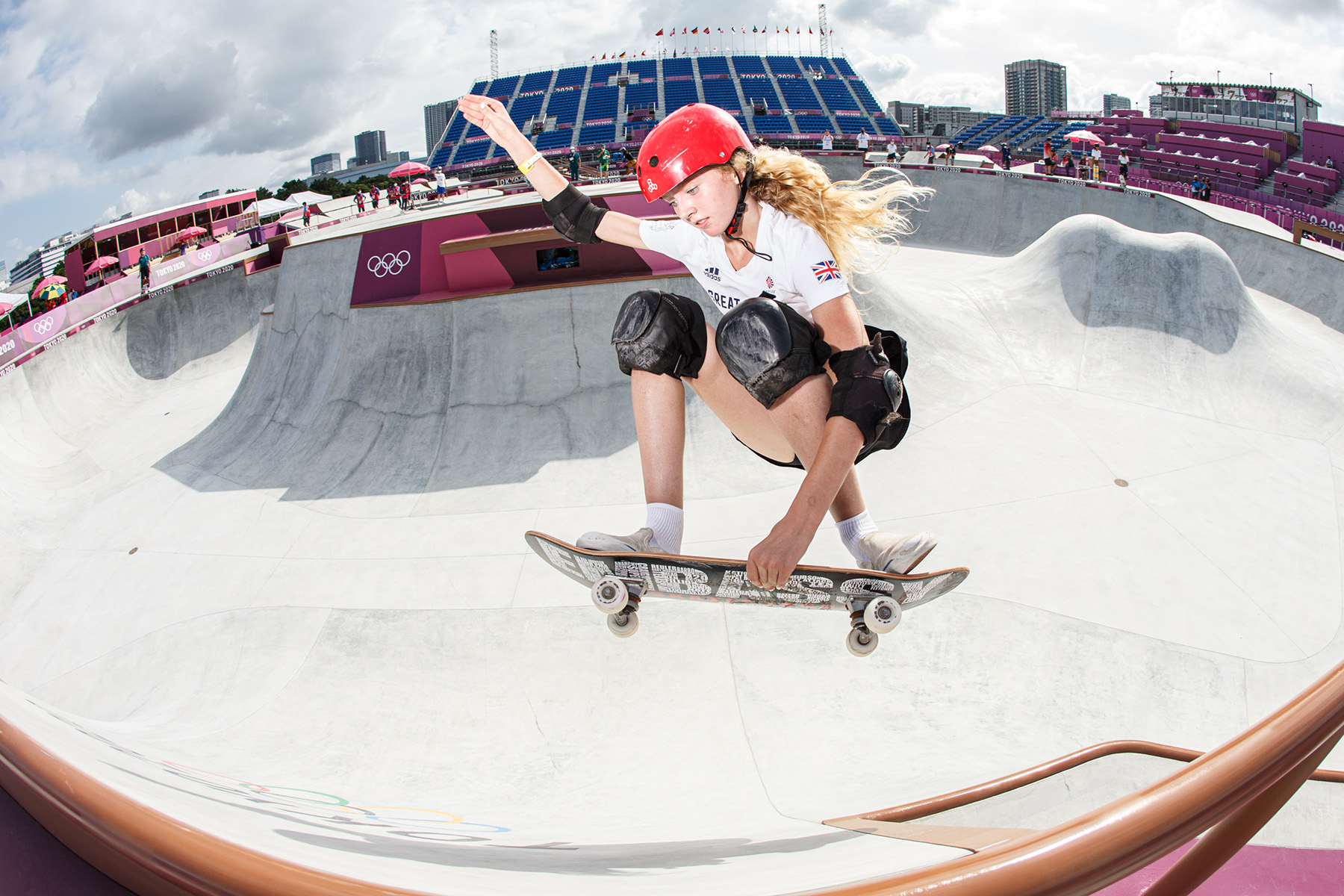 Bombette Martin
If there was a single ingredient Women's Park could have done with just a hint more of it was a little punk rock attitude and it seems to have found it in Bombette Martin. Daughter of an accomplished amateur boxer and riding for the same board company as Spanish Olympic park entrant Jaime Mateu, expect the antithesis of methodical precise lines as she throws caution to the wind on moves honed in the cold warehouse parks of upstate New York and the UK.
Aged only 15, Bombette may be forgiven for being overwhelmed by the scale and intensity of the competition, but in finding her own route to Tokyo armed with just a skateboard and grit she is contributing a dreamer's verse to the Olympic Games story-and long may that continue.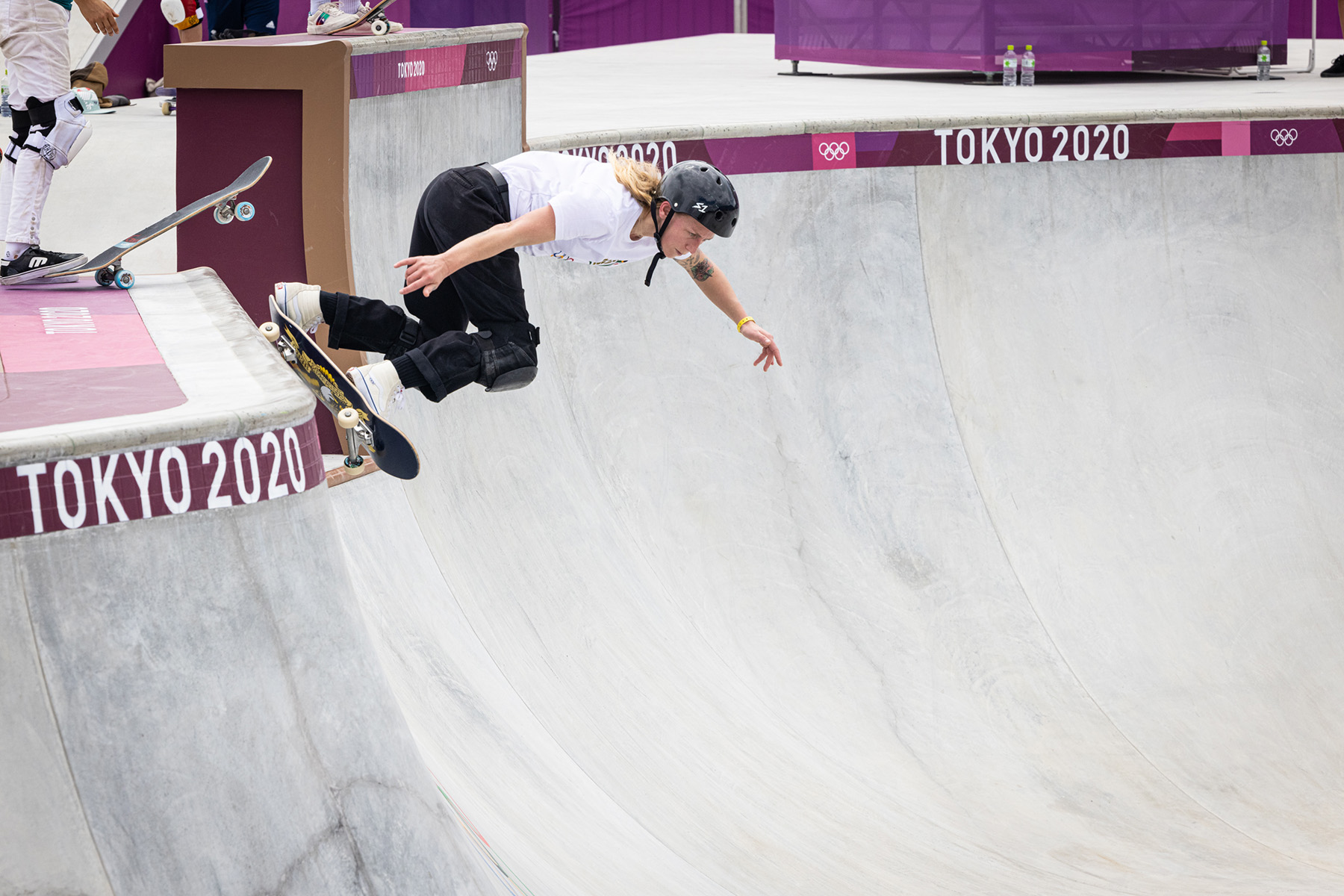 Melissa Williams
Capetown native Mel Williams is, in the words of South Africa's venerable Session magazine, 'South Africa's OG female skateboarder'. Arriving in Tokyo courtesy of a continental weighting system designed to encourage an uplift in participation in skateboarding globally, the 36-year-old rock drummer has availed of the opportunity to bring the manifold positives of the blossoming skate scenes in her home country to wider world awareness. Like Amelia Brodka, Mel Williams' presence on the competitor list in Tokyo is as much a recognition of her contribution to the development of skateboarding culture as it is to her considerable ability on a board. As she notes herself: when she began 20 years ago she met African girl skaters every half decade or so, whereas now she cannot keep track of how many young women are involved. If the Olympics have a purpose for skating beyond podiums, then showcasing groundbreakers like Mel Williams is it.
Words: Niall Neeson
Photos: Atiba Jefferson, Jaime Owens and Bryce Kanights