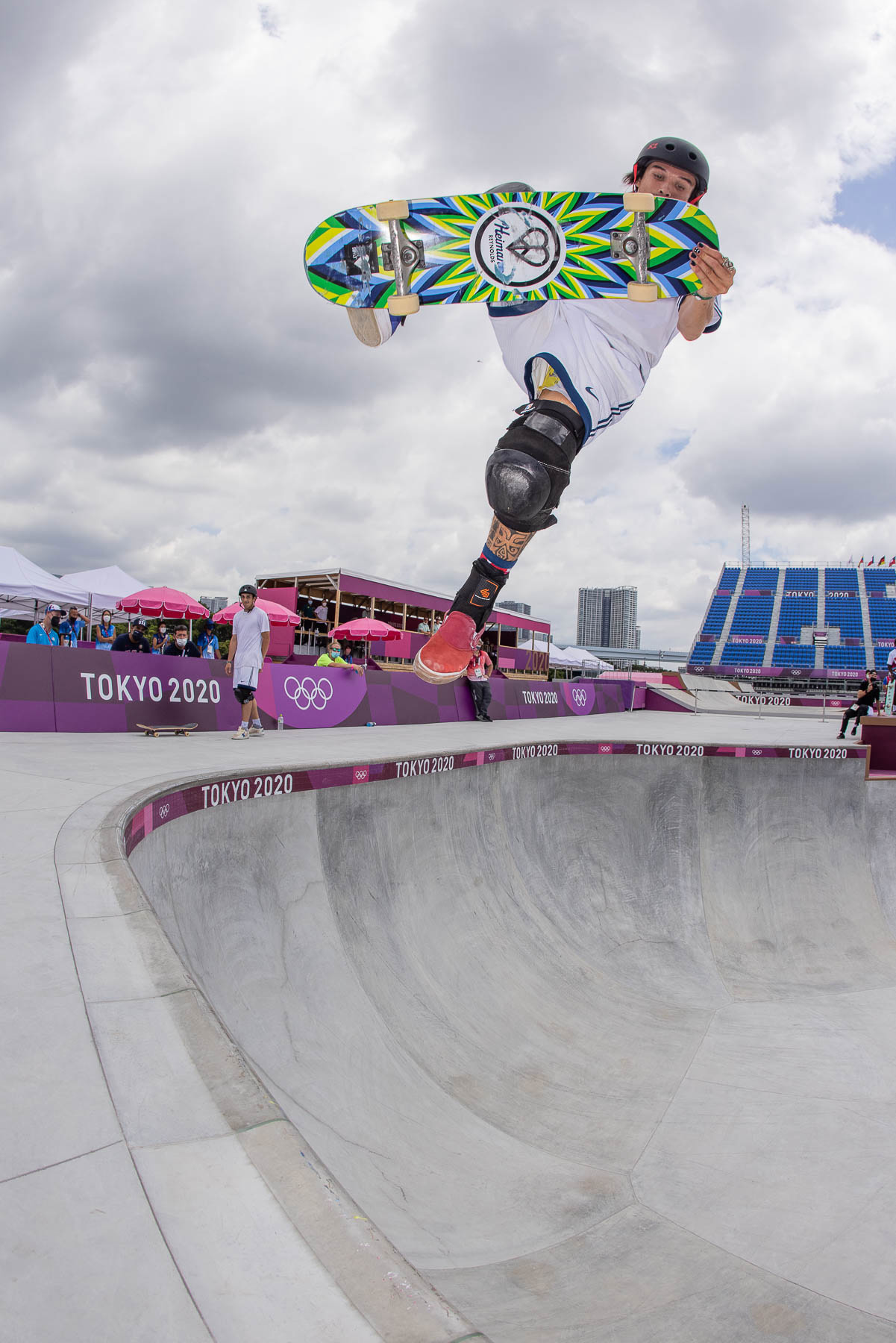 Heimana Reynolds
Hawaii produces a different kind of skateboarder—fearless cult figures with clannish loyalty to local brands and skate terrain. Kale Sandridge was an early example: a skater of undeniable, unique ability who remained largely unheard of in skateboarding's mainstream and the fashions of taste therein. Honolulu's Heimana Reynolds is an extension of that tradition. He arrives in Tokyo having stormed to victory from fourth place in 2019's Park World Championships in Brazil, edging out the entire current Brazilian squad in doing so. After that, he went to rip the Cavepool backyard bowl with the São Paulo locals, showing those same 24/7 skate rat credentials of his predecessor Sandridge.
Nonetheless, he comes into these Olympics as something of an unknown quantity for most observers: certainly a seasoned competitor, with almost a decade's worth of worldwide contest experience under his belt, his results have been somewhat patchwork prior to his lockdown-adjacent success in Brazil.
With seemingly boundless energy and a really high trick count for timed runs, he will certainly be a concern for better-established pro riders who understand that contests only measure the day at hand.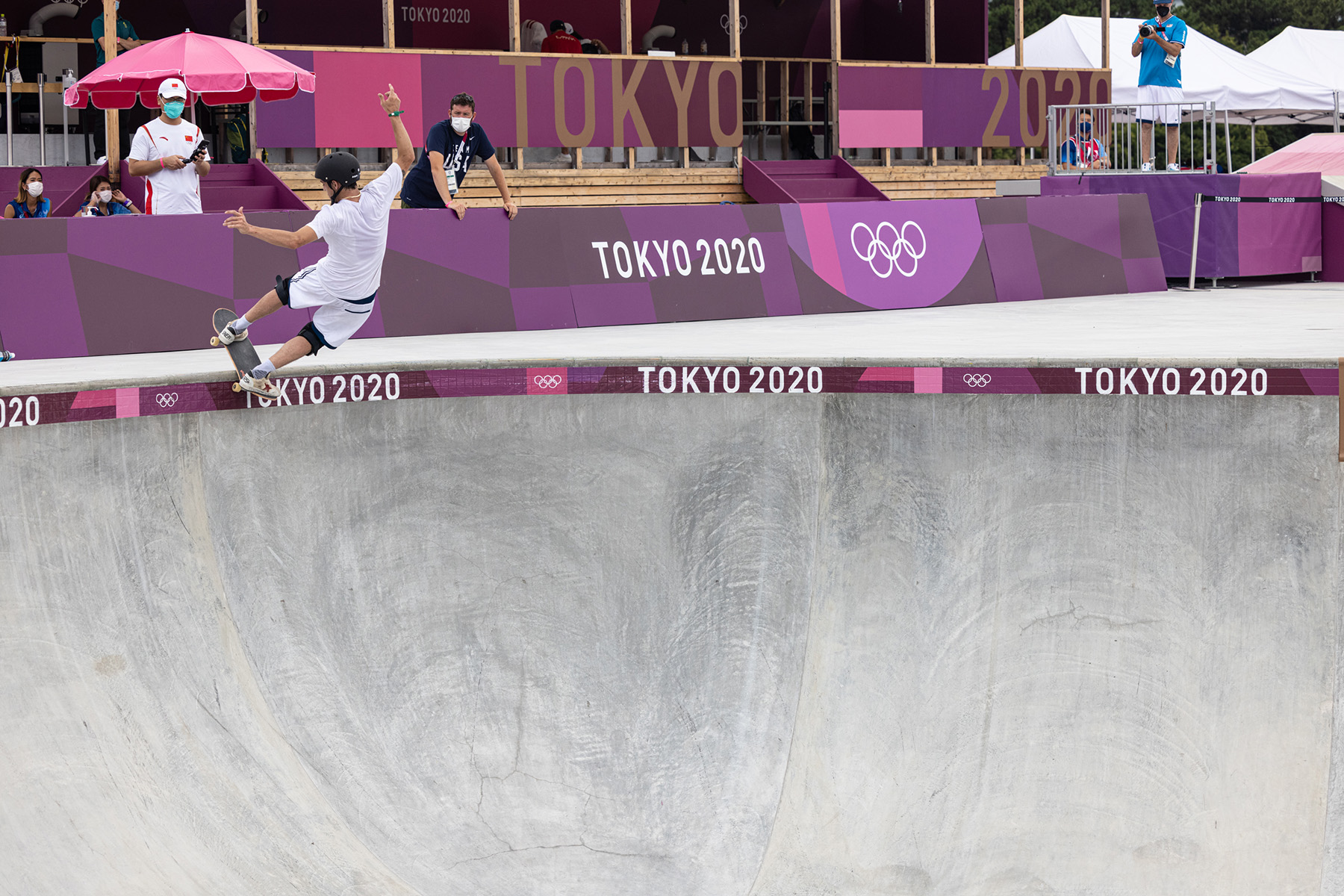 Cory Juneau
Part of a golden generation of American park skaters which includes Tristan Rennie and Willy Lara, Cory Juneau started strong and is remarkably on a second upward curve of ability right now. Blessed with a liquid flow comparable only to the Swedes Rozenberg and Berglind, he shares a mercurial gift with French competitor Vincent Matheron: if it gels for him, he has the raw talent to do almost anything.
The size of that 'if', however, is larger for the 'all or nothing' approach than for the contest purists. Having conspicuously not overplayed his hand by revealing too much of his trick bag on social media (a most modern mistake) his ease on the eye suggests he is in the form of his life. A crystallization of everything that makes skateboarding exciting and unpredictable, he will be unmissable.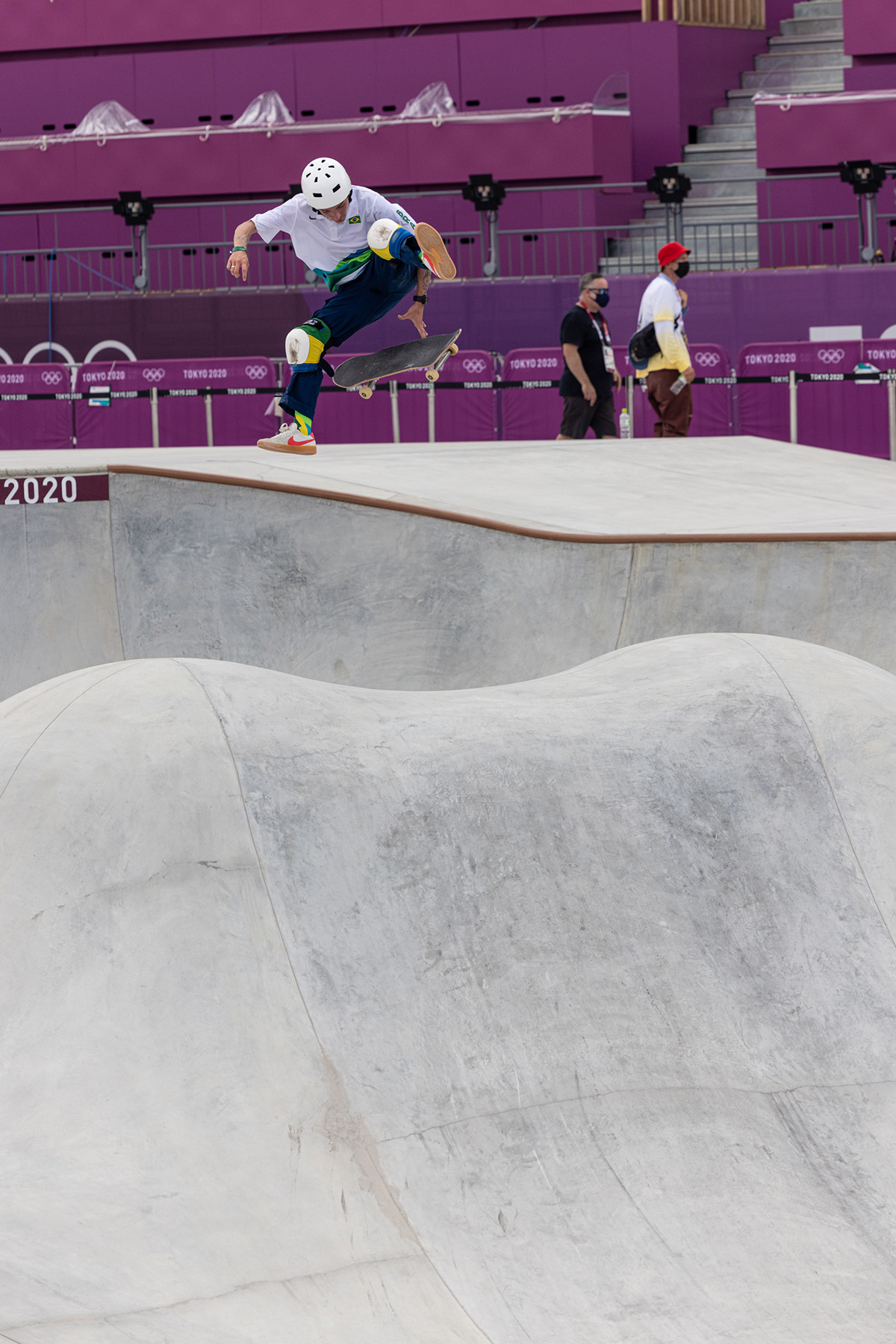 Luiz Francisco
There are broadly speaking two types of concrete skateboarders: those who can harness the power of their own body weight to power counter-swings against gravity (such as Jaime Mateu), and those which appear weightless. Luiz Francisco glides as if on water. While that might be expected of someone whose entire experience of skateboarding was on transitions, he also put out a 12-minute street skating video part last year, too. While comparisons to Brazilian trailblazer Bob Burnquist may be premature, Luiz Francisco is a shockingly good, complete skateboarder. Unusually for his relatively slight frame, he blasts higher than almost anyone else in the final 20 contenders and, like Heimana Reynolds, he is likely to pack out his runs with tricks that are irrefutable. If he doesn't podium in Tokyo he seems a likely candidate to do so in Paris in just three short years' time.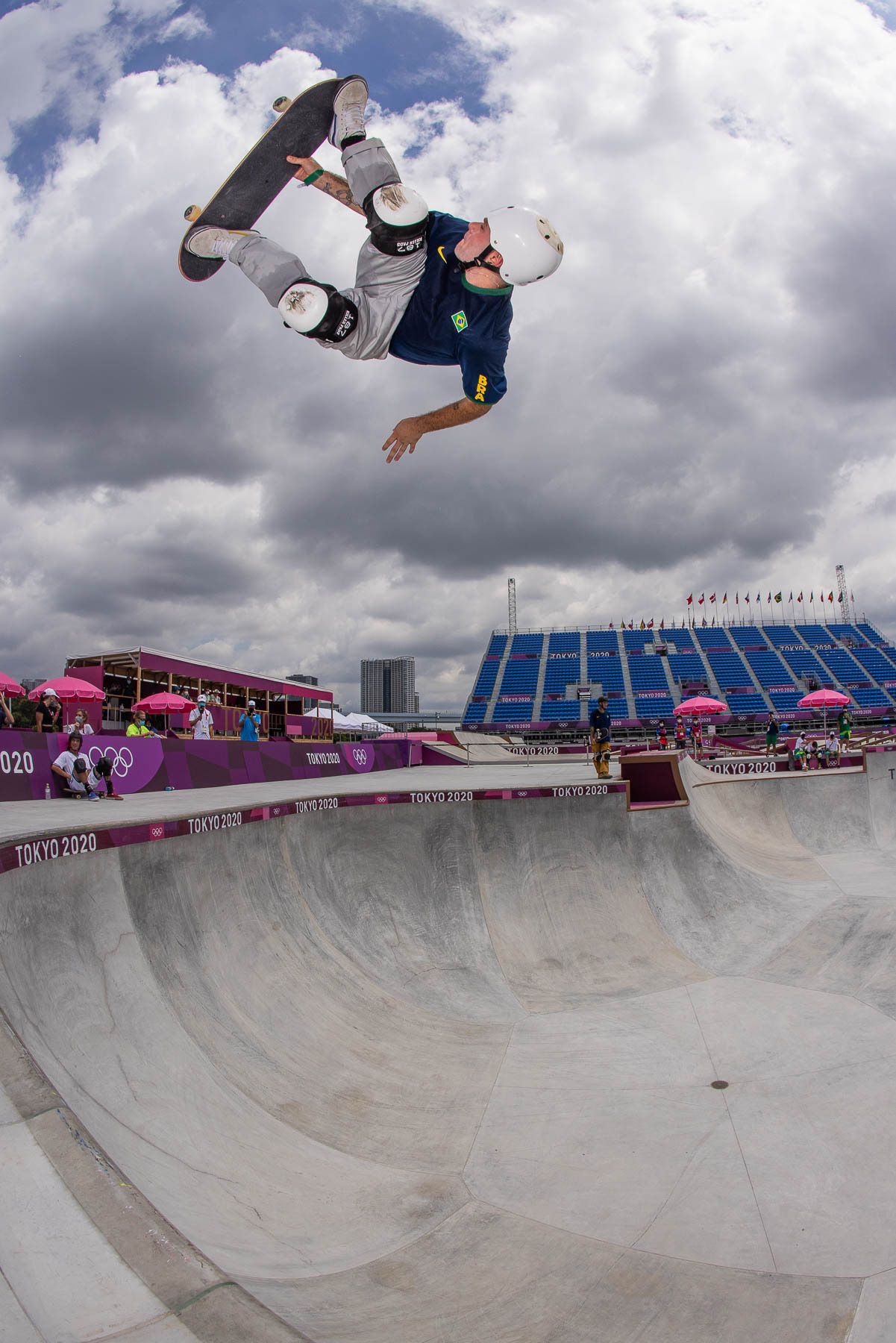 Pedro Barros
One of the greatest concrete skaters of all-time, bar none. Brazil's Pedro Barros was born into a skateboarding family and has contributed a new chapter to skateboarding's oldest iteration. Put simply, he charges harder than anyone else. Harnessing that energy without overcooking it will be the story of his Olympics. A first-hip method air in Vancouver back in 2018 demonstrated a talent of a different order of magnitude than the rest of the field in Men's Park, but—as an accomplished vertical skater as well—there is a danger he may also go too big for the physics of the course itself. But this is a very big course they will be skating in Tokyo, so the it's still unknown if it can contain Mr. Barros.
Unarguably the man to beat, his opponents will be praying for a chink of daylight created by early nerves; but they may find slim pickings, there.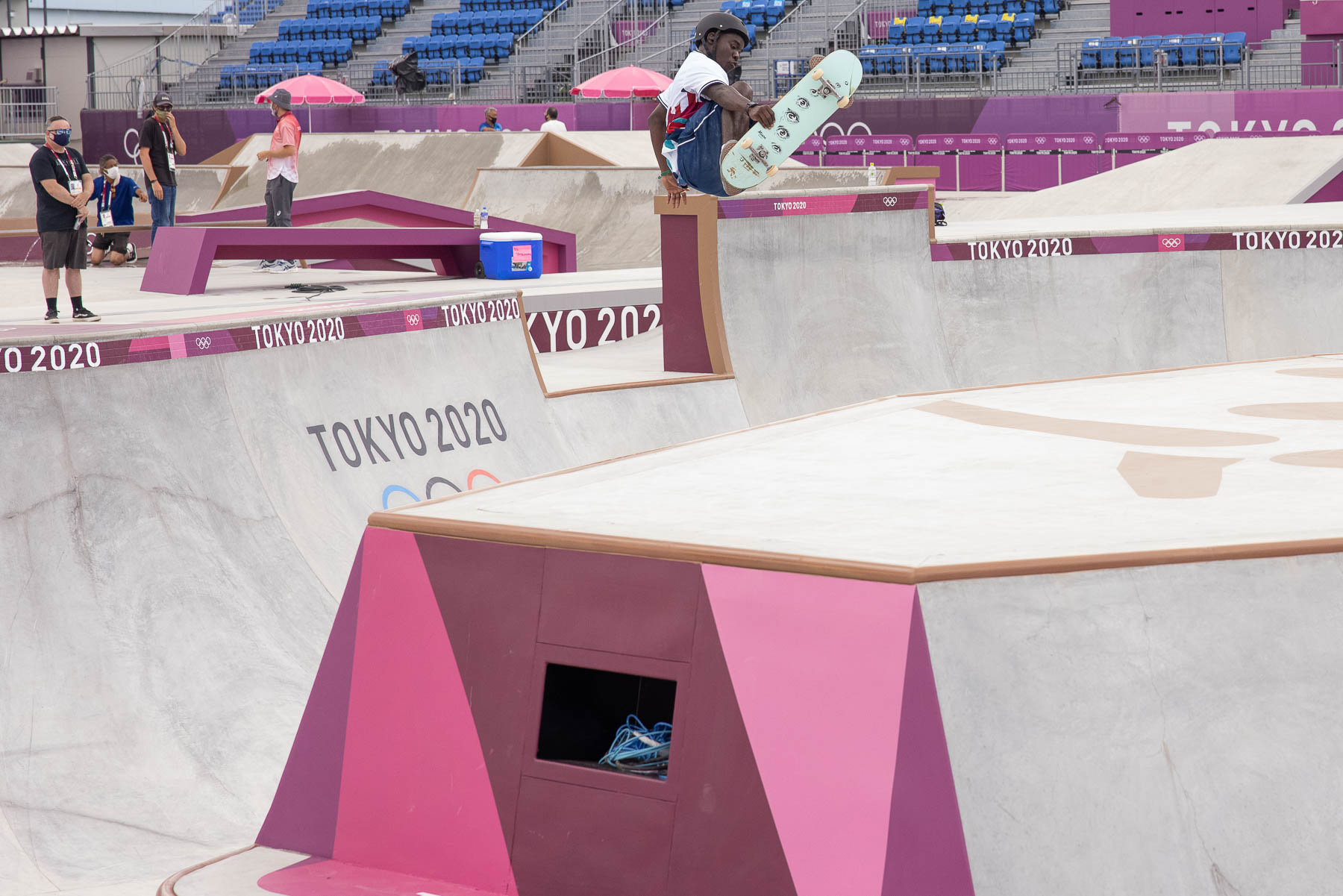 Zion Wright
The Floridian sensation is in all probability the only skateboarder in the entire event who could realistically be expected to podium in either discipline. If anything, park skateboarding is Zion's weaker suit, given that most of his craft is devoted to filming street sections for his many sponsors. With that said, the 22-year-old has already almost two decades of skateboarding experience and a rare fusion of strength, grace and hunger which means he could compete in any facet of skateboarding which he chose to turn his mind to. Whether he has enough advanced air tricks to oust the specialists might prove telling in the end, but one gauge of the danger he poses is that he is considered a podium prediction despite never having competed against a field of this depth before. Remember, this isn't even his forte. That's how good Zion Wright is.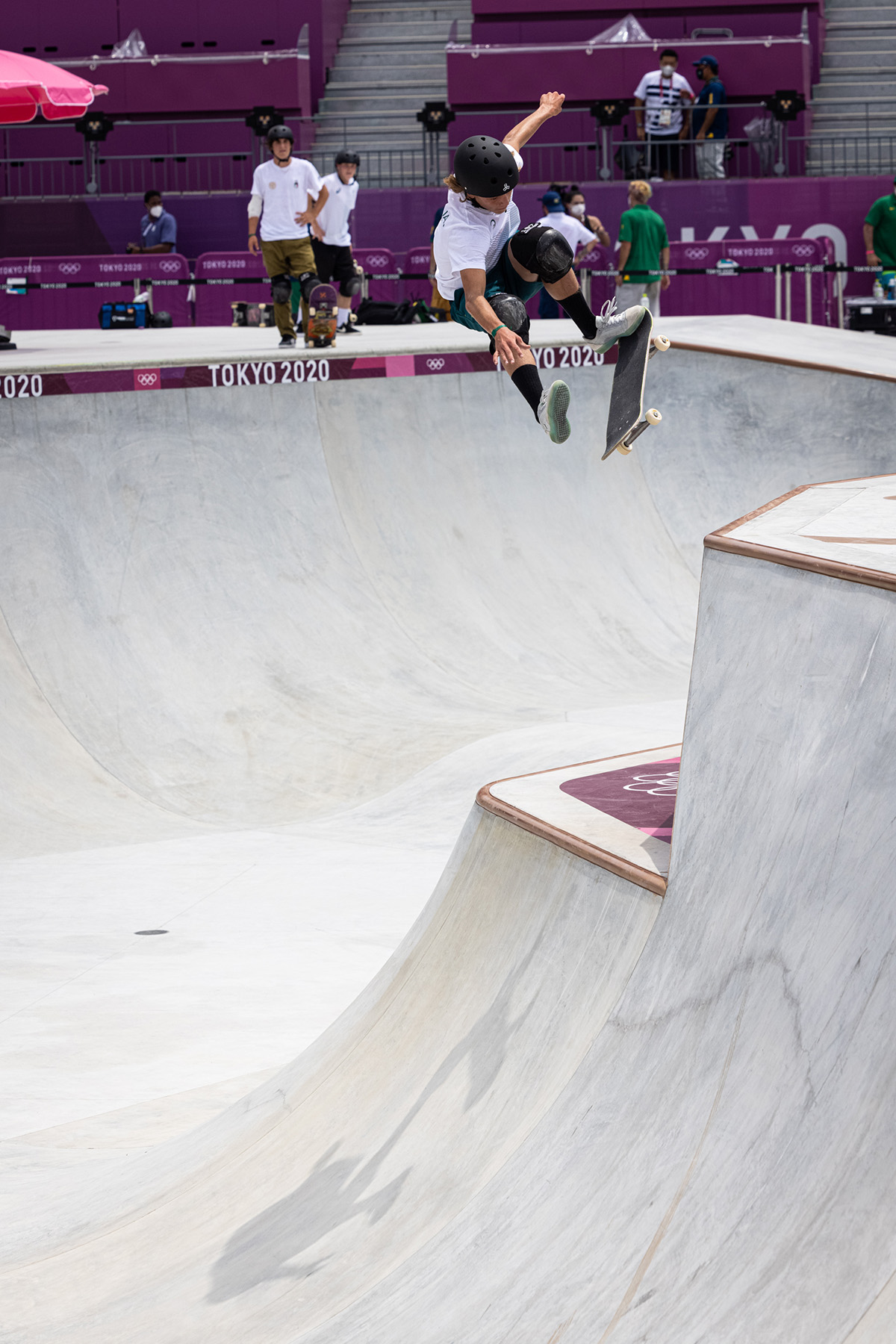 Keegan Palmer
The Australian national champion in park skateboarding was part of a new wave of podium-upsetters coming up through the X-Games alongside Mitchie Brusco and Tom Schaar. As the youngest of the three, Keegan is now at 18 finally ready to step into this most exacting crucible without the occasional caveats and qualifications afforded to child prodigies, which he doubtless was. A more aggressive skater than most of his contemporaries and an adept surfer, Keegan has also had to endure lockdown away from his Australian family as he began training in earnest in the US, where he holds dual nationality. Having spent 2020 recovering fully from the beatings of a full 2019 contest season, he has had a low-key run-in to the Olympics and what may be a chrysalis moment for him. While other people have garnered more attention before the skating started, it may yet suit Keegan's strategy to have been slept on until he drops in again.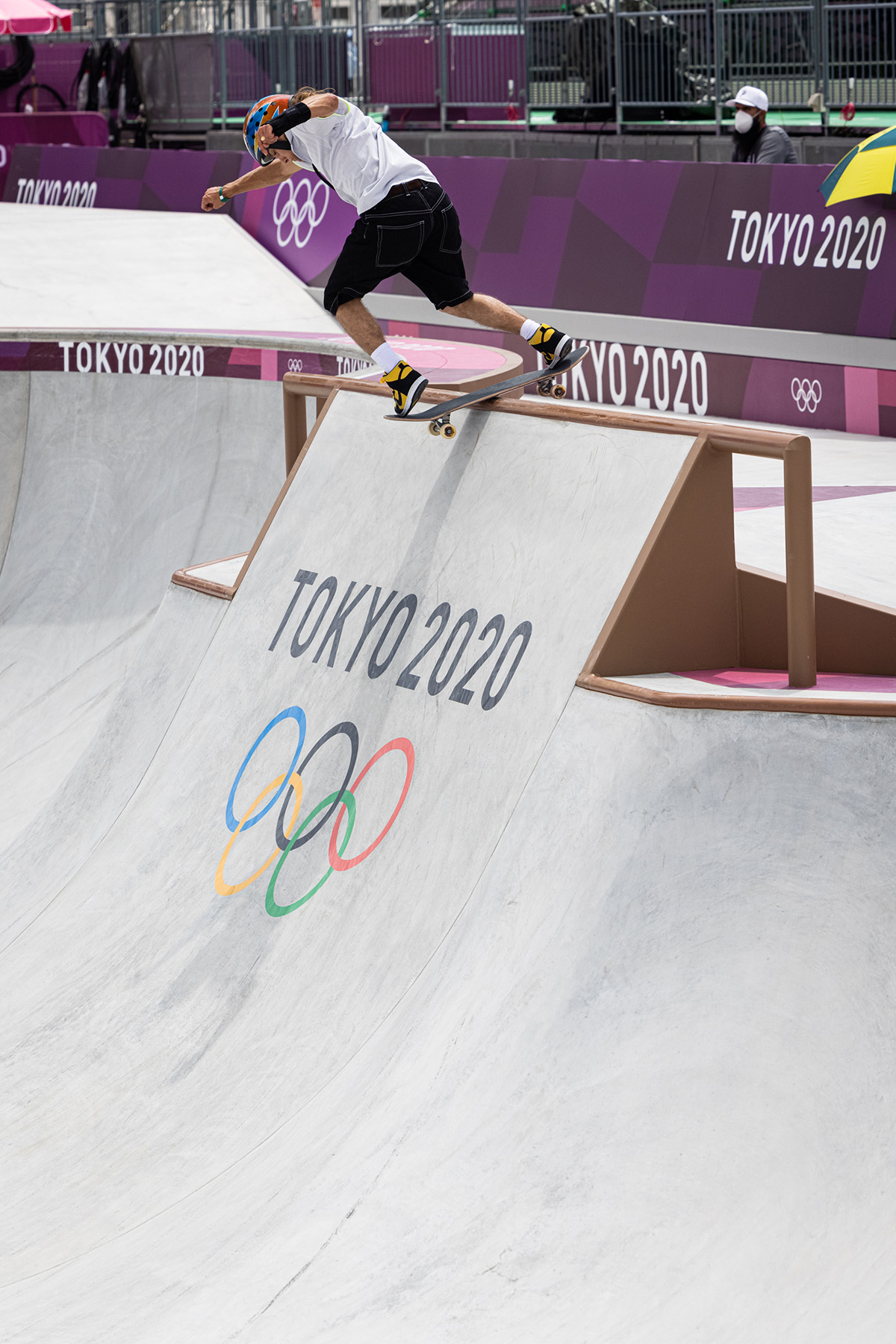 Oskar Rozenberg
Many skaters' secret podium crush, due in no small part to being one of the few skatepark specialists with a fashionable board sponsor, Oski is a disciple of a progressive Scandinavian education system which allows dedicated skateboarders to fuse their education and skateboarding in a hybrid program. Like Yuto Horigome, he enjoys the anointment of first-name status among skateboarding's taste-makers despite having entered his first skate contest at age 12 and continuing to do so ever since. A truly gifted concrete transition shredder who is widely considered to be the greatest ever skater to grace Sweden's gigantic Stapelbäddsparken skatepark, he has the ability to beat all comers but doubts hover over his commitment to the spadework of training. In turn, he may well lean into that counter-cultural status to turn in the performance of a lifetime in Tokyo, but he will have to overcome a mountain of hungry, motivated talent if he is to do so.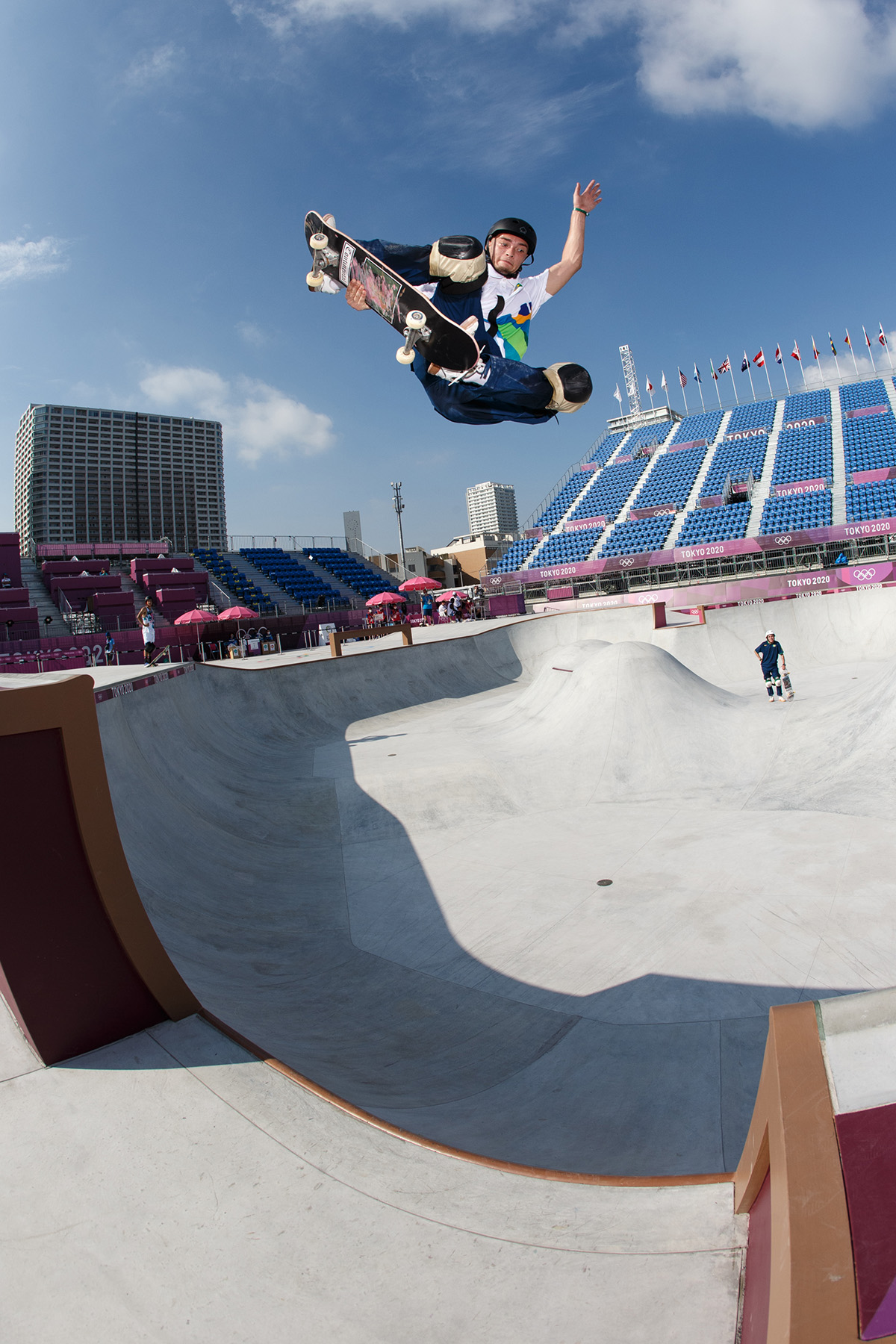 Pedro Quintas
Skateboarding has three national scenes of sufficient size and devotion to support a domestic professional division within the ranks of sponsorship: USA, Brazil and Germany.
Brazil's sponsored skateboarding culture carries zero deadweight, meaning that you either skate everything to the edge of your ability, or you will get bounced in favor of someone who not only can, but will. Like his Colombian fellow-traveller on the Olympic skateboarding path Jhancarlos Gonzalez, Pedro Quintas finds himself in Tokyo not as the product of a gilded pathway but on the merit of being one the gnarliest, most reckless skaters in Latin America today.
With the strength of a bull and a thrill-seeking tendency to dip his shoulders toward the onrushing skatepark walls in order to maximise his thrust, Pedro brings the elixir of danger to skateboarding and is sure to deliver on the opportunity afforded by his dream ticket.
Ivan Federico
Italian skateboarding is not without pedigree in the world of transition skateboarding, from the ageless Giorgio Zattoni to the cult figure of Daniel Cardone. That being as it may, Italy has more recently been more closely associated with street skaters like Ale Cesario and Jacopo Carozzi and so Ivan Federico has made his path to Tokyo in relative solitude, oftentimes finding himself the sole Italian representative at European contests. Possessor of the best kickflip melon grab in the world—a trick which he appears to be able to summon at will—he will nevertheless need not only to have expanded his trick vocabulary but combine that with the ride of his life to improve on his previous X-Games podium positions.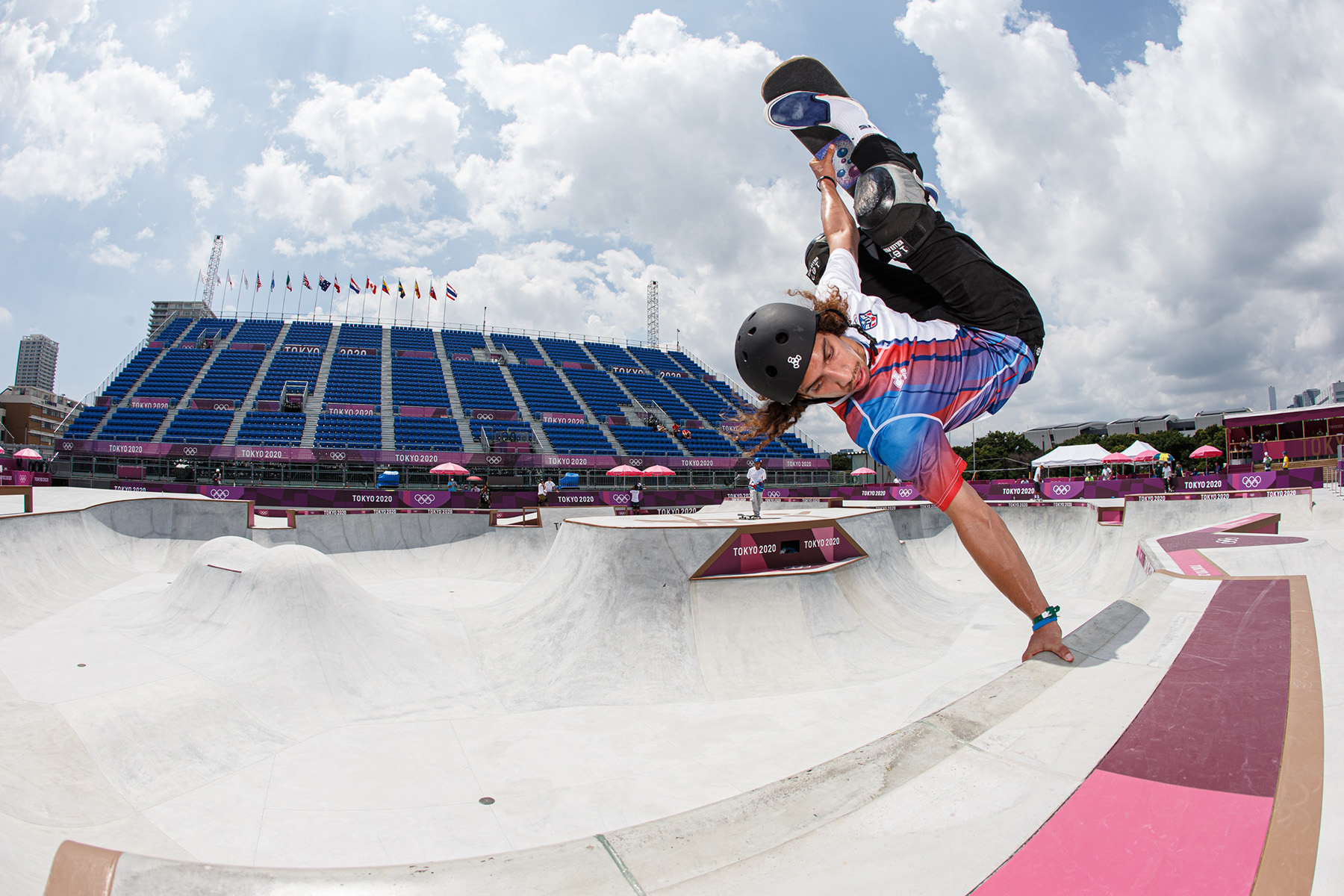 Steven Piñeiro
Although not necessarily blessed with skate terrain, the mighty Caribbean island of Puerto Rico has nonetheless brought forth some great skateboarders including representation in both Men's skate events in Tokyo this summer. With skatepark terrain as likely to be DIY constructions, the island has, like Hawaii, developed a distinct domestic skate culture and benefitted from the inspiration of visitors, too. China coach Dan Wileman lived and skated here for three months, for example. Steve Piñeiro is really remarkable in that he was born on the US mainland to Puerto Rican parents and moved back there to skate and compete from a Caribbean base.
With an ambition to buy a house where he can be self-sufficient and see out his days there, Yancy (as everyone knows him) finds himself fulfilling a dream in Tokyo come what may, and so is sure to come out swinging. Tall, rangy and dexterous, he also has the hair-raising frontside 540 on lock, so expect to see it as his sign off.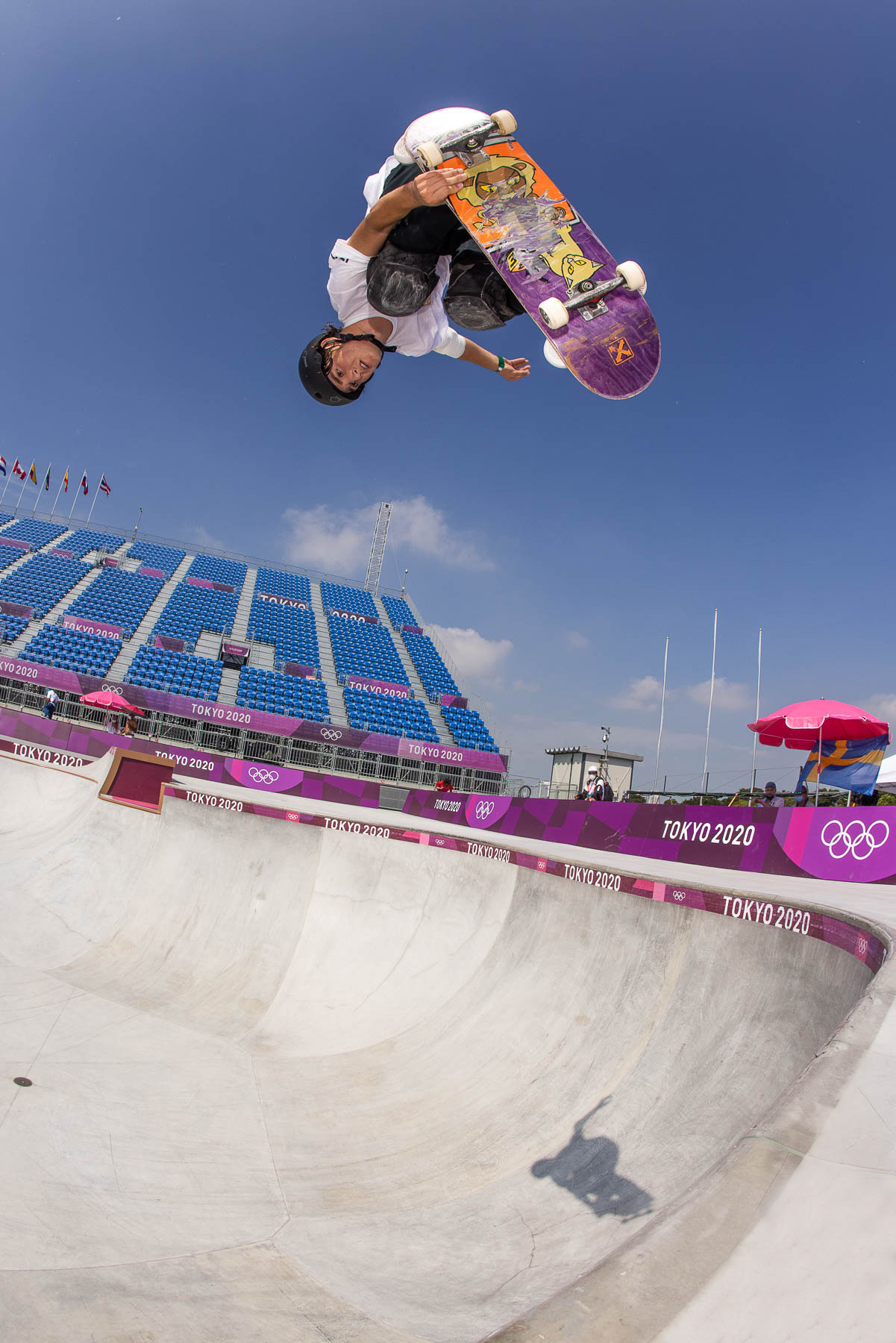 Alessandro Mazzara
A protégé of the Italian vert skating legend Giorgio Zattoni and his gigantic vert ramp in Ravenna, Ale Mazzara initially began skateboarding in his hometown of Rome aged just seven. By 2019, he scooped an incredible third place at vertical skateboarding's Woodstock, Sweden's Vert Attack, then aged just 15. Although Skateboard Park is not his natural discipline, expect him to attack the biggest sections of the terrain right from the start of his runs and set down some early markers in terms of going big with a view to making more conservative competitors gamble on trying to step up to his game.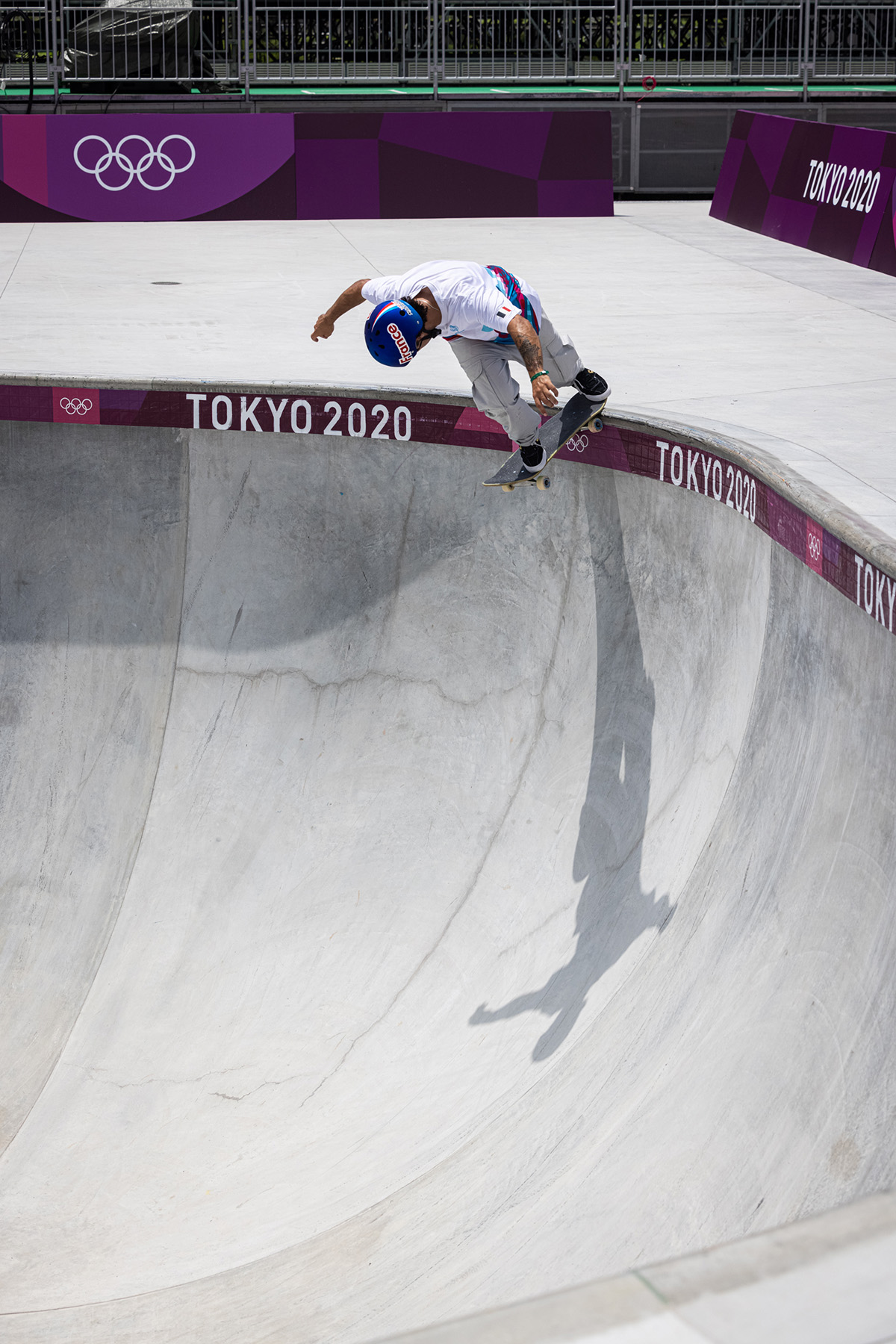 Vincent Matheron
Being considered the all-time ruler of skateboarding's most famous bowl is not small claim, but Vincent Matheron is hands-down the don of Marseille. Like Oski Rozenberg, Matheron is a loose, spontaneous and impulsive skater—a style which wows, but carries its own risks: fifteen screws, three pins and two plates in one ankle alone type-of-risks.
The delay in scheduling the imminent Tokyo showdown allowed 'The Joker' to not only recover fully but relocate to the concrete skateboarding hotbed of Encinitas in preparation for his shot at Olympic glory. It would be a wonderful validation of all the pain he has been through if that were to materialize for him but regardless of whether he podiums or not, the world is sure to see what wild, fearless, on-edge skateboarding really looks like. Sure to be a crowd favorite on the coping and at home.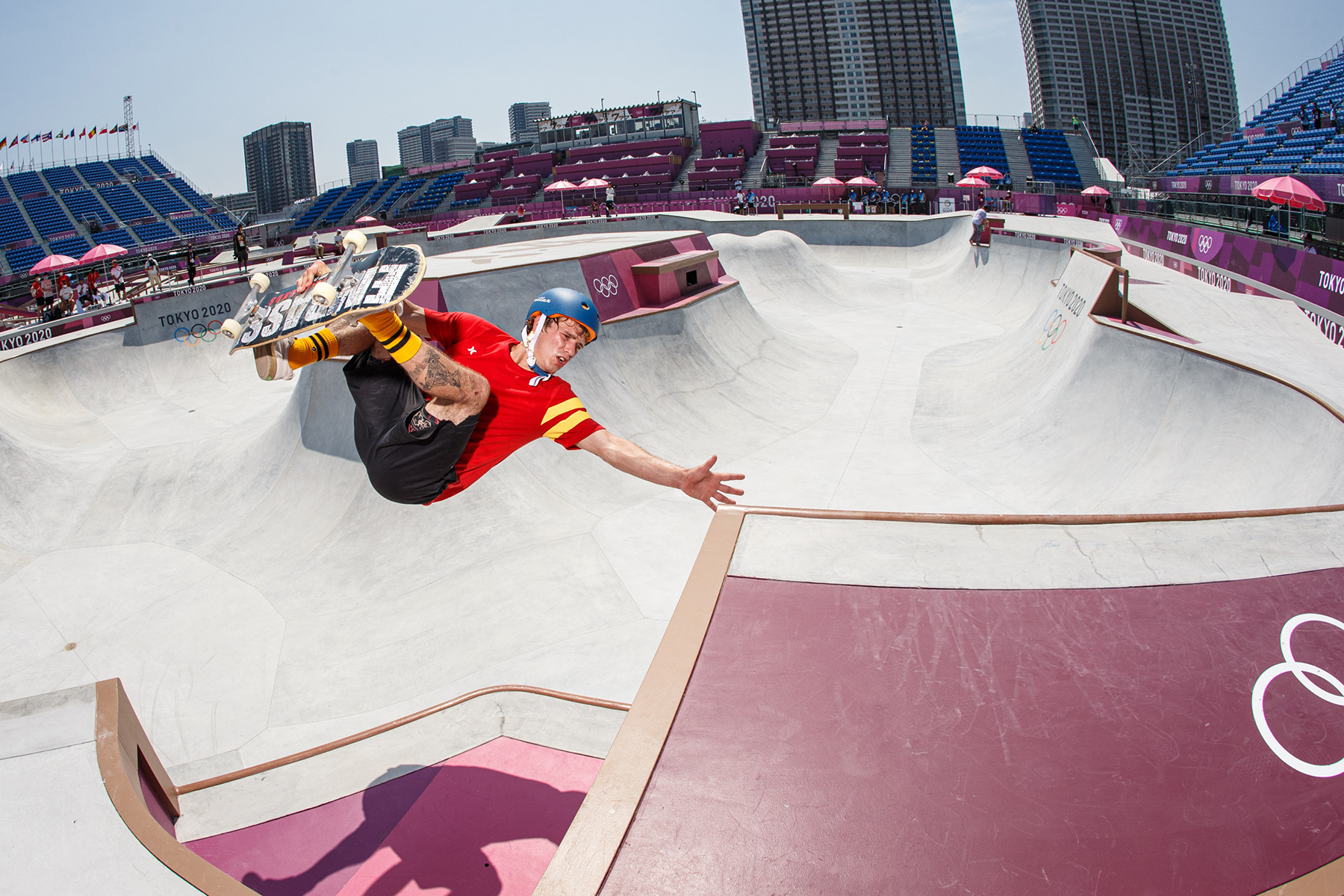 Jaime Mateu
Now here's an interesting fellow: Mallorca's Jaime Mateu comes from an island with few skateparks belonging to a country which is much better known for producing technical street skaters than those with the reckless abandon of Jaime. Unorthodox, more powerful than any other competitor save perhaps Barros and rolling with more energy and aplomb than anyone else, watch him try improbable transfers first go whether the buzzer has sounded or not. Scarily fast which can make him prone to impact injuries, Jaime Mateu is sure to bring the ruckus come what may. Great for the contest to have him in the line-up.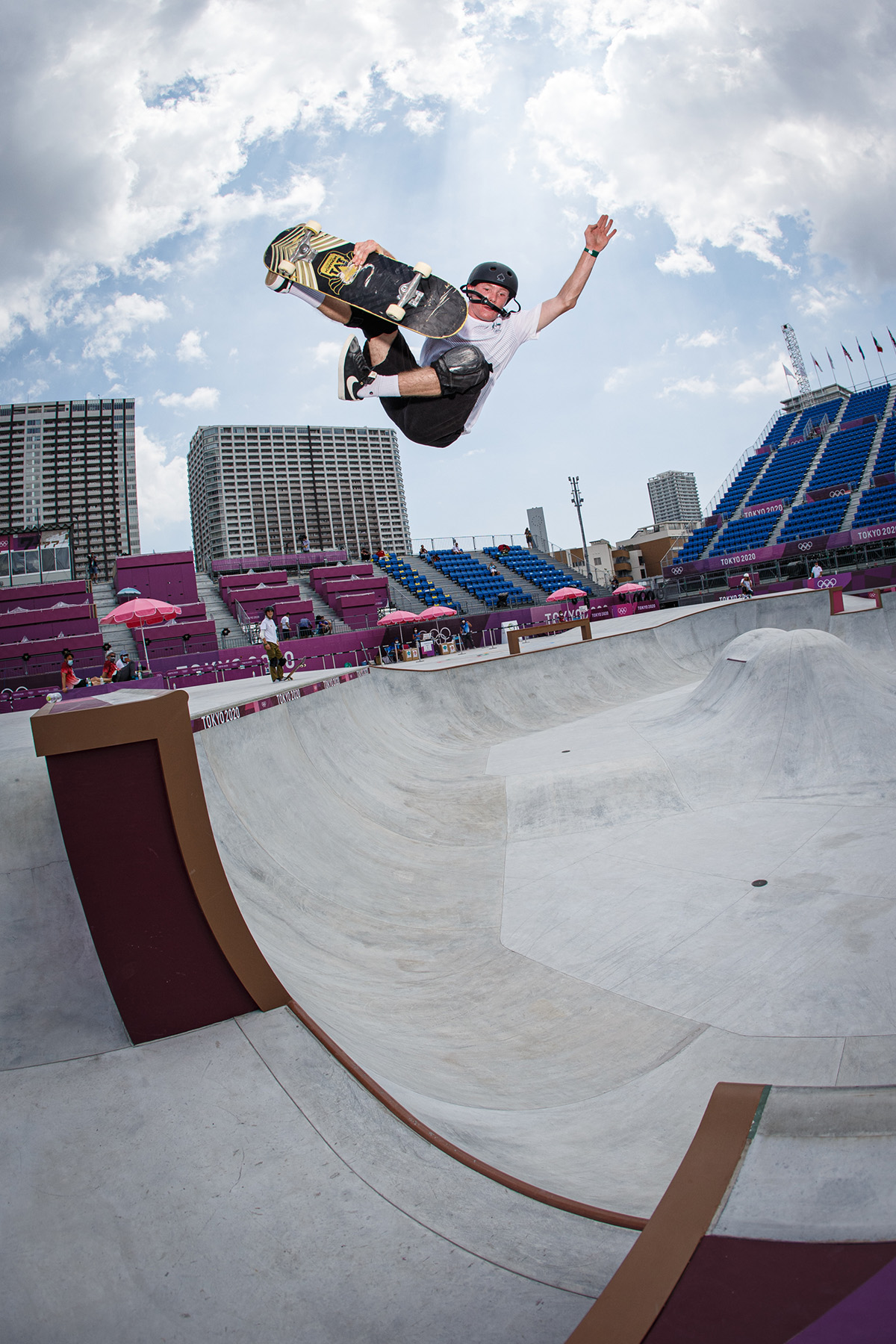 Kieran Woolley
The great unknown quantity of Men's Park at Tokyo 2020, Kieran Woolley appeared, as his teammate Keegan Palmer put it "out of nowhere." Aged just 17 and guided by the historied Australian vert skater Renton Millar, Kieran fullfils the role which Nick Trapasso did in street skating a generation before—a frighteningly expansive natural talent who seems to be improving on a trajectory line all of their own right at this moment. How good is Kieran Woolley? He's one of the most exciting skaters in the world right now.
A social media clip of a single improvised run from him at Lake Elsinore skatepark earlier this year has become skateboarding's latest touchpaper. Can he translate that into a ranking-hopping performance at the Ariake Urban Sports Park in Tokyo on August 5th? That great unknowable is what gives Men's Park not only the possibility to be the most exciting event not just of Olympic Skateboarding but of the entire Games themselves. Once he puts a couple of early nerve-settlers together he could go off and change the entire game.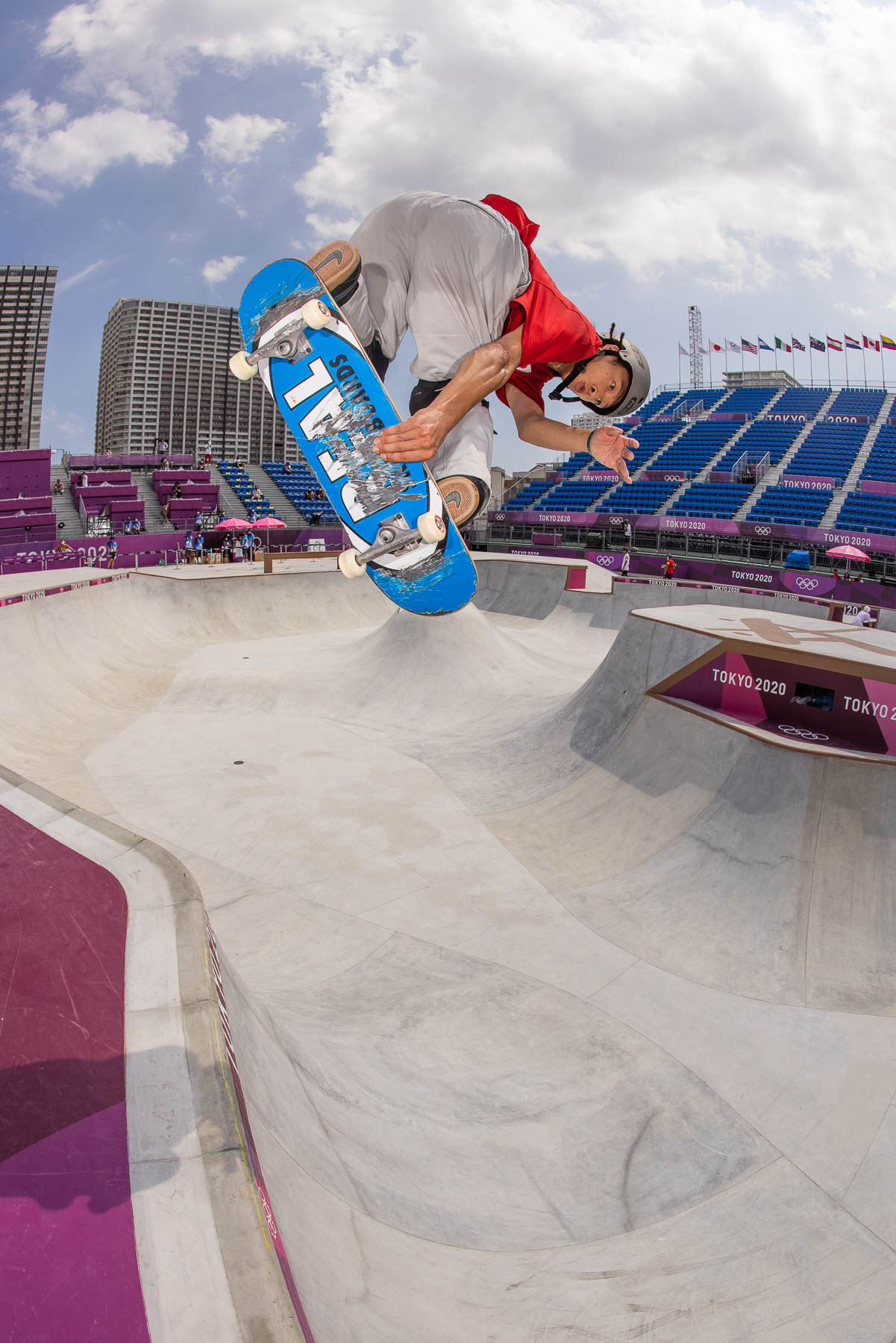 Ayumu Hirano
Yet another glorious storyline thrown up by a format where ability alone can propel you forwards: Ayumu Hirano is a professional snowboarder whose father opened a skatepark, from where his skate career began.
Of the three boardsports, snowboarding and skateboarding share the most culturally fractious relationship- you will read many biographies of surf kids who pick up skating organically but snowboarding is always eyed rather more suspiciously.
The reasons are clear: ever-bigger skateparks for ever bigger airs offer translatable skills to snowboarders who move everything from their hair down when blasting on massive transitions, whereas most purist skateboarders begin from the codified movements of retaining balance on a short wheelbase. There is no small amount of jealousy in that wariness, colored no doubt by Shaun White's recent dual-sport domination from the same background.
A two-time Olympic silver medallist in snowboarding, Ayumu is sure to bring a different energy and approach to the Park discipline than, say, Spanish charger Jaime Mateu. That is precisely what makes this draw so intriguing.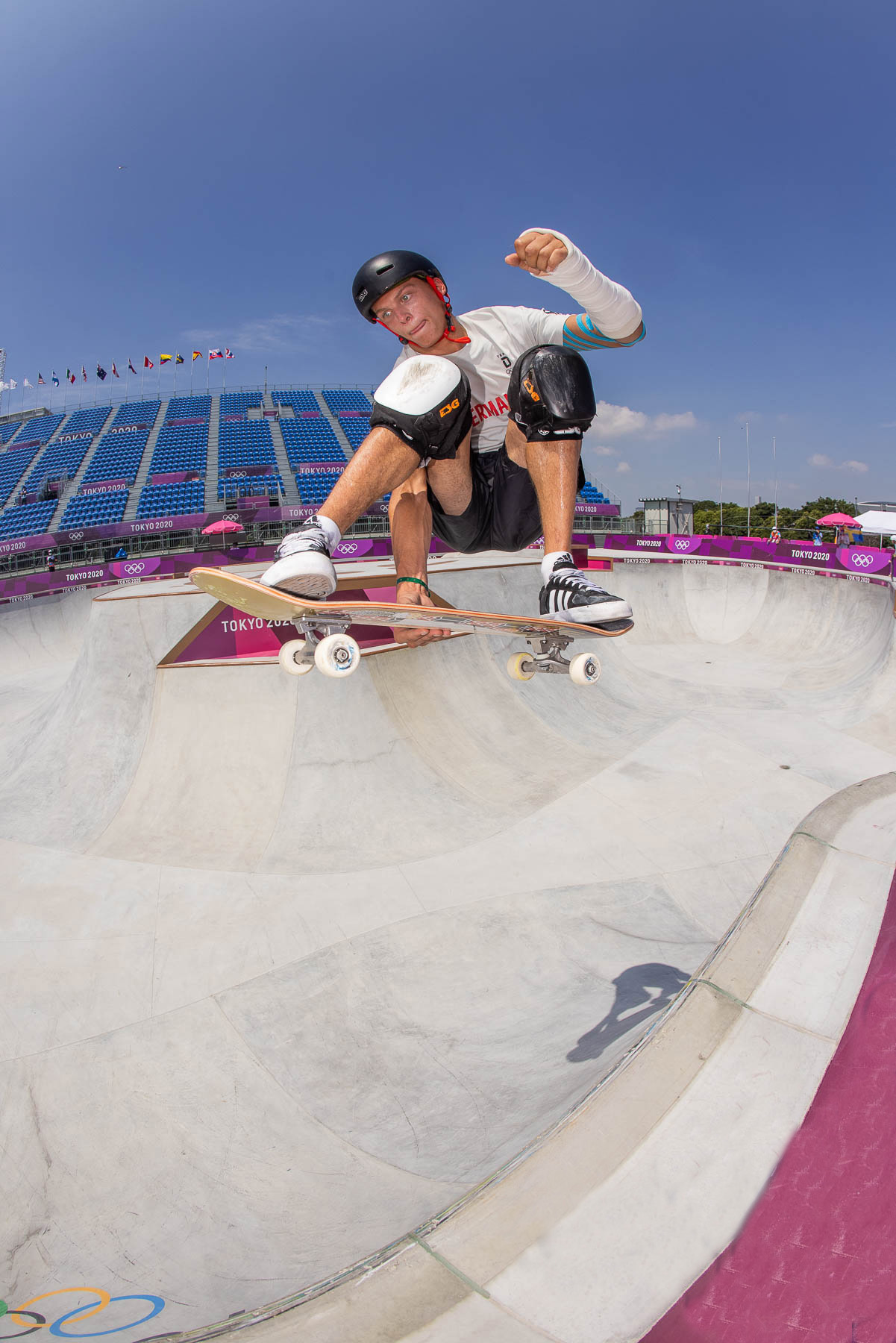 Tyler Edtmayer
It is fair to say that Tyler Edtmayer loves skate contests. He has been a regular fixture on the European event circuit, which in any given year can include festivals, bowl contests, vert invitationals for more than half a decade now.
Tyler never misses a good skate contest, and is always supported by his devoted mother Amy. He surprised many by taming the enormous BMX transitions of Estonia's Simple Session course to win third place there in 2020 in what seems like a clear demonstration of the effect of coach Juergen Horrwarth, Germany's greatest ever transition skater.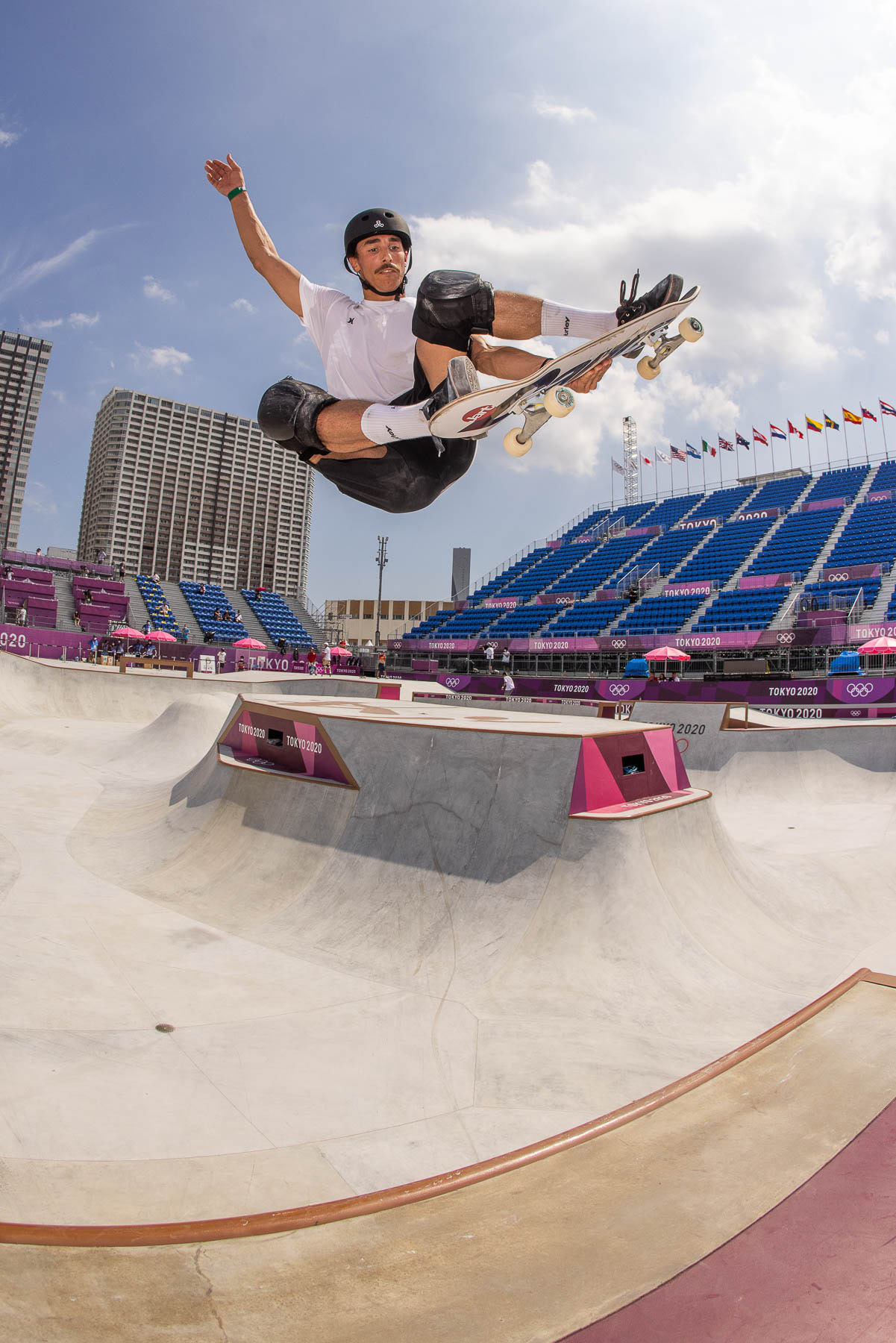 Danny Leon
The promise of skateboarding's inclusion in the Olympic Games is that it will trigger a tremendous uplift in the number of people who will suddenly consider giving the activity a try who otherwise may not have.
If you doubt that, consider the story of Danny Leon: awoken by the sounds of construction taking place on wasteland outside his family's apartment block near Madrid as a child, he thought the municipality was creating a swimming pool. Instead he was witnessing the groundbreaking process for Móstoles skatepark. First Danny played there, then he watched. Then, he begged and borrowed and started skating, eventually becoming the best transition skater in Madrid. Soon, he became a nationally-recognized figure and Spain's most decorated skateboarder. Now, he is representing his country at the Olympic Games, all because he looked out of his window one day when skateboarding arrived in his neighborhood.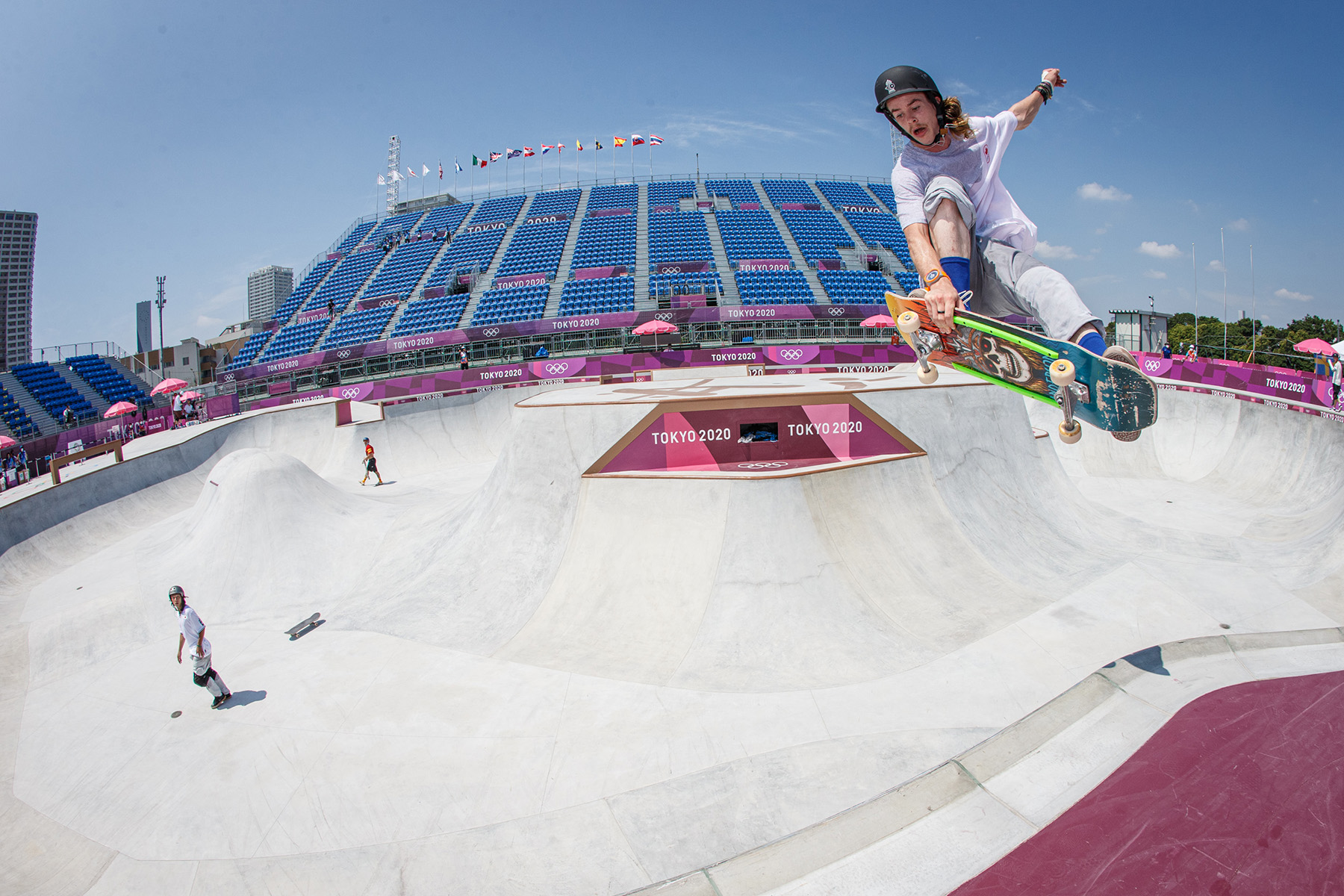 Andy Anderson
If you need a reason to love skateboarding, Canada's Andy Anderson will give you it. A breezy, unaffected counterpoint to self-aware skateboard culture, he is also genuinely the most versatile skateboarder in the world today. When pundits describe skateboarders as versatile, they usually mean that they can skate both transition and street, but Andy Anderson is also world-class in the all-but-forgotten genre of flatland freestyle as well. With a disarming enthusiasm for what makes skateboarding fun, he is a gift skateboarding has given back to itself. For an activity grounded in the dreams of those whose names were never called when choosing sides for basketball, Andy Anderson is all of us. He is unlikely to push out the fierce competitors for a medal, but how marvellous it is to have him here when skateboarding meets the world.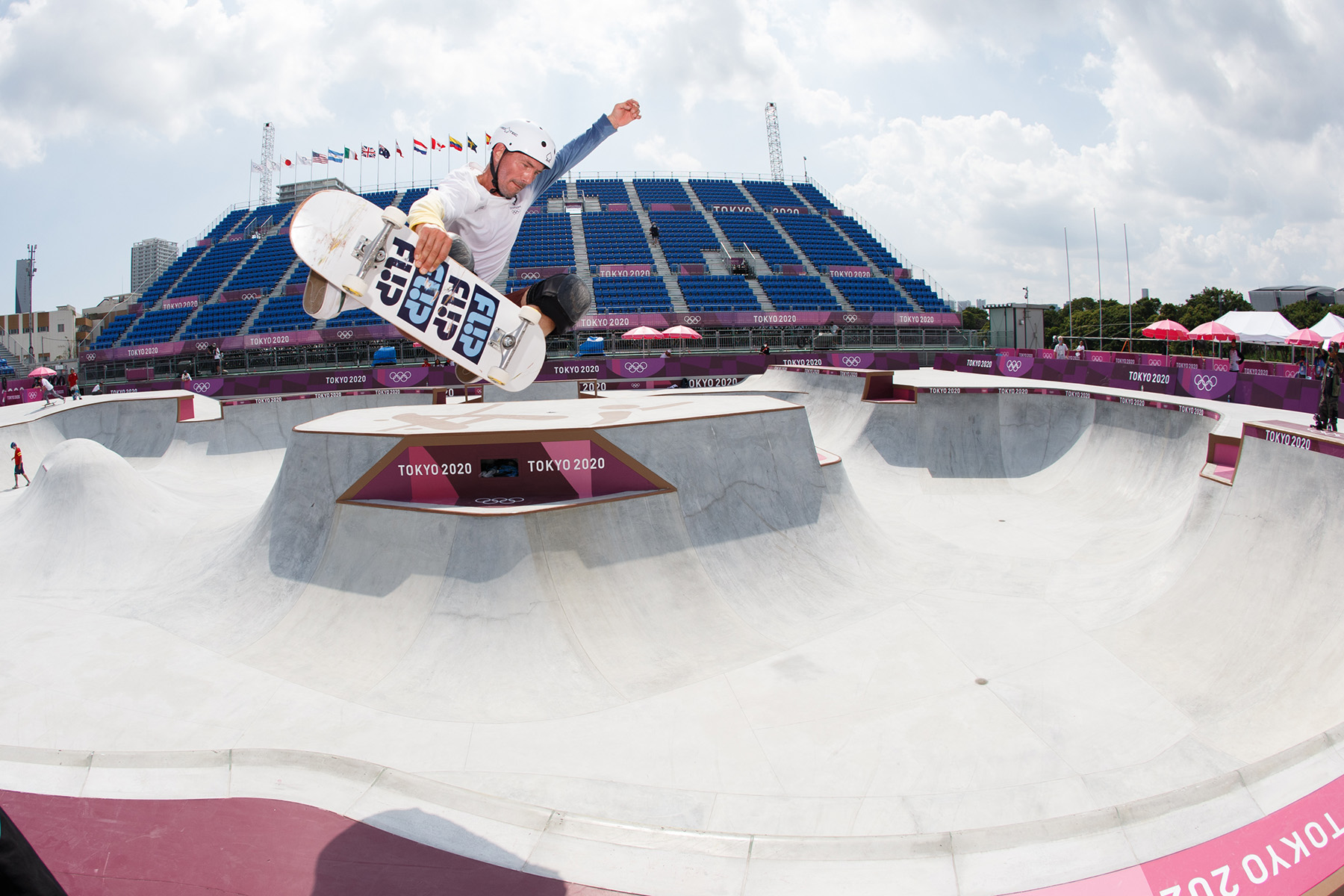 Rune Glifberg
Rune Glifberg changed skateboarding. Discovered in Copenhagen a full thirty years ago by British skate svengalis Ian Deacon and Jeremy Fox (later recognized as one of skateboarding's greatest-ever talent scouts), Glifberg's career has had three great phases.
Firstly, alongside Brazil's Bob Burnquist, he took what Tony Hawk had managed to prove possible in vert skating and built upon it for the satellite TV action sports generation.
When the two became teammates, Glifberg stopped skating vert to become the new master of what we now call park skateboarding, pioneering oververt concrete skateboarding and essentially re-energizing a then-moribund aspect of competitive skateboarding single-handedly.
Later in life, he has become a skateboarding architectural consultant, responsible for pushing the frontiers of skatepark design with cathedral-like indoor complexes in his home Denmark. Beloved of skateboarders everywhere with an ageless love for the wildness of skateboarding, he is a top boy.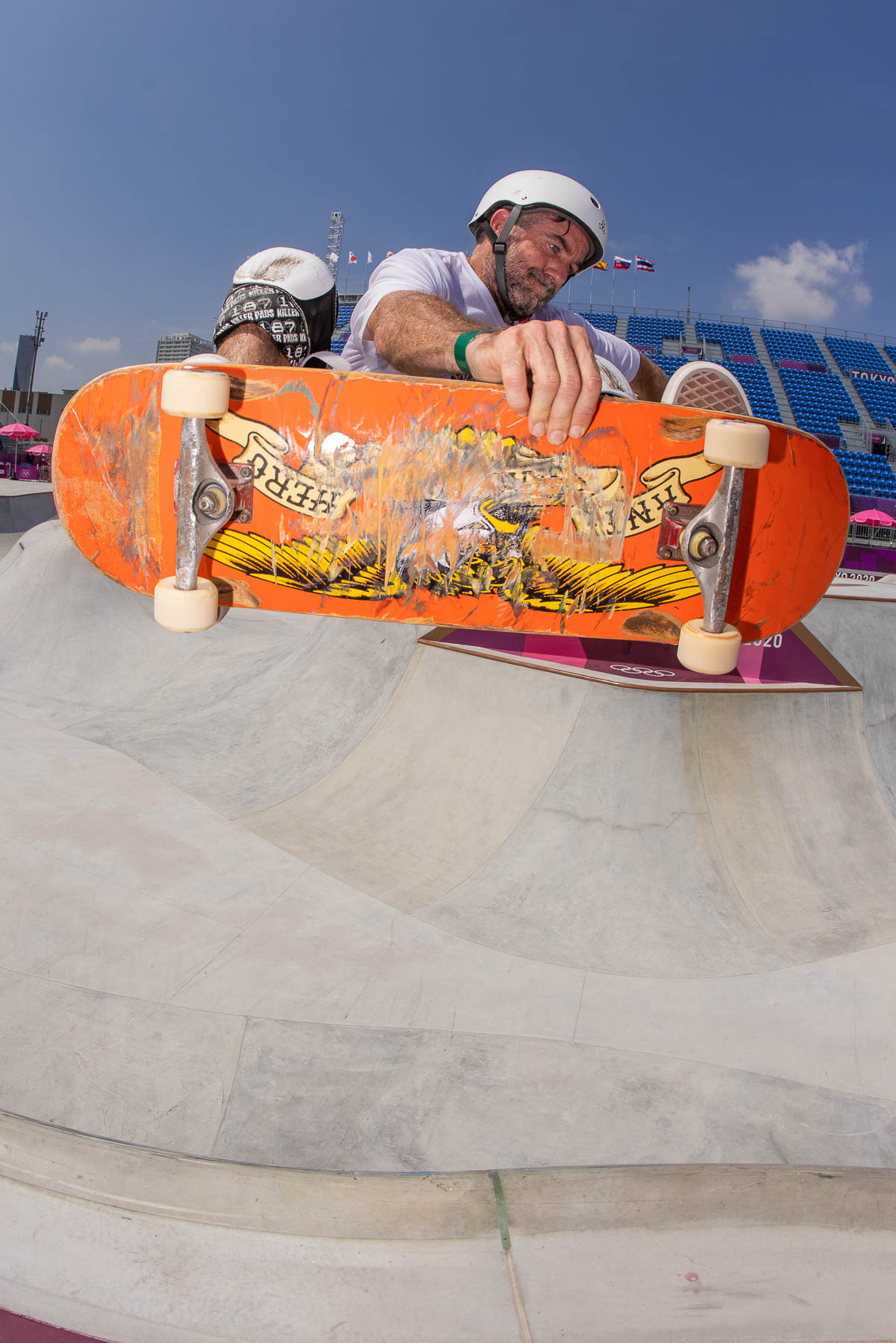 Dallas Oberholzer
Skateboarding is a fairly familiar activity to many people around the world by now. Whether you are au fait with the nomenclature or just aware that there seem to be a lot of them around these days, one question remains: how did skateboarding get here through the doldrum years?
The answer is: people like Dallas Oberholzer. The South African scene-builder has been a pivotal figure in creating skateparks, teaching kids and all the thankless spadework that the global development of skateboarding depends upon to find itself where it is today. One of South Africa's absolute skate pioneers, he has seized on his Olympic opportunity to raise the profile of his Indigo Youth Movement which introduces skateboarding to at-risk youth throughout his homeland. An Olympic soul story much like that of Jhancarlos Gonzalez of Colombia in Men's Street and the clearest demonstration of skateboarding's entire Olympic story that there is more to life than competition.
Dallas Oberholzer's presence among the world elite represents a victory for skateboarding's grassroots before he has even dropped in.
Words: Niall Neeson
Photos: Atiba Jefferson and Bryce Kanights